7 Days In Poland Itinerary: What To Do
During our long weekend in December, we took the opportunity to stay for 7 days in Poland.
We had a great 7 days as we got to know Warsaw. From there, we arrived in Krakow by train and had a tour of this beautiful World Heritage City, the nearby cities of Tarnów and Zalipie, and visited Auschwitz-Birkenau and the salt mines of Wieliczka.
This is our itinerary and travel diary for our trip to Poland. You can learn more about our experiences by clicking on the links we added for each day.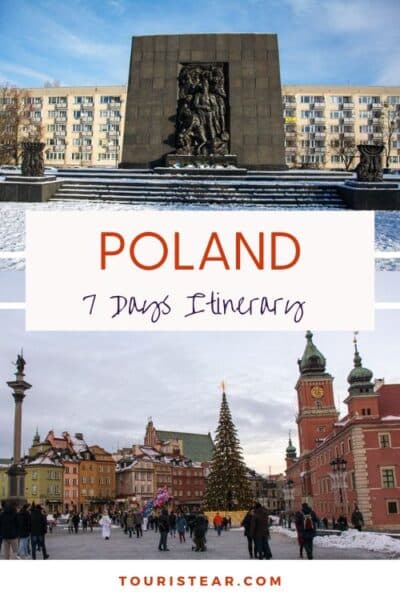 What To See In 7 Days in Poland
This is our summary — the itinerary of our one-week visit to Poland.
Day 1. Madrid – Warsaw in 7 Days in Poland
After about 3 hours of flying, we arrived at Warsaw Modlin airport, where Ryanair flights arrive, around 8 pm.
We bought tickets for the bus that would drop us off at the Museum of Culture and Science parking lot.
If you prefer to book the transfer online, click this link. You can also rent a car to drive to the different destinations in Poland at your own pace.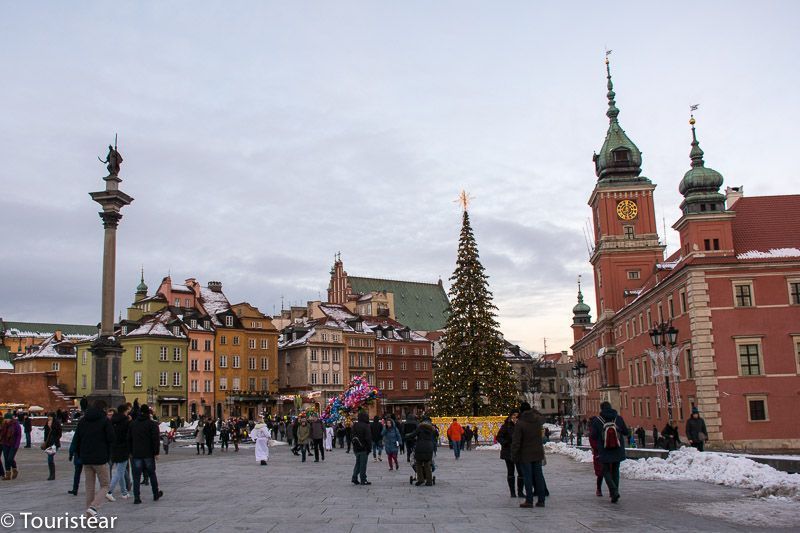 We checked in at the Hampton By Hilton, an excellent accommodation, and went to dinner at a restaurant called Portretowa. The place was small and cozy, and the food was absolutely delightful. Then, we walked back to the hotel.
Warsaw is a city that pleasantly surprised us.
Day 2. Our Warsaw Tour
After a satisfying breakfast at the hotel, We went to the 30th floor of the Palace of Culture and Science to get a panoramic view of Warsaw.
Then, we toured the Warsaw Ghetto and the POLIN Museum, where we learned more about Jewish culture.
We ate pierogi at a local restaurant and then visited the castle. We walked around the center of Warsaw, entered its cathedral, and ended the afternoon and evening in the Wilanów gardens.
You might end your trip early or late and do a lot of walking tour around the city. Make sure to wear a convenient pair of walking shoes.
Day 3. From Warsaw To Krakow By Train
We visited the Warsaw Uprising Museum and went to the neighborhood of Prague (which has nothing to do with the city of the same name). In this neighborhood, we visited two museums, the PRL, and the Neon Museum.
We went to see the Chopin monument and then ate at the Koszyki market, which reminded us of the San Miguel market in Madrid, but bigger and with international cuisine.
Then, we went by train to Krakow (2.20 hours). We picked up the keys to our apartment, about a 5-minute walk from Krakow's Main Square. We took an evening stroll through the center and went to sleep.
Day 4. Auschwitz – Birkenau And Afternoon Visit In Krakow
On this day, we visited Auschwitz – Birkenau. We were picked up at 8 am and returned to Krakow at 5:30 pm.
We took an evening stroll through the center and went to sleep. The visit was the longest because we saw the two concentration camps. It is a must-see and highly recommended.
When we returned, we visited the city and had dinner at a super cool place called Pod Baranem.
Day 5. Zalipie and Tarnów
On this day, we visited two charming villages that are pretty close to Krakow. These are Zalipie and Tarnów.
Zalipie is a very picturesque village where people decorate the houses inside and outside with cheerful paintings of flowers.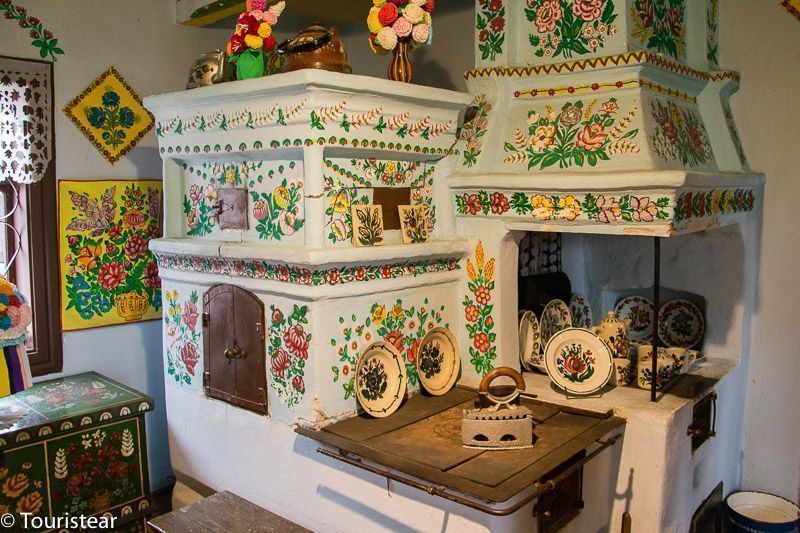 Tarnów is a city we liked a lot and were treated very well in. We visited several museums, including one dedicated to gypsy culture and another near the town hall.
We went on a tour of the center, which was very Christmassy, and the most impressive part was the visit to the Jewish cemetery. We saw all the tombstones piled up in various ways, as the Nazis had used them to pave the streets… (We will tell you more about it in detail).
We ate at a restaurant called Tatrzanska, an excellent local food, especially for this time of the year.
Day 6. The Salt Mines Of Wieliczka
We were picked up at 9:00 am to visit the Wieliczka Salt Mines in Wieliczka, a World Heritage Site by UNESCO.
This was a shorter visit, and at 3 o'clock, we were already in Krakow eating to visit the Jewish quarter of Kazimierz with a guide with whom we learned a lot.
From there, we walked back to the Plaza Mayor. It was about 6 pm approx. And in the evening, for dinner, we returned to Kazimierz and had dinner in another super cool place called Warsztat restaurant.
Day 7. Tour of Krakow and Return Home in the Evening
On our last day, we made the most of it. We went first to Wawel Hill, where the castle is. It is a must to visit the Wawel Royal Castle. Krakow is so beautiful. We walked around to enjoy the views and nature.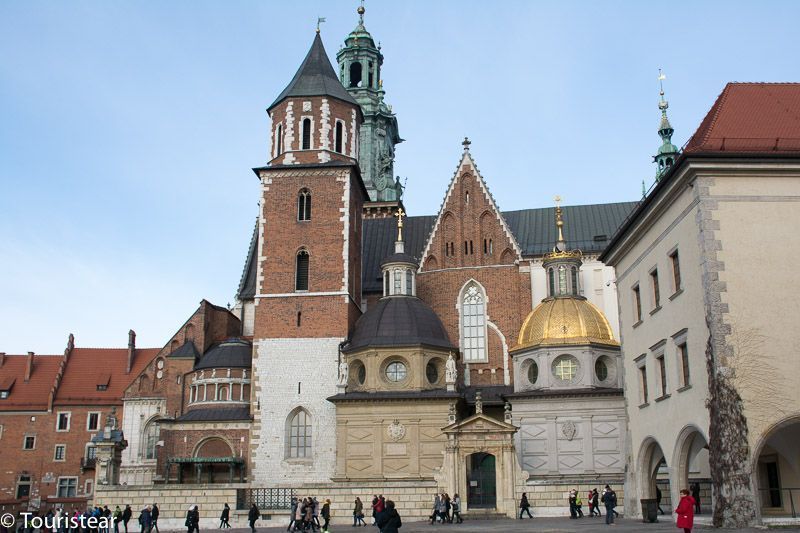 Afterward, we went to the Schindler Factory by cab and returned to Kazimierz for a bite. Make sure you get an international sim to book a cab easily! Several ride-hailing apps, like Taxi Polska, can be downloaded when in Poland.
We had a 7 pm flight, so we took advantage of the time to walk around downtown, have a shot of homemade vodka, and walk around the market in the main square we visited every day.
Map Itinerary 7 days in Poland
Travel Insurance for 7 Days in Poland
When traveling for 7 days in Poland or anywhere in the world, you must be ready for anything as best as possible. We always get travel insurance on HeyMondo whenever we travel to another country.
You do not have to pick a Europe or Schengen travel insurance. Choose Poland, pick dates, and additional inclusions. When you use this link, you get 5% off.
We hope to return soon because we really loved our 7 days in Poland. It is a country with a lot of history that we should remember. With friendly people, beautiful scenery, and snow, we had a foretaste of a white Christmas. What more could we ask for?
Plan Your Trip to Poland
Disclosure: Some of the links on this post are affiliate links, meaning at no additional cost to you, I may earn a small commission if you click through and make a purchase.
Book Your Trip
Book Your Flight
Find a cheap flight by using Skyscanner.
Book Your Accommodation
You can book your hostel, hotel, or apartments on Booking.com.
Don'torget Travel Insurance.
Travel insurance will protect you against illness, injury, theft, and cancellations. It's your protection in case anything goes wrong. You never go on a trip without it.
Best companies for Tours
Check out Civitatis.com and find the best tours in English (French, Spanish and Italian)
Are you looking for the best companies to save money with?
Check out my resource page for the best companies to use when you travel! I list all the ones I use to save money when I travel – and I think I will help you too! (Is in Spanish yet)
Last Updated on 16 May, 2023 by Veronica