Nuremberg Germany Best Things to Do
Germany never failed to surprise me, and on my next destination, I went to Nuremberg. I was welcomed by numerous landmarks and history. So I will be sharing with you all the Nuremberg Germany things to do and some tips during my visit to the city.
Nuremberg, located in Bavaria, Germany, is known for its rich history and cultural attractions.
You can explore the city's medieval castle, attend the world-famous Christkindlesmarkt Christmas market, or visit the Documentation Center Nazi Party Rally Grounds to learn about the city's dark past.
Other popular attractions include the Nuremberg Zoo and the Germanic National Museum.
What Is Nuremberg Best Known For?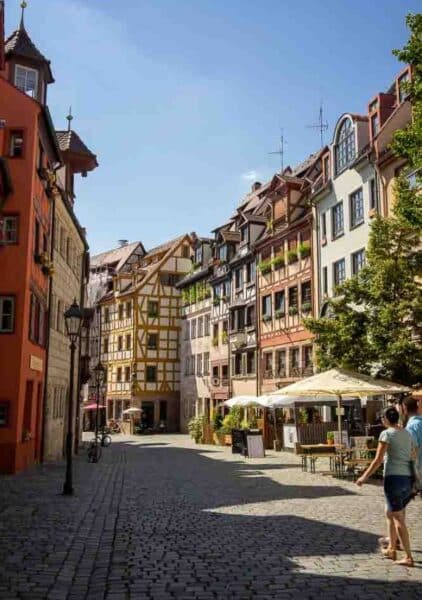 Landmarks are everywhere in Nuremberg. You can just tour the second largest city in Bavaria without spending so much. The city is also a home of architectural wonders.
You can always take photos outside these buildings or pay a small fee to get inside the towers and medieval cathedrals.
Besides its glorious days today, the city has also witnessed the Nuremberg Trials from 1945 to 1949.
Nuremberg was a location for other Nazi activities, such as the Nazi Party Rally, and was showered with the bombing in World War II. All these led to the destruction of the Old Town.
Nuremberg restored some of the buildings while they preserved remnants of the old time. But don't let the sad history stop you from visiting this beautiful city because it certainly did not stop me! 
Is the Nuremberg Card Worth It for Your Plans?
I love searching for the places I want to go to, like most destinations I have been to. Sometimes, I rely on city cards to save time and visit as many places as possible for free and at discounted fees.
The Nuremberg Card is certainly a steal! It has access to over 20 museums and other destinations around the city.
If you need more time to plan your trip or are a beginner traveler, you can base your travels on the Nuremberg Card destinations. Get your card here!
10 Nuremberg Germany Things to Do
Most of my time in Nuremberg was spent walking. That's right! Expect to walk for a long time, plus I did not spend much money paying admission fees since there were landmarks everywhere and they were not too far from each other.
You should gear yourself with a good pair of travel shoes and a bag that can carry snacks, drinks, essential documents, and other items! I recommend this travel bag for its size and pockets! I also wrote a product review about the bag.
#1 Walk along the Medieval Old Town
When you have the best travel shoes, you do not have to worry about hurting your feet by walking around town. Most of the things you can do for free in Nuremberg are visiting monuments and taking the best travel photos.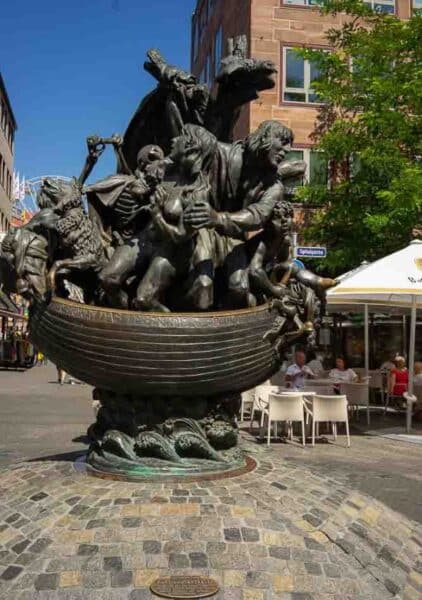 We visited most of the popular destinations in Nuremberg and took many photos of the monuments like the Narrenschiffbrunnen.
If you want to go on a walking tour like me, I recommend getting an audio tour. This way, you can go to different destinations without spending time asking people around.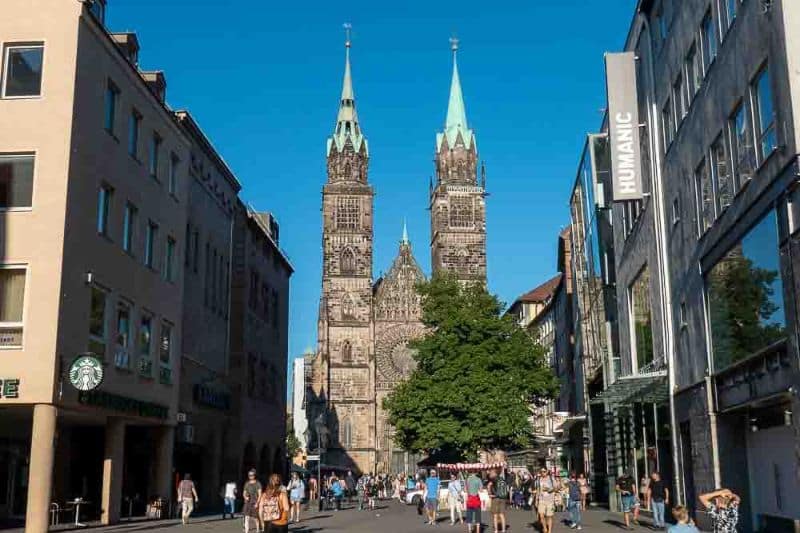 Though most of the destinations I went to needed admission tickets, you can hang out and marvel at their beauty.
You can also book a guided tour and meet new people and visit as many destinations as possible for less.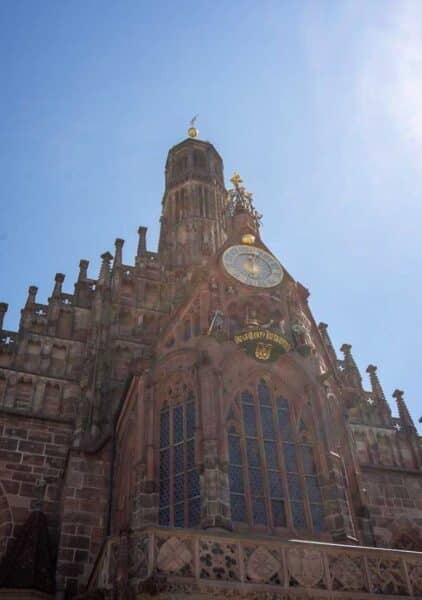 My self-walking tour also took me to places with free admission, like the St. Lorenz Church, Frauenkirche, and St. Sebaldus Church. You can expect more free admission destinations as you continue reading.
#2 Touch the Golden Ring at Schöner Brunnen
When I headed to the Market Square, I was welcomed by the 4 levels of figures in Schöner Brunnen. The fountain structure will surely attract anyone, especially when the market is not as busy during the festive seasons.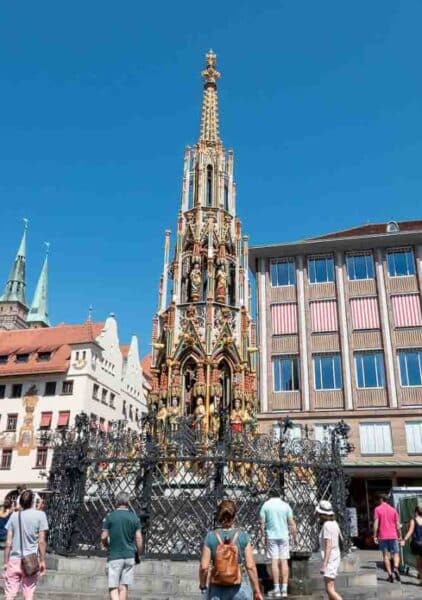 Besides the intricate details, figures, and paints of gold, green, and red, Schöner Brunnen is a destination for the "golden ring." It became of the things to do by travelers and Germans when they head to Nuremberg.
Why? Legends say turning the golden ring will make your wishes come true! I don't really believe in legends, but there was nothing to lose by turning the ring. So, I did. My wish, however, is for me and the golden ring to keep. 
#3 Learn Nazi History through Zeppelinfeld and Nazi Party Rally Grounds
Nazis caused deaths, unruly trials, and other atrocities throughout Germany. Many people have lost their lives, and at the same time, the Nazis have created countless architectural symbols throughout Nuremberg.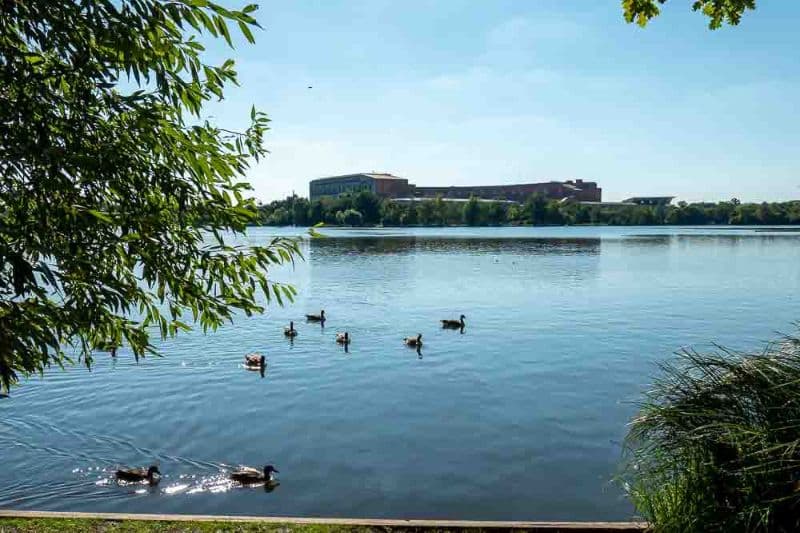 So the city was a hotbed for Nazi activities years ago. I wanted to get to know more about the history by visiting Zeppelinfeld. The entrance is also free.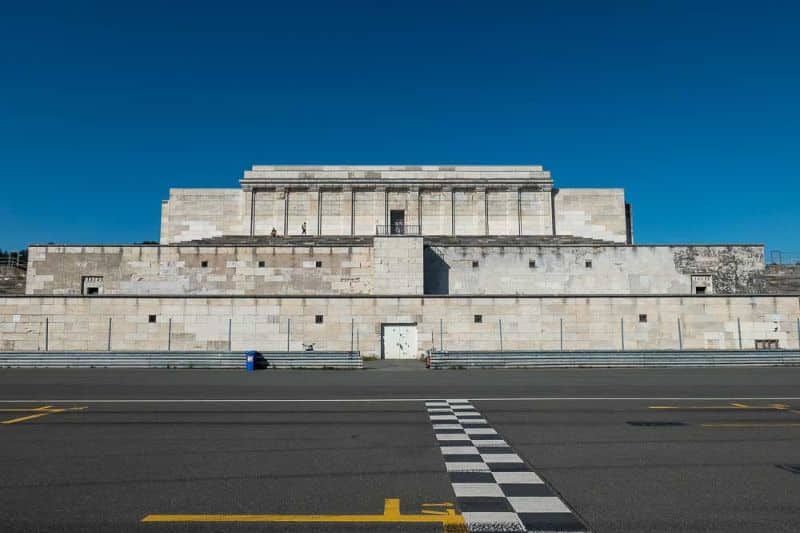 The Kongresshalle, or congress hall, was the center for politics and the Nazi Rally Party. The congress hall spans over 10 square meters.
It took me a while to complete the trip. So I suggest having a guide to explain the Rally Grounds. You can learn best about history through an expert. 
#4 Cross the Die Karlsbrücke
Another popular thing to do is cross the Karlsbruecke Bridge, also called the Charles Bridge. It connects Trodlmarkt Island to the St. Sebald district.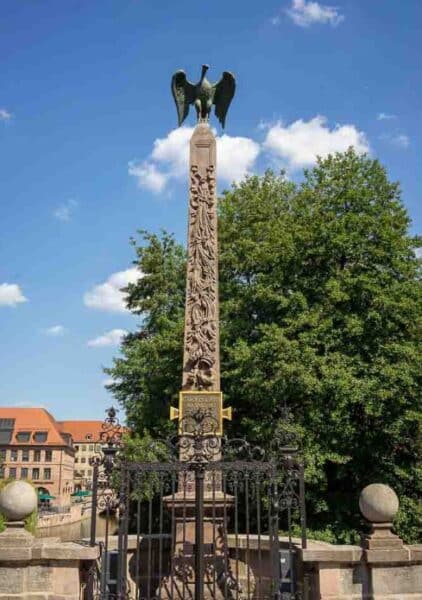 What makes this bridge a popular destination? It was created to honor Emperor Charles VI and has two monuments, becoming a photo destination. The two monuments are topped with a pigeon and an eagle.
#5 Learn about Albrecht Dürer's Life
Albrecht Dürer is a man of pure talent from painting to writing, but his name created more impact in the art scene through printmaking. His art style was influenced by Michael Wolgemut, who owns a workshop of woodcut illustrations.
It is one of the destinations in the Nuremberg City Card. But you can always find the right guided tour with Albrecht Dürer's House included in the destinations.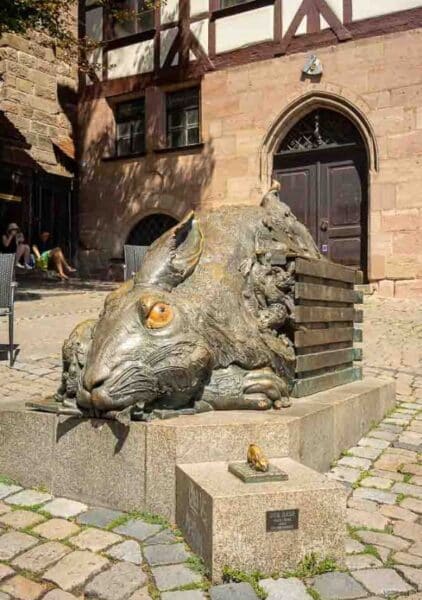 I visited Albrecht Dürer's House, reflecting on his life and the atmosphere of 1828. I saw some of his paintings, like the Young Hare, and walked around the artist's workshop.
I was hoping to see The Rhinoceros, but they said it was in The Metropolitan Museum of Art, New York.
#6 Tour inside the Imperial Castle Of Nuremberg
Whenever I know that there are castles at my destinations, I always go to one and explore it. It always gives me a glimpse of the royal family's lives and exciting art and historical pieces which were out of sight to ordinary people like me years ago.
With this day trip, you can save time and the hassle of booking a train ride from Munich to Nuremberg. Part of the day trips is a stopover at the Imperial Castle of Nuremberg.
For some, the Nuremberg Castle may look less attractive outdoors, but don't let that fool you. Inside the castle is a treat for the eyes. I saw medieval armor, bejeweled gifts, artful interior panels, and the 50-meter-deep well.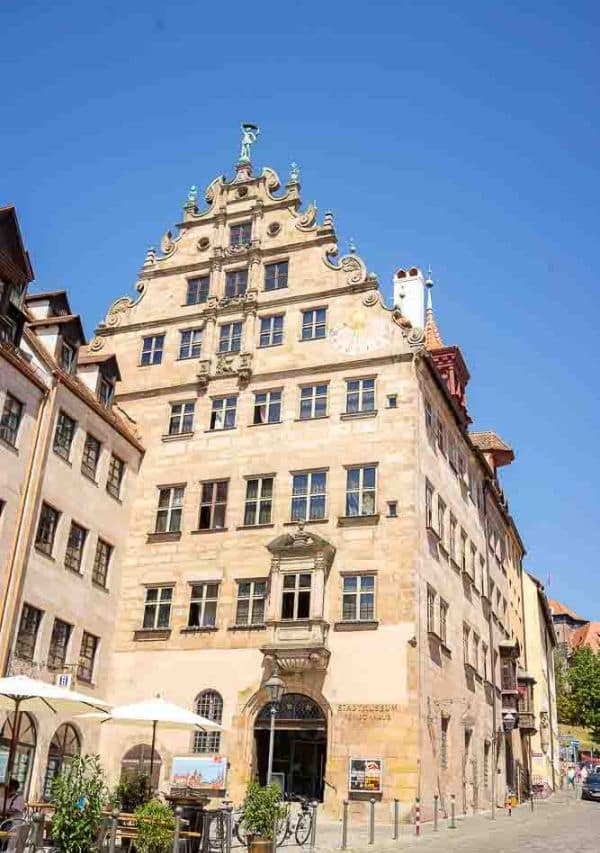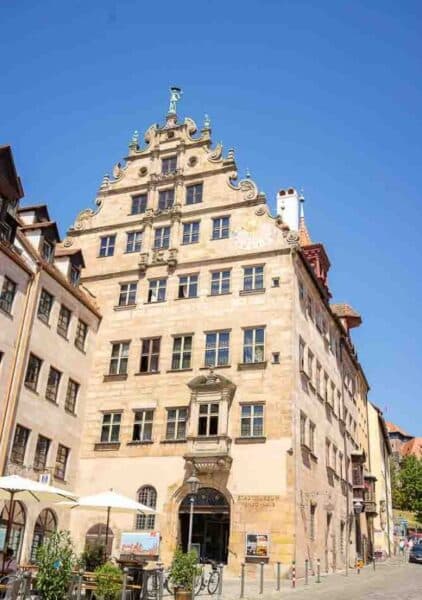 On my way to the Imperial Castle, I passed by the Fembo Museum. I can feel the Late Renaissance period in the well-preserved rooms of the merchant's house. It also has audio plays and other exhibitions showing the history of Nuremberg.
#7 Discover Toys as Old as 600 Years Old
You may have read of Nuremberg for its history and architectural wonders, but it is also home to one of the world's greatest toy museums! The Toy Museum Nuremberg, also called the Lydia Bayer Museum, houses over 10,000 toys.
I walked around the museum and saw old toys Lydia and Paul Bayer collected. I admit that some of the dolls look a little bit creepy, but the museum also has miniature structures of Nuremberg and other fun and exciting toys that took me back to my younger days.
#8 Explore Art and History at the Germanic National Museum
The Germanisches National Museum is the largest cultural museum in Germany. I always make it a habit to go to museums; this one showcased paintings and other artworks and over 20,000 cultural artifacts.
It took me almost an hour to go around the Germani National Museum. There were so many things to see! It is a popular destination among travelers too, so I suggest getting a ticket on their website.
#9 Walk along Pegnitz River
The Pegnitz River divides Nuremberg into two towns called the Zebalderstadt and Lorenzstadt. I had some time to spare in Nuremberg, so I walked along the Pegnitz River.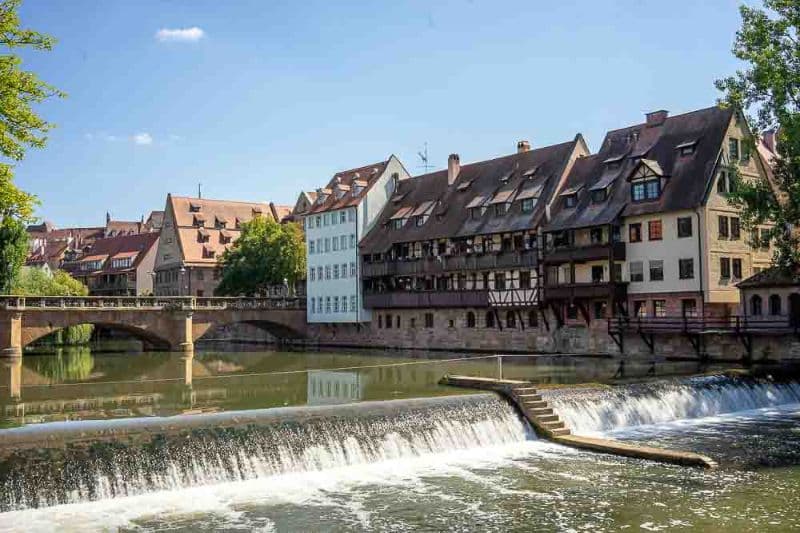 After snapping a few photos at the Die Karlsbrücke, I wanted to enjoy the timber houses, and my mini adventure took me to the Trodelmarkt.
It is a small island on the river, and I took some rest there. It was also quiet and peaceful, perfect for getting away from the bustling destinations in Nuremberg.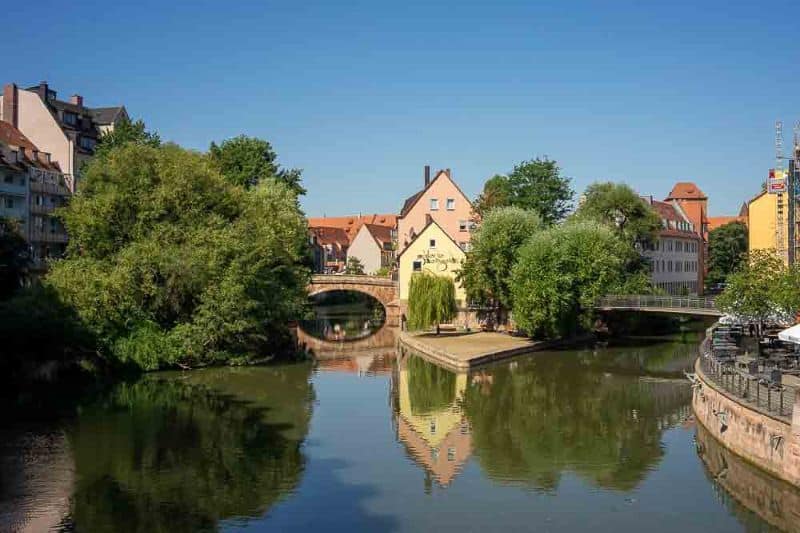 #10 Shop at Nuremberg Main Market (Hauptmarkt)
Besides turning the Golden Ring at the Schöner Brunnen, the Hauptmarkt is the place to buy almost everything I need.
The tour around the Old Town of Nuremberg can be exhausting, so I stopped by the Main Market to buy myself some freshly baked bread. I also saw fresh fruits and other interesting international cuisines.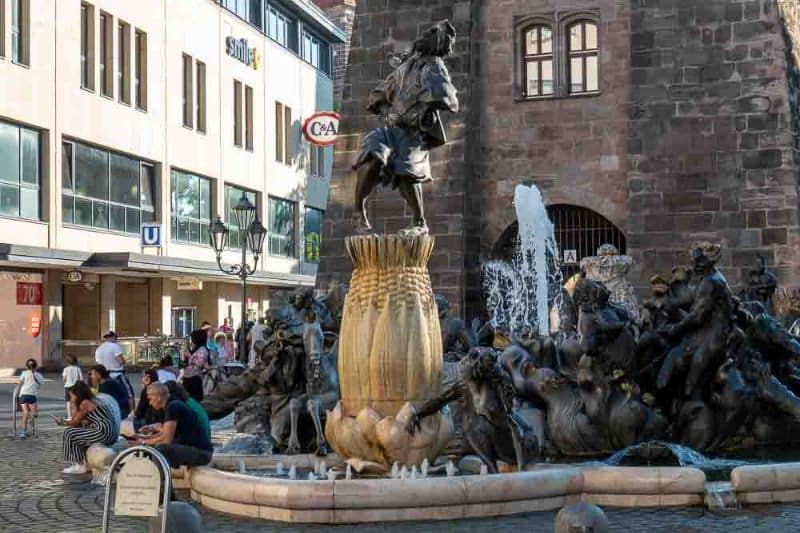 If you want to see the Main Market in its magical form, taking a vacation during the holidays is the best time. The space turns into the Nürnberger Christkindlesmarkt, the famous Christmas Market in the city.
During Christmas, the main market becomes bustling with travelers and locals. Don't miss out taking a bite at Nuremberg's bratwurst or drinking the feuerzangenbowle and mulled wine!
I will certainly visit again during the holiday season and experience the best holiday culinary tour.
Where to Stay in Nuremberg?
When it comes to the distance to the center of Nuremberg, budget, and comfort, nothing beats the Melter Hotel & Apartments. You can include breakfast for € 18, but there are a lot of restaurants nearby. I took my morning walk and ate somewhere else.
It is only a few steps away from the hotel if you come during Christmas. Book a room here before you head to Nuremberg. You can choose an apartment or condominium here if you prefer a homey stay.
Is Nuremberg, Germany Safe?
It was a smooth vacation for me in Nuremberg. I also met a few ex-pats in the city, and they loved their stay. The Bavaria state has one of the highest safety index ratings and is generally safe, and so is Nuremberg.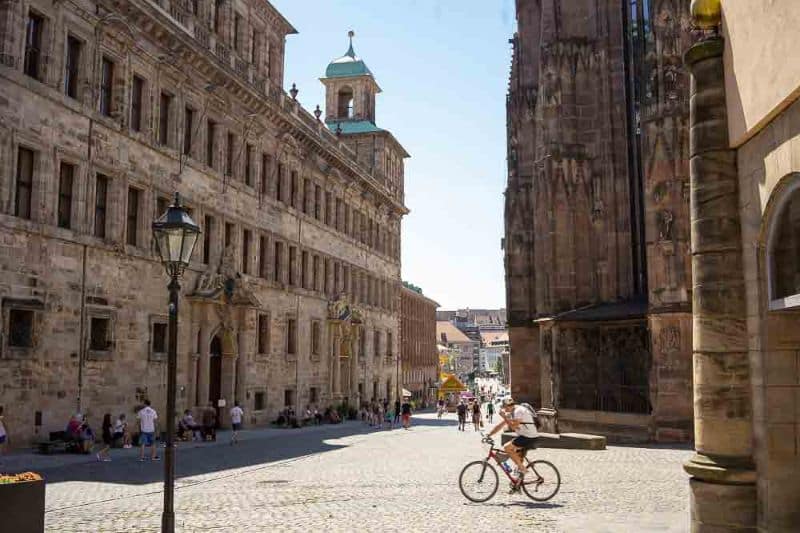 Of course, it is still better to take safety travel precautions.
What is the Best Time to Visit Nuremberg, Germany?
You can visit Nuremberg any time of the year, but the best time is Christmas. This also means that most accommodations and admission fees are more expensive than the regular days.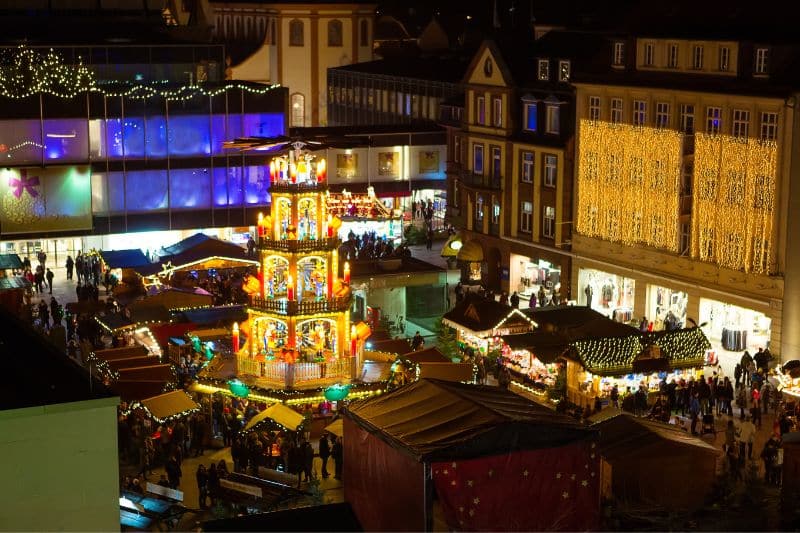 On the good side, the city celebrates the holidays beautifully. With the renowned Christmas attractions and the Nürnberger Christkindlesmarkt, the trip is worth it.
Get Travel Insurance for the Nuremberg Germany Things to Do Plans
Though I experienced no problems while traveling in Nuremberg, there were other destinations in Germany. Getting travel insurance is still a must. We can never know what will happen as we travel from one location to another, so getting travel insurance will help us with emergencies.
At HeyMondo, you can create travel insurance ideal for your budget and travel dates. Plus, it has customizable coverages that you can add. Use this link to get 5% off affordable travel insurance options.
Did you love my adventure around the city? Or do you have a favorite spot in Nuremberg that I may have missed during my trip here? I want to take another trip to the city again, especially during the holiday season!
Plan Your Trip to Germany
Save this Image to Your
Pinterest

!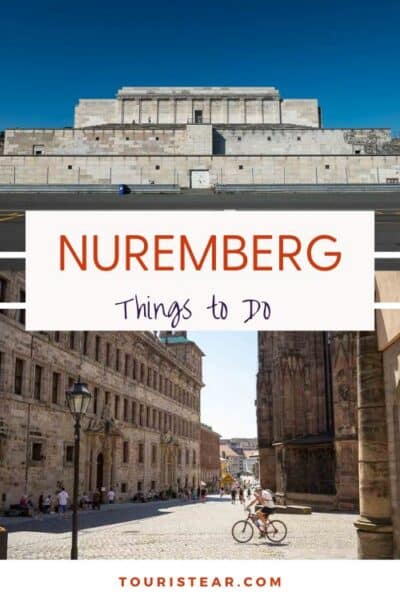 Last Updated on 13 September, 2023 by Veronica
Disclosure: Some of the links on this post are affiliate links, meaning at no additional cost to you, I may earn a small commission if you click through and make a purchase.
Author: Veronica
Vero, a seasoned traveler, has explored 25 countries and lived in five, gaining a rich perspective and fostering an infectious passion for travel. With a heart full of wanderlust, Vero uncovers the world's hidden gems and shares insights, tips, and planning advice to inspire and assist fellow adventurers. Join Vero and let the shared passion for travel create unforgettable memories.