15 Best Things to Do in Cologne, Germany
Germany has more than a hundred cities that are beautiful and worth visiting, but, without a doubt, Cologne is one of those cities that you'll fall in love with.
Cologne is renowned for its 12 magnificent Romanesque churches. This includes the magnificent Cologne Cathedral, which is all within walking distance of the historic Old Town.
It has one of Europe's oldest and largest universities. It has many art and entertainment venues, over 100 galleries, and at least three dozen museums. This city is rich in history, and it's also a popular shopping destination.
Its many churches, the green areas, and the beautiful old town make this city an absolute wonder.
Must-Visit Places in Cologne
Cologne is thriving with life and character, and there's an incredible variety of things to do out there that visitors won't want to miss. Below is a list of the must-visit places in Cologne.
1. Hohenzollern Bridge Overlooking The Cathedral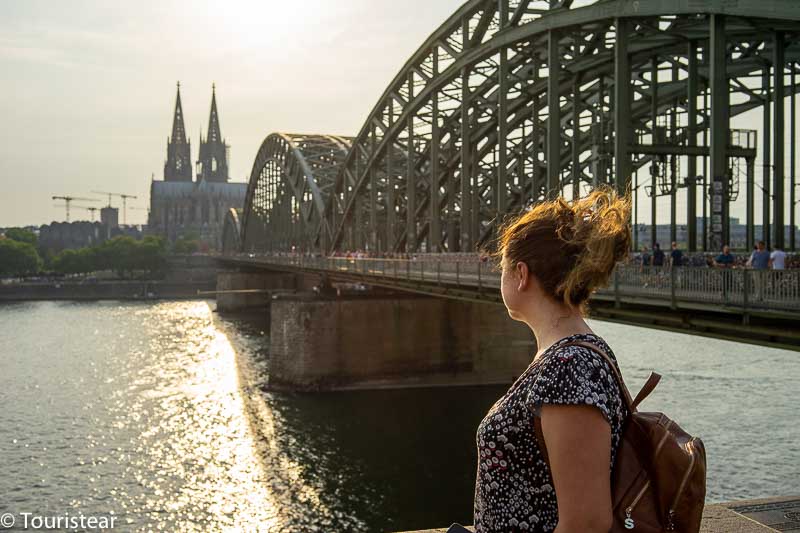 Take a stroll across the Rhine River via Hohenzollern Bridge to the Rheinboulevard for a stunning view of the city.
You can sit back, relax, and take in Cologne's spectacular sunsets here.
This visit is included in the free walking tour.
2. Cologne Cathedral
Just magnificent. It's impressive and speechless. It has more than 150m high; it's a Gothic-style cathedral.
Cologne Cathedral (Kölner Dom) is the city's most prominent landmark, located near the left bank of the Rhine. Its official name is the Cathedral of St. Peter and St. Mary.
The construction began in the 13th century and ended in the 19th century. It is among the three largest cathedrals in the world and impresses and fascinates everyone, starting with its worked facades and ending with the vivid and detailed mosaics of crystals inside.
Deservedly, for this reason, it's been designated as a Cultural Heritage of Humanity UNESCO since 1996.
3. Visit Altstadt, the Historic Center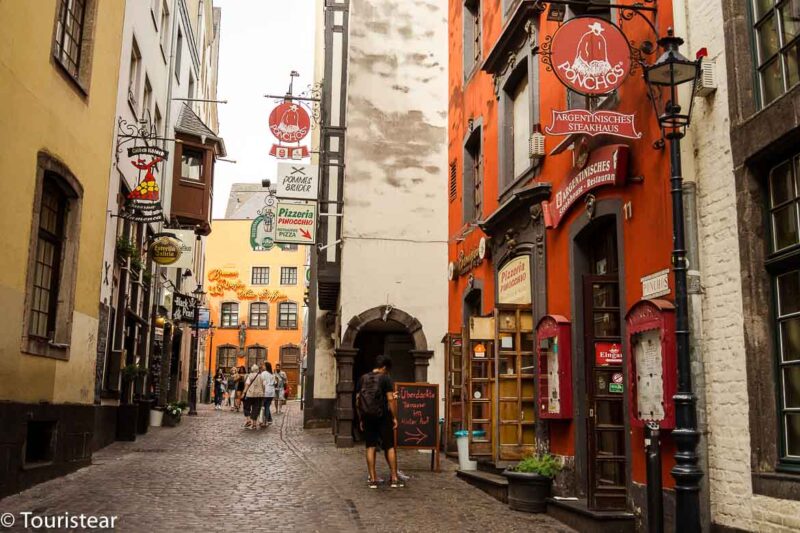 Cologne can be traced to Roman times. This means there's a huge array of architectural styles and histories to discover. The old town is one place to visit.
Here, colorful buildings, quaint shops, and cobblestone streets resemble a historical period.
Do you like beer? Brewery & Old Town Tour with Beer Tasting
4. Perfume Museum
Perfume Museum in Cologne is housed in the same rooms where Eau de Cologne was created in the 18th century.
Only a 45-minute guided tour is available, during which you will enter vaults where a 300-year-old cedar barrel can be found. You will also see how modern Cologne is made.
5. The Rheinauhafen
Rheinauhafen is the perfect location to check out the Crane Houses, the city's newest and coolest buildings.
When the sun starts to set, one of the best things to do in Cologne is to visit this area. It has been transformed into a creative hub with some pretty cool buildings. The views are amazing.
The Cologne port walkway is the ideal place to take a walk on the banks of the Rhine River, to less than 10 minutes walk from the old town and where many meet, especially with the arrival of good weather, to have a drink with friends, to do sport or just to air ideas.
6. Visit the National Socialism Documentation Center
The NS Documentation Centre of the City of Cologne is a must-see for anyone interested in life under the Nazi regime and its aftermath.
This significant memorial provides an uncensored account of National Socialist (Nazi) horrors, particularly for Cologne residents.
7. Tour the Rhine with a boat trip
The river itself is one of the nicest spots to view Cologne Old Town. Choose from various boat tours along the Rhine, ranging from night cruises to Sunday brunch cruises.
One of Cologne's most popular nighttime activities is the Rhine River Evening Panorama Cruise. A two-hour relaxing excursion to see the city glittering with lights.
8. Visit the Chocolate Museum
The Chocolate Museum is a must-see for anyone who travels to Cologne. Take a tour of the processing facility, sample some chocolate, and learn more about how chocolate is made.
You can even have custom chocolate made for you!
9. Christmas markets
Pure fantasy is cozy and magical, making you feel like a fairy tale.
In the build-up to Christmas, most cities organize a market. But Cologne goes beyond, with a Christmas-themed market and activity in almost every public space in the city center.
For example, there are booths arranged around the Cathedral, each with its stage for live music.
From the end of November to early January, dozens of Christmas markets are scattered throughout the city, where you can find everything.
You can find jewelry home decoration in the markets, which is usually handmade by local traders.
And of all, the flea markets are the ideal place to take a super tasty Glühwein (hot red spicy wine ) and a Bratwurst, both very typical in Germany and also delicious.
10. The Rheinpark
The Rheinpark, founded in 1913, is now a popular tourist destination in Cologne.
This urban park of 40 hectares borders the Rhine River, between the districts of Deutz and M'lheim, which becomes the perfect place to meet with family or friends in good weather.
It has several attractions, including the Claudius-Therme, an exclusive thermal bath, and a children's play area.
The national garden show was held in the Rheinpark, and some traces of the event can still be seen today.
Anyway, we could name a thousand and one qualities of this city and all that it has to offer, and we would not finish, and that is that Cologne is undoubtedly a city of wonders.
11. Go up to the Kölntriangle to see the city from above
The brand new Köln Triangle offers one of the best views in the city. You can take the lift to the 103-meter high point overlooking Cologne's historic center.
Come here around sunset to watch the city and the iconic Cologne Cathedral turn a brilliant orange color. It is beautiful.
12. Visit the Ludwig Museum
Museum Ludwig, which houses Europe's most extensive collection of Pop art and abstract and surrealist works, will astound modern art fans.
Expect to see works by Andy Warhol, Mark Rothko, and Jackson Pollock, as well as a massive exhibition of Picasso's work.
13. Go down the Schieldergasse Shopping Street
Schildergasse Street is one of Europe's busiest shopping streets. It features a bustling car-free pedestrian crosswalk brimming with international department stores and cutting-edge architecture.
14. Take a guided tour (free or paid)
Free walk Cologne offers a no-cost walking tour. The journey takes about 2.5 hours and is usually done in small groups.
You will see Ostermann Square, Old Town, and a few other remarkable Cologne locations on this tour. Bookings must be made in advance.
15. Cologne Carnival
Cologne hosts one of Germany's biggest festivals every year. During the week leading up to Lent, many people visit the city to take part in the festivities.
A large crowd of revelers, fueled by Kölsch and cheerful songs and dressed in bright costumes, take over the entire region.
Quick Guide to Visit Cologne
How Many Days Spend in Cologne?
Book a three-day trip to Cologne to truly experience the best parts of the city at your own pace. That should be enough period to see the majority of the city's attractions.
How to get to Cologne?
Cologne is a well-connected city, with trains, planes, automobiles, and buses all providing easy access.
Plane
Cologne has its own airport. It is only a short train/taxi ride from the town center. It is one of the Euro Wings hub air spaces (meaning plenty of choice for flights).
More than 115 destinations in 35 countries are served by Cologne Bonn Airport. Do you need a transfer?
Car
If you are traveling to Cologne by car, the roads are excellent. Foreign drivers need proof of insurance and their national driving license.
Train
Cologne is very well connected by its train station (the U-Bahn) and the above-ground train system (the S-Bahn). A single ticket costs EUR 1.90 ($2.10) and last up to 90 minutes.
Tickets can be purchased at the station or through the KVB app. Keep your ticket on you at all times, as random train checks are common.
Bus
Cologne has an (inter)national bus station (ZOB), which offers international bus lines. Buses to Serbia and Denmark are available every day.
Since 2013, plenty of new national bus lines have connected Cologne to nearly all of Germany's major cities.
Conclusion
Now that you are convinced that you need to visit Cologne to see attractions, the question is which sights to see first! Cologne is a city with something for everybody visiting.
Whether it's rambling along the Rhine to take in the breathtaking river views, cramming your luggage with recently bought wares from the shopping streets, or simply people-watching from the steps of the Cologne Cathedral as the masses pass by.
Travel to Germany? Plan Your Trip Here!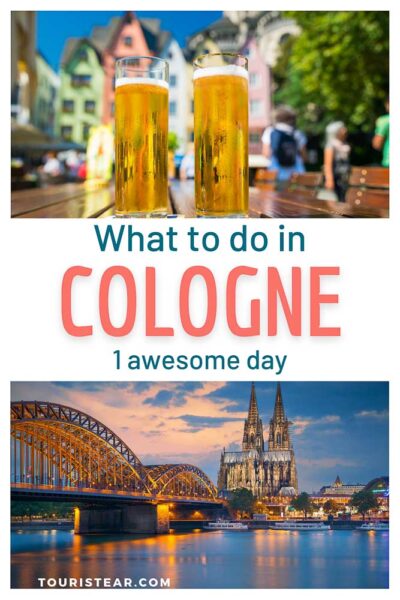 Last Updated on 3 October, 2023 by Veronica
Disclosure: Some of the links on this post are affiliate links, meaning at no additional cost to you, I may earn a small commission if you click through and make a purchase.
Author: Veronica
Vero, a seasoned traveler, has explored 25 countries and lived in five, gaining a rich perspective and fostering an infectious passion for travel. With a heart full of wanderlust, Vero uncovers the world's hidden gems and shares insights, tips, and planning advice to inspire and assist fellow adventurers. Join Vero and let the shared passion for travel create unforgettable memories.