Amboise Castle, a Day Trip from Paris
Situated on the southern banks of the Loire River lies the charming medieval town of Amboise and the Amboise Castle. Given its close proximity to Paris, a day trip to Amboise is an easy option to explore the castles of the Loire River Valley.
Amboise has an astonishing Royal Castle and prison, which has a magnificent collection of Gothic and Renaissance furniture and two Empire-style salons.
Without a doubt, it an essential in your visit to the Castles of the Loire Valley and as a day trip from Paris.
You can get your tickets in advance here. Also, from Amboise: Chenonceaux, Clos Lucé & Wine tasting tour.
How to Get From Paris to Amboise
Public transit is easy and convenient when taking a day trip to Amboise. Alternatively, driving is an option if you can access your own vehicle.
Remember, if you're not an EU citizen, be sure to get your IDP (International Driving Permit) if renting a car is on the agenda.
You have a few options to get to Amboise from Paris by train.
The direct train will take approximately an hour and forty-five minutes. The direct train leaves from Paris Austerlitz at 07:30, putting you in Amboise around 09:20. If you want to minimize travel time, this is your best option.
The direct train departs Amboise at 17:30 and arrives in Paris at 19:20. This gets you back in the French capital just in time to freshen up before dinner.
If getting up early isn't in the cards, some trains require a connection that departs throughout the day.
These take anywhere from two hours and fifteen minutes to four hours, so be sure to read the itinerary carefully.
You can easily take a day trip to Amboise and see the Royal Château d'Amboise, Château le Clos Lucé, and Château Gaillard with time to explore the town and grab a bite to eat.
Purchase tickets from the operator's website, SNCF.
Upon arrival at Amboise station, it's roughly a 15 to 20-minute walk across the Loire into the town center.
Things are subject to change without notice, and many standard travel insurance agencies will not cover losses due to COVID. Therefore, travel safely, wear a mask, socially distance, and follow local regulations.
Amboise Castle: Château Royal d'Amboise
The first château I visited was Royal Château d'Amboise, which sits directly on the banks of the Loire.
Perched on top of a craggy cliff looking down at the Loire River, Château Royale d'Amboise is a truly majestic sight as you approach the town of Amboise.
Ever since the Middle Ages, right up to the 19th century, it's been an iconic personification of French royal history.
François I, King of France in 1515, designated Amboise as one of his multiple residences. He entertained the court with lavish parties and enjoyed the company of one of the most brilliant men in all of history: Leonardo da Vinci.
François I's successors, his sons, and grandsons who held the throne, eventually phased out the royal affairs at Château Royale d'Amboise, and Amboise gradually stopped holding the seat of the French court.
Given its ideal location as a bastion, Château Royale d'Amboise remained a vacation residence for French royalty during their travels throughout the kingdom.
During the French Revolution, the Château was seized. It was intended to become a barracks for veterans who fought in revolutionary campaigns. Eventually, it transformed into the museum that stands today.
Hours & Admission
The château is open throughout the year, except on 1st January and 25th December.
The park closes one hour after the ticket office.
Adult tickets are 13,30 €, and children and senior tickets are available at a discount.
Why You Have to Visit Amboise
Amboise is absolutely worth a stop on your France itinerary! A day trip to Amboise is one of the best day trips from Paris, accessible via public transportation.
The town has enough to see in a day but not so much that you'll feel as though you're missing out if that's all you can spare. Particularly if you don't mind getting up early and sleeping on the train, the wonders of Amboise are well worth the ride.
Take an early train from Paris and depart Amboise with a late train, you'll have more than enough time to explore the town on foot and see all it has to offer.
Why is Amboise so Famous?
Amboise is famous for its dramatic Château d'Amboise. Also, it's pretty close to Château Clos Lucé (Leonardo Da Vinci's Castle), Chapelle Hubert (where Leonardo Da Vinci is buried), Château Gaillard and the famous Chenonceaux Castle is a 20 minutes by car.
The town of Amboise was once the seat of French royalty but is today a quintessential French market town.
Le Clos Lucé & Leonardo Da Vinci
In 1516, François I invited Leonardo da Vinci to live at le Clos Lucé, where he paid him a salary and financed his art. Da Vinci fascinated François I, who loved to listen to the artist simply speak, which he did on a daily basis.
While, in comparison to other Châteaux, le Clos Lucé is not the most impressive in size nor scale, it is truly a beautiful building. Its romantic façade of pink brick and tufa stone is typical of 15th-century French architecture.
Leonardo da Vinci remained at le Clos Lucé for the last three years of his life. During these final years, da Vinci spent painting and working on his many inventions and other endeavors.
Leonardo Da Vinci's Workshop
Part of the Château le Clos Lucé museum showcases da Vinci's workshop. A fascinating exhibition, it consists of three different areas – one each for painting, sculpting, and designing.
The design studio is where one can find the double helix staircase, sketches for inventions, and the engineer's model.
Da Vinci had a naturalist cabinet, a personal library, manuscripts, world maps, measuring tools, fossils, herbariums, and almost anything else you could imagine. In his workshops, Leonardo da Vinci worked endlessly on major royal commissions.
He was a painter, engineer, architect, sculptor, and scenographer for marvelous festivities.
He worked up until his death, finalizing his three favorite masterpieces – The Mona Lisa, The Virgin and Child with Saint Anne, and Saint John the Baptist.
Inventions of Leonardo Da Vinci
Upon entering the basement, you meet Leonardo, 'the engineer.' The rooms downstairs are devoted to the inventions of Leonardo da Vinci.
Over 40 machines, each light years ahead of their time, were produced by IBM using da Vinci's original drawings and materials typical of the time.
Leonardo da Vinci invented things in the fields of civil engineering, mechanics, optics, military engineering, hydraulics, and aeronautics.
The first tank, the first automobile, the swing bridge, the paddle boat, the flying machine, the helicopter, and the parachute were all among da Vinci's original creations.
Leonardo Da Vinci In Nature
On the Château grounds, there lies the Leonardo da Vinci Park. Da Vinci came up with all of his ideas from observing nature. The park is arranged into six themes to help visitors understand the multidisciplinary genius of the master himself.
If you're hungry while you're here, there is a crêperie and tearoom, a snack shop, and a restaurant boasting the original recipes from the time of da Vinci.
I didn't try any of these places and instead found a restaurant in town.
I can't attest to the quality or lack thereof, but I know that these places cater EXCLUSIVELY to tourists, so prices are likely inflated to reflect that.
Château le Clos Lucé was what I was most excited about in Amboise, primarily for the history and the connection to Leonardo da Vinci, and it did not disappoint.
The basement containing the inventions had framed quotes from da Vinci decorating the walls, all of which were inspiring and profound.
Hours & Admission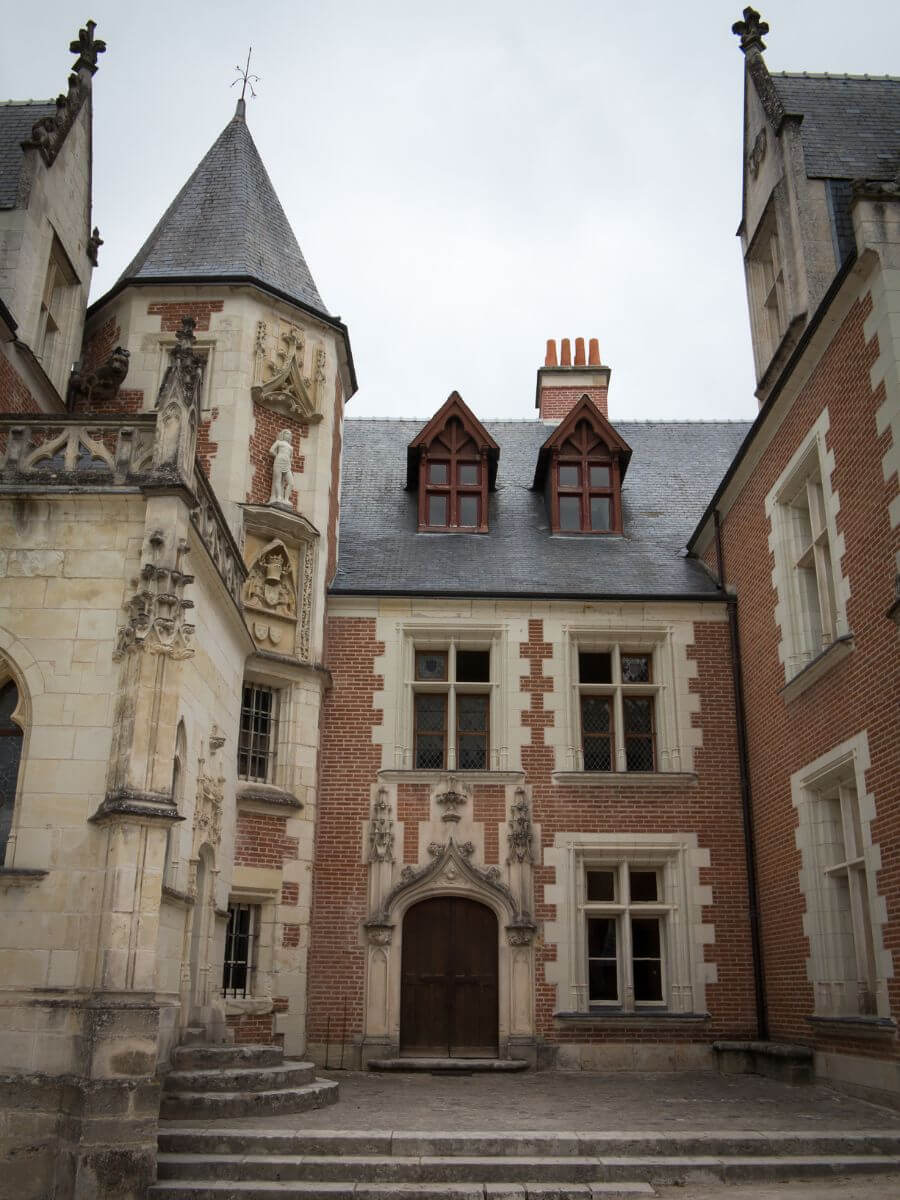 The only days Château le Clos Lucé are January 1st and December 25; rates vary between €13,50 and 16,00 depending on the season for an adult ticket.
Children and student prices are available at a discount, and large families can buy group tickets, all of which can be purchased online or in person.
Why Is Leonardo Da Vinci Buried In France?
As I mentioned, da Vinci spent the last three years of his life in France. Per his request, When Leonardo da Vinci died in May 1519, he was buried in the church of Saint-Florentin.
The church was part of the Royal Château d'Amboise but was destroyed during the Revolution.
Roughly 50 years later, excavators discovered a skeleton at the church site. Scattered nearby were some inscribed stones etched with Leonardo da Vinci's name.
The remains were then moved to la Chapelle Saint-Hubert (pictured above), located adjacent to Royal Château d'Amboise.
Château Gaillard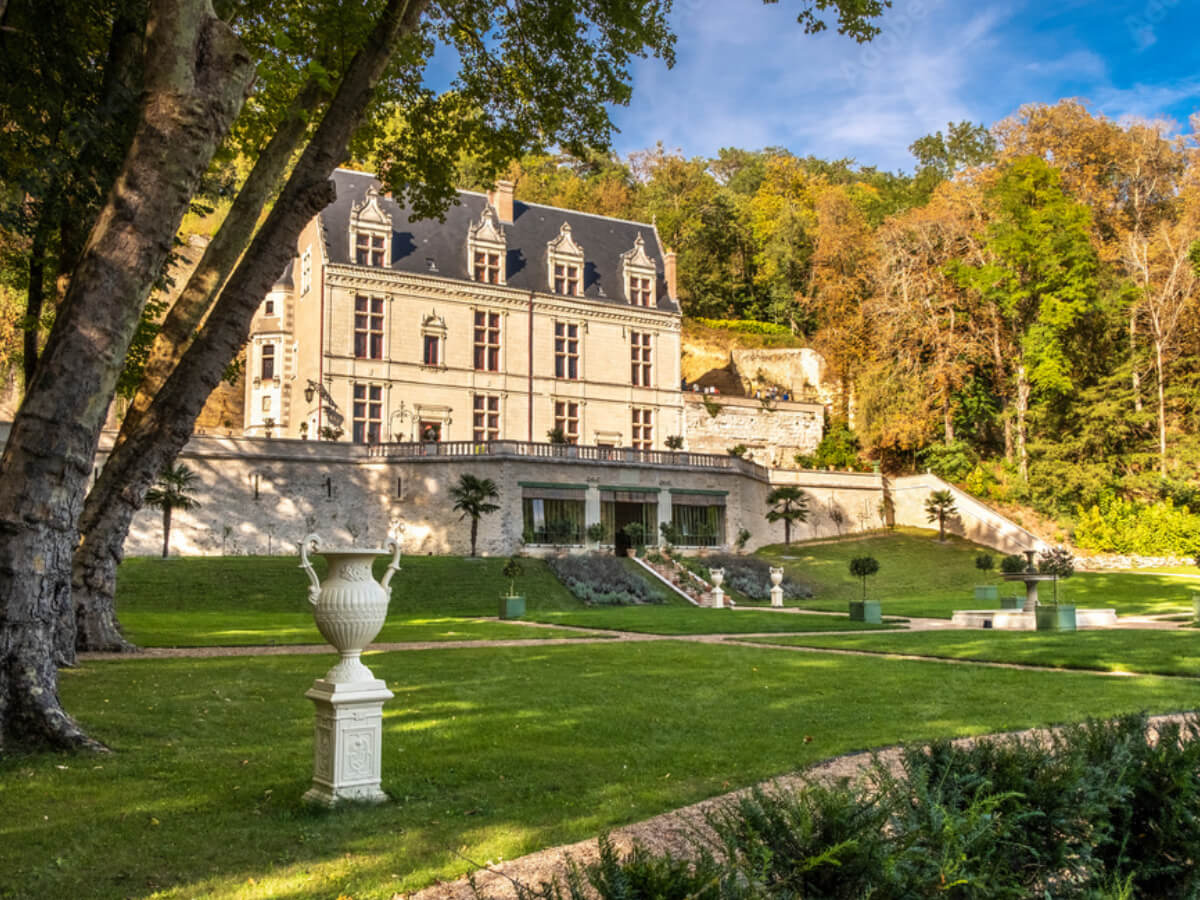 The walk from Château le Clos Lucé to Château Gaillard was the longest portion of the trek. This itinerary consists of a lot of walking, and this is the longest leg of the journey.
Be sure you're wearing comfortable shoes! I cannot emphasize this enough – I was NOT wearing comfortable shoes and paid the price.
These are the shoes I normally wear for such days. They're super comfy, and waterproof, and I can hike in them for 10 easy hours with no complaining, no blisters, no swollen feet.
The walk was lovely, the air was crisp and clean, and the slight incline of the road generated enough heat to combat the cold of early Spring.
As Château Gaillard is further outside of the center of town, the streets get quieter and the tourists are fewer and farther between.
Just on the outskirts of the Château grounds, there is a small shop supplying local artisan confiture, marmalade, and honey.
A lone young woman reading a book sat behind a table with a cash register set upon it in this small cave, looking up at us with a sweet smile as we walked in to peruse the offerings.
We bought a few jams to take home to remember the taste of France and continued on to the castle.
Château Gaillard Gardens And L'orangerie
Château Gaillard is where the first Renaissance gardens were planted in France. Dom Pacello, who was a Benedictine botanist monk, was the master gardener behind the Jardins du Roi at Château Gaillard.
The French kings of the time dreamed of recapturing the captivating gardens of Italy, and Dom Pacello reproduced them at Château Gaillard, filling floors and terraces with orange trees.
Château Gaillard was the most underwhelming, although the gardens were only just beginning to bloom.
The Orangerie was certainly the best part (not to mention eating the jams when we returned home!) – the sweet, soft aroma of the different varieties of citrus wafting along the brisk April breezes helped to ease the tension in my body I'd been holding due to the cold weather.
There are 160 trees in the Orangerie, all between 10 and 100 years old, and they come in 60 varieties (Buddha's hand, red lemon, kaffir lime, Moro blood-orange trees, finger lime, Lumia, orange trees, etc.).
Hours & Admission
The chateau is open daily from 10:00 to 18:00.
The cost of tickets for adults is 13 € – students, seniors, and children get discounted rates.
You can save 1 € per ticket if you present a ticket from Chateau le Clos Luce!
Visit Amboise Town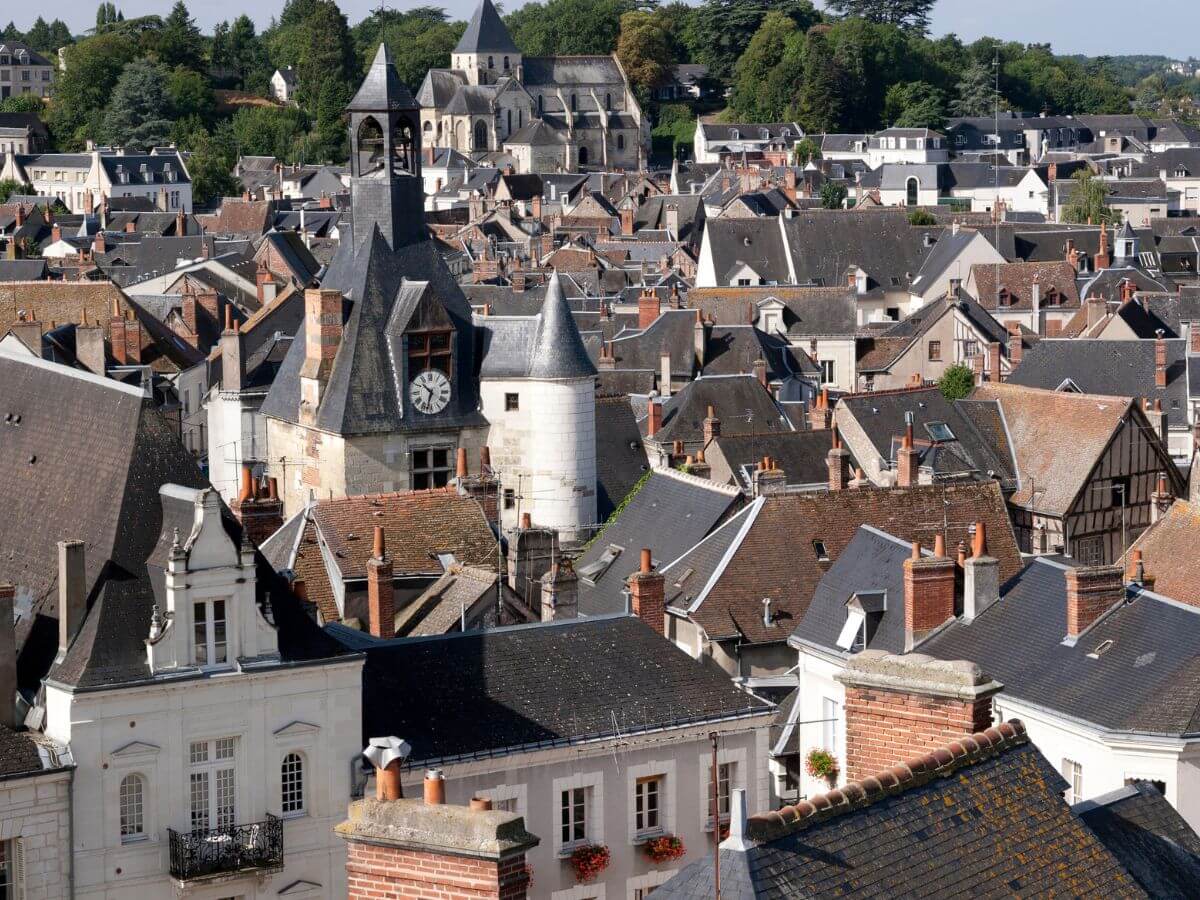 The town center of Amboise provides ample opportunity to admire the half-timbered stone housing that lines the narrow streets.
The stone buildings are Renaissance-style, built of a local type of stone whose color fades over time. The half-timbered houses date all the way back to the Middle Ages.
Both lend a certain charm and old feel to the town that you don't get in Paris.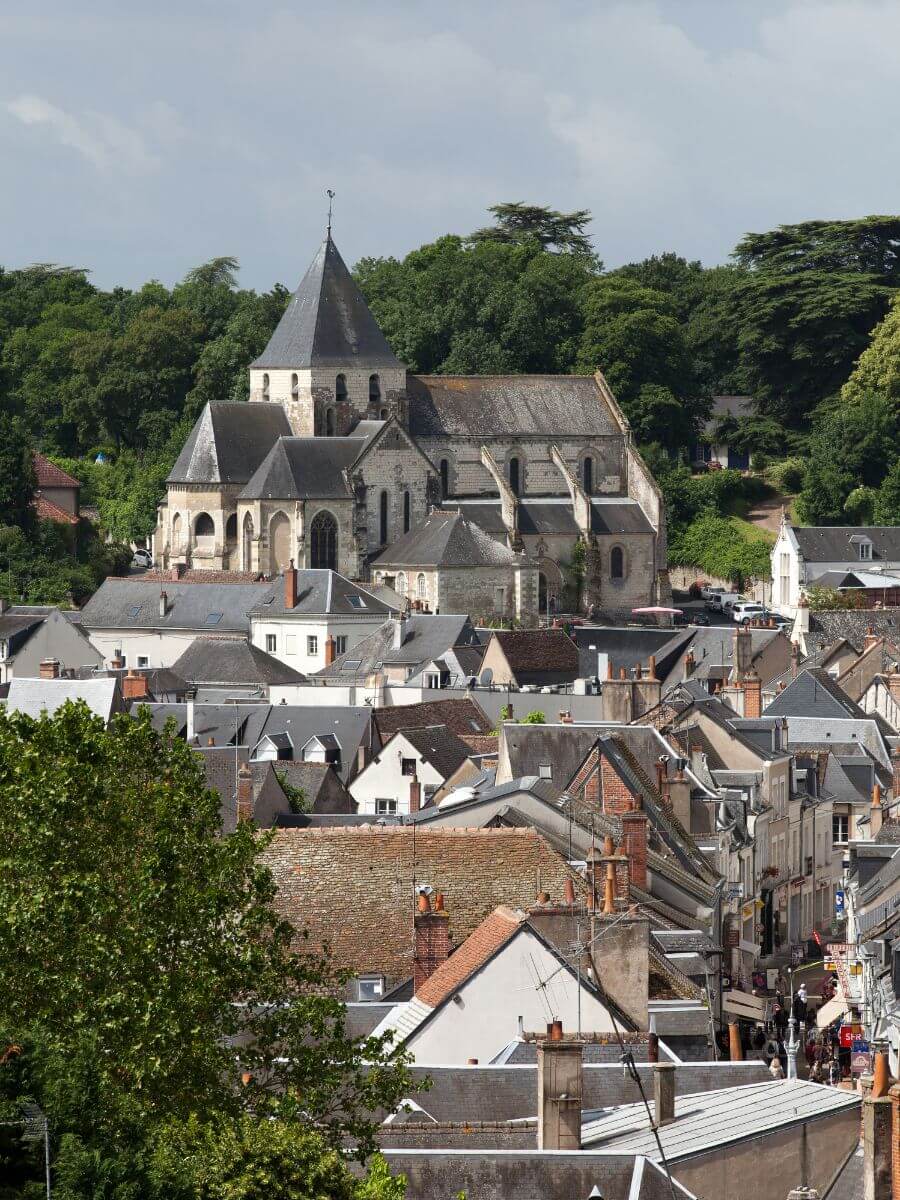 Despite being chilly in early April, the town was beginning to feel alive. People began emerging from their hibernations and reentering the world of the living.
It all cemented my belief that a day trip to Amboise was the perfect decision. There didn't seem to be too many tourists, which was a welcome change from the overflowing streets of Paris.
Food And Drink In Amboise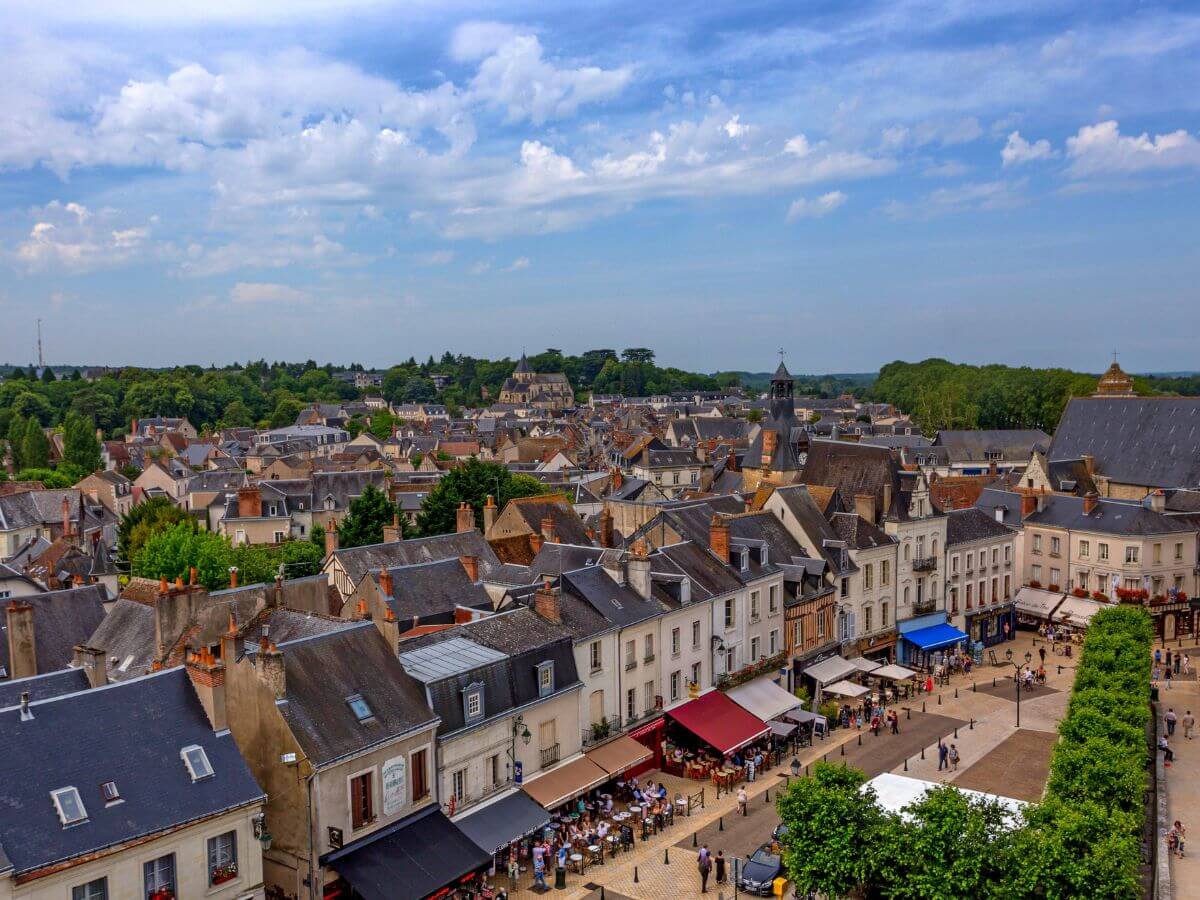 After walking back from Château Gaillard, mom and I were ready for some food, a drink, or both – in my case, it was both.
Walking back toward the river, we stopped at La Réserve for a glass of rosé and a warming bowl of soupe à l'oignon, the perfect midday snack and ultimate traditional French food.
This is where we went for lunch, although many other restaurants are along the main road. The onion soup here was delicious (as was the rosé), and I'd go back in a heartbeat.
If you manage your time a little differently and spend less time at each Château, the town hall, and the clock tower are the most popular spots in town.
The clock tower was built in the 15th century when it was the main entryway into town. In 1445 it became a bell tower, and a little later the clock was added.
There's no denying that a day trip to Amboise will leave you with the feeling of life on the French court throughout centuries.
It will bring you back to the Renaissance days, when art and creative forces ruled and innovative, life-changing ideas were born on a daily basis.
The escape from the city can give you a glimpse into the life of a French royal, when one may have needed to escape to this magical Loire landscape from the hustle and bustle of Parisian life.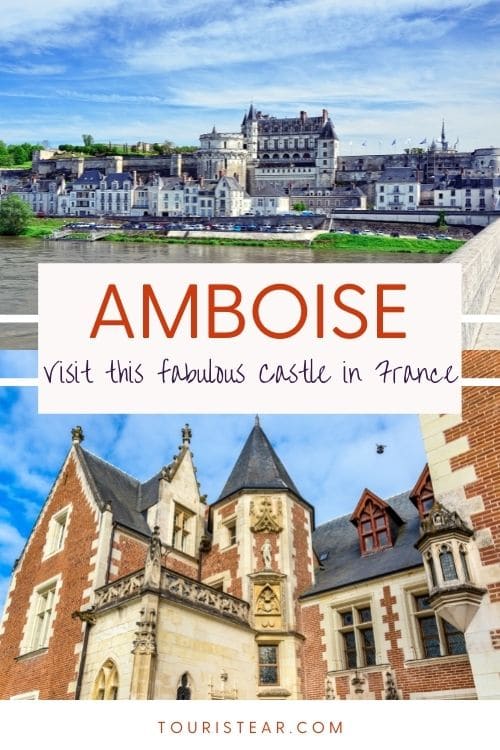 Last Updated on 27 September, 2023 by Veronica
Disclosure: Some of the links on this post are affiliate links, meaning at no additional cost to you, I may earn a small commission if you click through and make a purchase.
Author: Veronica
Vero, a seasoned traveler, has explored 25 countries and lived in five, gaining a rich perspective and fostering an infectious passion for travel. With a heart full of wanderlust, Vero uncovers the world's hidden gems and shares insights, tips, and planning advice to inspire and assist fellow adventurers. Join Vero and let the shared passion for travel create unforgettable memories.