5 Steps to a Stress-Free French Visa Application
When living or visiting France on a long-term basis, many expats need to obtain permission to stay. This has long been the case for US citizens, South Africans, Canadians, and many "non-EU citizens," but British citizens joined that list in 2020.
Any stay over 90 days comes with the obligation to get a long-term VISA which is usually one of two types of VISAs:
Long-stay visa, also called VLS-TS (Visa de long séjour valant titre de séjour)
Or Visa de long séjour temporaire, also called VLS-T, for stays between three to six months.
Whatever the length of the stay, it must be planned in advance and from your home country.
If you want to stay for a more extended period, extend your stay, or apply for residency, you must either "renew" your visa or apply for a residency permit (carte de séjour or CDS – sometimes called titre de séjour).
Renewing a visa isn't always the most straightforward option, as renewals aren't automatically granted, and you may even need to return to your home country to make the application.
Save this post for later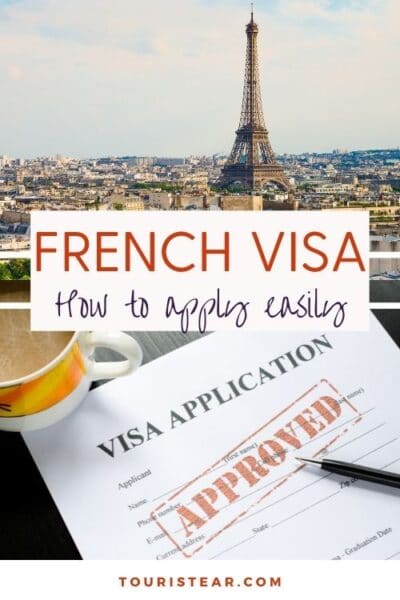 Gather the required information
Given the various types of visas available and the massive differences in terms of the process for each, applying for a long-term visa can quickly turn into a nightmare!
Thankfully, the French administration has created a website called France-visas, in English, which will help you find out which type of visa you need to apply for, details on the process, and the required paperwork that should go alongside your visa application.
Some documentation is common to all applications/types of visas:
Some documentation is often required (but not always):
Travel document
Proof of economic situation (usually bank statements)
Proof of residency/accommodation in France (rental agreement, hotel/gite reservation, proof of homeownership, etc.)
Complete the online application form
You can't apply more than six months before your scheduled departure date, but don't wait too late either. The process can take time, so we advise applying at least one month before the desired departure date.
The application can be made directly online and on the France-visas's website, and you can even save your application to be resumed at a later date.
Here's the link to the official website for visa applications.
Prepare Your Appointment with the Visa Application Center
Whatever your reason for travel and whatever type of visa you might require, don't forget that your passport must be less than ten years old on the day you intend to arrive in France, so double-check the issue date on your passport.
Your passport should also be valid at least three months after the intended return date, so please double-check your expiry date as well.
Pro tip: even if you intend to apply for residency, the first step will be to get a one-year visa (VLS-TS), so you should make sure your passport's expiry date is after the intended arrival date + by 15 months.
Another common source of rejection of your application during the appointment is medical insurance.
If it doesn't meet expectations or if you can't provide them with the supporting documentation required, your application will be rejected; you'll need to provide this documentation ASAP to avoid your application being turned down.
It's actually quite simple – you just need to provide them with the insurance certificate. The requirements for the VLS may vary from center to center, but most successful applications have the following elements in common:
The certificate shows the cover for at least the duration of your VISA. If this is not possible or if it ends before the VISA, then the certificate should mention that the insurance policy is scheduled for automatic renewal.
It mentions that you're covered for medical expenses and hospitalization (not just hospitalization).
The medical cover should be at least 30.000€.
The certificate should not mention any medical exclusions.
It covers your public liability in the EU and includes a repatriation plan.
Conclusion
If your application is successful, you'll receive the holy grail
And don't forget to confirm it online, which you can do directly online on the interieur.gouv.fr website.
If all of this still looks confusing to you, our friends from Fab French Insurance & HCB French Connection offer assistance with the entire visa application process and carte de séjour paperwork.
These services are well worth considering as they will leave you free to organize the more enjoyable aspects of your trip to France!
Plan Your Trip to France
Everything to plan your trip to France here
Last Updated on 22 September, 2023 by Veronica
Disclosure: Some of the links on this post are affiliate links, meaning at no additional cost to you, I may earn a small commission if you click through and make a purchase.
Author: Veronica
Vero, a seasoned traveler, has explored 25 countries and lived in five, gaining a rich perspective and fostering an infectious passion for travel. With a heart full of wanderlust, Vero uncovers the world's hidden gems and shares insights, tips, and planning advice to inspire and assist fellow adventurers. Join Vero and let the shared passion for travel create unforgettable memories.