Where to Eat in Paris: 15 Restaurants You'll love for 2023
Today I will tell you which restaurants in Paris I liked the most in my trips to the French capital.
As you know, for a few years we have lived in France, and we are fortunate to be able to visit Paris several times a year.
If you are looking for an itinerary, check this blog post, Best things to do in Paris, a complete guide with an itinerary for those who travel to the city of light for the first time.
But in today's post, I want to tell you about the restaurants in Paris that we have been trying and liked; I hope you like them too.
This article will grow with the different trips. You will find restaurants for all tastes and budgets.
One of the restaurants is very close to the Arc de Triomphe, and the others are in the Latin Quarter, Porte d'Orleans, St Germain, etc.
Do You Prefer a Tour?
Paris Gastronomic Bus: Tour the center of Paris aboard the Bustronome, a luxurious gastronomic bus where you can enjoy a delicious lunch or dinner during the city tour.
A unique day: Dinner Cruise.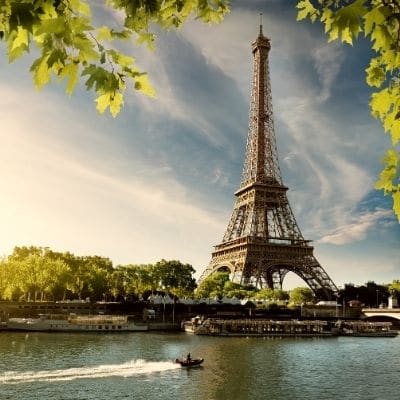 Where to Eat in Paris
There are plenty of lovely places to go for lunch (déjeneur) or dinner (diner) in Paris. Depending on the area, the prices will vary a lot.
Of course, the most touristy areas, like everywhere else, are the most expensive, but there are always little tricks to save money in Parisian restaurants.
When you travel to France don't take for granted that they speak English, if you try to talk to someone in France, always start with Bonjour, it costs nothing, and the French people consider it mandatory to start a conversation politely. If you don't, they can be rude.
You can try to learn some French phrases and words like: Bonjour (good morning), Merci (thank you), S'il vous plait (Please) and Au revoir (goodbye)
15 Restaurants in Paris that I would recommend
Orgueil Restaurant
6 Rue Popincourt, 75011 Paris, France. 11th Arrondissement
Orgueil is a restaurant that we loved. We went at the end of May 2023 for the first time, and I'm sure I'll repeat soon.
The Orgueil has a concept of zero waste with seasonal products. The waitress proposes a number of dishes per diner that is considered to be enough so that there is no excess food. This is why the menu changes depending on the season.
The idea is to share the dishes with your companions (or not!); they would be much more elaborate and chic like tapas.
The presentation of the menu is also very original; It looks like tarot cards. Each card has 3 dishes for you to choose starters, vegetables, fish, meat, and dessert. We ordered 3 dishes each plus a dessert to share, which was more than enough.
They have a good selection of wines and the waiters know how to guide you to choose the perfect wine for your dinner.
For starters you can try the goat cheese with pine nuts, and green asparagus which is excellent. Don't forget to order the croquettes.
They are not the typical ones like those made in Spain; they had a French touch, and they seemed to be made with rillettes.
By the way, if you haven't tried the rillettes, I recommend the goose ones.
As main courses, we recommend you to try the gnocchi with compte cheese and mushrooms, the squid teriyaki with potatoes, and the lamb confit with hazelnuts.
Desserts are elaborate, we loved the brioche with chocolate and ice cream.
All the waiters speak English and several speak other languages too if you have any questions or want to get a suggestion, it's much easier.
The price is reasonable for being in a cool neighborhood in Paris.
La Méthode
2 Rue Descartes, 75005 Paris, France. 5th Arrondissement
It is a restaurant with typical French food, located 2 minutes from the Pantheon, in the Latin Quarter, 5th arrondissement.
This restaurant was recommended to us by a family we met in the queue to climb the towers of Notre Dame, and the truth is that it was excellent.
We sat on the typically covered terrace you'll see in French restaurants. The customer service was excellent, and the food was good.
We ordered without really knowing what we were ordering since my French was zero at that time, Fer remembered a little from school, and the girl didn't speak English.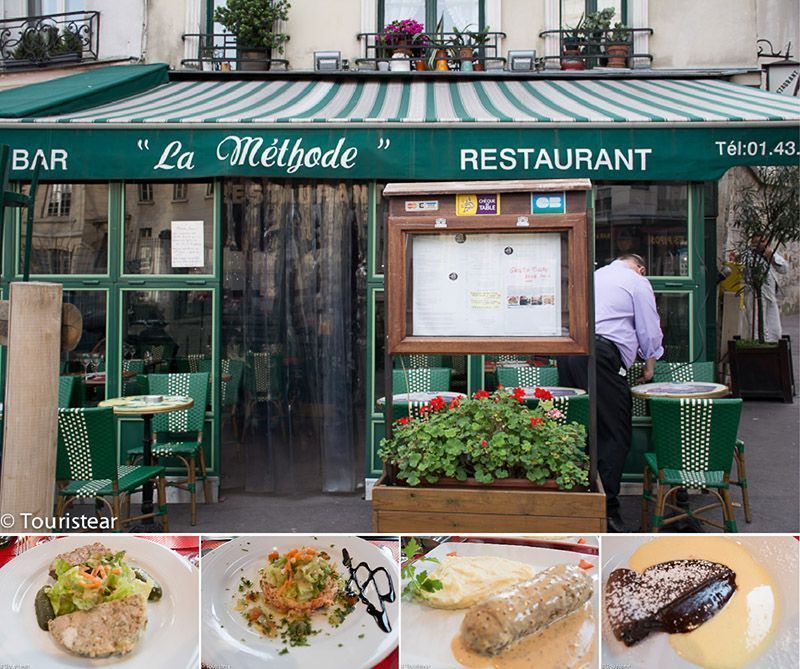 The homemade chocolate coulant, is the best I've ever tasted!
Although it is located in the Latin Quarter, this restaurant is on the outskirts and is not frequented by foreign tourists.
We do believe that some were French tourists, or at least they seemed so, and the best thing is that it was not crowded or it seemed because the French people speak generally in a lower tone of voice.
Another thing that I liked, besides the food, is that they don't rush you; behind us, there was a couple who had been sitting before we arrived with a coffee, and they were still there when we left.
The menu price was about € 19 per person plus the drink apart, Fer had a beer and I asked for tap water, in french they say "carafe d'eau". By law, they are obliged to serve a bottle to you and do not charge for it.
The bill was forty-something euros. So, for me, I totally recommend La Methode de Paris.
If you want to go, this is the address: 2 Rue Descartes, 75005 Paris.
Chez Fred
190 BIS Boulevard Pereire Street, 75017 17th Arrondissement
A classic Bistrot restaurant that we love in Paris is Chez Fred. A French cuisine restaurant that has been open since 1945. It has a classic Parisian touch and exquisite food.
Chez Fred, under the direction of Laurent Hullo, has been reborn today as a Parisian bistro in the glory of good, authentic, and seasonal cuisine.
But what can you expect from Chez Fred? A bistronomic, tasty, gourmet, friendly cuisine based on the right product: the area and the season.
We ordered a carpaccio from the bar, very fresh and tasty; I ordered a shrimp risotto, it has been a long time since I tasted one so delicious, and Fer ordered a pepper sirloin, super tender. We also ordered dessert and coffee. Excellent espresso coffee!!!
Everything really excellent. We will repeat it for sure. Also, one of the waiters spoke a little Spanish.
Open from Monday to Friday for lunch and dinners.
The Brasserade of the Latin Quarter
It is a restaurant with Provencal food, and is located in the heart of the Latin Quarter. We went in because we were walking there and we wanted to eat fondue and because it was time for dinner and we were hungry!
The restaurant is charming; the waiter who attended us was a charmer, a gentleman who spoke Italian, French, some Spanish and English.
The atmosphere of La Brasserade has nothing to do with that of La Methode, or perhaps it is because of the time we went to one or the other. La Brasserade has a lot of tourism; you could hear a lot of Italian and Spanish in the restaurant.
In addition, the area in which it is located invites you to have a drink in any of the gambling dens along Rue Huchette.
Prices were rough, on average, about 20 euros per person, we took a salad, a fondue, half a bottle of Bordeaux and two coffees. We were honestly surprised by the price.
If you want to go, this is the address: 15 Rue de la Huchette, 75005 Paris
5. Le Jardin du Roy (Latin Quarter)
This restaurant on the Latin Quarter's famous Rue de la Huchette is excellent. Although we ate from the lunch menu (Formule midi), there were two or three menus of different prices.
We ordered the € 15 one that included a starter, a main dish, and dessert. And to drink a jug of water.
The menu was excellent, and the dessert was delicious. But, Fer ordered a pint of Affligem beer, and they charged him € 11, almost the same as the meal. So, keep that in mind, in case you ask without looking at the prices.
I ordered a salad with goat cheese, entrecote with fries and a chocolate mousse. Very good, totally recommended.
6. Del Papa Restaurant (Arc de Triomphe)
It is an Italian restaurant that is near the Arc de Triomphe. This is where we dined on New Year Eve; we chose it for the location and because the price of the menu did not go too much, 50 euros each.
We take a look at the menu, and on an average day, you can eat for about € 20; as always, drinks raise the price the most depending on what you order.
Our experience in this restaurant is from December 31st, so many people from all over, French, Italians, Spanish, Russians, and others do not identify the language.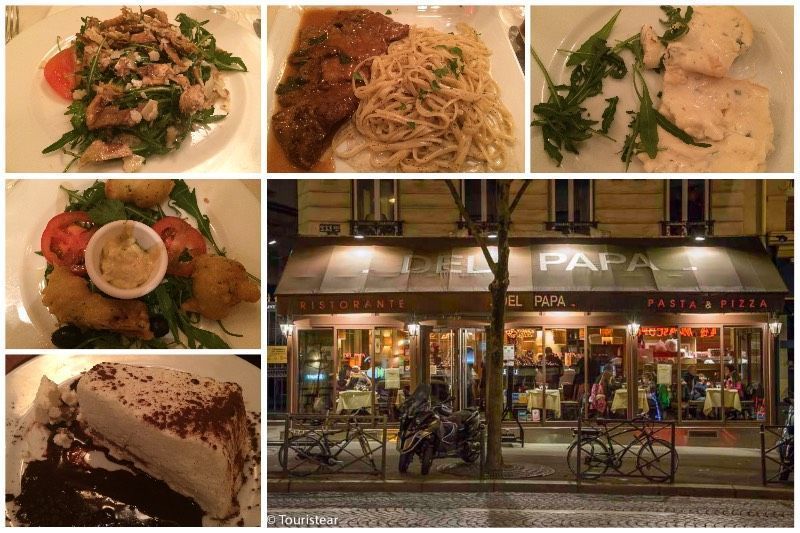 Despite the number of people there, the customer service was excellent, and the food was tasty and abundant.
The only downside, perhaps, is that there were many tables and we were very close to each other. Maybe, because it is almost inevitable to talk to the next person, we liked that, but, likely, others do not like that.
The address is 233 Bis Rue du Faubourg Saint-Honoré, 75008 Paris.
7. Mangue Rouge (Porte d'Orleans)
If you like Thai food, this restaurant is going to enchant you. It is not located in a tourist area, and we found it by chance in October 2021 because we stayed at the Acropole Hotel, which is a few steps from this restaurant.
This Thai restaurant has typical Thai food, the menu is in French and Thai, but many of their names will sound familiar to you if you like this type of food.
It's honestly one of the best Thai restaurants I've ever had.
Here we went for dinner and ordered from the menu, the main course for each, a dessert and a beer. The price did not reach € 30 per person. It would probably have been around € 50 per person if it had been in the center.
8. Ober Mamma, Oberkampf Area
It's an Italian restaurant, where we celebrated my sister's birthday. It is located in the Oberkampf area, near Bataclan.
It eats wonderfully well, it has the most reasonable prices. The service is excellent, the waiters are super friendly.
If someone has a birthday, you can let them know and they sing you happy birthday in Italian and put a candle in your dessert or a cup of chantilly cream with a candle.
Here we ate like crazy (there were 5 of us), we ordered everything we wanted, including two bottles of wine and two coke. As starters, we ordered burrata, carpaccio, and octopus, then the main course each. I ordered gnocchi, probably the best I've ever eaten in my life.
We also ordered a classic spritz each, a dessert each, and 5 shots of limoncello. The whole bill was € 273.
One of these days I am going to prepare an exclusive post about this restaurant because I loved it and it is highly recommended. Or ask me if you want more information.
You have to book in advance. Note: It's hot in the main room because of the pizza ovens.
Address: 107 Bd Richard-Lenoir, 75011 Paris
Note: We returned to Ober Mamma and noticed that the menu was different. I ordered a dish of pasta with truffle, OMG! Delicious!!! I think it's only for winter, but if you go and see this dish, ask for it, you won't regret it.
9. Little Breizh, Saint Germain
Great for galettes (savory crepes made with buckwheat) and sweet crepes.
Price 20 euros per person, but they had menus of € 11.90, including the first plate, second plate, dessert, and a glass of cider or homemade apple juice.
Lovely customer service and the crepes are superb!
Address: 11 Rue Gregoire de Tours.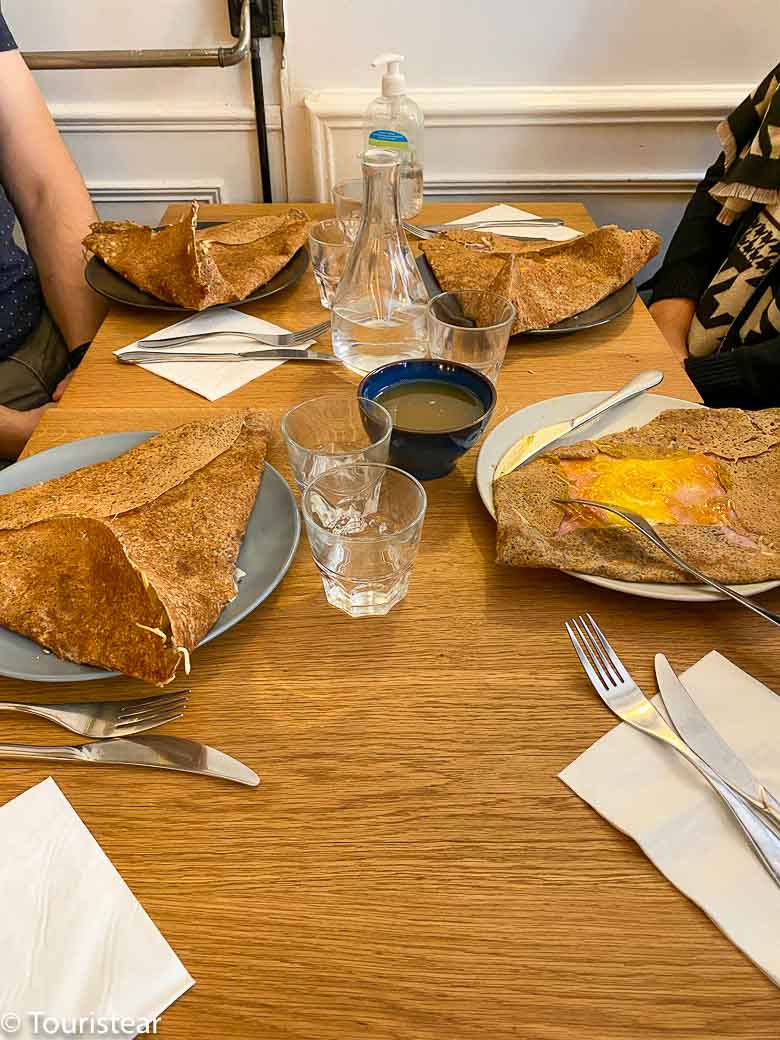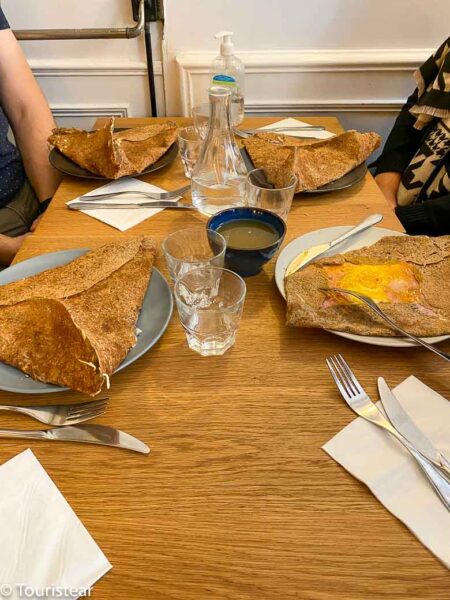 10. Bibiche, Montmartre
Here we were visiting Montmartre and on the way to the Moulin Rouge, we decided to find a place to eat. We arrived by chance, it looked good.
We dined at the typical Parisian tables on the heated terrace. My photos have all come out red because of the stoves, hehehe.
Here you have to taste, the foie grass and the camembert roti are highly recommended. It's what we ordered first and it was great. We also ordered Os a Moelle as a starter, it was good, but I have tried better.
As main courses we ordered meat, 2 onglets that were very good and Fer and Mati ordered Cote de boeuf to share, it looked good, but I found it too much food!
Address: 42 Rue Lepic, Paris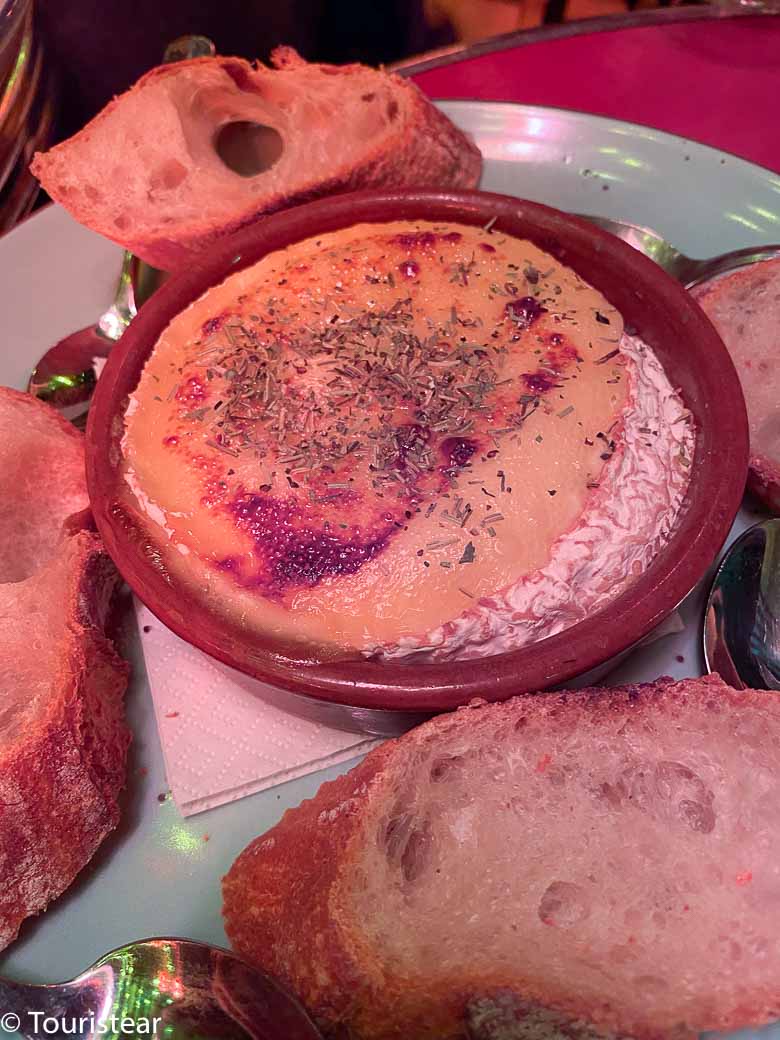 11. Pierre Hermé Paris
Pierre Hermé Paris is perfect for giving yourself a sweet treat or bringing a gift, but it is quite expensive. It has shops scattered throughout the French capital, including the Eiffel Tower. A must-try the macarons.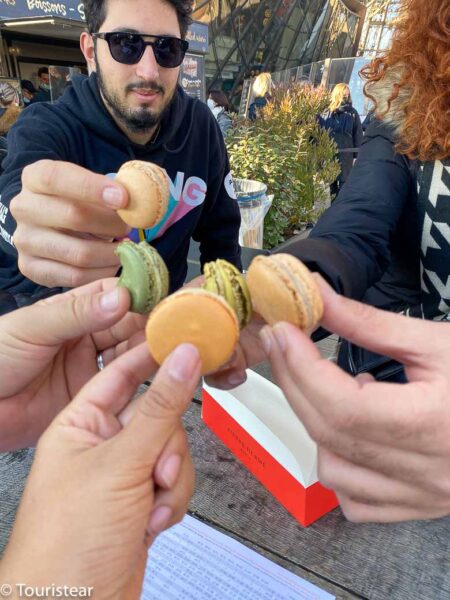 12. Miss Ko Restaurant
On my last trip to Paris, March 2023, I finally went to dinner at the Miss Ko restaurant, I had it on my to-do list for a couple of years. And it did not disappoint at all.
This restaurant is a short walk from the Champs Elysées and the Louis Vuitton store. The minimum price that you are going to spend will be €50.
The decoration is excellent, it is modern, it has good music, a very good customer service, with waiters who speak several languages and of course, the food was delicious.
We each ordered a spritz to drink, some gyozas for starters, a 25-piece sushi mix for two people, a typical pizzetta, and for dessert, some mochis, and a cheesecake.
The sushi was of exceptionally good quality, the sauces were excellent, and the cheesecake was very rich. Undoubtedly, it is totally recommended, and I will surely return.
Of course, you must make a reservation online; they ask for it at the door; if not, you cannot enter.
13. Kodawari Ramen (Rue Richelieu)
Another Japanese restaurant we tried in Paris in March 2023 is Kodawari Ramen. There are two Kodawari restaurants; you have KODAWARI TSUKIJI at 12 Richelieu street and KODAWARI YOKOCHŌ at 29 rue Mazarine.
We went to the first one, which is specialized in fish ramen. What's more, the restaurant is set in a Tokyo fish market. The truth is that it's amazing, and the ramen is probably the richest I've ever tried.
Fer asked for the SARDINE BOMB!! the chef's version and I PAITAN DE DAURADE ROYALE with egg (tamago).
If you already know Paris or are craving ramen, this place is fantastic. The only bad thing is that you have to wait. I'll tell you how it works; when you get to the restaurant door, you'll see some QR codes; enter the code used to make the reservation.
We arrived at 12 noon on a Sunday and ate at 1:30 p.m. We went for a walk around the Japanese quarter, but you can also go to the Louvre and take some photos of the pyramids, you won't have time to visit the museum.
But without a doubt, a place that I loved. The next time I visit Paris, I will go to Kodawari Yokocho, which specializes in beef ramen. Oishii!
Other Restaurants that We Want to Go
The number of restaurants in Paris is incredible; you have something for all tastes and budgets, so recommending it is challenging because there will always be another to try.
Here are several, some of which we will be testing in future trips, but if you see this post before I update it and you feel like it, you know.
Mister T restaurant, this restaurant was recommended to me on this last trip to Paris, if you know it gives me your opinion. Otherwise, on my next trip to Paris, I'll tell you.
Les Ombres, for an exceptional occasion, is a costly restaurant with views of the Eiffel Tower
Miss Ko, a Japanese fusion restaurant near the Arc de Triomphe, is very cool. (Done)
Brasserie Auteuil, looks great
Café Pouchkine is an elegant place for a special occasion. The average price is € 65 per person.
Flesh restaurant for meat lovers.
Freddys restaurant
Le Souffle is supposedly where you can eat the best souffle in Paris.
How to Save Money in Paris Restaurants
In general, Paris is a fairly expensive city, but you can save money with these tips.
"Formule" looks for restaurants that have "Formule", it can be formule midi or formule soir. This means lunch menu or evening menu. These menus usually include a main course with dessert or with a starter, or all three. Of course, it is cheaper than ordering from the menu.
"Carafe d'eau" is pronounced something like caraf do, and means tap water. That is, ask for tap water. In France, it is totally normal, especially at noon lunch, the water is good and free.
Escape from the tourist areas, avoid going to restaurants in the more expensive tourist areas, and look for the Formule if you have no choice.
Stay in an apartment; one of the best ways to save money on any trip is to prepare the food yourself. So you can look for an apartment on Booking.com and go to the supermarket and at least prepare breakfast and dinner yourself.
Lunch and Diner Time in Paris
In France, in general, the eating hours are European.
At noon, you have lunch between 12 noon and 1:30 pm and dinner at 7:30 pm and 9:30 pm. These hours are for restaurants, brasseries, and bistros, but fast food places have longer hours. Exceptions depend on the area, time of year, etc.
But the good thing about Paris is that you can find excellent places with much longer hours or serve food all day than in other parts of France.
Of course, if you want to go to a more unique or famous place, you must book in advance, sometimes for a month or more!
What to Eat in Paris
If you want to eat typical food from Paris, here you have some must.
Le croque-monsieur: Young and old love it, the croque-monsieur puts everyone in agreement. It was born in 1910 in a cafe on the Boulevard des Capucines, and its name comes from a joke pronounced by its creator. Croque-monsieur is as easy as it is quick to prepare. You only need two slices of sliced bread, cooked ham, béchamel cheese, and grated cheese. Some bake it in the oven, others in a skillet. There are also devices specially designed for this typical Parisian dish.
Shepherd's pie (Le hachis parmentier): Another typical dish from Paris, the shepherd's pie or pie, is made with mashed potatoes and minced meat (or fish). The history of this dish? Antoine Parmentier, a pharmacist, created this recipe and made Louis XVI change his mind; who considered that the potato was a common and good food for animals.
Entrecote with French fries: In the 19th century, La Villette was a slaughterhouse where butchers liked beef entrecote with butter and herbs, accompanied by "Pont-Neuf potatoes." Today, we find this dish (rather with fries) in many Parisian bistros and even beyond the borders of Ile-de-France.
Les Halles gratiné: Gratiné des Halles is also a typical Parisian dish. It is an onion soup topped with grated cheese that is browned in the oven. Simple, but good!
Here you have more things to try in Paris; I leave you the names in French, which is how you will find them in France.
Le mille-feuille
L'Opéra
Le Saint-Honoré
L'amandine
The baguette Tradition (there are many varieties, ask for the one you like best at the boulangerie )
Les chouquettes
Les macarons (essential)
Les fromages (cheese: you will see that sometimes they eat it for dessert)
Le croissant and le Pain au Chocolat (essential)
Have a Drink in Paris
Harry's New York bar in Opera, where they (supposedly) invented the Bloody Mary
FAT (French Art Touch) combines street art, hip-hop, and cocktails.
Café des Chats, to have a coffee with kittens keeping you company (16 rue de Michel Le Compte).
Go for a drink in a 1920s-style bar, hidden behind a pizzeria (5 Rue de Sedaine)
Have chocolate in Angelina
Plan Your Trip to Paris
By the way, this post is not sponsored (sadly) by any of the restaurants I mentioned. I recommend them because we tried them, and we liked both the food and the attention.
Last Updated on 28 September, 2023 by Veronica
Disclosure: Some of the links on this post are affiliate links, meaning at no additional cost to you, I may earn a small commission if you click through and make a purchase.
Author: Veronica
Vero, a seasoned traveler, has explored 25 countries and lived in five, gaining a rich perspective and fostering an infectious passion for travel. With a heart full of wanderlust, Vero uncovers the world's hidden gems and shares insights, tips, and planning advice to inspire and assist fellow adventurers. Join Vero and let the shared passion for travel create unforgettable memories.