Best Things to Do in Paris in 5 days. The Ultimate Guide
Paris, it's always a good choice.
Paris is the most romantic city in the world. It also happens to be one of the most visited cities, with over 30 million tourists that visit every year.
There's a lot to do and see in this magical city! So, we write this ultimate guide to show you how to take advantage of the best of Paris in just 5 days!
This blog post includes tips for what to do, where to stay, how many days to spend, and more.
Trying to make the most of these five days but not dying in the attempt. Do you want to know what to do in Paris? Keep reading!
I will also tell you about our experience with the 2-day Museum Pass in this post. However, Paris has a lot to do, so it's better to have an approximate itinerary not to miss anything.
If you're traveling in winter or autumn, you're quite likely to rain. If you want different plans to make in Paris when it rains, click on the link; we'll give you many original ideas.
Are you traveling in winter? Check out these magical Christmas Market

5-Day Paris Itinerary
Plan Your Trip Before Your Depart to Paris
Paris is a vast city with many places to see and visit, so we did this post with all the information you need to start planning your trip to Paris.
This way, you have an idea of what you want to see and what you don't want to miss.
But, you have to be flexible and let room for improvising.
What to See in Paris in 5 days?
Here you'll find an itinerary for people traveling to Paris for the first time. It's the same as we did our first time in this magnificent city. But with some improvement 🙂
If the first thing you want to do in Paris is visit the Eiffel Tower, you must book your ticket in advance. After Covid-19 happened, you know, the groups are smaller, social distancing, etc.
With this ticket, you have free cancellation for up to 24 hours.
Also, there is a skip-the-line Eiffel Tower ticket plus a cruise on the Seine. A totally recommended bundle for your trip to Paris.
Please, read how to plan your trip to Paris blog post to start planning your trip.
Day 1 in Paris
Afternoon: Mars Field, Eiffel Tower (without climbing), and The Invalides
By the time we had parked, it was about 4 pm, we went to the ticket office area to buy a ticket to climb the Eiffel Tower, and we saw how many people were in line, it was too much, and we changed the idea.
This is why I recommend that you buy the ticket online in advance 😉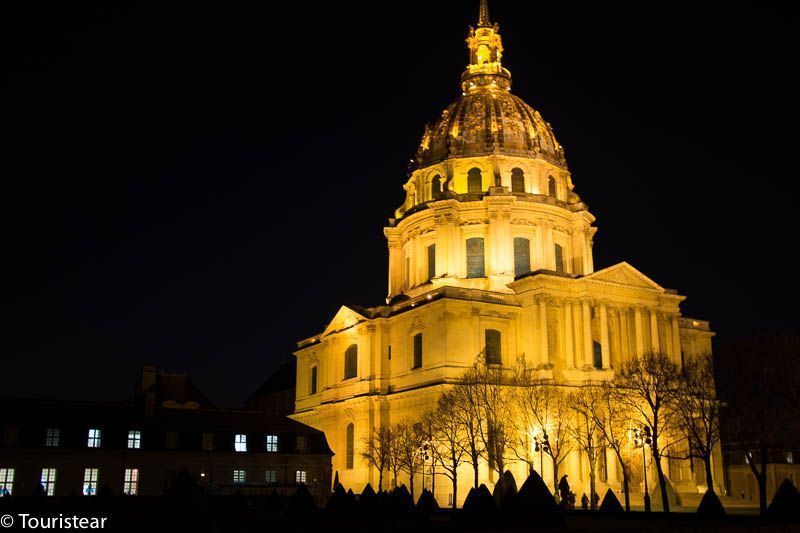 Our idea was to go up by day, and at 5 pm, it gets dark in Paris in winter, we wanted to see Paris day and night from the Eiffel Tower, but it wasn't going to give us time.
So we decided to change plans, went for a walk, and took pictures of the Champs de Mars and The Invalides.
Field of Mars and The Invalides
The Champ de Mars, being on Christmas dates, had on its left side a Christmas market, with food stalls, sweets, hot wine, souvenirs, and even a mini ice skating rink, for children.
By the time we got to Los Invalides, it was already dark and closed. The Invalides is a complex created initially to house crippled, elderly, and retired French soldiers and service members.
Today it houses different museums and Napoleon's tomb.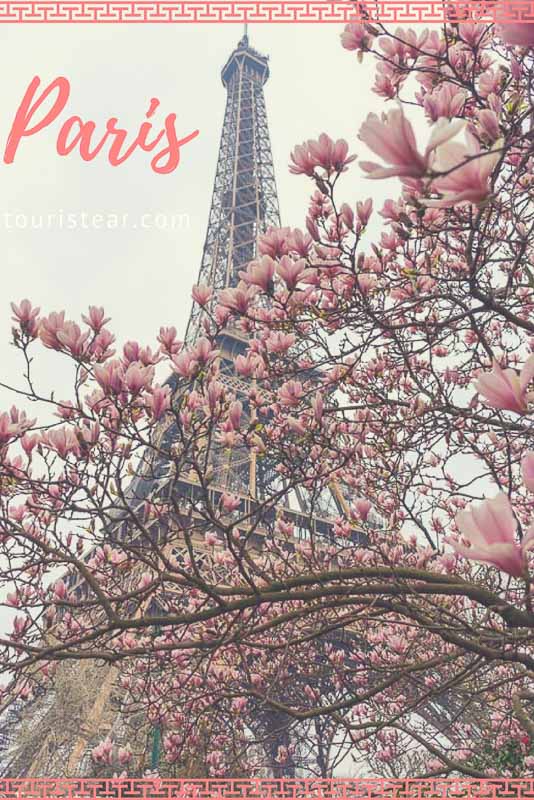 First Night in Paris: Montmartre and Moulin Rouge
After visiting the Eiffel Tower area, you can go to the Montmartre area.
We park behind the Sacre Coeur, where the hour's ticket costs you 0.60 euros for the 15 minutes. But at night it is free, check times to be sure.
You can first visit the Sacre Coeur and then the square where the artists are painting. If you go during the day week, there are few people, and you can walk very comfortably.
The Sacre Coeur Basilica is located at the top of Montmartre hill. It is a religious building of the late nineteenth century. It is of splendid architecture, of Roman and Byzantine inspiration, with four magnificent domes that can be seen in the distance.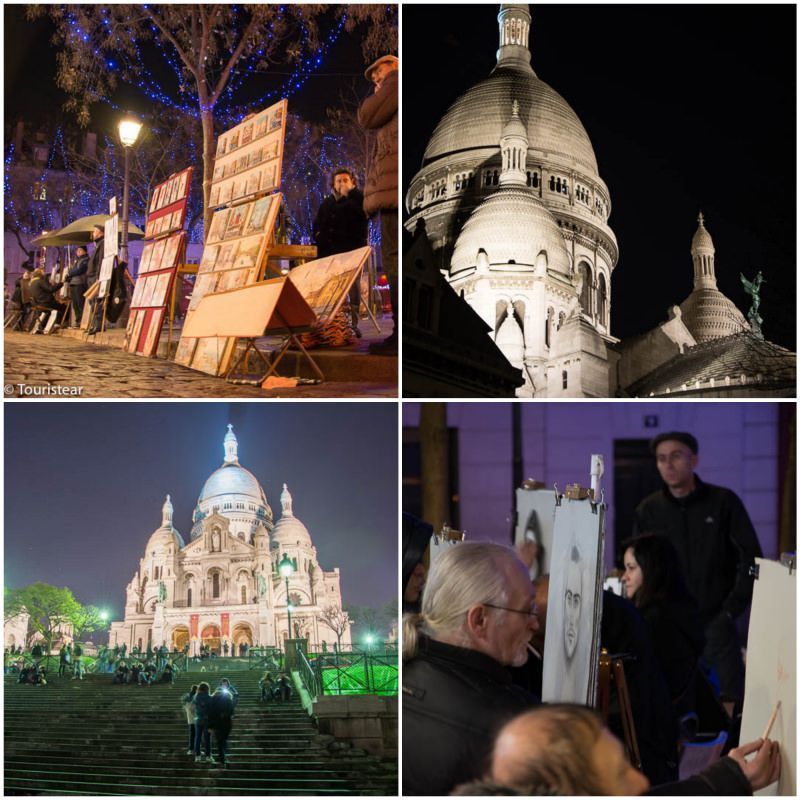 The Montmartre district is also known as the artists' quarter. I think it's one of my favorite neighborhoods in Paris.
You can see the painters making portraits of tourists visiting the area in the square. There are also many different restaurants and prices.
Also, the famous Moulin Rouge belongs in this neighborhood, which we have visited only from the outside.
If you take a walk down this street, you'll come across many cabarets and sex shops. You're going to see how curious you are.
Day 2 in Paris
Morning and afternoon tour: Notre Dame, Conciergerie, Pantheon, Pere Lachaise
Second day in the city of love. Well, get up early to go to Notre Dame Cathedral.
*(Update: after the fire, the cathedral is closed, but you can go and visit the surrounding area).
We could enter the cathedral without queuing and with few people when we arrived. In this way, we enjoyed the visit with tranquility, at least the first 10 minutes!
When we finished our visit, we went to line up to climb the towers and see the famous Gargoyles of Notre Dame close by.
When we arrived, they had not yet opened, so it was hard to wait for a little, but it was pretty fast; in the meantime, we were chatting with a family of Basques who was in front of us and recommended a place to eat, which I will tell you later.
The visit through the towers of the Cathedral of Notre Dame is totally recommended; if I had to say what are my essentials of Paris, climbing the towers would be one of them.
The views are spectacular; you can imagine the Hunchback of Notre Dame wandering around. So you better go up and tell me!
We had read out there about the Crypt of Notre Dame that it is not worth the visit, but we found it very interesting, especially if you have the Museum Pass or the Paris Pass, take advantage and visit it.
There are no queues to enter, and you will walk through the history of Paris; you will see it with other eyes.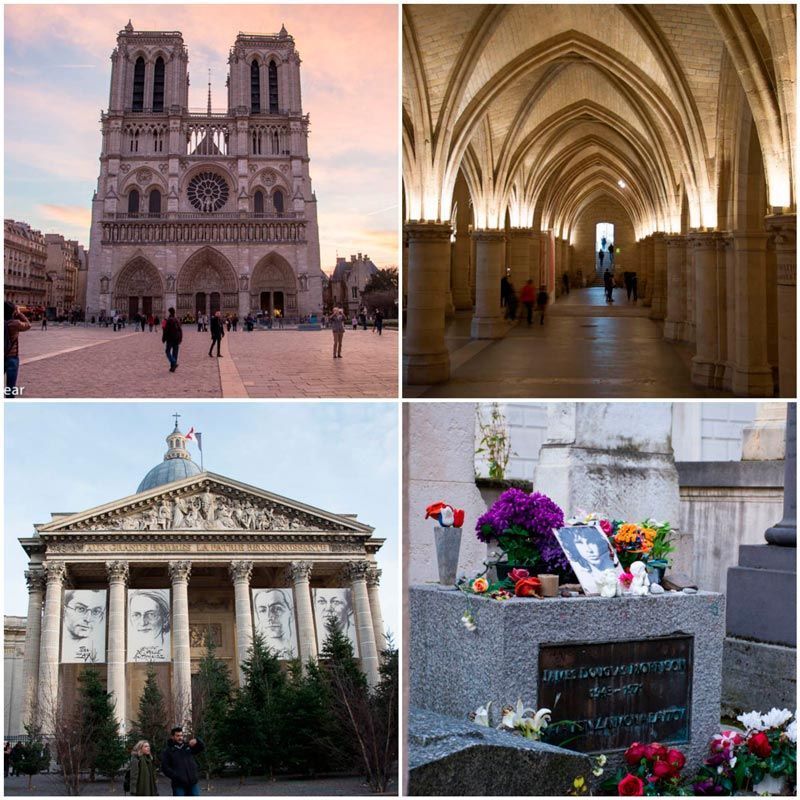 The Conciergerie
Take advantage of the Museum Pass or the Paris Pass and visit the Conciergerie; the entrance is usually very fast.
The Conciergerie is also known as the Palais de la Cité or City Palace. It is a historic building, which became a prison during the time of "terror," and very few could get out of here alive. It was Marie Antoinette's prison, and you could see her cell.
Then you can visit the Sainte Chapelle, and after this visit, you can eat near os The Pantheon. There are lovely places to go!
Get the Paris Pass Now: Save time and money with a 2, 3, 4, or 6-day Paris Pass and enjoy free entry to more than 75 attractions and tours! In addition, take advantage of a 1-day hop-on, hop-off bus tour, a Seine River cruise, access to Paris' top museums and landmarks, and more!
Saint Etienne du Mont
A few steps from the Pantheon are Saint Etienne du Mont, the church where the remains of Saint Genoveva, the patron saint of Paris, are located. Construction began in 1494. It's got some years old!
Visit the Pantheon of Paris
The visit to the Pantheon is included in the Paris Pass. Your bags and backpacks are checked in case you are a terrorist.
The Pantheon of Paris is in the Latin Quarter; it is surrounded by some significant Parisian buildings, such as the University of Paris of the Sorbonne, the Library of Santa Genoveva, Saint Etienne du Mont, and the City Hall of the V district.
In the Pantheon are the coffins of illustrious characters from the history of France; some of these are Voltaire, Rousseau, Victor Hugo, Marie Courie, and about 60 others.
Visit Pere Lachaise Cemetery
From here, we went to pick up the car and went to the Cemetery of Pere Lachaise. Pere Lachaise Cemetery is one of the most visited cemeteries in Paris, the largest and best known worldwide.
Many celebrities include Chopin, Abelardo and Eloisa, Delacroix, and Oscar Wilde. However, I wanted to visit Jim Morrison, like many of the people who were there.
The best time to go es in the afternoon; the atmosphere that reigned in the cemetery was peculiar. Some tombs are ancient; others look abandoned and covered with moss, and others with beautiful sculptures.
A recommended visit to escape the crowd. Please note that at 17.30 hours, the Pere Lachaise Cemetery closes. But our day doesn't end here, as on Wednesdays the Louvre Museum opens until 9.30 pm, and we went there and you must!
Afternoon and Night in Paris
Louvre Night Visit. Walk along the Champs Elysees and Arc de Triomphe
We had read that there were not so many people on Wednesday afternoons in the Louvre Museum; I would like to remember where I read it because there were many people!!!
The good thing is that since we had the Museum Pass, we avoided the super queues and it took about 10 minutes to get in.
Inside the Louvre were a lot of people; the first painting we wanted to see was Leonardo Da Vinci's Monalisa.
The number of people in that room was tremendous; it was like a day at a London Tube station when there is a strike. I don't know how there is no one controlling the entrance to that room.
Despite that room, the rest of the museum can be visited very well.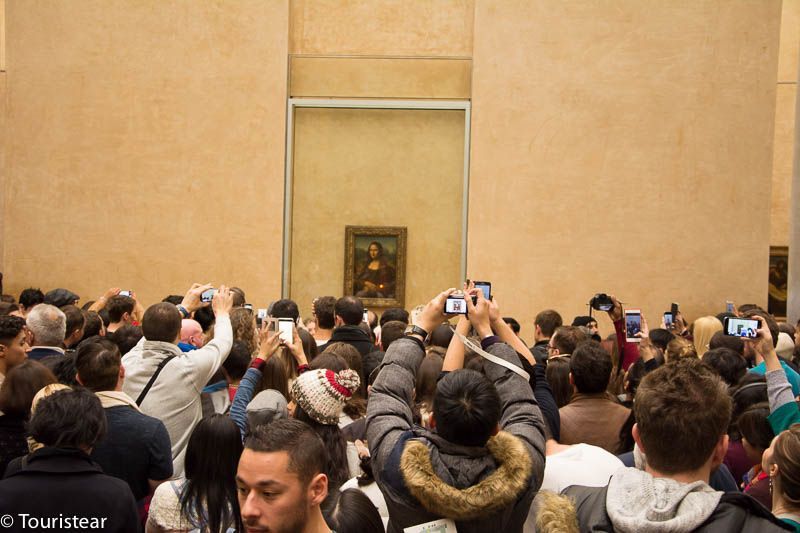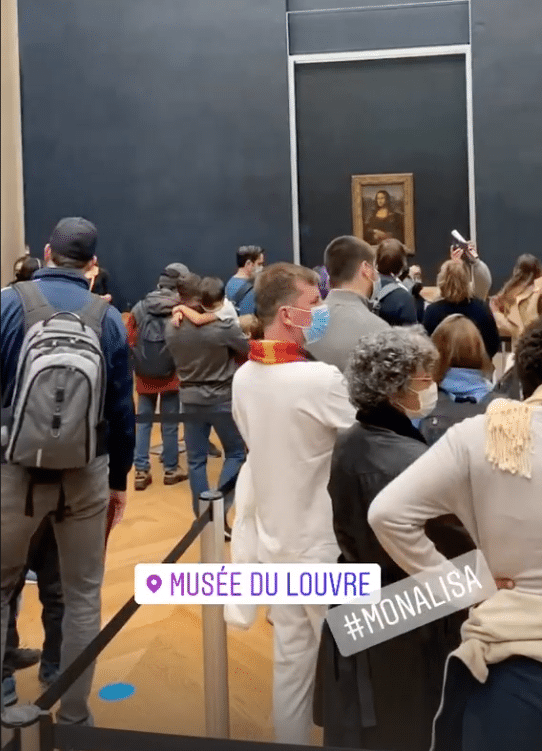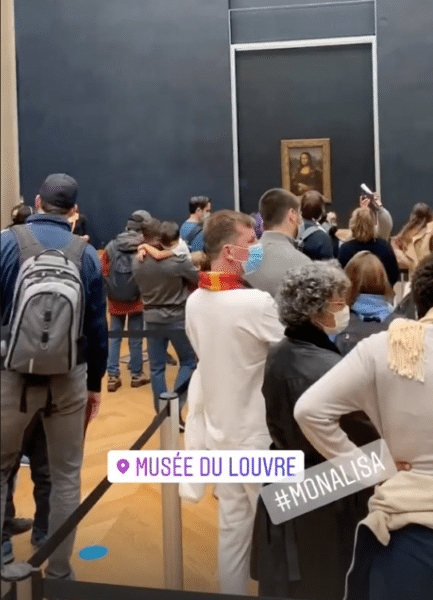 Honestly, it is spectacular; I really like sculptures, and in the Louvre Museum there is the Winged Victory of Samothrace, without words, you have to see it and of course, the Venus de Milo, you can not leave without seeing it.
In the Covid-19 times, it is much easier and better to visit it.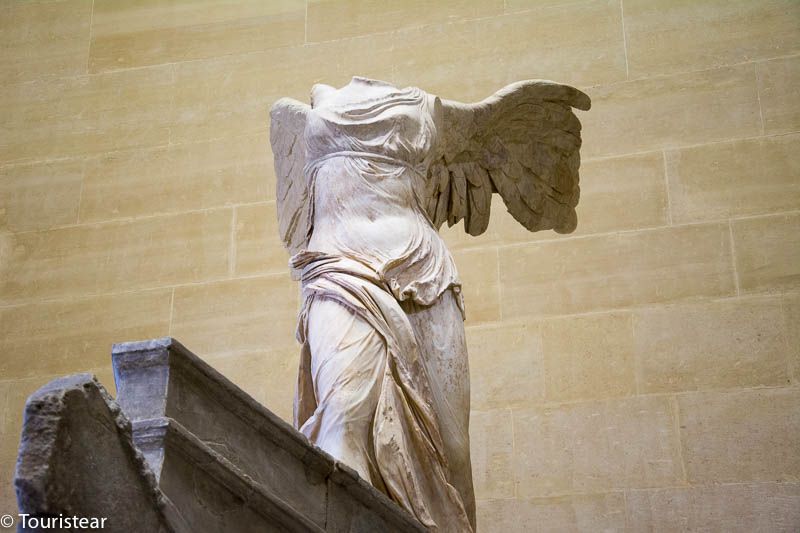 We were in the Louvre almost until the museum's closing; we took a good walk along the Champs-Elysees to the Arc de Triomphe.
The decoration and lighting of this street are beautiful. They also put a very friendly Christmas market, all very well maintained, with many food stalls and sweets in which you buy something, everything is incredible!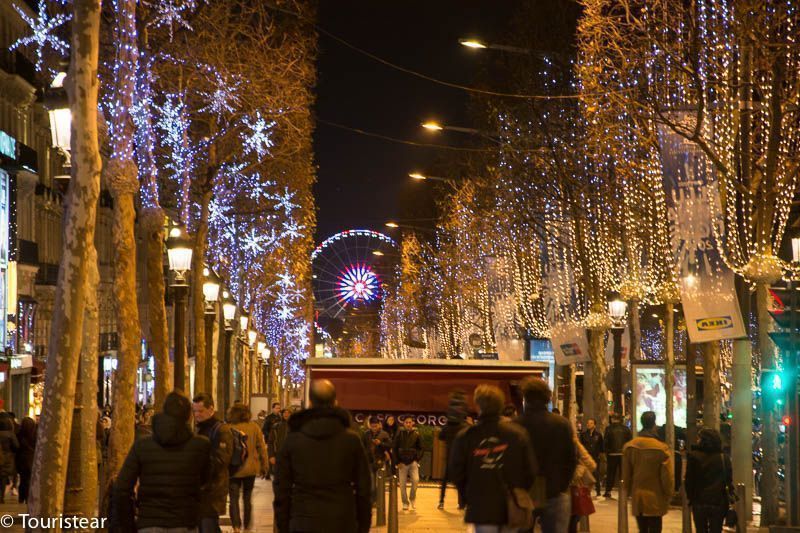 We fell more than once into temptation; it was cold! Lol. So we had to try the waffles, the mulled wine, and some delicious meringue buns!!!
Day 3 in Paris
Visit Versailles in the Morning
To make the most of the day, you have to get up early at about 06:00. Then, take breakfast in the village and continue to the Chateau de Versailles.
Instead of entering through the Palace, we enter through the gardens. Unfortunately, we had to pay 6 euros to leave the car inside, but we found it a good option as the Palace of Versailles had not yet opened.
If you do not go by car, you can book to visit Versailles with a tour or hire only transport. Click on the link for more information.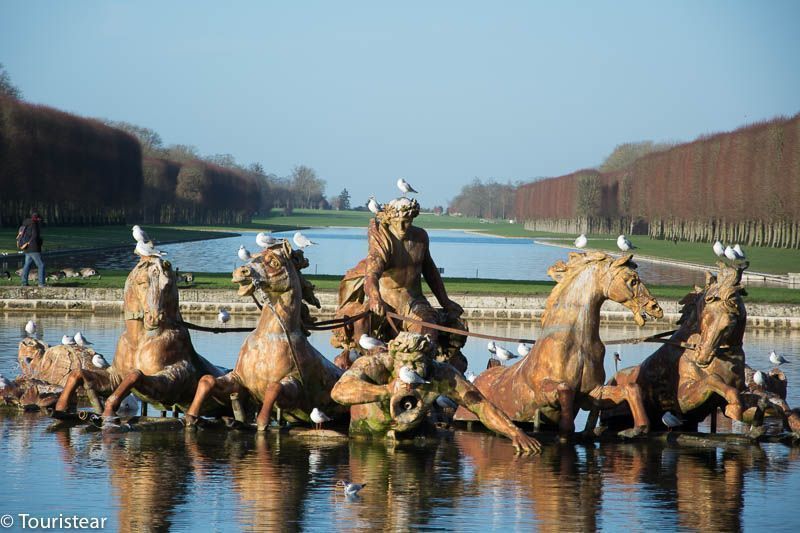 Here I leave you my personal review of our visit on December 31, comparing it with our visit in August a few years ago.
The gardens in December have nothing to do with the gardens in August, and I don't even want to imagine it in spring.
When we arrived, there were the statues of the gardens covered. There were practically no people; it was a little dark still, so we thought they would remove the tarpaulins.
We visited the Palace and found the queue and all the people we hadn't seen entering the other side. Good thing the queue goes fast.
Here, the museum pass has no preference; you make the queue and period if you have a ticket, museum pass, or Paris pass.
Our experience inside the Palace of Versailles was disappointing
First, we had to leave the tripod in lockers since no one warned us that we could not enter with it, not even stored in the backpack.
Following that, we were going like cows; the number of people that had, made us move and move forward without being able to enjoy what we were seeing; people pushed us, and the guards rushed us.
While we were there, we were looking forward to getting to the exit.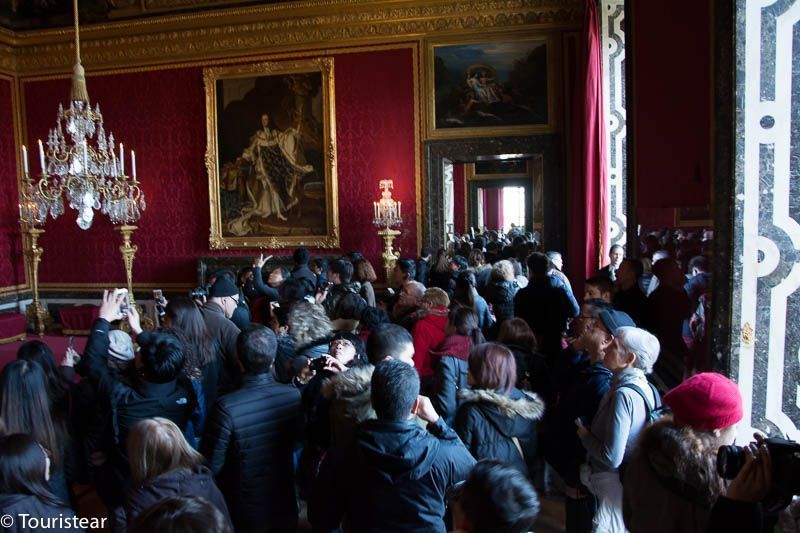 Once out, again in the gardens and with the plan at the entrance, we tour the different spaces.
To our surprise, they were closed with a padlock! The statues were still covered with tarps and sincerely had nothing to do with the remember I had for our visit in August.
So if you want to know Versailles does not go in December, at least from our experience, it is not worth it.
Afternoon tour of the Opera Garnier
After we visited Versailles, we passed the Opéra Garnier, which we had in our head included in the museum pass, but no, it was not included.
So we entered the free part, practically nothing, and went to the hotel to rest. It was December 31, and at 9.30 pm, we had booked our new year's eve dinner about 300 meters from the Arc de Triomphe.
And at night: Old Night Dinner and Celebration at the Arc de Triomphe
We had dinner at a Del Papa restaurant, an Italian restaurant we find on the internet, in the French version of "El Tenedor."
We booked the New Year's Eve menu. It cost us about 50 euros per person, we ate phenomenally, we parked at the door, and when we finished we went to the Arc de Triomphe, which was very close, and there we hoped that the 00.00 hours would be done and the new year came!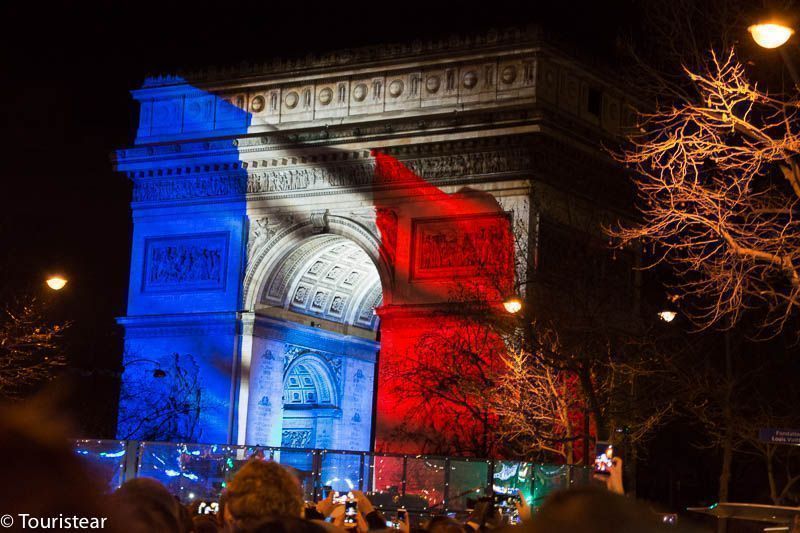 On the occasion of the attacks in Paris, there were no fireworks at the Eiffel Tower. The projection at the Arc de Triomphe was clearly oriented to multiculturalism; it was very restrained but emotional.
If you don't go on New Year's Eve and want a special dinner, you can dine at the Eiffel Tower or on a cruise to the Seine. What do you think?
Day 4 in Paris
Climb to the Eiffel Tower and Walk on the Seine
On the fourth day, we finally climbed the Eiffel Tower!
And it was very cloudy; the clouds covered the third floor of the Eiffel Tower; we were hesitant about whether to climb or not, but in the end, we decided to climb anyway.
NOTE: You have to arrive early if you want to buy the ticket at the ticket office.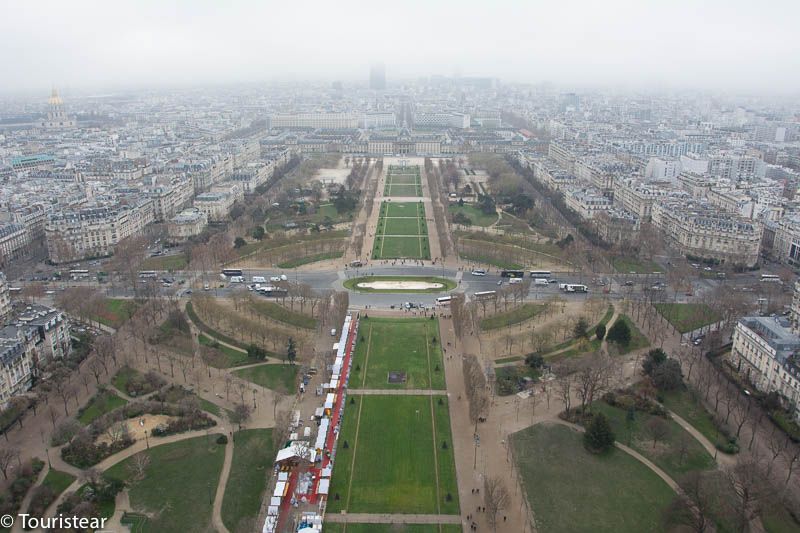 Nowhere have I read about the feeling of climbing the Eiffel Tower in the elevator. I am not a person with vertigo, but as you go up, it becomes narrower, and you don't see anything holding the elevator; it's a strange feeling.
On the second floor, we confirmed our suspicions; there was almost no visibility. So we went up to the next floor, the last one, and you couldn't see anything, we were in the clouds.
We spent a while circling, looking at the photographs showing you what the Eiffel Tower's life was like in other years.
The restaurant, souvenir shops, an ice skating rink, and a small shop selling macarons on the tower's first floor.
So I took away the desire to eat macarons in Paris; they were excellent; I caught one of caramel and another of chocolate; the caramel was delicious!
In 2021, we climbed to the Eiffel Tower again, and we had our revenge. Super good weather, and we found that the photos were removed. Now you can see them on your mobile after reading a QR code.
I think I loved the old Eiffel Tower. But it is what it is…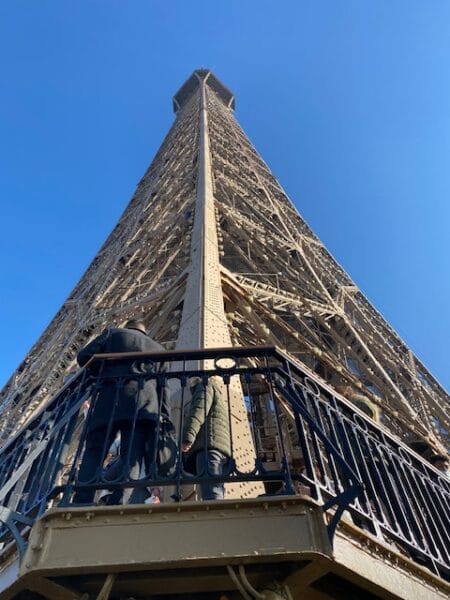 After the Eiffel Tower visit, I walked along the Seine to the Statue of Liberty. Obviously, it is a replica, a much smaller one than the original found in New York, and far fewer visitors!
It is an enjoyable walk, with people doing sports and some visitors.
Visit Trocadero at night, Latin Quarter and Place de la Concorde
Well, it was actually night in the evening, but it was like 6 or 7 pm. So we went for a little walk; I don't know if it was because it was January 1 or what, but the traffic was very quiet, and there were few people compared to other days.
So we took the opportunity to visit sites that we had not yet visited, such as Trocadero, where there are very nice views of the Eiffel Tower, we stayed for a while and went to the Place de la Concorde, we were walking, taking some pictures and it started to rain stronger, so we took the opportunity to go to dinner.
We chose for dinner the Latin Quarter; we went to a restaurant with typical French food, which apparently liked Italians a lot because they were mostly!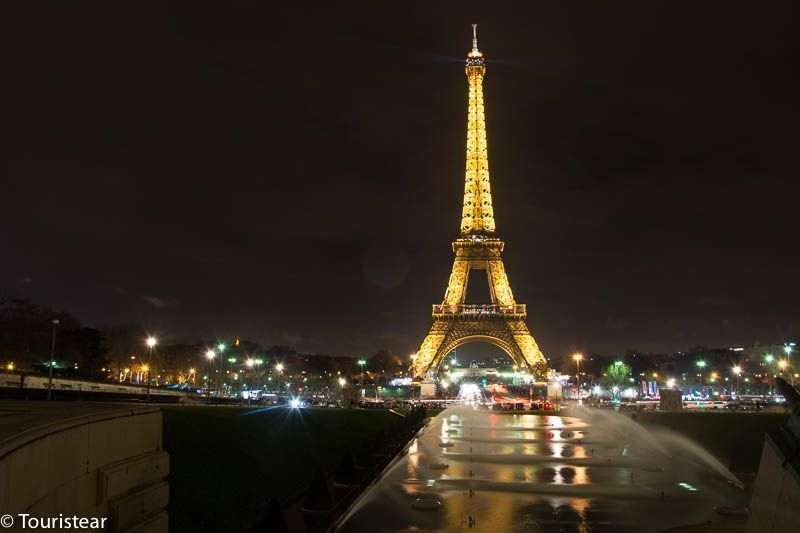 The Latin Quarter at night and after the rain has an excellent atmosphere and is not as expensive as we had been told. We walked, taking pictures, touring the city without any hurry, and enjoying the moment.
Day 5 in Paris. Visit the Parks
Luxembourg Gardens and Tuileries Gardens
Last day in Paris, we wanted to visit the parks we hadn't seen before. So we visited the Tuileries Gardens, left the car in Place de la Concorde, and toured the park to the Louvre Museum.
This was the first public park in Paris. The Florentine style was sent to build Catherine de Medici, originally from Florence, Italy.
In this park, you will see many statues, and a huge round fountain surrounded by chairs so that you can rest or stare at the seagulls in the water.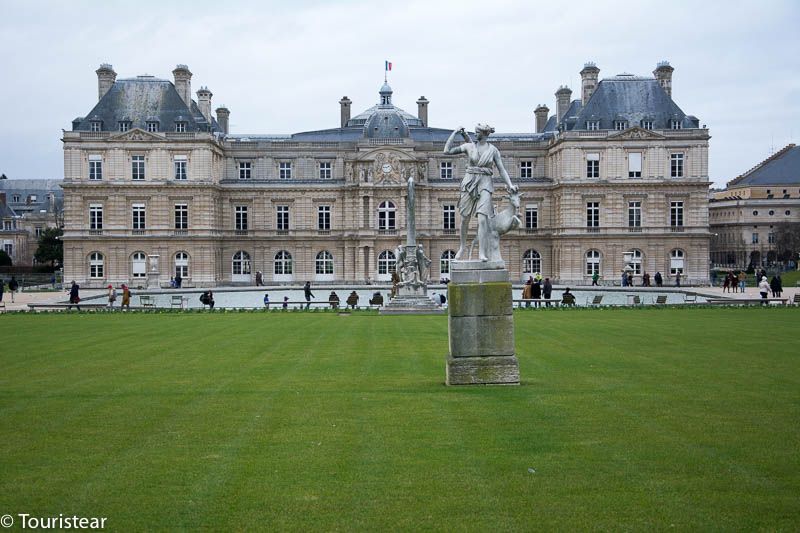 Then we went to the Luxembourg Gardens, which are very close to the Pantheon. This park is also gorgeous, although it should be better to visit them in spring when the flowers bloom and it is better weather.
Le Marais and Place des Vosges
To finish the visit to Paris, we went to Le Marais and Place des Vosges.
In the Plaza des Vosges is the house of Victor Hugo. The square is charming, with gardens and trees, and also is the oldest in the city.
It opened in 1612. Surrounding the square, in the arcades, you can find shops, and cafes, in number 6 in the House of Victor Hugo, you can visit it.
Le Marais is a neighborhood that has become fashionable in recent times, considered to be the gay quarter of Paris. There are many shops of all kinds, art galleries, museums, and restaurants, not very cheap, but nice.
Do you have time for a Day Trip? Visit the Chateau d'Amboise by train.
Where to Eat in Paris?
We have eaten in some cool places over the different visits to Paris. You can check out the full post here. Additionally, we include some tips to save money in restaurants in France.
La Methode
It is a restaurant with typical French food, located 2 minutes from the Pantheon, in the Latin Quarter. This restaurant was recommended to us by a family we met in line to climb the towers of Notre Dame, and it was perfect.
We sat on the typically covered terrace, the customer service was excellent, and the food was delicious.
We ordered a menu each. It cost 19 euros, isn't it bad, huh? And the homemade chocolate coulant, I think it's the best I've ever tasted!
Address: 2 Rue Descartes,75005 Paris.
Del Papa
It is an Italian restaurant close to the Arc de Triomphe. This is where we dined on new year's eve. We chose it for the location and because the menu price did not go too much, 50 euros each.
There were many people here and everywhere; we were treated great, and the food was excellent. If you're going to eat on a normal day, you'll spend a lot less and eat very well.
The address is 233 Bis Rue du Faubourg Saint-Honoré,75008 Paris.
La Brasserade
It is a restaurant with Provencal food, located in the heart of the Latin Quarter. We went in because we were walking around and we wanted to eat fondue.
The restaurant is very nice, the waiter who attended us was a charmer, a gentleman who spoke Italian, French, some Spanish and surely English.
Prices were rough, on average, about 20 euros per person; we took a salad, a fondue, half a bottle of Bordeaux, and two coffees. We were honestly surprised by the price.
If you want to go, this is the address 15 Rue de la Huchette, 75005 Paris
Is Museum Pass or Paris Pass Worth It?
Before buying the Museum Pass, we looked at which attractions and monuments give access, we chose which ones were essential for us, we made the calculation, and it came to us. The museum pass for two days costs 42 euros per person.
The bad thing about using the museum pass is that you want to visit more to take advantage of it, and in the end, you are all day like crazy going back and forth.
So you can see that our second and third days in Paris are very intense and in the end, we end up tired and with foot pain.
There is also the option for The Paris Pass; this card is a little more expensive than the other one. It includes more attractions. You avoid queues, so it's interesting if you want to save time.
Its main attractions are these:
Sightseeing bus (1-day ticket)
Louvre Museum
Palace of Versailles
Seine River Cruise
Cathedral of Notre Dame (Access to the Towers)
Arc de Triomphe
Montparnasse Tower
Pompidou Art Centre
Opéra Garnier
Orsay Museum
Tickets for these attractions already add up to almost 150 euros, but there are still more, such as the Pantheon, the Rodin Museum, the Dalí Space, the Funicular de Montmartre, or a French wine tasting.
This card can be purchased online and picked up once you arrive in Paris. So if you use it, stop by and tell me, because I'll be back in Paris sooner rather than later!
We have previously used such cards, for example, in Lisbon or New York. I find it totally advisable to use them, although you end up exhausted!
Where to Sleep in Paris?
Paris is a huge city with a great offer of accommodation for all tastes and budgets. We have traveled several times to Paris, so we stayed in different areas; some are more recommended than others.
La Defense: we stayed several times in this area. It is a bit retired but well connected by metro with the city center. Here, it's the financial area, and prices are usually lower on weekends.
Porte d'Orleans: we stayed twice in Acropole Hotel. It has a metro station a few steps from the main entrance, lovely restaurants around (cheaper than the city center) and you get to the Eiffel Tower in 10 minutes.
The first time, we stayed in a pretty nice, triple superior room. And the second time was Fer in a regular double room, it was nice. But the superior was better, obviously 🙂
Luxembourg Gardens area: this is the coolest area to stay in, you have everything close. Here, we rented an apartment called Marché Saint Germain Apartement on booking.com for 5 people and 5 days.
The apartment is small but it has everything you need for your trip to Paris.
How do Parisians Drive?
As you know, we went to Paris by car, the previous time we had also done it, but it was August, and the Parisians were on vacation, but this time it was different.
In Paris you drive like in Buenos Aires, you know what I'm talking about if you've been to Buenos Aires, don't you? That is, motorbikes get where they want, buses are believed to be scooters, and cars go fast.
They beep to you to let you know they're going to pass. But, obviously, they don't stop at the pedestrian crossings unless it has a traffic light and red.
They say that if you do well at the roundabout of the Arc de Triomphe, you are good at driving, it has twelve streets, the ones that are inside the roundabout are the ones that give way to the cars that are incorporated, it is a little chaotic, but in the end, you get used to it.
Where to Park the Car in Paris?
Leaving the car on the street in Paris is expensive.
What we did was hire a parking lot. Not that it's very cheap, but for 3 days we had a spot in the Notre Dame car park. We could go in and out as many times as we wanted.
It cost us € 66 for 3 days, making numbers we did very well priced. Since the hotel cost us 40 euros a night and we had free parking.
So if you go by car, I think it's the best option. A multi-parking card is a little more expensive, but you can park in more car parks; this card is purchased online.
This trip to Paris has been great; I better understand the city and the Parisians. So you know, "We'll always have Paris."
Plan Your Trip to Paris
Save this image on your
Pinterest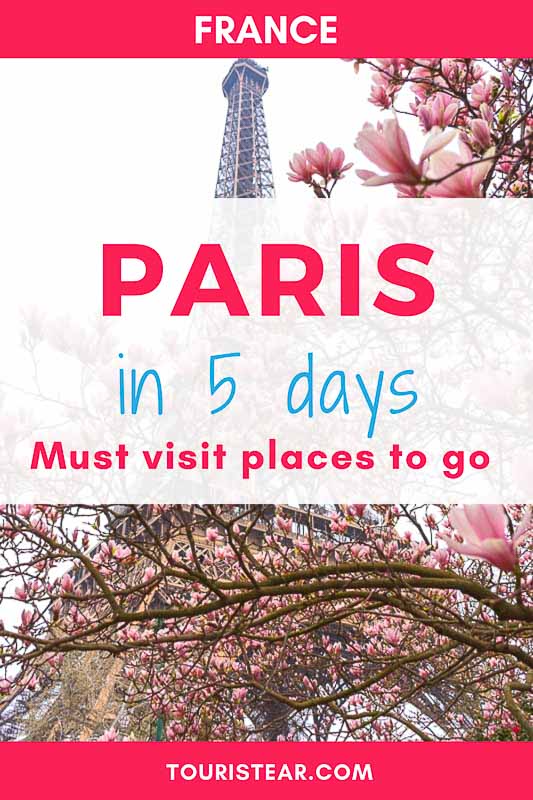 Have you been to Paris? What opinion do you deserve?
Last Updated on 20 October, 2022 by Veronica
Disclosure: Some of the links on this post are affiliate links, meaning at no additional cost to you, I may earn a small commission if you click through and make a purchase.
Author: Veronica
Vero, a seasoned traveler, has explored 25 countries and lived in five, gaining a rich perspective and fostering an infectious passion for travel. With a heart full of wanderlust, Vero uncovers the world's hidden gems and shares insights, tips, and planning advice to inspire and assist fellow adventurers. Join Vero and let the shared passion for travel create unforgettable memories.