Mont St Michel, a Must-Visit in Northern France
Mont St. Michel's "The Wonder" is an amazing place! It's in a wonderful location, and although it has a few things that I didn't like, it's an essential visit you must make on your trip through Normandy, Brittany, on a day trip from Paris, or Nantes, as was our case.
I'll tell you everything below. Shall we begin?
Mont St Michel, an Awesome Place in Normandy
History of Mont St Michel
This place has more than 1300 years of history and fascinates everyone who visits it.
According to tradition, Michael the archangel appeared to the Bishop of Avranches and ordered him to find the abbey on Mount Tomb.
At the time, Mount Tomb was a granitic cone-shaped island. The locals looked at him with a little fear and superstition, especially since access was complicated and unpredictable.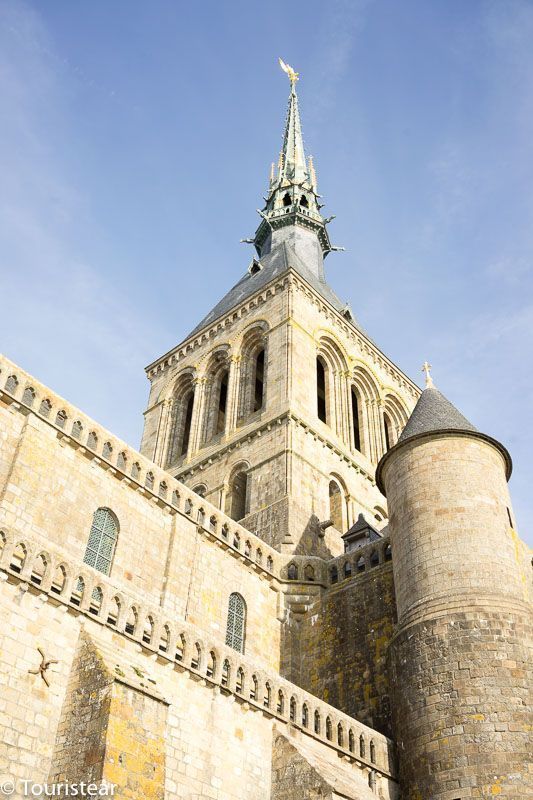 The first building on Mont St. Michel was built in the 8th century and was a small oratory, which became a goal for the faithful. However, in the 10th century, they had to replace the small building with a Carolingian church due to the number of people arriving.
This church became a crypt between the 11th and 12th centuries, and a Romanesque church was built on it.
In the thirteenth century, the monks' cloisters and rooms were built. During this time, the arrival of pilgrims was increasing, and the Gothic forms left visitors speechless. So they started calling it Le Merveille, The Wonder.
In the following centuries, the needs of the abbey increased, and additions to the abbey continued to be built; more dependencies were added for the abbot and housing for the royal guard, and defensive elements were built, transforming it into a fortress.
From the fifteenth century onwards began, the decay of the monastery. The abbots lost credibility and spiritual prestige. And the damage to these wonderful buildings began.
During the 18th and 19th centuries, the monastery was converted into a prison.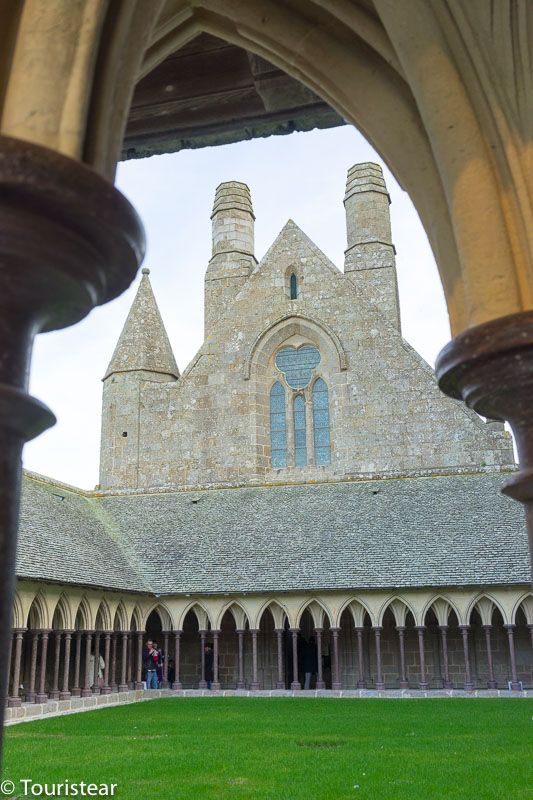 The abbey and bastions were considered historical monuments in 1874 and were therefore protected. However, in 1877 a dam was built linking the mainland with the islet.
In 1969 a small group of religious people returned to live in the monastery in a section outside the tourist visit.
Since 1979 it has been part of the UNESCO World Heritage Site both le Mont-Saint-Michel and the bay.
How Much Does it Cost to Visit Mont-St-Michel?
Surely you have heard just like me, that visiting Mont St Michel is very expensive. Well, I really don't think so.
But obviously, it depends on how you arrive at Mont Saint Michel, by car, by bus, by excursion… and how much you spend in restaurants or souvenir shops…
Parking at Mont-St-Michel
If you arrive at Mont St. Michel on your own transport, you must leave your vehicle in a car park. Depending on the time you go, you can benefit from lower prices.
2:30 hours or less parking: the price is 6,50 euros. This is the normal price if you go in the morning and want to make the visit.
Parking for 24 hours from your arrival: 12€
Parking if you enter after 7 pm and leave before 11 in the morning: 4,40€. This option is ideal for vans (but not for motorhomes, which have special parking and cost 17.60€ 24 hours), also for photographers who want to photograph the sunset and sunrise, or anyone who wants to go in the afternoon 😉
From Parking to Mont St Michel
From the car park, you can walk, or you can go by free bus.
Entering Mont St Michel is Free
The entrance to Mont St Michel is free; you do not have to pay to visit the village, climb the wall and let yourself be carried away by its streets full of souvenir shops and restaurants.
Cost of Abbey
The entrance to the abbey costs 10 euros per person; it is an interesting visit. We liked it very much, in addition, we also ordered the audio guides that are another 3€ per person, so you learn much more than going alone.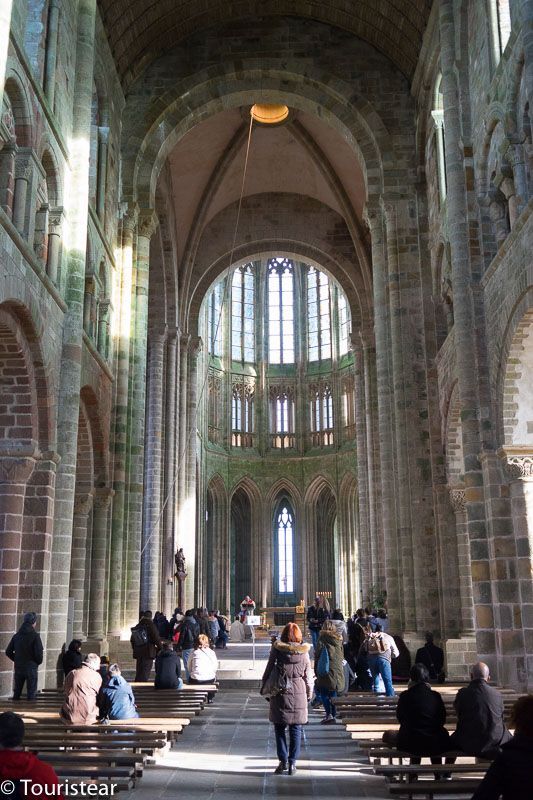 Free Entrance
If you are still under 26 years old, you can enter the Monastery Abbey for free.
Restaurants
The most expensive thing about the whole visit is that you get hungry and eat in a restaurant. Even sandwiches are expensive. A regular sandwich and a water bottle can easily cost you 10€, which is what it cost us…
If you want to eat in a restaurant, the price of the visit is triggered; it really just depends on your budget.
Is the Visit to Mont-St-Michel Worth It?
The visit from my point of view, is essential. We were delighted. So, it's totally worth it.
We arrived by car from Nantes, parked, and took the free bus to the monastery entrance.
The bus leaves you in a great place to take pictures. (See the picture below)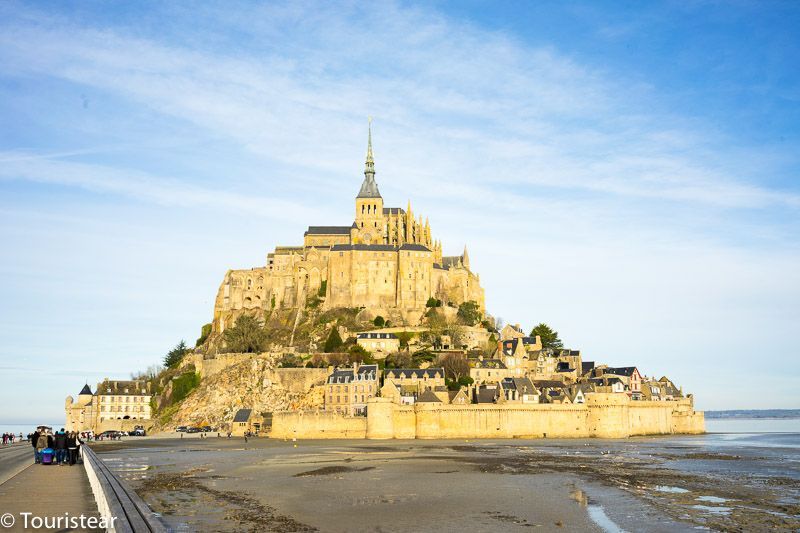 You go into town and seem to be returning in time. The first door you cross is called L'Avancée. It is a fortified courtyard where the guard corps of the Burgundies was located.
Today it is the tourist office and your first must-stop to get information in English about Mont St. Michel.
Then you will cross two more doors and reach the Grand Rue. It is a narrow street that goes up to the abbey, the same one the pilgrims once followed.
You will see many shops and restaurants throughout the route and a small church dedicated to Saint Pierre, among others.
I recommend that you go up from the Grand Rue to the Abbey, visit it and then come back down the wall; that's what we did!
I wouldn't say I liked Mont St Michel because it's very commercial, but I understand that the entire complex must be maintained.
But there could be fewer shops; there are even some underpants shops…
The restaurants looked excellent, but the prices were a bit expensive. But like I said, it depends on your budget.
I know I'm going to come back more often, it's only a two-hour drive from my house, and every time I have visitors, they'll want to go, lol…
I don't think I'll return to the Abbey, and maybe I'll even eat at one of the restaurants and tell you about my experience.
UPDATE: After more than 3 years of leaving in France, I have visited Mont St Michel about 10 times. Of which I have entered the Abbey 3 times.
It is one of the French attractions that our family and friends like the most, lol.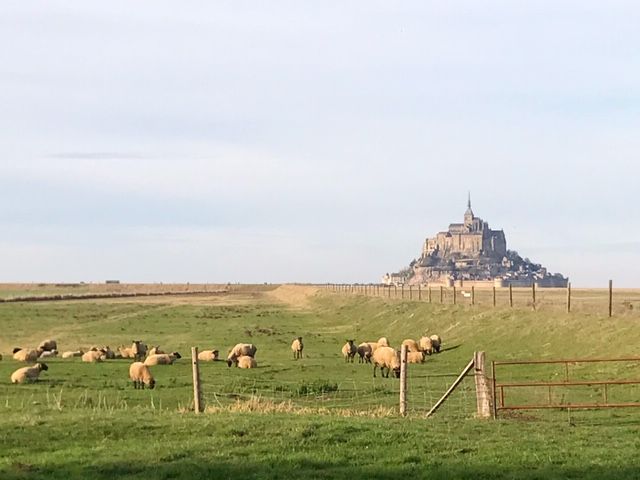 I'm clear that I'm going back one day at high tide!!!
I'll also visit Normandy and Brittany and tell you more things.
Have you been to Mont Saint Michel? Do you feel like going? Tell me!
Plan Your Trip to France
---
Last Updated on 20 October, 2022 by Veronica
Disclosure: Some of the links on this post are affiliate links, meaning at no additional cost to you, I may earn a small commission if you click through and make a purchase.
Author: Veronica
Vero, a seasoned traveler, has explored 25 countries and lived in five, gaining a rich perspective and fostering an infectious passion for travel. With a heart full of wanderlust, Vero uncovers the world's hidden gems and shares insights, tips, and planning advice to inspire and assist fellow adventurers. Join Vero and let the shared passion for travel create unforgettable memories.