The Best London 5-Day-Itinerary
London is one of my favorite cities; I usually travel at least once a year. Also, I lived there for 6 months a while ago.
And since I know the city, I don't usually make an itinerary when I go, but that changed on the last trip, which I went with my sister and aunt, who didn't know the city.
So I created an itinerary for the first time in London to see the city's must-sees.
In this post, you will also find some recommendations about free tickets and those that you have to get well in advance, such as the ticket for the London Eye.
Related: How to get from London to France.
Day 1 in London, the Essentials
The visits on the first day in London will depend on when you arrive in the city.
To get from the airport to downtown, calculate about two hours after your flight arrival time.
In our case, my sister and my aunt arrived at the hotel at 11 am, they were traveling from Spain, and my flight arrived late (from Nantes), thanks to Ryanair, but that's another story.
If you arrive early, my recommendation is to take a free walking tour of London's must-see sights. The tour takes you around Big Ben, Buckingham Palace, etc. This way, you see the essentials on the first day and then gradually get to know more about this great city.
We stayed at the Hampton by Hilton Waterloo Hotel, a stone's throw from Waterloo station, a good choice of hotel.
Tip, if you book at least 3 months in advance, the price is much cheaper.
And if you are looking for a triple room in London, pay attention; there are times when hotels will accept a booking of 3 with only one bed.
If you stay at this hotel or in the area, you can walk to the London Eye, Big Ben, Buckingham Palace, Westminster Abbey, Piccadilly Circus, Carnaby St, and Oxford Street easily and safely.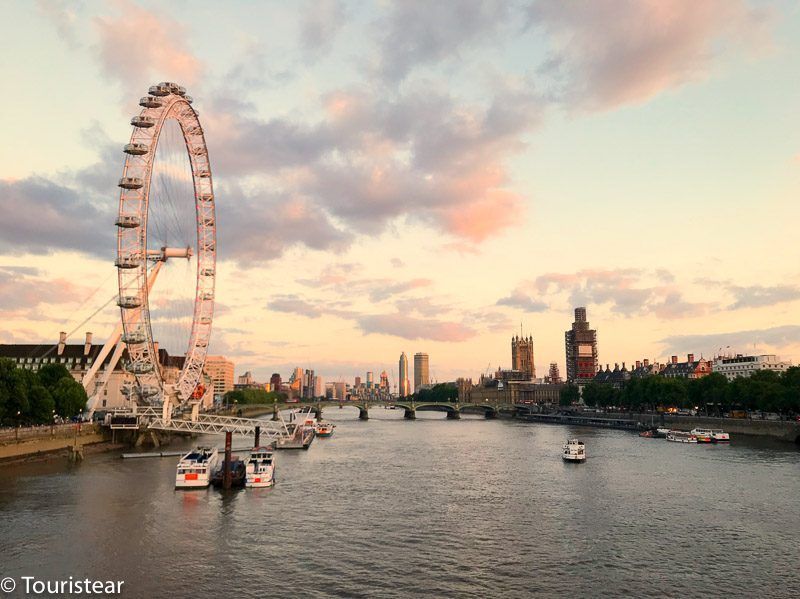 Then you can dine at any cool place you can find.
You can walk back to the hotel via Trafalgar Square, Embankment, or the subway.
Another option is after Piccadilly to walk to Covent Garden, which will be a 10-minute walk. It can be nice for dinner and a beer.
If you prefer to take a guided tour, you can book a complete tour of London with entrance fees included.
This way you will get to know the must-see places both inside and out, and the guide will explain everything you are seeing in a more enjoyable way.
In short, on the first day of visiting the Westminster area; you can do it with a free walking tour, or a tour that includes tickets or on your own, your choice. Here are the details of this day with the must-haves for a first trip to London.
Day 2 in London
9h. Stroll through Notting Hill Market. The market will be crowded if you leave it after the free walking tour.
NOTE: the market in Notting Hill is on Saturdays, if you are interested in this visit, I recommend that you adapt it to your itinerary.
Meeting point Metro Notting Hill Gate (North Side); please check your booking as this may change from tour to tour.
The free tour is pretty cool, they take you around the neighborhood and tell you all kinds of things, both historical and movie or musicians and take you to very instagrammable places like this one below.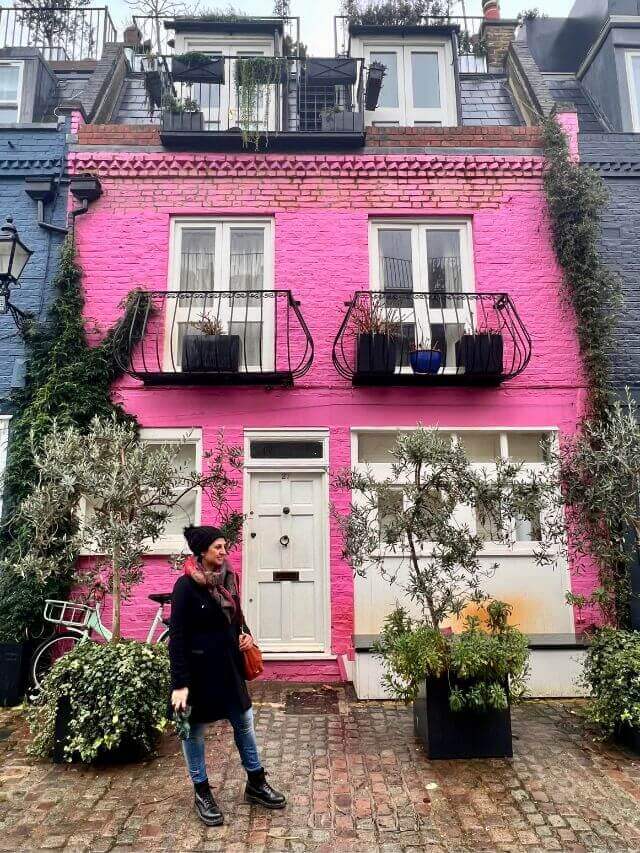 Lunch at the end of the free tour. We were recommended to eat at a Spanish place, it was good, but perhaps something more typical would have been better.
From here, you can walk to Kensington Palace, tour the gardens, visit the Princess Diana memorial fountain, take a picture of the swans, etc.
(Sorry for the gray picture, it's from a February trip).
From here, you have some options, first I tell you what we did, and then I tell you other options.
Natural History Museum
After touring the park, we visited the natural history museum to see the dinosaurs. The museum is very cool, this is the second time I visited, and they changed the main dinosaur; I liked the other one better.
Admission is free, and you can easily walk there. In the surrounding area, there are other museums, also free if you are more interested.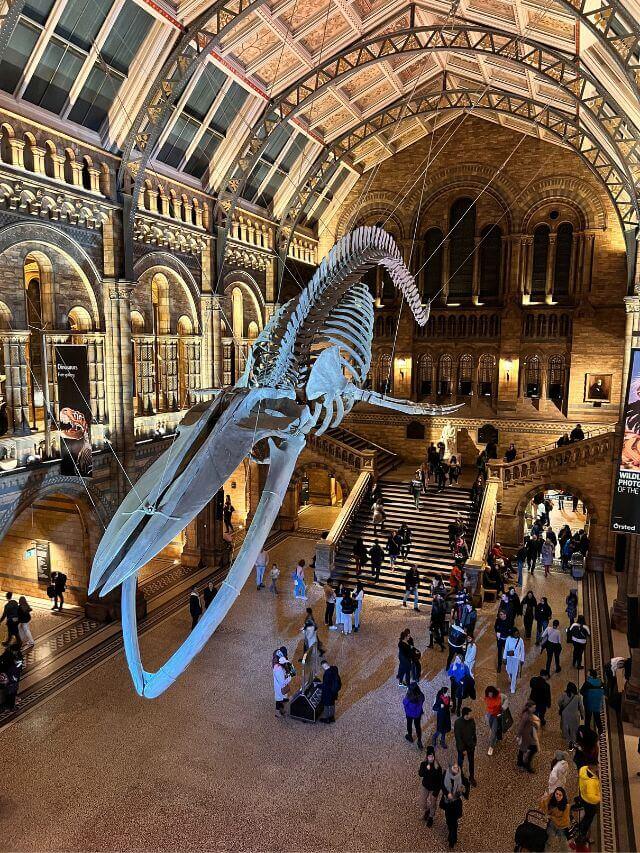 After here we went to Harrods.
Harrods is an iconic luxury department store. Very cool, and worth the visit. Especially if you like shoes, get up close to shoe heaven; mind-blowing!
Address 87-135 Brompton Rd, London SW1X 7XL, United Kingdom.
Option 1 (depends on the previous day)
If you feel like it and the weather is good enough, you can continue walking after the park to Halkin Mews, Wilton Crescent, and Peggy Porschen's. Very Instagrammable places.
From here you can go to the Westminster side, see Buckingham Palace, Big Ben, and London Eye at night, then to the hotel and that's it.
*NOTE: if you want to go up to the London Eye you have to make your reservation well in advance. In our case, we could not go up because we did not look far enough in advance and it was all sold out.
Option 2
Another option is to go to SOHO after Harrods, have a cookie at creme and have dinner in Chinatown, after touring Carnaby St.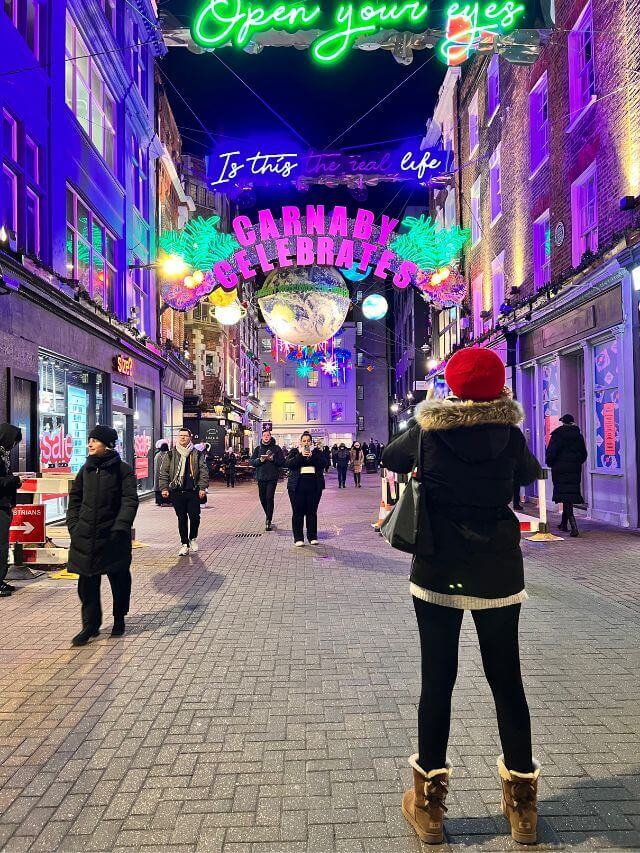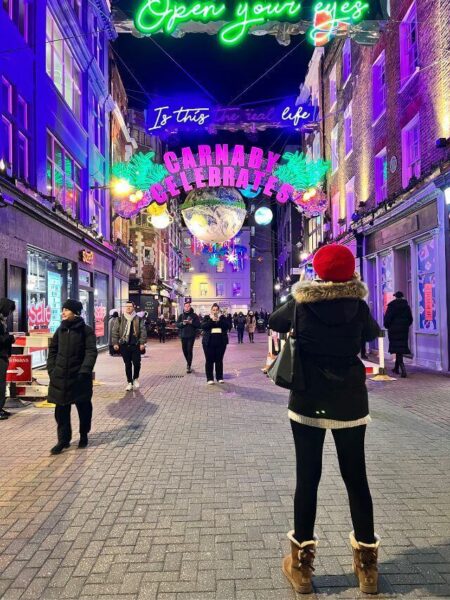 Day 3 in London
Eat a good breakfast, it will be a long day. If you are considering staying at the Hampton by Hilton Waterloo you should know that breakfast is included.
11.00 Free tour of old London. Tower Hill Metro.
To get there, take the subway (Jubilee) to London Bridge Station and walk to the meeting point. This area is very cool.
The free tour lasts approximately 3 hours.
Have something to eat at the end of the free tour. After the tour, you can book to go up to the Sky Garden.
*Please, check the time for the tours and adapt it to your planning. This timeline can change with time, also the meeting point.*
It is free, but you must book at least 2 weeks in advance in the low season and a month or more in the high season.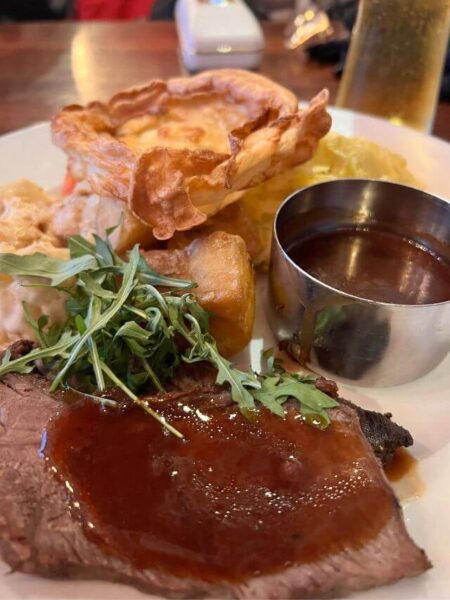 You can also book a brunch in the area.
We went to Trafalgar Square, ate Sunday roast in a typical English pub, and then took the double-decker bus to Camden Town and spent the afternoon there.
After Camden, we went to the hotel to rest. You can go to Carnaby, Soho or Coven Garden to have fun.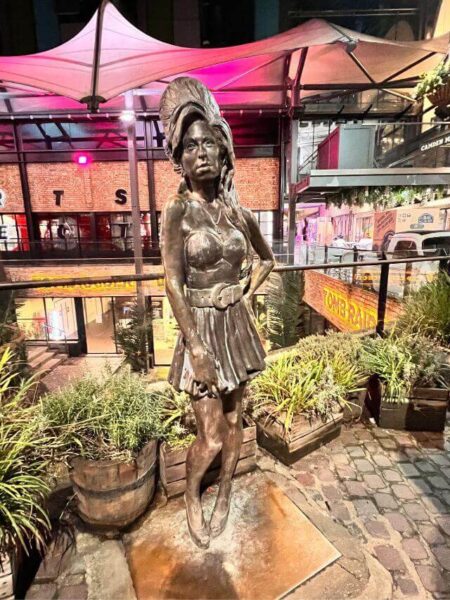 Day 4 in London
We booked to visit the Sky Garden this day because it wasn't supposed to be cloudy, ignore the weather apps!!! lol
10.45 Visit the Sky Garden. You must bring identification; security asks for it at the front door. There is also a bag security check.
The visit is highly recommended; I loved it; you have beautiful views of the city, and you can rest, have a drink or eat in one of its restaurants.
An alternative to the Sky Garden is to visit "The Shard," which is higher and has incredible views. Of course, you must pay an entrance fee if you do not have the Go City of London.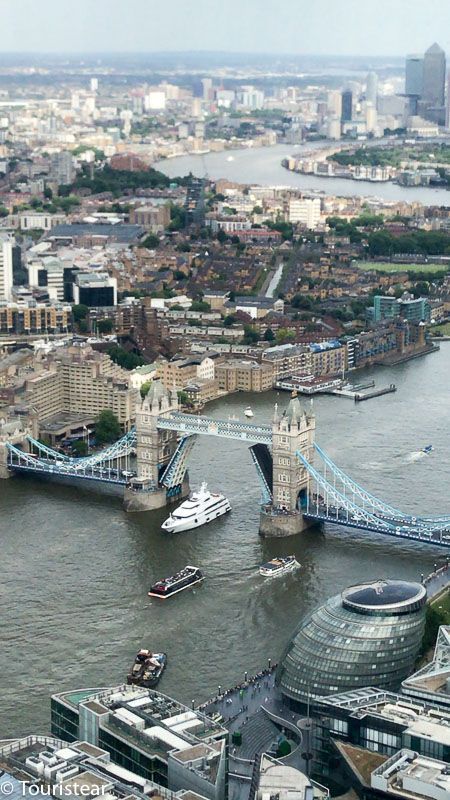 After the Sky Garden visit, we went to Covent Garden, walked around the area, had lunch there, and then went to the British Museum.
It should be noted that the museum closed at 5 p.m. due to the low season.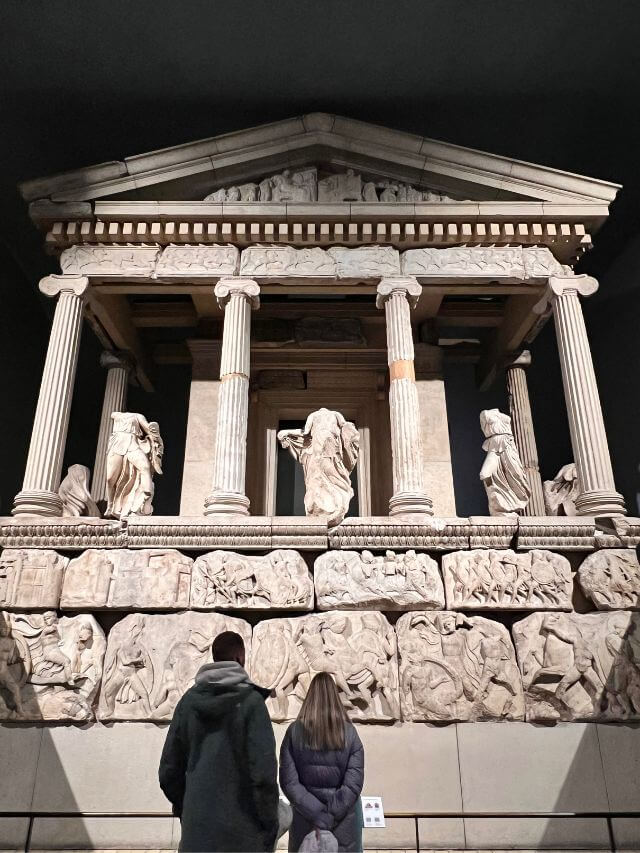 In Covent Garden, you have to see the following:
Neals Yard,
The Market,
The Royal Opera House,
Rules (the oldest restaurant in London, very expensive)
And Lamb & Flag, an 18th-century pub, you can have a drink here.
Day 5 in London
See the Changing of the Guard; if you do the free tour on the first day, they will recommend some less crowded places to see the changing of the guard.
If you want to go to Buckingham Palace to see the changing of the guard, you have to go at least two hours before to find a good place.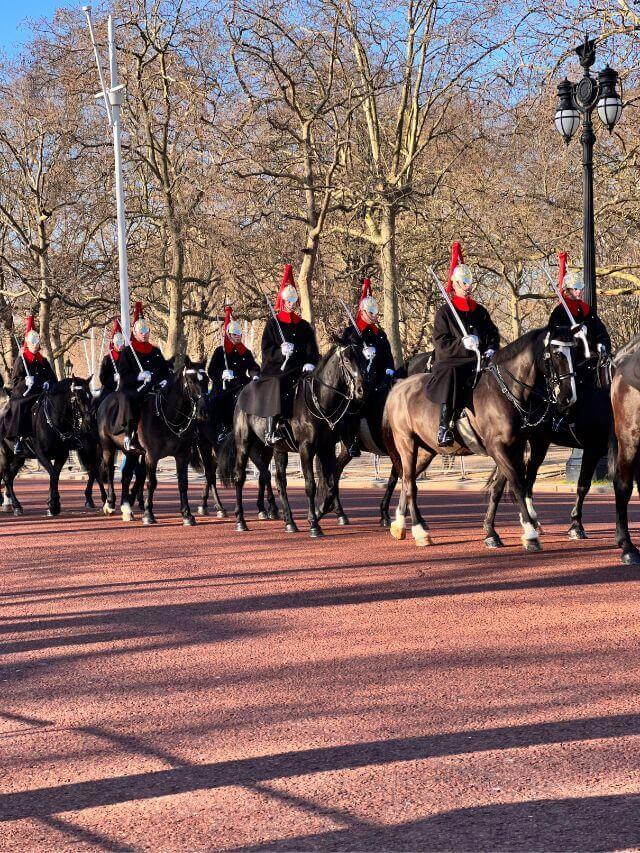 We saw part of the guard leaving from St James's Palace, exactly from Friary Court, on Marlborough Road.
During the low season, there is a change of duty on Mondays, Wednesdays, Fridays, and Sundays. Keep this in mind for your planning.
After the changing of the guard, go for a bite to eat at a pub or restaurant you like. We walked back to Trafalgar Square and repeated the pub. Next, we went to the National Gallery, which is almost across the street.
Recommendations for Your Trip to London
Go City Pass or London Pass On one of the trips we made to London, we used the all-inclusive London Pass, and it was wonderful.
This card/pass may seem a bit expensive initially, but it includes entrance to some cool places.
I recommend that you take a look before you travel and see if you are interested in the included attractions.
Transportation in London
Transport in London can be very expensive, but you have to take an Oyster card to get it cheaper. You can do it on your cell phone or buy the card from one of the machines at the tube stations.
The Oyster card costs £5, and you can load it with a minimum of £10. This card works as a prepaid card. Every time you enter a metro station, you have to swipe the card, and when you leave, you will be charged a maximum of 7 pounds per day.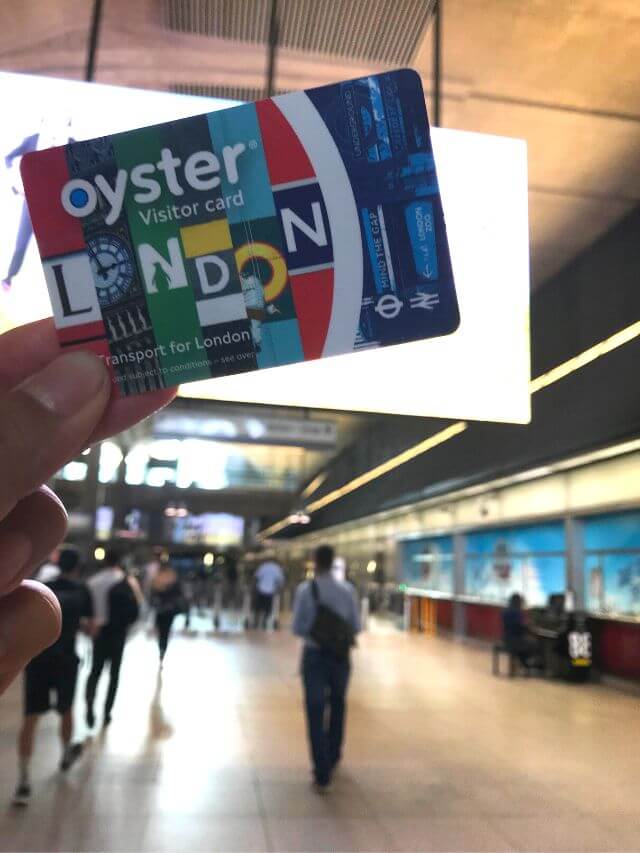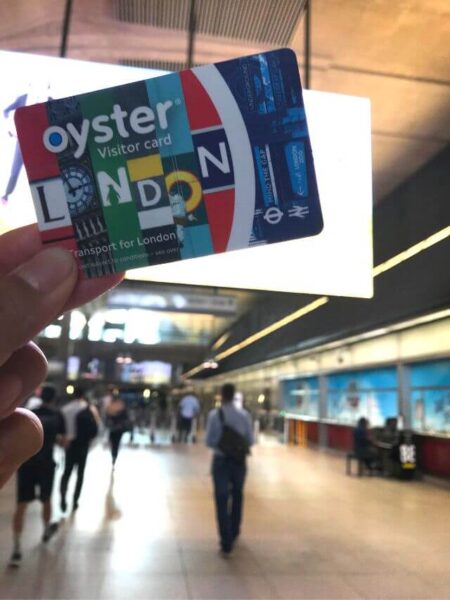 The easy thing about using this card is that you don't have to buy a ticket for a specific zone; every time you exit the metro, it deducts the amount corresponding to the zone.
In the case of buses, you only have to swipe the card when you get on; the amount is 1.5 pounds with a maximum of 4.5 pounds per day.
Note* prices may vary over time.
Also, note that subway prices vary between high and low seasons. Children under 11 years old accompanied by an adult do not pay for transport but need their own Oyster.
Without the Oyster card, the price of the subway starts at 3 pounds.
Tell me in the comments if you want a full post about transportation in London so I start writing it as soon as possible.
Comfortable Footwear
In addition to using the subway, you will use your feet often. London is a city for walking, so go in comfortable shoes; if it's waterproof, the better.
In my case, I wore a pair of sneakers and Docs. The Docs for the days that announced rain go great, they are comfortable, but after almost 20 kilometers walked, they weigh your feet, with sneakers a little less.
You will be great if you go in spring or summer with comfortable and quick-drying shoes.
Free Activities
Check out this post for all the free activities in London. We did 3 free tours of London on this trip, and my sister and aunt did one more along the banks of the Thames when I was waiting at the airport, which they really enjoyed.
Let me know what you think of this itinerary in the comments. Would you add anything else? I read you!
Plan your trip to London
Last Updated on 8 September, 2023 by Veronica
Disclosure: Some of the links on this post are affiliate links, meaning at no additional cost to you, I may earn a small commission if you click through and make a purchase.
Author: Veronica
Vero, a seasoned traveler, has explored 25 countries and lived in five, gaining a rich perspective and fostering an infectious passion for travel. With a heart full of wanderlust, Vero uncovers the world's hidden gems and shares insights, tips, and planning advice to inspire and assist fellow adventurers. Join Vero and let the shared passion for travel create unforgettable memories.