22 Best Places to Visit in Brooklyn
Brooklyn is a beautiful neighborhood in New York City. Besides its famous bridge, it has many things to do and places to visit.
Therefore, we recommend you make an itinerary to visit this New York neighborhood.
And to make it easy for you, we have created this post, where we select the best things to see and do in Brooklyn.
In addition, we give you some options to visit Brooklyn in one day on your own or with a guide.
By the way, Don't forget your travel insurance. Buy it here with a 5% discount.
Cross the Brooklyn Bridge
The Brooklyn Bridge is perhaps one of the world's most famous and recognizable bridges. And without a doubt, an important place that you have to know in your visit to New York.
You have several options to cross Brooklyn Bridge
Depending on the time you have to visit Brooklyn, you may be interested in one or the other option.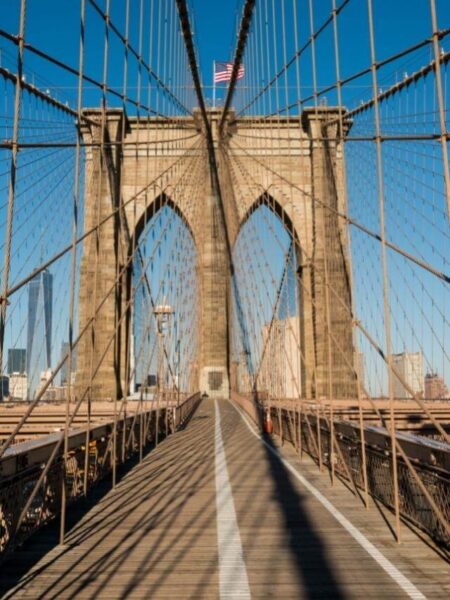 The first time, we asked our contrast tour guide to drop us off at the bridge on the Brooklyn side and walked across the bridge into Manhattan.
This can be a good idea if you are short on time. In this case, you may also want to do a complete tour which includes the Dumbo Bridge and Brooklyn Heights.
Honestly, there are many guided tours. I have selected these that have good comments; one is on foot, and the other is on a motorcycle with a sidecar. They are different tours; choose the one you like the most.
5 Things to Know About the Brooklyn Bridge
It joins Manhattan and Brooklyn across the East River, they used to be different cities, but in 1898 Brooklyn became a borough of New York.
The bridge was inaugurated on May 24, 1883, with a grand celebration. It took 14 years to build and cost $15 million at the time.
To prove it was stable, 21 elephants crossed on May 17, 1884.
More than 150,000 cars and people cross it every day.
It was the longest suspension bridge in the world for 20 years.
DUMBO Park, Water Street, and Washington Street
DUMBO is the abbreviation of Down Under Manhattan Bridge Overpass; if you watch American TV shows or movies, you know Americans love acronyms and abbreviating everything.
What is DUMBO known for? DUMBO is known for its breathtaking views of Manhattan, riverfront park, and growing arts and dining scene.
And for having arguably the most Instagrammable spot in New York: the intersection of Washington Street and Water Street with the Manhattan Bridge in the background.
As always, you can visit it on your own or on a guided tour.
If you decide to take a tour, take a look at these three:
Here you have to go to Grimaldi's or Juliana's for pizza. And if you're a craft beer lover, you can't miss Evil Twin Brewing with its 20 taps of beer.
DUMBO is a neighborhood where you can stay all day (or several) to enjoy it to the fullest.
I recommend that if it's your first time in New York, it's probably best to take a tour showing you the area's highlights.
But if you have already visited NYC more than once, I recommend you dedicate a full day or, better yet, stay in the area and enjoy all that Brooklyn offers to visitors.
Options to Stay in Brooklyn with a View
Brooklyn Bridge Park
I could write a post or several about each place, but I want to keep the article as short as possible!
Brooklyn Bridge Park is located under the Brooklyn Bridge in DUMBO. It has fabulous views of Manhattan.
It's great to visit any time of the day; you can picnic in the afternoon, kayak, watch free movies, do night photography, etc.
The park comprises a series of piers with different recreational facilities, gardens, and even a skating rink, basketball court, or sandy beach.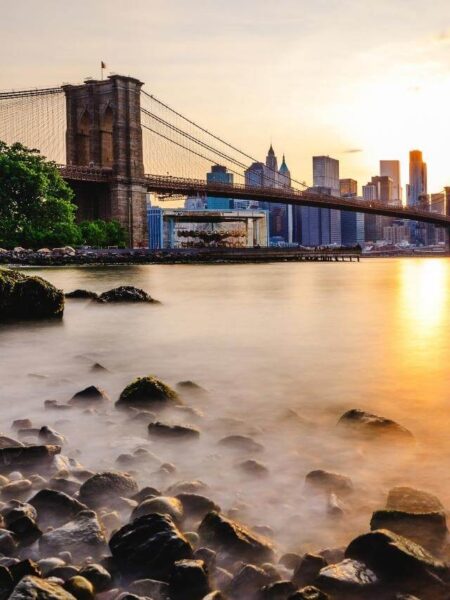 You can get here on the subway:
High Street (A & C lines)
Clark Street (2 & 3 lines)
York Street (F line)
Or you can also take the NYC Ferry, which drops you off at Pier 1. Or, as I said above, crossing the Brooklyn Bridge on foot.
Brooklyn Heights Promenade
Brooklyn Heights Promenade is also known as the Esplanade. This walk is very popular because it has a magnificent view of Manhattan. It is about 600 meters long.
So, if you want to get some air during your stay in New York and get away from the hustle and bustle of downtown Manhattan, come to this esplanade and take the best pictures of Manhattan.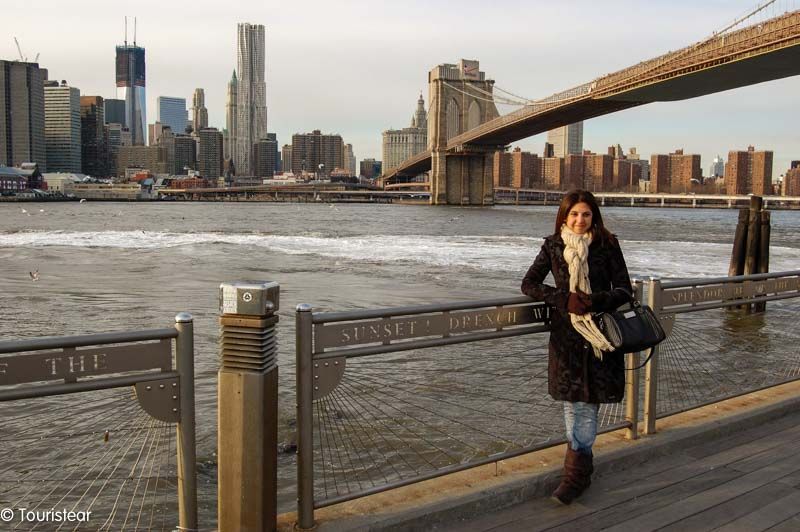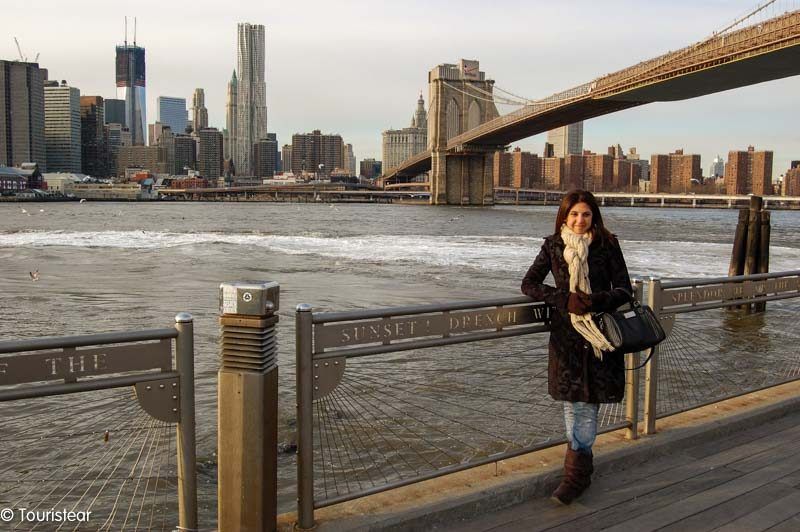 Brooklyn Museum
The Brooklyn Museum is one of the oldest museums in the United States.
Its construction began in 1895, but its roots go back to 1823, with the creation of the Brooklyn Apprentice Library. This library was initially located in the Brooklyn Heights neighborhood.
The neoclassical building was designed by architects McKim, Mead & White, who designed Penn Station and the New York Public Library.
The Brooklyn Museum is the second largest art museum in New York by size, behind the Metropolitan Museum of Art.
It houses an eclectic collection of more than 1.5 million objects: paintings, sculptures, installations, etc. If you have already visited the Metropolitan Museum and love art, I recommend seeing this one.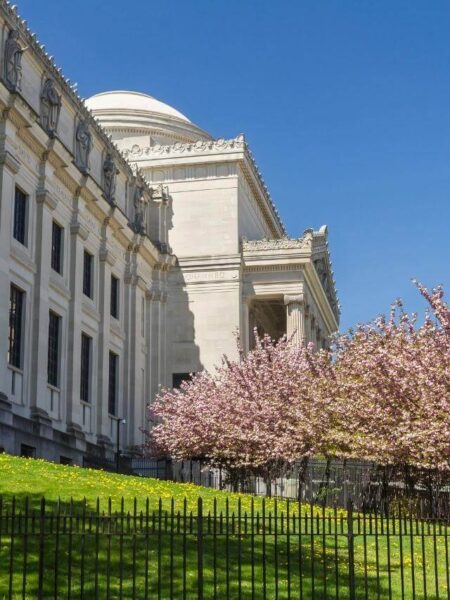 What to See at the Brooklyn Museum?
The museum is best known for its formidable collection of Egyptian antiquities, papyri, sculptures, jewelry, and sarcophagi.
The Brooklyn Museum also covers African arts, the Islamic world, and the Pacific. A true artistic journey!
The museum also features a collection of more than 2,000 works by American artists from all periods.
It also has excellent European names, including two magnificent paintings by Claude Monet and Eugène Boudin's "Port of Le Havre."
The Brooklyn Museum is located on land that is part of the unceded ancestral homeland of the Lenape (Delaware) people.
As a sign of respect, they recognize and honor the Lenape Nations (Delaware), their past and present ancestors, and future generations.
They say they are committed to addressing the exclusions and erasure of indigenous people and confronting the ongoing legacies of settler colonialism in the Museum's work.
What do you think of this initiative?
Practical information
Address: 200 Eastern Parkway, Brooklyn
Subway: Botanical Garden (S line) or Franklin Avenue (lines 2, 3, 4, and 5).
Hours: the museum is open from Wednesday to Sunday, from 11 a.m. to 6 p.m. (until 10 p.m. on Thursdays). It is closed on Mondays and Tuesdays.
Admission: $16 for adults and $10 for seniors and students. Free for teenagers and children under 19 years old.
Brooklyn Botanic Garden
The Brooklyn Botanic Garden officially opened its doors in May 1911. It is located next to the Brooklyn Museum, and a combined ticket can be purchased for both visits.
The garden has 21 hectares (52 acres) and more than 12,000 varieties of plants.
Be sure to visit the Japanese garden and its pond; it is beautiful. It has been recently restored, so a visit is highly recommended.
The garden offers different itineraries and activities depending on the time of year you visit.
In addition, you can download their app; it is the perfect guide for all visitors.
For directions, check out the museum section just above this one.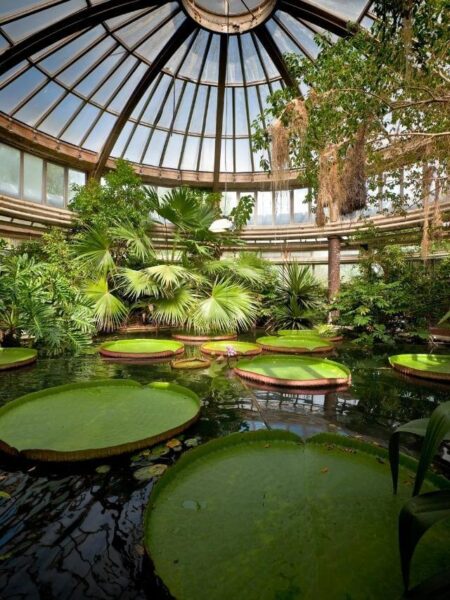 Parking
Secure parking (for a fee) is available at 900 Washington Avenue.
The parking lot opens at 6 a.m. Monday through Friday and at 7 a. m. on weekends. There is no overnight parking.
Coney Island, Luna Park, and more attractions
Coney Island is located in the southern part of Brooklyn, facing the Atlantic Ocean. During the 20th century, it became an amusement park area with 5.5 kilometers of sandy beaches.
You can enjoy roller coasters, exhibitions, restaurants, baseball games, and stores here.
Did you know that the first roller coaster was operated here in 1884?
Luna Park is one of the most visited places in Coney Island, an amusement park with it all.
It is the largest park in New York and is about 130 years old, opening in 1903. Its best-known roller coaster is the Thunderbolt. Do you know it? Tell me about your experience!
To visit, we recommend that you buy your tickets in advance.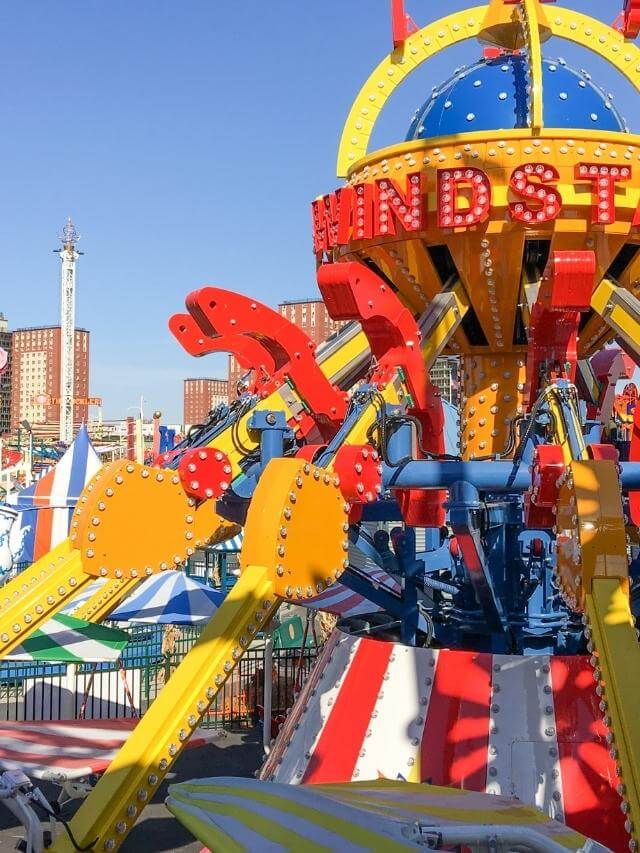 How to Get to Coney Island
Address: Luna Park in Coney Island, 1000 Surf Avenue, Brooklyn, NY 11224.
Subway: Q & F to West 8th Street Station D, F, F, N & Q to Coney Island-Stillwell Avenue Station.
Bus: B36 to Surf Avenue and West 8th St, or B68 to Neptune Avenue and West 8th St.
Downtown Brooklyn
Downtown Brooklyn is now known as a great place to stay if you are coming to Brooklyn due to its central location and proximity to popular sites like Barclay's, Atlantic Terminal, BAM, and universities.
Nearby you have Long Island University and New York University.
You'll end up in downtown Brooklyn when you cross the Brooklyn or Manhattan Bridge.
This area has easy access to and from Manhattan, and in recent years, Downtown Brooklyn has become more and more like Manhattan than the rest of Brooklyn.
You'll see huge skyscrapers, countless choices of places to eat and shop, and a variety of public transportation. One could hardly tell the difference between this neighborhood and Manhattan.
Here are 5 things you can't miss in Downtown Brooklyn!
BAM, visit the Music Academy.
Dekalb Market is ideal for food lovers.
Barclay's Center is the home of the Brooklyn Nets. Here you can enjoy an NBA game.
Masstransiscope, a place created by artist Bill Brand, has a space of about 100 square meters of sequences of drawings and/or photographs to show the movement used in pre-film animations.
Junior's Cheesecake is the place where you can find probably the best cheesecake in the world. You'll have to take a look at it, won't you?
Subway stations
Dekalb Avenue lines B, D, N, Q, R, and W
Atlantic Avenue (lines 2, 3, 4, 4, 5, B, D, N, Q and R)
Jay Street: MetroTech A, C, F, N, R and W lines)
Nevins Street (2, 3, 4 and 5 lines)
Brooklyn Flea Market
Founded in April 2008 by Jonathan Butler and Eric Demby, Brooklyn Flea has become one of New York City's top attractions.
This flea market operates every weekend of the year. And it has two locations, one in SOHO (Saturdays and Sundays) and the other in DUMBO (Sundays).
It features hundreds of best furniture sellers, vintage clothing, collectibles, and antiques.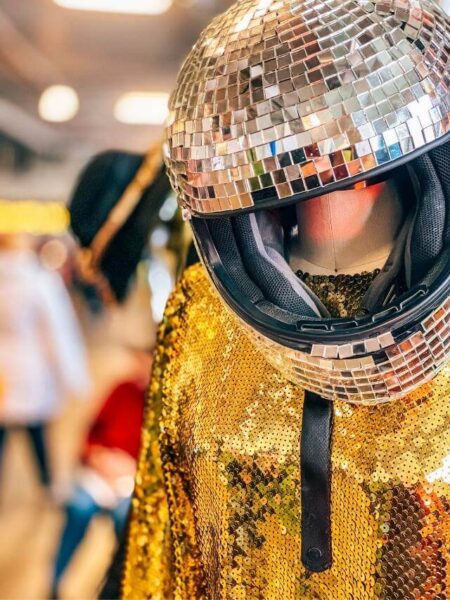 As well as a carefully selected selection of jewelry, art, local designers, and delicious fresh food.
Some of the most influential magazines have ranked it as one of the best markets in the US.
It is ideal for taking a souvenir or having a good time; it has a very local atmosphere.
If you are interested in vintage shopping, take a look at this tour. I'm sure you'll love it.
Williamsburg
Williamsburg is well known for its views of the Manhattan skyline, trendy stores, collection of murals by artists from around the world, nightlife, and dining.
It is also a perfect place to stay and get to know this part of the city. In addition, it has hotels overlooking Manhattan.
Here are 5 Things to Do in Williamsburg
Tour Domino Park opened in 2018 on a former sugar refinery site.
Have a drink at Barcade, the combination between arcade and bar, perfect for a different night out with guaranteed laughs.
Visit Brooklyn Art Library
Walk through Marsha P Johnson Park overlooking Manhattan
If you like beer, visit "The Brooklyn Brewery."
Williamsburg Jewish Quarter, Brooklyn
South Williamsburg is home to one of the largest Jewish communities in the United States.
If, after visiting the trendiest part of Williamsburg, you go to the south side, you will see an incredible contrast.
We visited this part of Brooklyn with the tour of contrasts highly recommend this tour, especially if you are visiting NYC for the first time. By going with a guide, you will learn and see things with different eyes.
Another way to do it is on your own; you can take the subway to the Marcy Avenue or Hewes Street stop and walk around the area.
This area of Brooklyn has a large community of ultra-Orthodox Jews; you will quickly identify them by their distinctive dress and hair.
*They don't like to have their picture taken, so you better take pictures of the stores or the streets to take a souvenir. And if not, ask them if they will let you take their picture.
Street Art in Brooklyn
The quintessential and most famous street art district is Bushwick. This neighborhood or borough is home to a living, breathing outdoor gallery featuring street art in Brooklyn for artists worldwide.
In Bushwick, you can mainly find graffiti on walls, warehouse facades, garages, shutters, barriers, etc.
But if you pay attention, you will also see magnificent advertisements, mosaics, stickers, and all kinds of street art.
The most famous graffiti can be found on Jefferson Street, Wyckoff Avenue, Morgan Avenue, etc. I recommend you take this tour to discover the best urban art in Brooklyn with an expert guide.
Another place to see street art in Brooklyn is Williamsburg. Walk along Bedford Avenue to find the murals. You'll also see businesses like Dunkin Donuts with the entire facade covered by a mural.
If you still want more street art in the DUMBO area, Industry City, Prospect Heights, and Crown Heights, you'll find plenty more.
Brighton Beach
Brighton Beach, nicknamed "Little Odessa," is a neighborhood located at the southern end of the Brooklyn borough of New York, along the Coney Island peninsula.
Since the early 1900s, Brighton Beach has been home to a Russian-speaking immigrant population, primarily from Russia and Ukraine.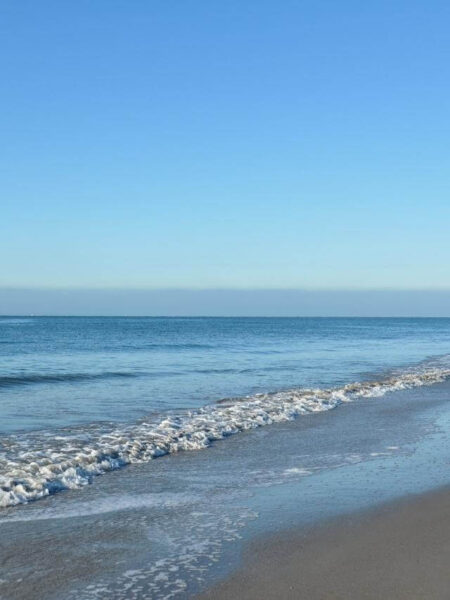 But what makes it even more popular and attractive is the variety of things to do in the surrounding area.
Tourists flock to enjoy its beaches and Coney Island's exceptional theme parks.
Live Music in Brooklyn
Brooklyn has a wealth of live music venues. The place you choose will depend on your tastes and preferences. Here are 5 that look very good.
Music Hall of Williamsburg
Elsewhere
Baby's All Right
Saint Vitus
Brooklyn Bowl
Prospect Park
Urban visionaries Frederick Law Olmsted and Calvert Vaux, who designed the more famous Central Park, also put their stamp on the bucolic 212-hectare (526-acre) Prospect Park.
Amenities such as Long Meadow and Nethermead offer plenty of space for lawn lounging and picnicking.
You can also visit Ravine, a stunning forest in bustling Brooklyn.
Robert Moses: the controversial city planner was behind some of the park's children's areas, including the zoo and the LeFrak Center at Lakeside, where roller and ice skating are available.
Park Slope
Park Slope is a Brooklyn neighborhood home to families and artists of all kinds. It is also a place of great architectural wealth, with buildings dating mainly from the nineteenth century.
In 1973, the New York City Landmarks Preservation Commission designated the Park Slope neighborhood as a "Historic District."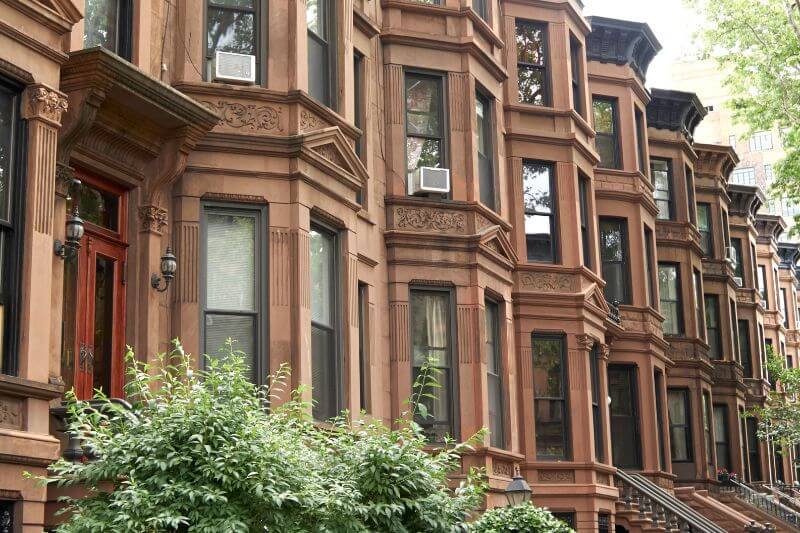 The most typical things to see in this neighborhood are the Brownstone Houses. They are houses built in the 19th century and intended for the American middle class.
They are easily recognized by their red sandstone façade and small staircase intended to prevent the inhabitants from returning with mud under their soles.
Walk along Garfield Place Street; you will see many examples of this type of house here.
Dyker Heights
If you find yourself in New York during the holiday season, you definitely need to plan a day to go to Dyker Heights after dark.
You can get there on your own by taking the R subway to Bay Ridge or the D subway to 71 St. Louis.
Then, it's up to you to walk the streets to find the most beautiful homes in the neighborhood.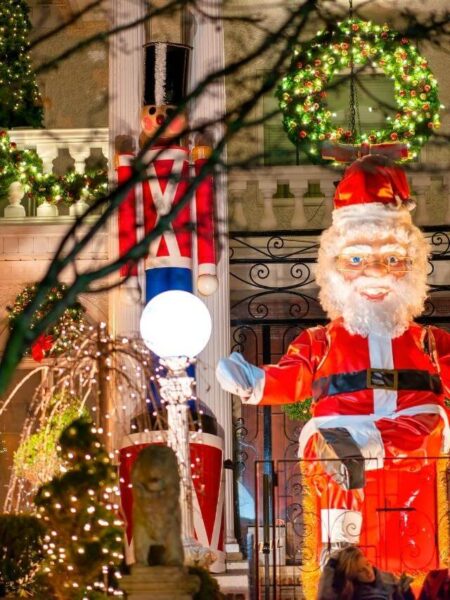 Another solution to avoid missing the most impressive decorations is to hire a guided tour. A professional guide will have seen the most beautiful houses in advance and will take you to the best ones to see in the neighborhood.
Industry City
Industry City in Brooklyn is one of the city's best-hidden dining, drinking, art, and entertainment venues that breathes new life into the former industrial warehouse complex near the Sunset Park waterfront.
Another thing I love about Industry City is that every season is different. No two visits are the same.
The space collaborates with artists not only to create art on the walls of Industry City but also to decorate the area with temporary installations.
You'll find everything from spooky skeletons in the fall to a charming winter village shaped like a snow globe during Christmas and even decorated with hearts on Valentine's Day.
As you can see you have a lot to choose from, come and spend a different night, there are many places to have a drink or dinner.
Sunset Park
A hidden treasure of New York. This park, located a few blocks from New York's largest cemetery, Green-Wood Cemetery, is known by locals for its splendid view of Manhattan.
In fact, the park is on a hill, and it is not uncommon in summer to see dozens of Brooklynites lying on the west side to admire the sunset over the horizon.
Green Wood Cemetery
Greenwood is a cemetery that brings people closer to the world as it is and was, remembering the dead and bringing to life the art, history, and natural beauty of New York City.
Founded in 1838 and now a National Historic Landmark, Green-Wood was one of the first rural cemeteries in the United States.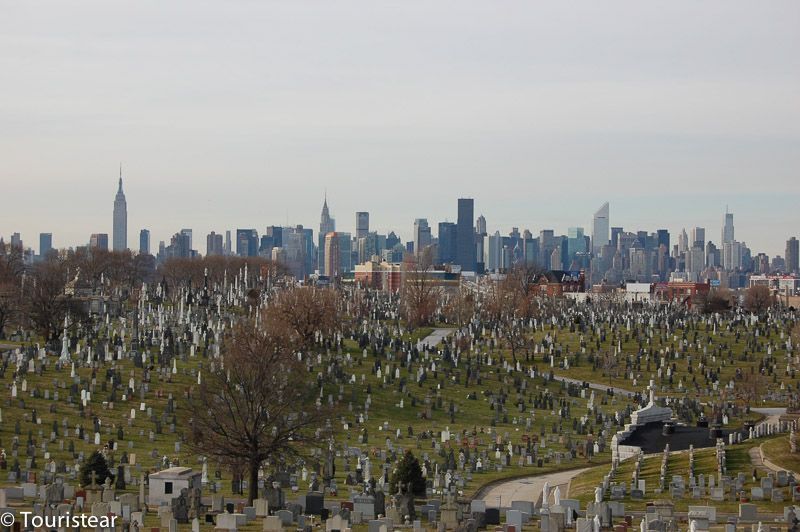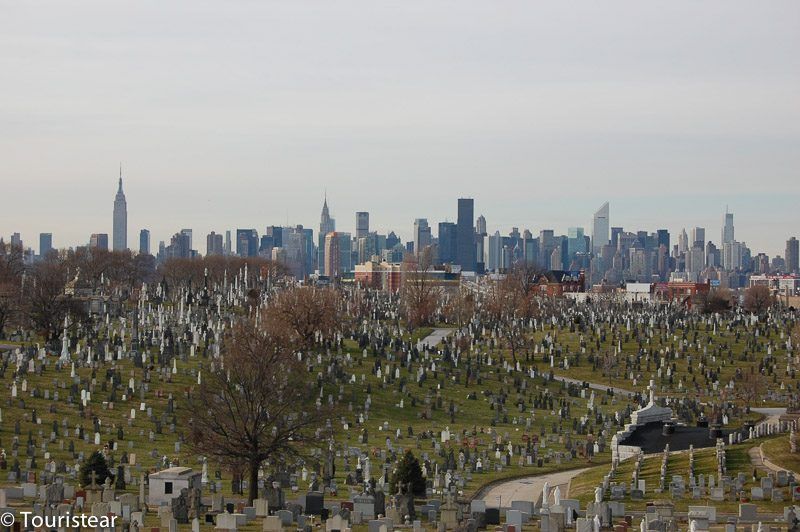 Green-Wood has 478 spectacular acres of hills, valleys, ponds, and trails, along which one of the largest outdoor collections of 19th and 20th-century statuary and mausoleums exists.
Admission is always free, and hours are from 7 a.m. to 7 p.m.
Take the R train to the 25th Street station in Brooklyn to visit by subway. Walk up the hill one street to the main entrance.
Barclays Center / Brooklyn Nets
Barclays Center opened in 2012 and is the place to watch the Brooklyn Nets play their NBA games with over 17,000 seats.
But it is also the ideal place to go to a concert by your favorite band or artist. Renowned artists such as Barbra Streisand, The Rolling Stones, Paul McCartney, Beyonce, Rihanna, Madonna, and Bruce Springsteen have performed here.
The best places to see the Manhattan skyline from Brooklyn
This section deserves a whole article, but as I haven't written it yet, I leave here the best places to see Manhattan from Brooklyn in a summarized way.
Brooklyn Bridge, I'm sure you hadn't thought of that XD
Brooklyn Bridge Park
Manhattan Bridge
Brooklyn Heights Promenade
Rooftops in DUMBO and Williamsburg
Domino Park
Time Out Market
Bushwick Inlet Park
Skyline Drive-in
Grand Ferry Park
As you can see, Brooklyn has a lot to visit, tour, taste, and photograph. I recommend you dedicate at least one day to this New York neighborhood.
But if you already know Manhattan, I recommend spending at least two or three days touring Brooklyn. Then, stop by the blog and tell me in the comments how the visit went.
Plan Your Trip to New York
What to see on the East Coast of the United States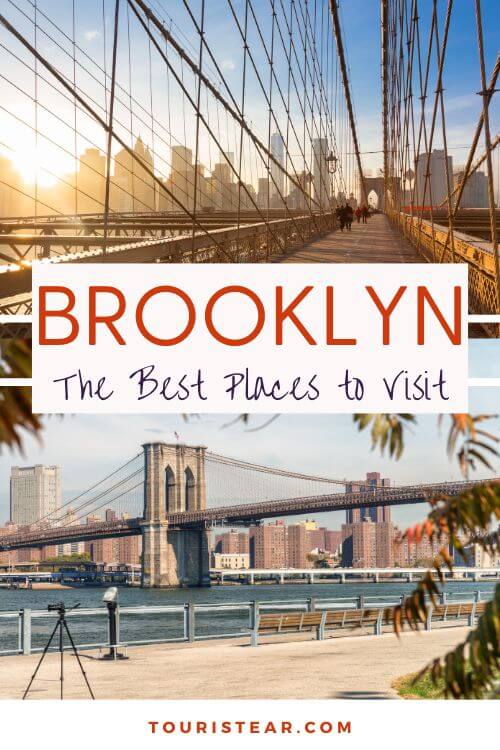 Last Updated on 25 October, 2023 by Veronica
Disclosure: Some of the links on this post are affiliate links, meaning at no additional cost to you, I may earn a small commission if you click through and make a purchase.
Author: Veronica
Vero, a seasoned traveler, has explored 25 countries and lived in five, gaining a rich perspective and fostering an infectious passion for travel. With a heart full of wanderlust, Vero uncovers the world's hidden gems and shares insights, tips, and planning advice to inspire and assist fellow adventurers. Join Vero and let the shared passion for travel create unforgettable memories.