Best Things to Do in La Rochelle in a Weekend
On the edge of the Atlantic Ocean, we find La Rochelle, a beautiful French town.
In this post, we will tell you about what to see in La Rochelle and a 1-day side trip you can do in the surroundings, such as visiting a Cognac distillery.
Must-Visit Places in La Rochelle
Let's start the visit to La Rochelle, a maritime city with many things to see. Its architecture, its arcaded streets, museums, walk or bike the city, doing water activities, visiting the nearby islands, and strolling through its beautiful parks. Let's start!
TOP: 2-Hour Sunset Sailing Cruise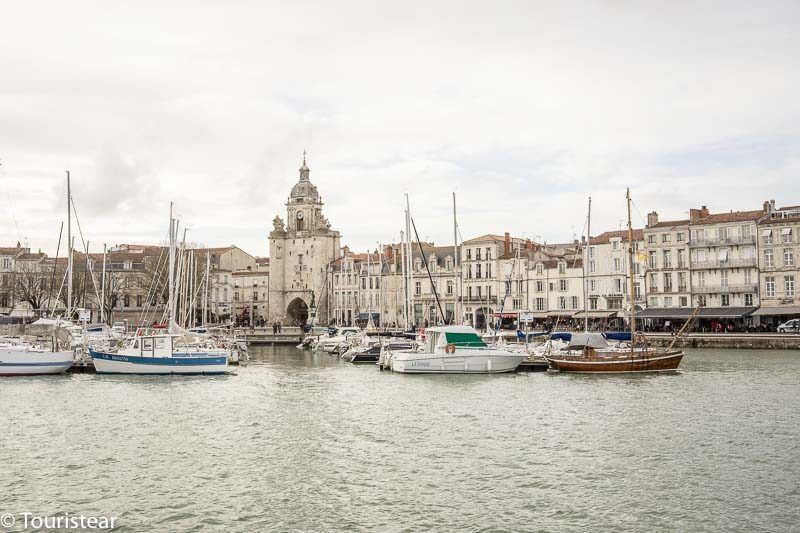 The Towers of La Rochelle and Old Port
In the heart of the city is the old port of La Rochelle. It is an essential place that you have to visit in this beautiful city.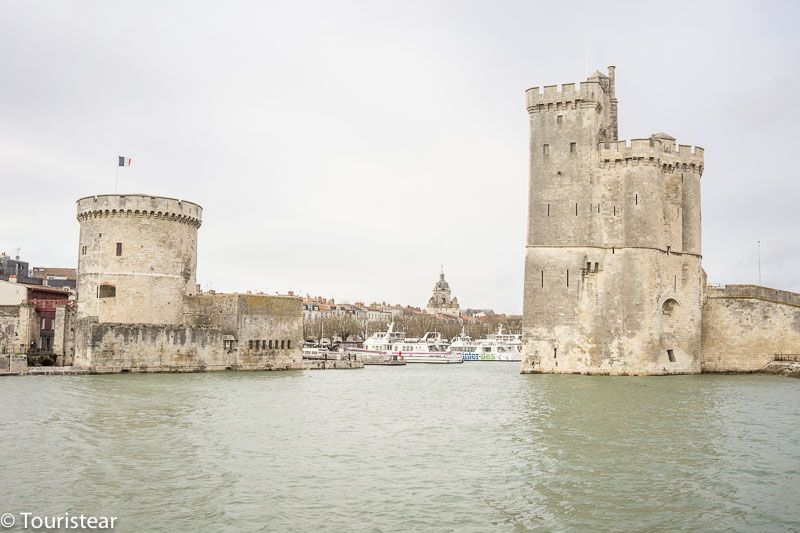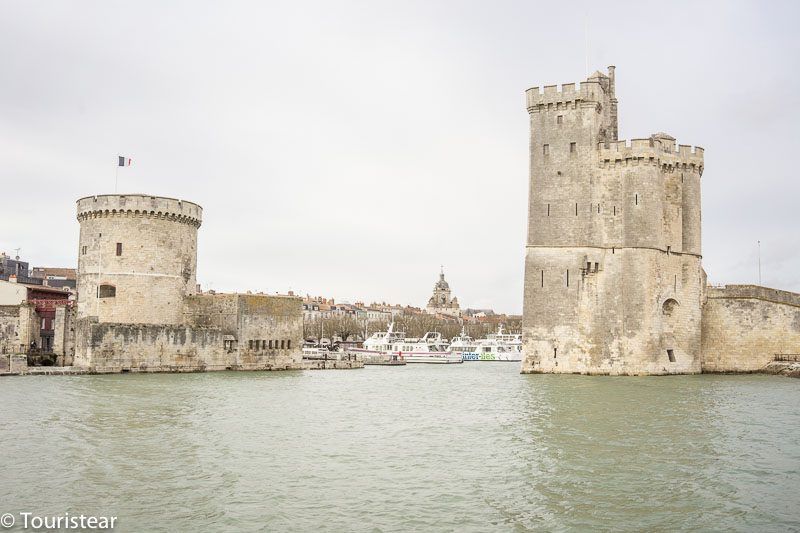 Its 3 towers protected the ancient city, and now they are a must-visit place to watch La Rochelle from above.
Since it is allowed to visit the inside the towers (Buy the Ticket Here).
The towers of St. Nicholas (fourteenth century) and the Chain (fourteenth century) are part of the access to the Old Port and protected the city.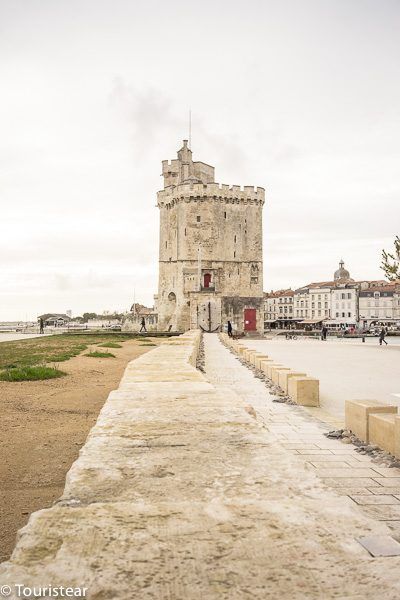 The Lantern tower (12th and 15th centuries) is the oldest lighthouse on the Atlantic coast.
The Royal Navy prison and colonial troops retain more than 600 pieces of graffiti recorded by prisoners for 3 centuries.
The Streets of the Arcades
One of the charms of la Rochelle is its architecture and its porched streets full of arcades and buildings of different centuries, some better preserved than others.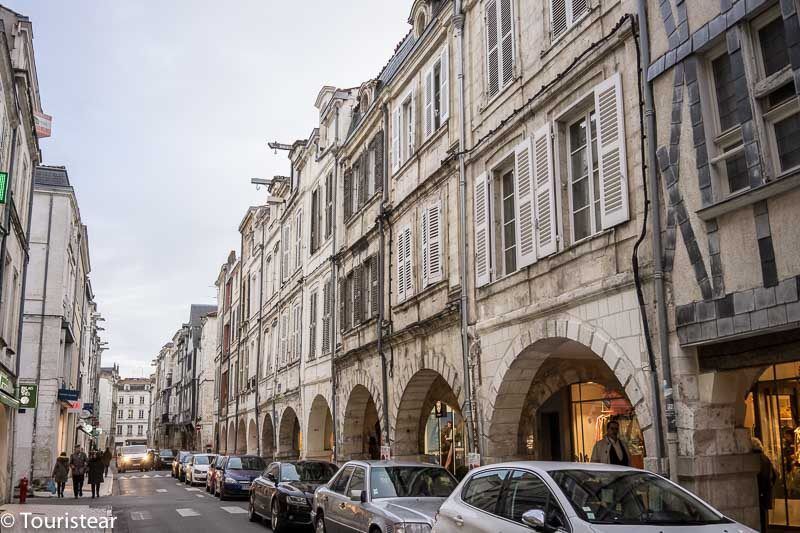 This type of architecture shows us the commercial vocation that this city had (and has) from its creation.
This served to protect the goods from rain and inclement weather. So now it's great for you when it rains to have a place to protect you.
The streets you have to visit are: rue des Merciers, rue Chaudier, rue du Palais, rue du Minage, among others.
The Cathedral of La Rochelle
It was built after the siege of 1628 when Catholics emerge victoriously and decided to convert the Protestant city at the head of a diocese.
There were quite a few problems during its construction, but finally, after almost 160 years, the cathedral was blessed in 1784.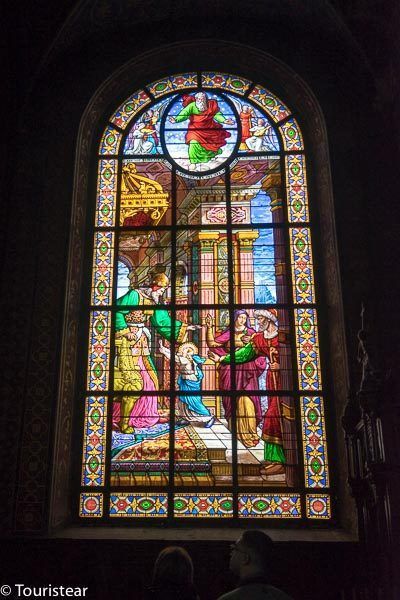 Walk the Grosse Horloge district
The Grosse Horloge is a tower that is located at the door of the wall that separated the port from the city.
It had two arcades, one for pedestrians and one for carriages. In 1672 they left it with only one arcade for everyone.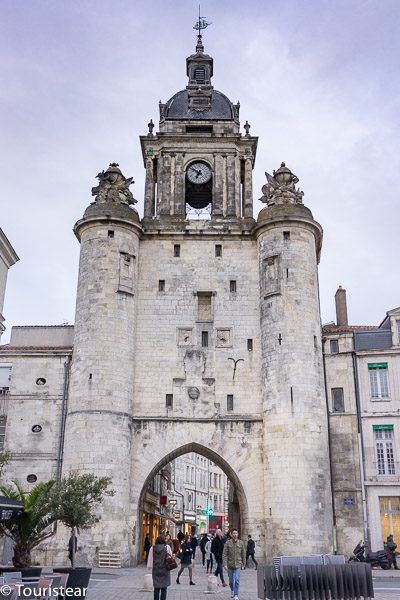 In a near area, it's the clock tower; you'll be able to see many medieval mansions built between the 15th and 18th centuries and "Pan de Bois" houses, these medieval typical houses are made with half-timbered and mud.
Tour the St. Nicholas Quarter and The Fourche Square
The neighborhood of St. Nicholas is one of the neighborhoods of the historic center and one of the neighborhoods that you will walk on your trip through la Rochelle.
Here you will find some of the most beautiful places in the city or more interesting to visit like the market on Wednesday and Saturday mornings, La Guignette, among others.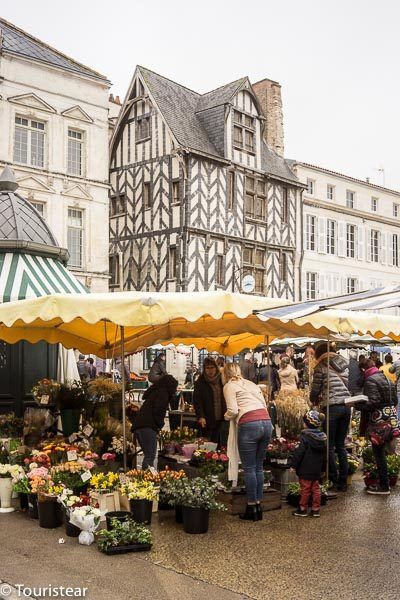 Shopping at "marché" (market) of La Rochelle
On Wednesdays and Saturday morning is the market of local products in "Les Halles" La Rochelle.
Here you can buy great cheese, fish, fruit, and vegetables. In addition, you can buy oysters and other seafood. The oysters are ready for you at the moment, and they're great.
Honestly, I haven't encouraged to try them until I got to France. They're delicious. Here is a specialty and the best: they are not expensive. For example, in a market like this can cost you 6 oysters with a glass of white wine 6€.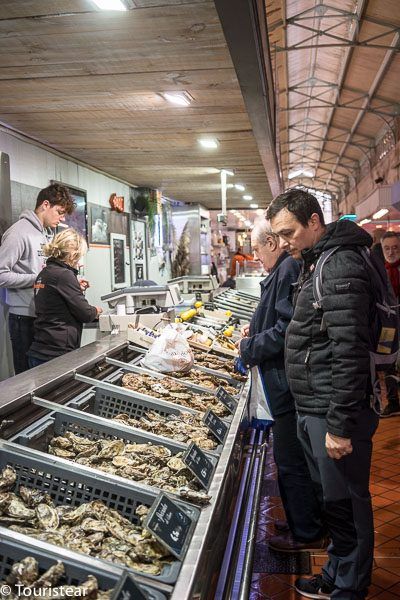 Les Halles, the place where the market is made in La Rochelle, is located in the neighborhood of St. Nicolas. Ideal for breakfast (petit déjeneur) or an appetizer with some oysters.
Eat the Fruit de mer (oysters, shellfish and other seafood)
In this city, seafood is the specialty. As I told you, you can try the oysters at the market, but there are many restaurants to try "fruit de Mer," one of the best known is bar André.
It's a restaurant specializing in seafood, and if your budget allows, you have to go.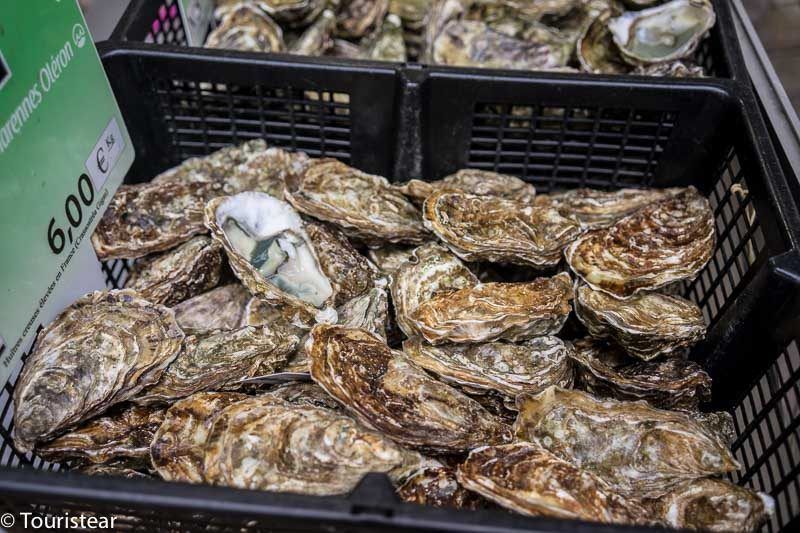 Take a drink in the Bar La Guignette
It's a place with a good atmosphere. It was crowded. Always are people drinking beer and wine. They have a drink called the Guignette, and it's a blend of white wine and rosé wine.
It's in the neighborhood. St. Nicholas, and we loved it.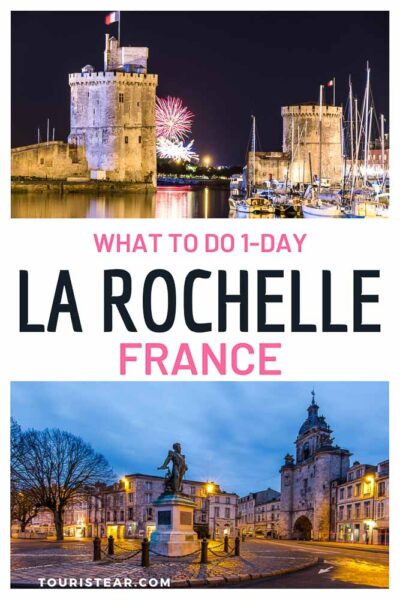 Visit the Bunker of La Rochelle
You can find a bunker of 300 square meters in the heart of the city. Built by Germans at all secret in 1941 to be able to hide the commanders of German submarines in the event of bombing.
Remains intact since 1945. Besides, if you can see the museum, you will see many objects, historical panels, explanatory panels, and recreations of history.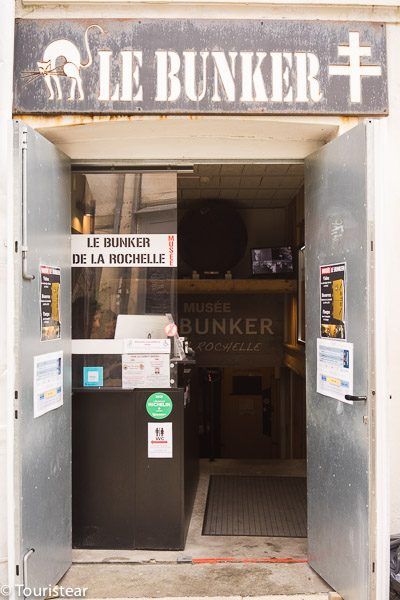 Walking through the coast until you reach La Rochelle beach
In La Rochelle, you have 3 beaches, and 3 are sandy. They are very close to the center, and you can reach them walking or cycling. They are well equipped with bathrooms and a shower.
And near the Rochelle, you can go to Châtelaillon-plage, which is 3 kilometers from a soft sandy beach. Ready to do all kinds of activities such as water sports and activities with children and as a family.
Site trips from La Rochelle
Try the Cognac
The vineyards of the cognac are spread over 3 departments: La Charente, the Charente-Maritime, and the Deux-Sévres.
You can go and visit many wineries and find producers in this area. In addition, you can visit the distilleries to understand the different stages of the manufacturing of cognac.
They call it the water of life (eau-de-vie). Here I leave some of the wineries in case you want to make a visit.
Chateau Royal de Cognac is where Baron Otard's barrels have been since 1775.
Cognac Camus, since 1863 they manufacture well-known cognacs, has a visiting circuit. It's been a family business for five generations.
Cognac Courvoisier is on the banks of the Charente River; you can take a guided tour; you have different tours according to your budget.
Where to Sleep in La Rochelle
We arrived at La Rochelle by van from Nantes. This city is pretty good for motorhomes and camper vans. You have campsites and places to park for free. Obviously, it has a good hotel offer if you go by car or other transport.
Here's a good selection of sleeping hotels in La Rochelle.
Plan Your Trip to France
France has a lot of places to visit. We will tell you little by little about those that we get to know on different posts. I hope you like it!
Tell us, do you have some essential places to add to this post?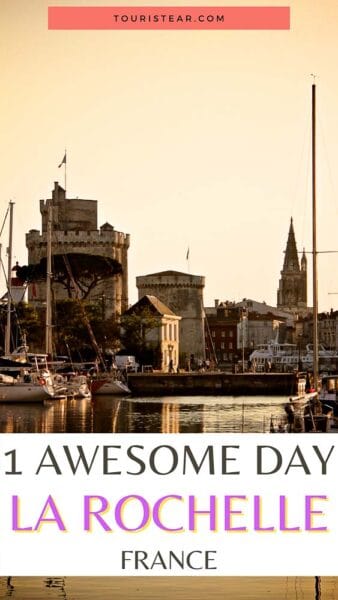 Book Your Trip
Book Your Flight
Find a cheap flight by using Skyscanner.
Book Your Accommodation
You can book your hostel, hotel, or apartments on Booking.com.
DoDon'torget Travel Insurance.
Travel insurance will protect you against illness, injury, theft, and cancellations. It's your protection in case anything goes wrong. You never go on a trip without it.
Best companies for activities
Check out Civitatis.com and find the best tours in English (French, Spanish and Italian)
Are you looking for the best companies to save money with?
Check out my resource page for the best companies to use when you travel! I list all the ones I use to save money when I travel – and I think I will help you too! (Is in Spanish yet)
Last Updated on 30 November, 2021 by Veronica