Best Things to Do in La Rochelle in a Weekend
On the edge of the Atlantic Ocean, we find La Rochelle, a beautiful French town.
In this post, we will tell you about what to see in La Rochelle and a 1-day side trip you can do in the surroundings, such as visiting a Cognac distillery.
Must-Visit Places in La Rochelle
Let's start visiting La Rochelle, a maritime city with many things to see. With beautiful architecture, arcaded streets, and museums.
You can walk or bike around the city, do water activities, visit the nearby islands, and stroll through its beautiful parks. Let's start!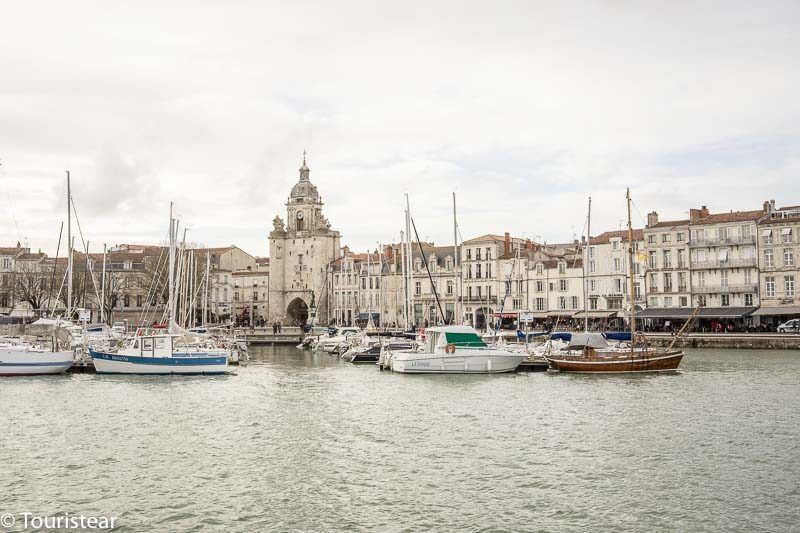 The Towers of La Rochelle and Old Port
In the heart of the city is the old port of La Rochelle. It is an important place that you have to visit in this beautiful city.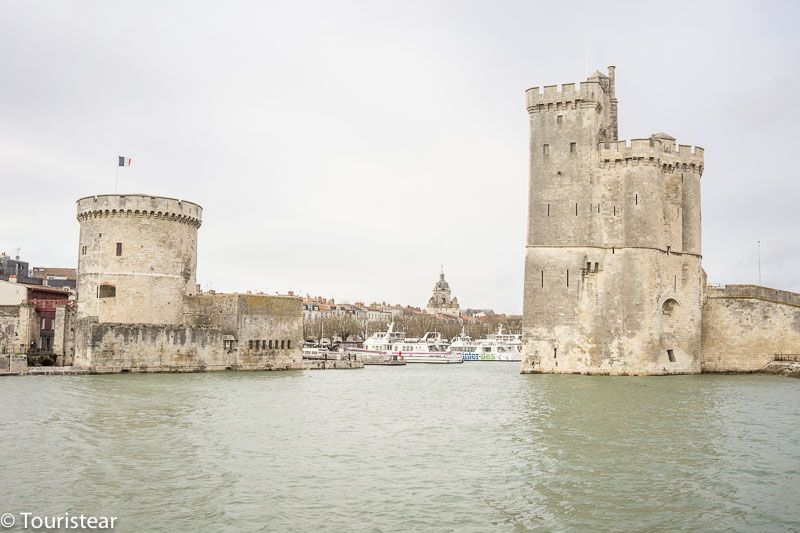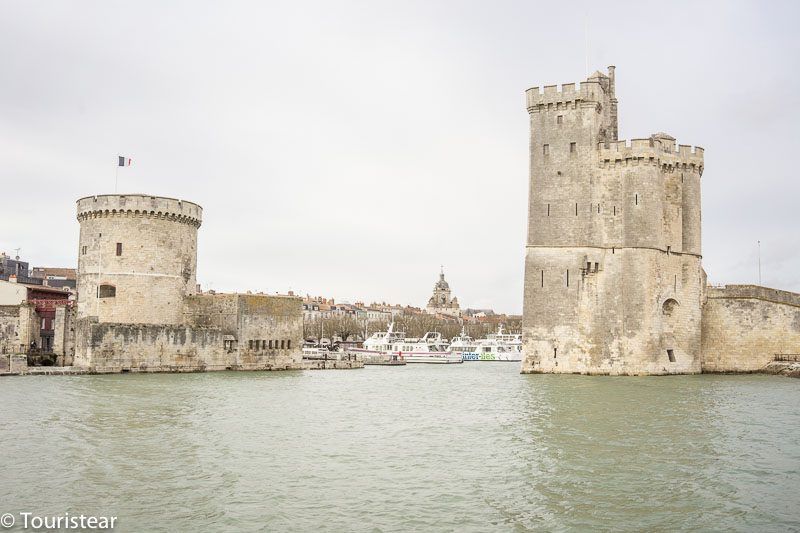 Its three towers protected the ancient city, and now they are a must-visit place to watch La Rochelle from above.
Since it is allowed to visit inside the towers (Buy the Ticket Here).
The towers of St. Nicholas (fourteenth century) and the Chain (fourteenth century) are part of the access to the Old Port and protect the city.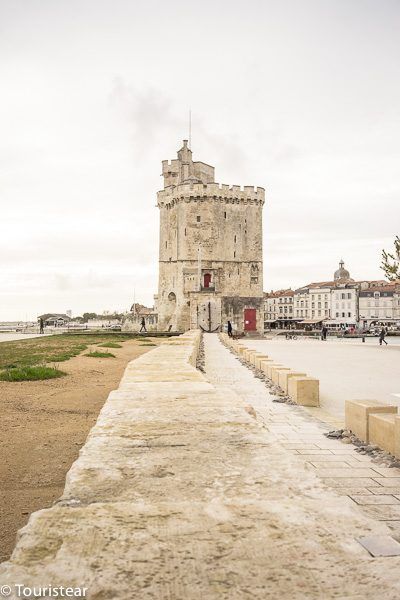 Legend has it that the Tower of Saint Nicholas was built by a fairy flying over the city with a sack of stones from a collapsed castle. The sack opened, and the stones formed the tower.
The tower's height is 38 meters and is slightly inclined due to the wet ground on which it was built.
The Chain Tower is a few years younger than that of Saint Nicholas. Its name comes from a heavy iron chain that had to be maneuvered to allow ships to enter the port and to collect fees.
In 1472 King Louis XIV visited the tower, and legend has it that with the diamond in his ring, he engraved an inscription on one of the crystals.
For years it served as a gunpowder store that one day crashed and left the tower without a roof for 300 years. Reconstruction took place in the 20th and 21st centuries.
The Lantern Tower (12th and 15th centuries), 55 meters high, is the oldest lighthouse on the Atlantic coast, dating from the Middle Ages. It also served as a prison for the Royal Navy and colonial troops.
It preserves over 600 graffiti engraved by prisoners over 3 centuries in its old cells.
The Streets of the Arcades
One of the charms of la Rochelle is its architecture and its porched streets full of arcades and buildings of different centuries, some better preserved than others.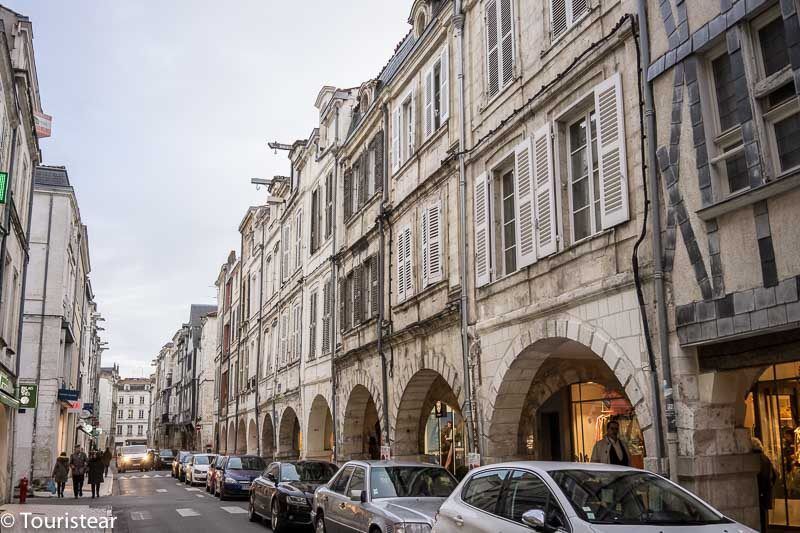 This type of architecture shows us this city's commercial vocation (and has) from its creation.
This served to protect the goods from rain and inclement weather. So now it's great for you to have a place to protect you when it rains.
The streets you have to visit are: rue des Merciers, rue Chaudier, rue du Palais, rue du Minage, among others.
The Cathedral of La Rochelle
Saint-Louis de La Rochelle Cathedral was built on top of an old church after the siege of 1628 when the Catholics were victorious and decided to make the Protestant city the head of a diocese.
There were quite a few problems during its construction, but finally, after almost 160 years, the cathedral was blessed in 1784.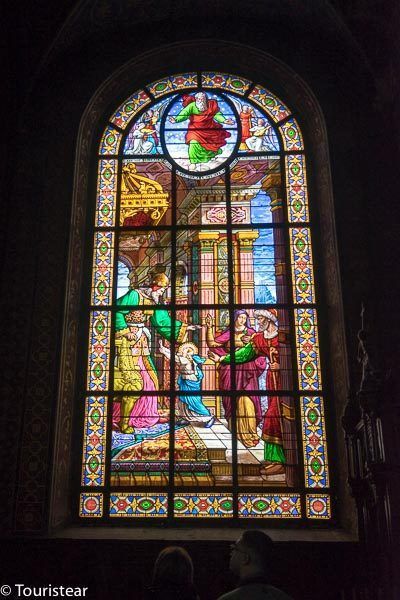 It doesn't seem attractive from the outside, but inside you can see its beautiful stained glass windows and magnificent paintings.
In addition, it is an excellent place to learn a little more about the city's history, thanks to the explanatory panels.
Get to know Maison Henri II
Not far from the cathedral is the Maison Henri II. It is a beautiful and unique French Renaissance palace designed by an anonymous master in the 16th century.
You can only access the patio and observe its columns, pediments, and coffered ceilings.
And here comes the surprise. Maison Henri II is not a house! It is only a monumental facade decoration, but it is well worth seeing this beautiful work.
Walk the Grosse Horloge district
The Grosse Horloge is a tower located at the wall's door that separated the port from the city.
It had two arcades, one for pedestrians and one for carriages. Unfortunately, in 1672 they left it with only one arcade for everyone.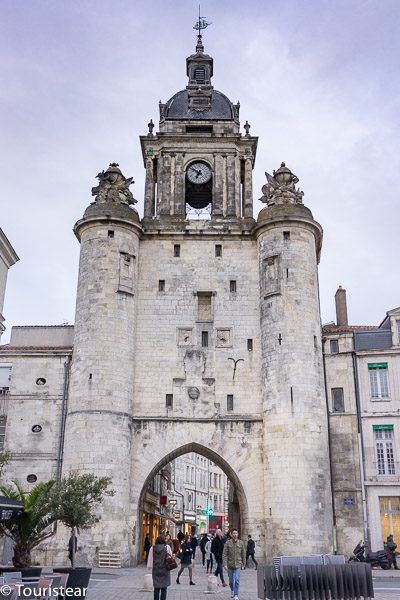 In a nearby area is the clock tower; you'll see many medieval mansions built between the 15th and 18th centuries and "Pan de Bois" houses. These typical medieval houses are made of half-timbered and mud.
Tour the St. Nicholas Quarter and The Fourche Square
The neighborhood of St. Nicholas is one of the neighborhoods of the historic center and one of the neighborhoods that you will walk on your trip through la Rochelle.
Here you will find some of the most beautiful places in the city or more interesting to visit, like the market on Wednesday and Saturday mornings and La Guignette, among others.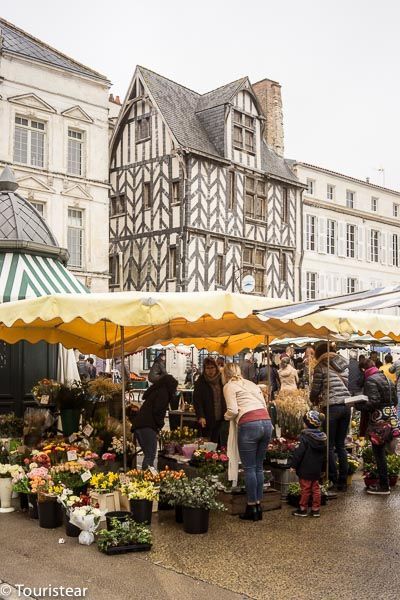 Shopping at the "Marché" (market) of La Rochelle
On Wednesdays and Saturdays mornings is the market of local products in "Les Halles" La Rochelle.
Here you can buy great cheese, fish, fruit, and vegetables. In addition, you can buy oysters and other seafood. The oysters are ready for you now, and they're great.
Honestly, I haven't encouraged to try them until I got to France. They're delicious. Here is a specialty and the best: they are not expensive. For example, a market like this can cost you 6 oysters with a glass of white wine 6€.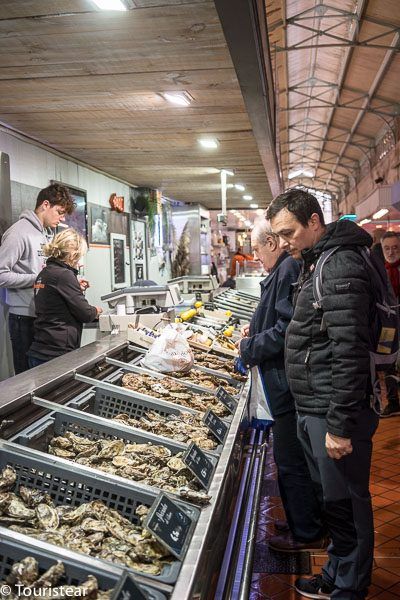 Les Halles is the market in La Rochelle. It's located in the neighborhood of St. Nicolas. Ideal for breakfast (petit déjeneur) or an appetizer with some oysters.
Eat the Fruit de Mer (oysters, shellfish, and other seafood)
In this city, seafood is the specialty. As I told you, you can try the oysters at the market, but there are many restaurants to try "fruit de Mer," one of the best known is bar André.
It's a restaurant specializing in seafood, and if your budget allows, you have to go.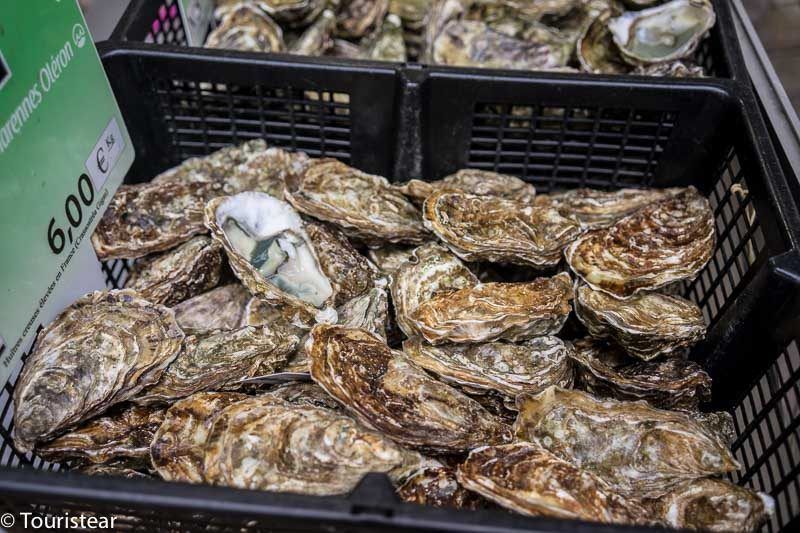 Take a Drink in the Bar La Guignette
It's a place with a good atmosphere. It's always crowded with people drinking beer and wine. They have a drink called the Guignette, a blend of white and rosé wine.
It's in the neighborhood. St. Nicholas and we loved it.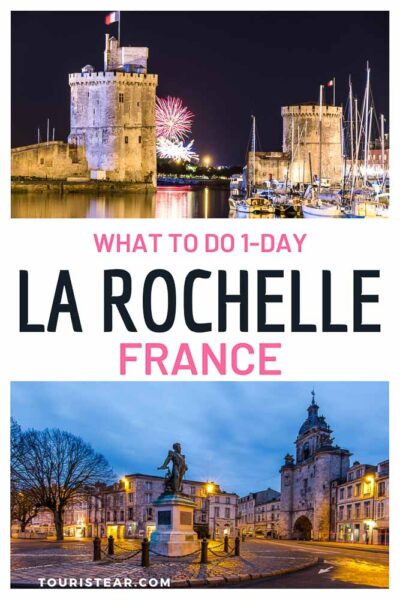 Visit the Bunker of La Rochelle
You can find a bunker of 300 square meters in the city's heart. It was built by Germans at all secret in 1941 to be able to hide the commanders of German submarines in the event of bombing.
It has remained in its original state since 1945, and for 40 years, it was completely forgotten. It was recently purchased and now houses a museum.
Remains intact since 1945. Besides, if you can see the museum, you will see many objects, historical panels, explanatory panels, and recreations of history.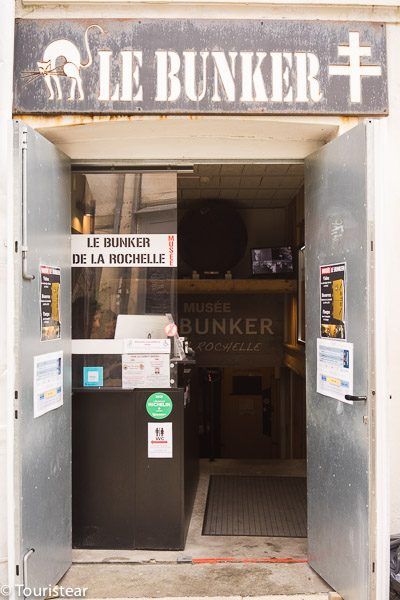 La Rochelle Aquarium
Some of you already know that I'm not a big fan of visiting aquariums, and this time, I didn't change my mind either 😉
But it is one of the largest aquariums in Europe, with more than 1,000 animal specimens in 8,000 m2. Highly recommended for those traveling with small children.
You can buy tickets online through the aquarium website to avoid checkout queues.
La Rochelle Maritime Museum
The museum is actually a collection of ships moored in the port with exhibits on the maritime history of La Rochelle, "daughter of the sea," since its beginnings in the year 1000.
It houses the meteorological ship, La France 1, classified as a historical monument. They can be visited from the engine rooms to the command bridge and learn about the daily life of the engineers who worked on it.
Also, visit a tugboat or private vintage yachts that their owners let you see.
Museum of Fine Arts
The museum is located in a beautiful neoclassical episcopal palace built at the end of the 18th century, which was converted into a hotel.
In its exhibitions, you can see paintings by great artists from the 15th century to the beginning of the 20th century, with an emphasis on painters from the region.
Take a Walk through the Green Area of Parque Charruyer
It is a 2 km long park that runs through half the city. Designed in 1890, it is still a pleasant place for walks, with streams and small bridges.
Since 1945 it has had a zoological part where the little ones can feed the ducks.
Visit the Marina
The La Rochelle marina was created in 1975 and is one of the largest in the world.
It is about 15 minutes from the center and very well connected, although I recommend taking a pleasant bike ride. The views are unbeatable; you can see the two towers at the entrance and the blue sea surrounding the coast.
Also, you can book a sailing trip in an awesome sailboat, it's not cheap, but it's fabulous.
Walking Through the Coast Until La Rochelle beaches
In La Rochelle, you have 3 beaches, and 3 are sandy. They are very close to the center; you can reach them by walking or cycling. They are well equipped with bathrooms and a shower.
Chef de Baie beach is located near the old port. It is part of the protected area of the same name that houses sensitive species of flora and fauna. It is a smoke-free beach, ideal for families.
Plage de la Concurrence is located within the city. It's relatively small and fills up quickly in the summer months, but it's the perfect option if you don't have much time to get away.
Châtelaillon-plage is 3 kilometers of fine sand beach. Prepared to do all kinds of activities such as water sports and activities with children and family.
Site trips from La Rochelle
Try the Cognac
The cognac vineyards are spread over 3 departments: La Charente, the Charente-Maritime, and the Deux-Sévres.
You can go and visit many wineries and find producers in this area. In addition, you can visit the distilleries to understand the different stages of the manufacturing of cognac.
They call it the water of life (eau-de-vie). Here I leave some of the wineries in case you want to visit.
Chateau Royal de Cognac is where Baron Otard's barrels have been since 1775.
Cognac Camus, since 1863 they manufacture well-known cognacs and has a visiting circuit. It's been a family business for five generations.
Cognac Courvoisier is on the banks of the Charente River; you can take a guided tour; you have different tours according to your budget.
Ile de Re
The Ile de Ré is connected to the city by a bridge. It is best to go there by bike (If you go by car, you will have to pay the toll of 1€6 in high season and 8 in low season), cross the bridge and enter the fishing villages with their white houses and royal mallows.
And then rest on one of its beaches with fine sand.
It is also known for its salt pans that occupy 20% of its surface and produce about 2,500 tons of salt per year. You can visit the Ecomuseum, where they explain the extraction process.
The Phare des Baleines (Whale lighthouse) is on the island, built-in in 1855. The name is due to the sightings of whales that came to the area since Roman times.
The views are impressive; yes, you have to climb a few steps to enjoy them 😉
The Island is perfect for visit biking, but you can do a guided tour on a scooter.
The Wild Island of Oléron
If you are a nature lover, you will like this island. You can tour the forest massifs and their marshes throughout the day and visit the natural beaches with fine sand. Do not miss a visit to an oyster farm for tasting.
The best way to get there is on a boat with the option of renting a bicycle included in the ticket.
Where to Sleep in La Rochelle
We arrived at La Rochelle by van from Nantes. This city is pretty good for motorhomes and camper vans. You have campsites and places to park for free. Obviously, it has a good hotel offer if you go by car or other transport.
Here's a good selection of sleeping hotels in La Rochelle.
If you're going by camper van, you can go to Ile de Re to a campsite. Unfortunately, there are no good places to spend a night in La Rochelle in a van. Well, you can find places, but they are really noisy.
How to Go to La Rochelle?
If you need a car to get to La Rochelle, look for one you like at this link. And if you are a fan of motorhomes, investigate here.
You can also choose public transportation, such as a train or bus. Look into the most comfortable connections.
Travel insurance for Your Trips
Before leaving to enjoy the holidays in France, remember to ensure your adventures. There is nothing worse than regretting not having taken out insurance!
Go to HeyMondo's website and choose the travel insurance that best suits your style. You have a 5% OFF included on my links.
Plan Your Trip to France
France has a lot of places to visit. We will tell you little by little about those we get to know on different posts. I hope you like it!
Do you have some important places to add to this post?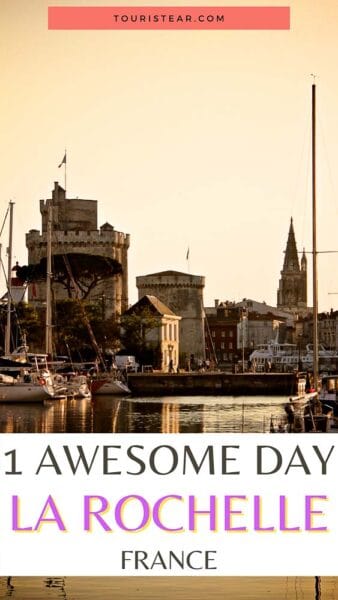 Last Updated on 19 September, 2023 by Veronica
Disclosure: Some of the links on this post are affiliate links, meaning at no additional cost to you, I may earn a small commission if you click through and make a purchase.
Author: Veronica
Vero, a seasoned traveler, has explored 25 countries and lived in five, gaining a rich perspective and fostering an infectious passion for travel. With a heart full of wanderlust, Vero uncovers the world's hidden gems and shares insights, tips, and planning advice to inspire and assist fellow adventurers. Join Vero and let the shared passion for travel create unforgettable memories.