30 Best Things To Do in Lisbon
Embark on an enchanting journey to Lisbon, a city where the charm of cobbled streets meets the warmth of local hospitality. Here, time unwinds gracefully, inviting you to savor each moment, whether lingering over a delicious pastel de nata at a sun-dappled café or diving deep into the rich tapestry of culture at a local museum.
With an ambiance that balances the quaint and the cosmopolitan, Lisbon has emerged as a beloved European gem, offering a tapestry of experiences that are both timeless and dynamic.
As a vibrant testament to Lisbon's allure, the city houses the renowned Time Out Market, a paradise for food aficionados. But that's just the beginning—whether it's your first visit or you're a returning admirer, our curated list of the top things to do promises to guide you to the heart of Lisbon's magic.
From the must-see landmarks to hidden local haunts, prepare to fall in love with the city's multifaceted charm and let Lisbon's spirit of discovery sweep you off your feet. Why wait? The soul of Portugal beckons.
Best of Lisbon at a Glance
* TOP-5: Alfama, Praça do Comércio, Jerónimos Monastery, Belém Tower, Santa Justa Elevator.
* FUN TO DO: Traditional trams & funiculars, Tagus River Cruise, Live Fado show.
* MUST TRY: Pastéis de nata.
35 Best Things to Do in Lisbon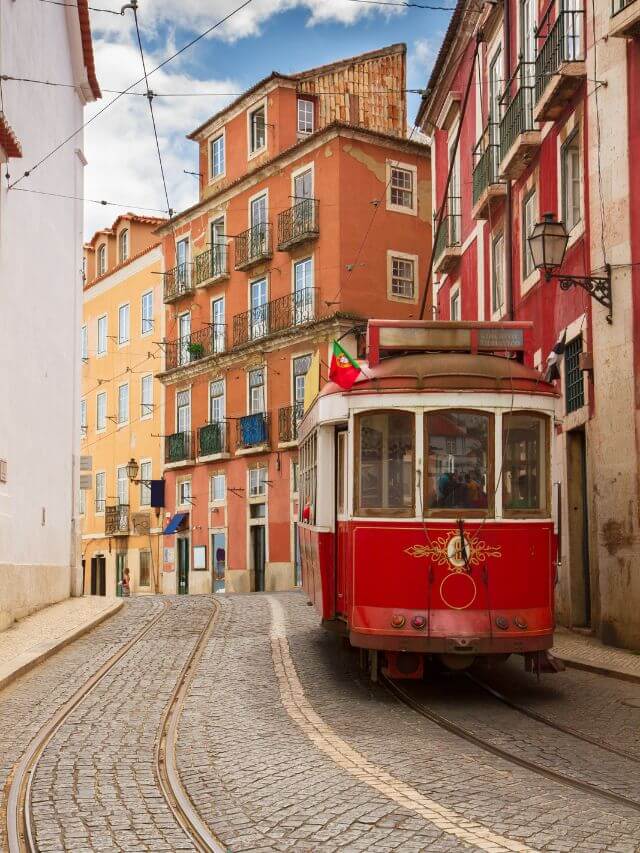 1. Lisbon's Alfama Quarter
The Alfama district is a neighborhood with its own personality. It's a neighborhood of Arab origin and is the oldest and most typical of Lisbon.
Exploring the Alfama district is arguably the quintessential Lisbon experience. Nestled among the city's oldest and most characteristic neighborhoods, Alfama's labyrinth of alleyways, staircases, and quaint passages beckons for leisurely exploration.
The charm is in the journey itself: allow yourself to get lost among the picturesque lanes, pausing for snapshots at every turn.
Amidst the scenic vistas and vibrant street art, you'll find cozy cafés, unique boutiques, and impromptu local food stands tempting you with traditional Ginja and Licor de Pasteis de Nata for a few euros—a small price for authentic Lisbon flavors.
Do note that the terrain is as rich in history as it is in slopes and steps, which might pose a challenge for those less sure-footed.
Beyond its daily allure, Alfama is the heart of Lisbon's festive spirit, especially during the famed Lisbon Sardine Festival (officially Santo Antonio Festival) on June 12-13.
The neighborhood transforms into a jubilant sprawl of music, dance, and aromatic sardine grills, showcasing Lisbon's vibrant culture at its best.
If you want to go to a restaurant for a dinner show, this is the neighborhood you must visit. And this is the neighborhood where we recommend starting your visit in Lisbon.
If you go on Tuesday or Saturday, you will find the Feira da Ladra, a flea market with a lot of charm.
Also, in Alfama, you will find many monuments, buildings, and places of interest, like those listed below.
2. The National Pantheon of Lisbon
The National Pantheon was known as the Church of Santa Engracia. It's a massive construction from the late 17th century, completed in 1966. It took 3 centuries to finish it!
That's why people from Lisbon say whenever something takes a long time, "it's going to be longer than the works of Santa Engracia."
Since the beginning of the twentieth century, this building has been officially a pantheon, and some Portuguese figures such as Amália Rodrigues or the presidents of Portugal have been buried in it.
In addition, it has the cenotaphs of other Portuguese figures such as Vasco da Gama or even a footballer like Eusebio. The cenotaphs are empty tombs in honor of these people, buried elsewhere.
When you see the Pantheon, you are struck by the huge dome, and when you enter the marble-coated in two colors, white and red, the highest point lets the daylight pass through the cimborrium.
You can climb to the top of the dome and access a terrace that allows you to have spectacular views of the Alfama district and the river's estuary; I recommend it. Judge for yourself.
| | |
| --- | --- |
| Address: Campo de Santa Clara, 1100-471 | Hours: 10:00 -17:00 hs |
| How to get there: Metro: Santa Apolónia (Linha Azul) or Tram: 28 (San Vicente) | Entrance: € 4 Included in Lisbon Card |
3. The Lisbon Cathedral: La Sé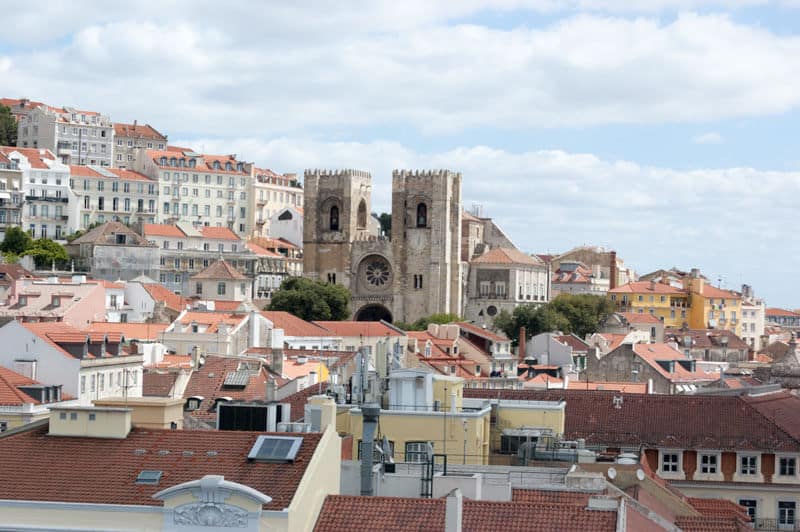 Lisbon Cathedral is Romanesque style and is one of the must-sees in the Alfama district.
In addition, it's one of the few monuments that has survived the famous earthquake and other disasters. Its construction began in the mid-12th century on an ancient mosque after the city's reconquest to the Muslims.
The Lisbon Cathedral was known as the Church of Santa Maria and became a cathedral at the end of the fourteenth century. It was completely restored in the early twentieth century.
Inside are the remains of Saint Vincent, patron saint of the city.
| | |
| --- | --- |
| Largo Santo António da Sé | Hours: 09:00-19:00. Treasure until 17:00 and closed on Sundays and public holidays |
| How to get there: Tram: 28 (Sé) | Prices. Cathedral: free. Cloister: € 2.50 and Treasury: € 2.50. Included in Lisbon Card |
4. St George's Castle, Lisbon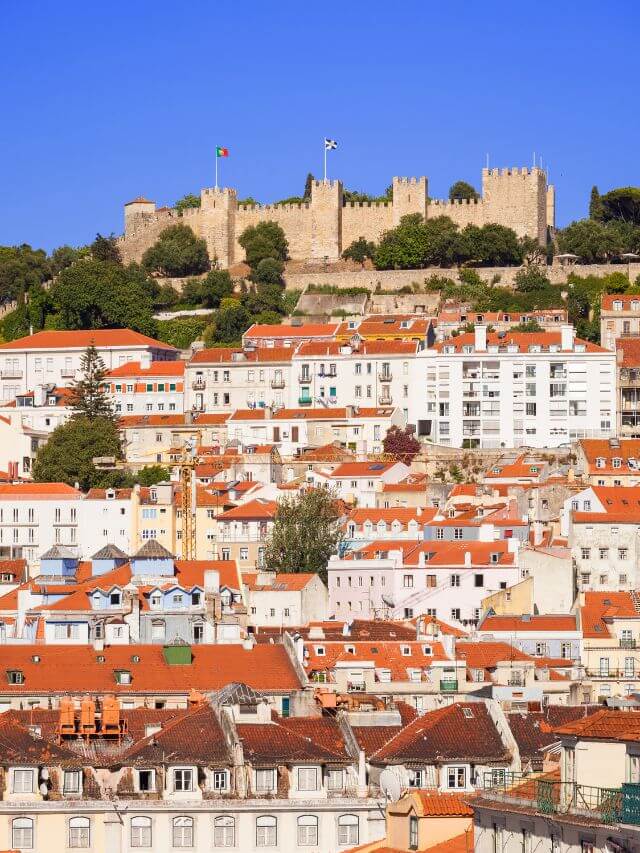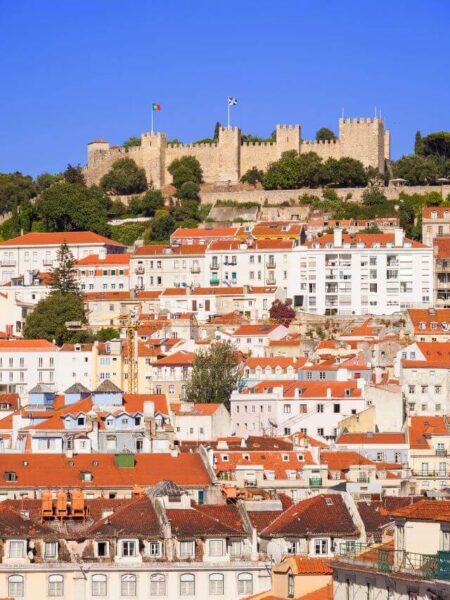 St. George's Castle has more than eight centuries of history and is a monument that stands out for its location on the highest hill in Lisbon.
The climb is quite steep if you walk up. A quick, convenient, and free way to reach the castle is through the elevator in the Baixa.
It was formerly known as Castelo dos Mouros because it was a Muslim fortification recaptured by the first king of Portugal with the help of the Crusaders after a siege of several months.
During the following century and until the mid-16th century, the Castle of St. George lived its period of maximum splendor.
After the Lisbon earthquake of 1755, the castle was left in ruins and did not begin to be restored until the 20th century.
The castle's accesses: via the Arch of St. George. It has eleven towers through which you can walk.
In addition, you can visit the courtyard of arms, the dungeons, and the Gate of Moniz which owes its name to the knight Martim Moniz, who gave his life to prevent the door from closing and thus allow the passage to his companions who could take the castle.
Enjoy the views of Lisbon from the Castle because they are stunning. Inside the castle, you have to visit the Tower of Ulysses, a dark chamber where you can observe a panoramic view of the city in 360 degrees.
| | |
| --- | --- |
| Address: Rua de Santa Cruz do Castelo, s/n, 1100-129 | Hours: 09:00 to 21:00 Hs |
| How to get there: Metro: Santa Apolónia (Linha Azul) or Tram: 28 (San Vicente) | Admission: € 8,50 30 % Discount with Lisbon Card |
5. Santa Luzia Viewpoint
This viewpoint is on the descent towards the cathedral and the castle. As you will realize, Lisbon is full of viewpoints and all have beautiful and unique views of the city.
You will discover that you'll see a different Lisbon from each viewpoint.
This viewpoint is beautiful and very frequented by artists and painters.
6. Casa Dos Bicos
Casa dos Bicos is named after its facade, covered with peaks or bicos. It is not the only facade we see in the Iberian Peninsula; we have also seen it in other cities in Spain.
It is a house well known in Lisbon for its peculiar facade and the uneven design of its doors and windows.
House of Bicos is a former palace of the XVI century and is currently the headquarters of the José Saramago Foundation.
Also, in the Alfama neighborhood, you can visit the Museo do Fado or some churches, such as the church of Santa Luzia next to the viewpoint of the same name or the church of San Vicente do Fora.
| | |
| --- | --- |
| Address: Rua dos Bacalhoeiros 1100-135 | Hours: Monday to Saturday from 10:00 to 18:00 (last entry at 17:30) |
| How to get there: Tram: 28 (Sé) | Admission: Adults: 3 euros, Students: 2 euros, Over 65 years old and under 12 years old: free admission |
7. Commerce Square (Praça do Comercio)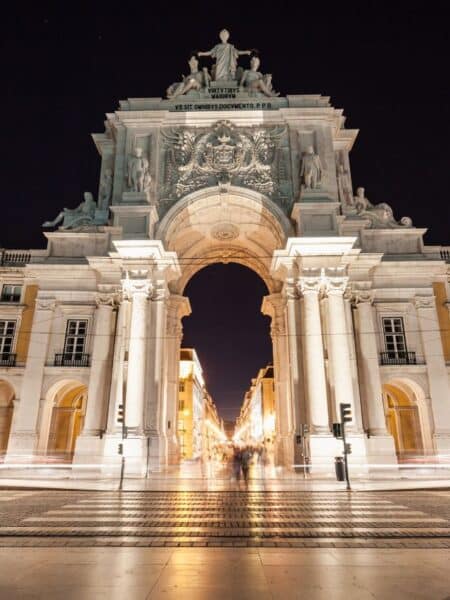 Located in the Baixa Pombalina, Praça do Comércio is one of the symbols of the city of Lisbon. In this square was the Royal Palace, but unfortunately, it was destroyed by the earthquake of 1755, like so many monuments of Portugal.
After the earthquake, it was rebuilt in the shape of the equestrian statue of Jose I, who was the ruling king when the earthquake occurred.
Here, you will find the largest and most important tourist office in Lisbon. Although, you also have another one in the Foz Palace that is on Avda. da Liberdade and you have another one in the Rossio.
The square is accessed by passing under the Arch of Via Augusta, the most commercial street in Lisbon.
It is a very elaborate arch with sculptures of famous characters. It has the Latin inscription "VIRTUTIBUS MAIORUM UT SIT OMNIBUS DOCUMENT," which means "May the virtue of the great be a teaching for all."
To take a good photo of Via Augusta and the square itself, I recommend you go up to the viewpoint at the top of the arch. It goes up by elevator, and the view is excellent as you can see.
The entrance fee is 3 euros. The entrance is on one side of Via Augusta before entering the square on the left.
On the banks of the Tagus River is the square, and from it comes sea transport that takes you to the other side of the estuary.
8. Rossio Square
Rossio Square is the second most important square in Lisbon. Its official name is Praça Dom Pedro IV, in honor of the first emperor of Brazil and Portuguese king.
The column with the bronze statue in the center of the square is in his honor.
This plaza has been one of the most important parts of Lisbon for centuries since this is where the important announcements of the city were announced, the important ceremonies were held, and even executions. This is also the site where the inquisition took place.
What Means Rossio in Portuguese?
The meaning of Rossio in Portuguese is "Terreno largo fruído em comum pelo povo," that is, "long land enjoyed in common by the people", hence this square is named this way.
Famous Cafes at Rossio Square
In this square, are two famous cafes, Café da Nicola and Pastelaria Suiça. They are very touristic and therefore expensive.
The café da Nicola was first a bookstore and later for the last 200 years a café.
The Pastelaria Suiza (Swiss pastry shop) is from the 1920s and was the first café in Lisbon to have a terrace.
9. Burnt Church of Santo Domingo
Right next to Rossio Square in Largo Sao Domingos is the burnt church of Santo Domingo.
This church was the largest in Lisbon. It was erected in the 13th century and was destroyed by the earthquake of 1755. It was rebuilt but burned in 1959.
Although the roofs were rehabilitated, some walls are still seen with the resulting scar of the fire.
This church was where the Inquisition held its public events.
10. A Ginjinha
In this same square, Largo Sao Domingos, you will find a place called A Ginjinha. It's a Lisbon classic where you can have a shot of this typical Lisbon drink.
Ginjinha is a liqueur with brandy, cherries, cinnamon, and sugar. If you go to Obidos, they will serve it in a shot glass made of chocolate.
11. Santa Justa Elevator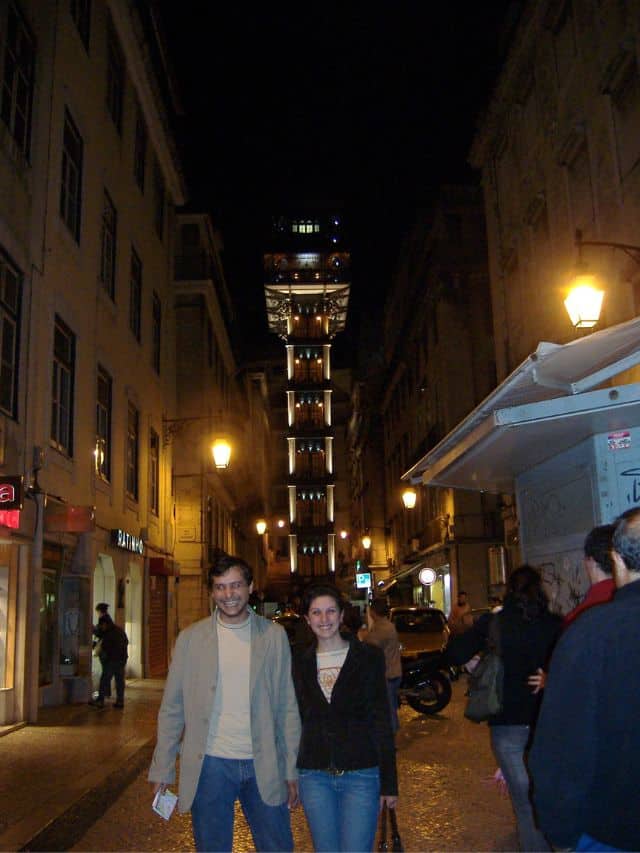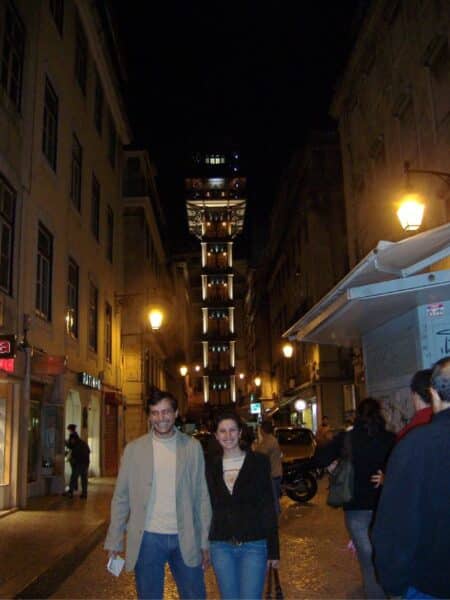 This elevator is one of the best-known in Lisbon. You can find it on the corner of Rua do Ouro and Rua de Santa Justa.
You get in an elevator to a platform from which you can see something, but if you want to climb up the stairs, you have to pay 5 euros if you don't have the Lisbon Card.
The elevator was built to connect the Baixa (The lower part of Lisbon) with the Chiado neighborhood.
It is 45 meters high and despite the line that you will find to climb, it is something that you should do in this city. If you go in the high season, you will have an hour or an hour and a half of a queue.
It was completed in 1902 and is the only elevator in Lisbon that is completely vertical. However, it retains its style and decoration from the early nineteenth century.
I recommend you go late in the afternoon to watch the sunset; it is a nice image from the upper terrace.
12. San Pedro de Alcántara Viewpoint
This viewpoint offers fantastic views of a good part of Lisbon: The Castle of St. George, the Cathedral, the historic center, the church of Sao Vicente da Fora…
In this viewpoint, you have a tile panel with a map telling you the most important monuments you see.
13. Mirador de Santa Catalina
The viewpoint of Santa Catalina is another of the most charming viewpoints in Lisbon. You'll most likely find painters and street artists enlivening the moment.
14. Lisbon's Belem neighborhood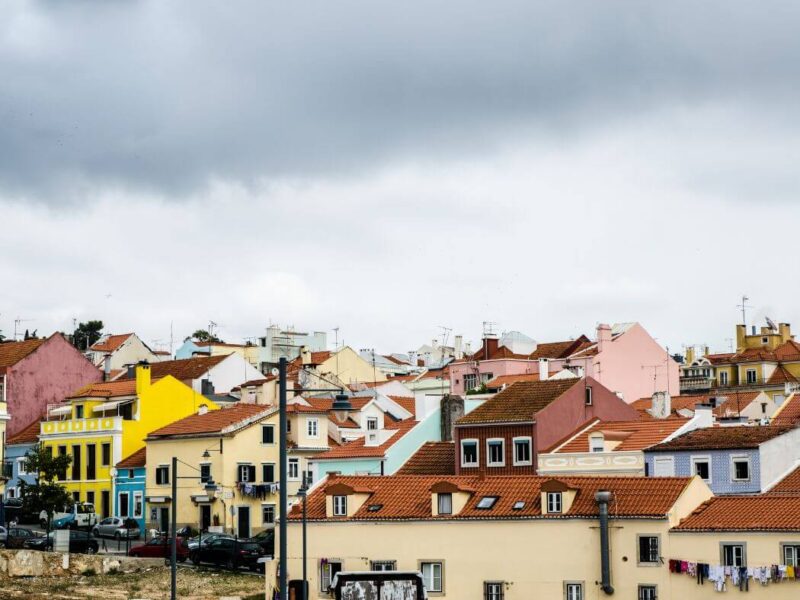 To reach the Belem district, take tram number 15 or bus 728.
Discover Lisbon's iconic Belém Tower, a 16th-century maritime fortress and UNESCO World Heritage site standing proudly by the Tagus River. Initially built for defense and as a tribute to the Age of Discovery, this historical monument also served as a prison after the Spanish conquest in 1580.
While its exterior is striking, visitors can also explore its interior and climb to the top for panoramic views—just be prepared for potential crowds and long queues, especially under the blazing sun. Purchasing tickets in advance can help bypass the lines.
Handy tip: Pair your visit with the nearby Jerónimos Monastery, as combination tickets offer access to both, along with additional perks. The Lisbon Card can be a convenient option, providing entry to these sites plus other benefits.
Don't miss the chance to stroll along the riverbank, where you'll find the Monument of the Discoveries, Belém Lighthouse, and the MAAT Museum—a showcase of modern and historical architecture.
The Old Confectionery of Belem
Be sure to visit this confectionery, where you can take the pastéis of Belem, which are cream strudel. They're delicious! There are imitations in other pastries in Lisbon, but this is where the originals are sold.
15. Jeronimos' Monastery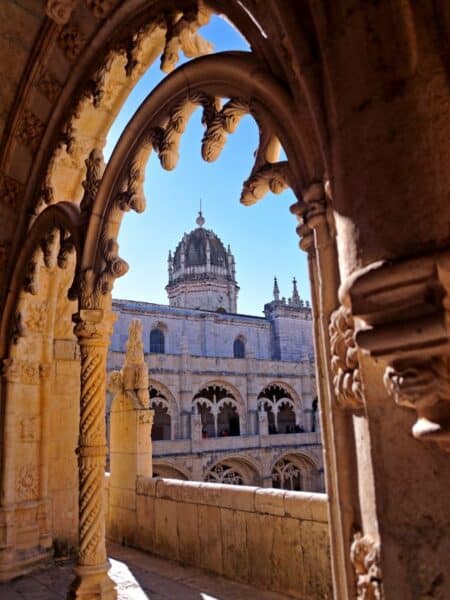 The Jerónimos Monastery in Lisbon was declared a World Heritage Site by UNESCO in 1983.
It stands as one of the most distinctive examples of Manueline architecture in Portugal, a style named after King Manuel I, who reigned during its emergence.
King Manuel I commissioned the construction of this monastery to commemorate Vasco da Gama's return from India.
The monastery is believed to have been completed in the 16th century, though some sections, such as the bell tower and the western wing, were finished in the 19th century.
The stylistic differences between these elements and the rest of the complex evidence this.
The monastery was named for the Order of St. Jerome, whose monks resided there from the 16th to the 19th century. In the 19th century, it became part of the state's heritage.
The key highlights of the monastery are its breathtaking façade, the cloister, and the church. It is best to visit with ample time, allowing for a leisurely exploration, and it is advisable to have information on hand to fully appreciate the significance of what you are seeing. A visit to the Jerónimos Monastery comes highly recommended.
Address: Rua Jerónimos 3, 1400
Hours: 10:00 to 18:30 (May-September; last entry at 18:00)
Closed every Monday, January 1, May 1 and December 25.

How to get there:
Tram: 15 or Bus: 728
Stop: Mosteiro Jerónimos
Admission: Adults: € 10
Combined entrance Monastery of the Jeronimos + Tower of Belém: 12
Lisboa Card: free admission.

16. The Tower of Belem
The Belem Tower is another of the symbols par excellence of Lisbon. Like the monastery, it is declared a World Heritage Site by UNESCO.
It was built in the sixteenth century as a fortress to protect the entrance to the port and, therefore, with defensive intentions.
However, over time, this usefulness as a defensive element ceased to be necessary and became used as a place to collect taxes and as a prison during the dictatorship.
Address: Avenida Brasília, 1400-038
Hours: 10:00 to 18:30 (May-September; last entry at 18:00)
Closed every Monday, January 1, May 1 and December 25.

How to get there:
Tram: 15 or Bus: 728
Stop: Mosteiro Jerónimos
Admission: Adults: € 6
Combined entrance Monastery of the Jeronimos + Tower of Belém: € 12
Lisboa Card: free admission.

17. Monument to Discoveries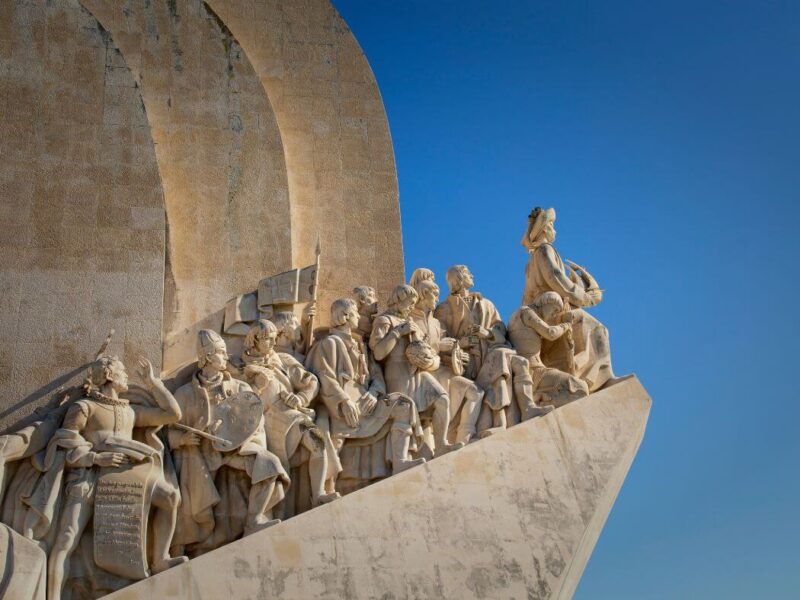 This monument was built in 1960 to commemorate the 500th birthday of the death of Henry the Navigator.
It is a caravel-shaped monument with 33 faces of illustrious and representative characters of the Age of Discoveries. It is 52 meters high,, and you can access a viewpoint and an exhibition hall at the top.
18. Discover the culinary heart of Portugal at Time Out Market Lisbon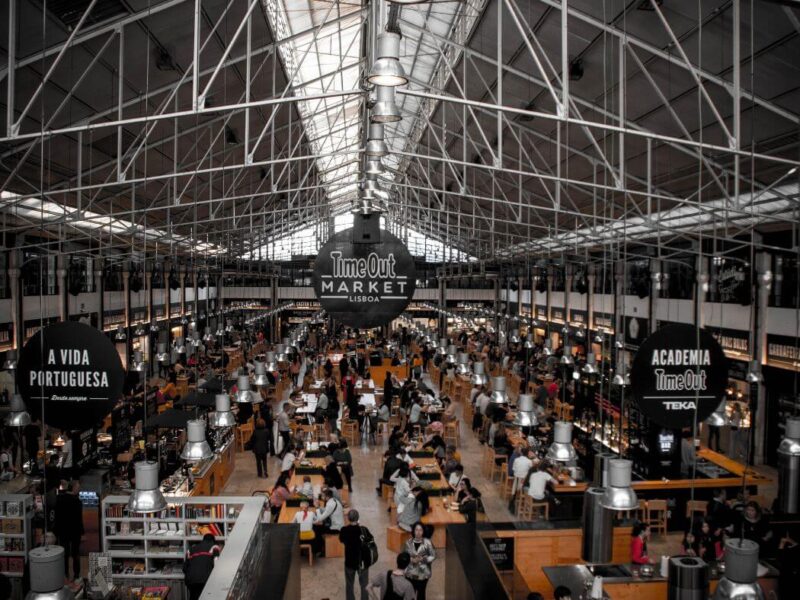 What's on offer? Imagine a sprawling emporium where the pinnacle of Portuguese gastronomy is brought to life by the city's top chefs, all handpicked by our discerning editors.
Why should you visit? This gastronomic haven encapsulates the essence of Lisbon's vibrant food scene under one glorious roof. Indulge in a cornucopia of flavors from 26 eateries, toast the moment at one of the eight bars, and peruse the myriad artisanal shops.
Time Out Market isn't just a market—it's a celebration of our magazine's highest-rated culinary delights, from the freshest sushi to the most tempting steaks, complemented by live music and DJ sets. It's a taste of Lisbon's finest, curated for the utmost quality.
What's a must? Give yourself the freedom to explore each stall—your taste buds deserve the adventure. Choosing on a whim might be the spice of life, so dive in without the shadow of food FOMO.
19. Ride Tram 28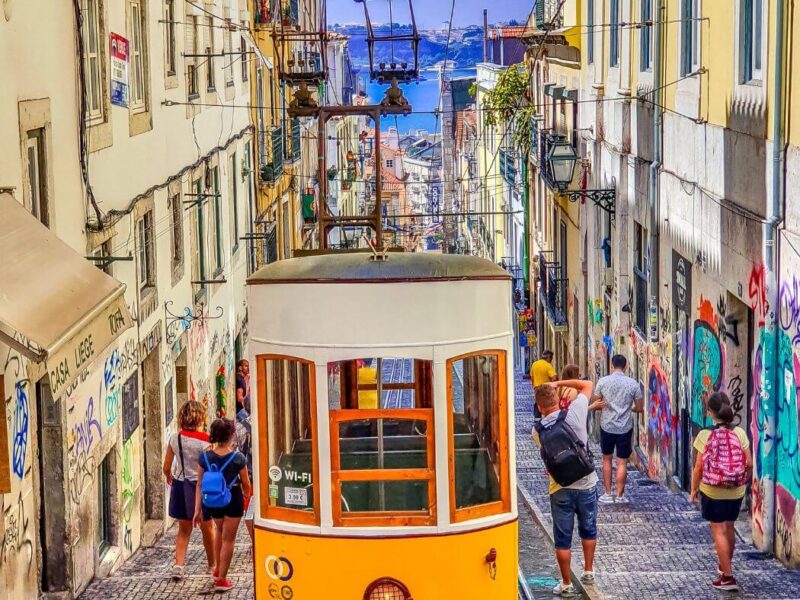 Journeying aboard the quintessential Tram 28 in Lisbon offers a delightful adventure through the heart of the city. As a living piece of history, the tram's yellow façade and timeworn wooden seats offer a nostalgic ride from Martim Moniz to Campo Ourique, providing an authentic slice of Lisboeta life.
This vintage tramway isn't just a charming way to travel; it's a rolling vantage point from which to observe Lisbon's celebrated landmarks.
Glide by the storied São Jorge Castle, the majestic Lisbon Cathedral, and the picturesque viewpoints of Miradouro de Santa Luzia and Miradouro das Portas do Sol, all while sparing yourself the effort of climbing Lisbon's famed hills.
An excursion on Tram 28 has become a beloved ritual for visitors, offering an essential glimpse into the old-town allure amidst the bustling midday and the quieter pulse of evening hours when the day's work is done.
However, a word to the wise: my recent visit with family unveiled the soaring popularity of this experience. The queues can stretch nearly two hours, with many opting out before their turn. To circumvent the crowds and make the most of this iconic journey, consider these tips:
Set your alarm for an early start before 9 AM to stay ahead of the daily routine, or delay your trip until after 7 PM when the crowds disperse.
Begin your voyage at Campo Ourique to catch the tram at its starting point.
Explore alternative routes with Trams 12 and 25 that trace portions of Tram 28's path, offering a similar ambiance with fewer passengers.
Opt for a 24-Hour Tram Tour Ticket, which provides the charm of a vintage tram without the wait. It's not the famed yellow tram, but the experience is just as picturesque and hassle-free.
For those keen on delving deeper into Lisbon's history with ease, consider booking a guided Tram 28 ride combined with a walking tour of the ancient Alfama district—a perfect blend of leisurely sightseeing and intimate urban exploration.
20. Tagus River Sailing Cruise
Embark on a Tagus River cruise to experience Lisbon from a unique vantage point. Ideal for those seeking respite from the city's bustle, this excursion offers panoramic views and a chance to unwind.
With a range of sailing tours available, you're bound to find one that suits your preferences. For a particularly memorable trip, consider an evening cruise to enjoy the radiant sunset glow.
Prices start at about 20-30€ per person, a fair trade for the serenity and perspective gained. Larger groups might find value in private tours, allowing for a more intimate experience.
For a more economical option, traditional boat tours are available, though sailing provides a distinctive charm. If your time and budget allow, let the sails guide your Lisbon adventure.
21. Try Pastéis de Belém & Pastéis de Nata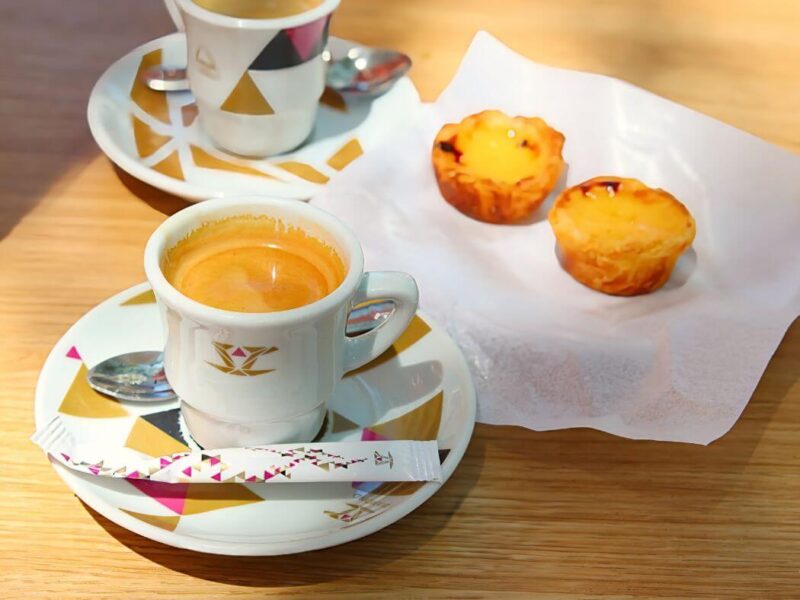 When in Portugal, indulging in a Pastel de Nata is essential. These egg custard pastries are a staple found in numerous Lisbon bakeries.
However, there's a special variant known as the Pastel de Belém, exclusive to Fabrica de Pastéis de Belém, guarded by a secret recipe since 1837, originating from the Jerónimos Monastery.
For an authentic taste of this iconic treat, join the queue at Antiga Pastelaria de Belém—it's a rite of passage for any Lisbon visitor. While other bakeries offer their own takes on the Pastel de Nata, with varying results, the experience at Belém is unrivaled.
22. Praça da Figueira & Mercado da Baixa
Discover Lisbon, a city where tradition and hospitality converge in its picturesque streets. Take your time to enjoy a delectable pastel de nata in a cozy café or immerse yourself in history at one of the many museums.
Lisbon combines old-world charm with a contemporary buzz, making it a standout destination in Europe.
Famed for its Time Out Market, Lisbon is a haven for food lovers. Our expert guide, filled with local tips and an easy-to-navigate map, is your key to unlocking Lisbon's best. Explore celebrated landmarks and secret spots alike, and let Lisbon's vibrant energy captivate you. Ready for an adventure? Portugal's heart is calling.
23. LX Factory
Visit LX Factory in the heart of the Alcântara district to experience Lisbon's dynamic urban culture. This former industrial site has been transformed into a vibrant hub for creatives, featuring eclectic street art, unique shops, and an array of dining options that cater to every palate.
LX Factory is not just a place; it's a lively scene. The Ler Devagar bookstore is a centerpiece, an enchanting space where literature and history intertwine within the walls of a former printing press.
For food enthusiasts, LX Factory offers a diverse gastronomic landscape:
The Therapist specializes in wholesome, nutritious meals paired with fresh juices and smoothie bowls.
La Parrilla presents a taste of Argentina with its grilled meats, empanadas, and the classic chimichurri. Of course, I have to try Argentinian food around the world.
1300 Taberna welcomes you to the flavors of contemporary Portuguese cuisine in a chic setting.
Plan your visit around lunch to take full advantage of these culinary delights. LX Factory is open daily from 9 AM to 10:30 PM, with extended hours for some shops until midnight on weekdays and 2 AM on weekends.
24. Day Trip to Sintra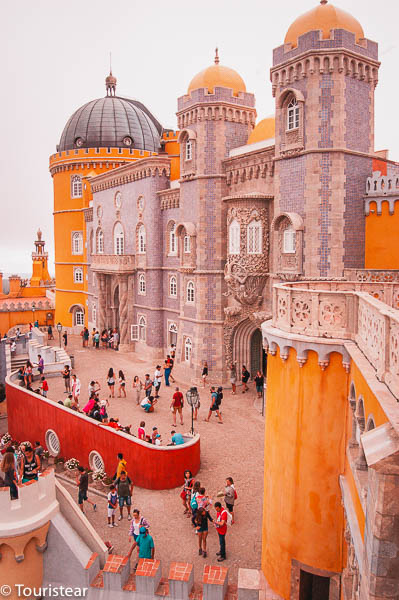 A visit to Sintra, a UNESCO World Heritage site, is an essential chapter of any Lisbon itinerary. Among its numerous castles, three stand out:
The enchanting Quinta da Regaleira with its mystical gardens and secret passages,
the Moorish Castle that offers panoramic views from its ancient staircases,
And the vibrant Pena Palace, a structure straight out of a fairytale, surrounded by exquisite gardens.
Be mindful that Sintra draws crowds, especially on weekends and local holidays. To avoid congestion, consider a weekday visit, and refrain from driving as the roads can be hectic and parking is scarce.
The journey from Lisbon to Sintra is straightforward via the Linha de Sintra train departing from Rossio station, with affordable fares and departures every 40 minutes. Upon arrival, local taxis and tuk-tuks are available to shuttle you to the castles, starting with Pena Palace at the peak.
For those pressed for time or eager for a comprehensive experience, an organized tour is advisable. Some tours offer extended itineraries that include stops at Cascais and Cabo da Roca. Selecting a well-reviewed tour can maximize your visit, ensuring you see the highlights efficiently.
Read More About how to get to Sintra from Lisbon in 1-day trip
25. Day Trip to Cascais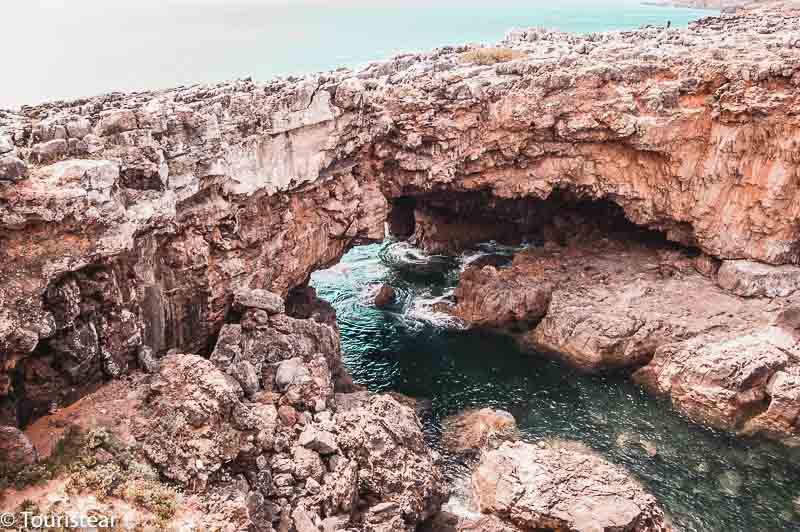 Cascais, a quaint seaside gem just west of Lisbon, offers a delightful escape from the urban hustle. The most convenient beach getaway from the city, it can be lively, especially on weekends.
The train from Lisbon to Cascais is the most straightforward transport option, providing scenic coast views along the way. If you're short on time, consider disembarking at Alcantara for the LX Factory or Belem for its historic monastery and tower.
For beachgoers, the Carcavelos stop is your destination; it's home to a renowned beach perfect for surfing. If it's culture and strolls through history you seek, ride on to Cascais and explore its charming town center before your return to Lisbon.
26. Lisbon's Traditional Funiculars
Lisbon's traditional funiculars are a quaint yet vital part of the city's public transport network, effortlessly blending into the fabric of everyday life while also serving as a nod to the city's historical charm.
These iconic yellow trams clatter up and down the steep hills of Lisbon, offering a respite for weary walkers and a picturesque view for keen sightseers.
Not just a means to navigate the city's topography, the funiculars are an experience in themselves, offering a window into the past with their vintage interiors and an authentic slice of Lisbon's bustling urban life as they ascend and descend the vibrant streets.
27. Try the Traditional Portuguese Food with a Food Tour
Embark on a culinary voyage through Portugal's soulful flavors with a traditional food tour. This gastronomic adventure will lead you through the bustling markets and hidden eateries where you can indulge in authentic Portuguese dishes.
From the savory depths of 'bacalhau' (salted cod) to the sweet, creamy bliss of 'pastéis de nata,' every bite is a chapter of Portugal's rich heritage.
Join local food connoisseurs who will share the stories behind the dishes as you taste the country's beloved classics, paired perfectly with a glass of 'vinho.'
A Portuguese food tour isn't just a meal; it's a cultural immersion, one delicious morsel at a time.
28. Enjoy a Fado Night Show with Dinner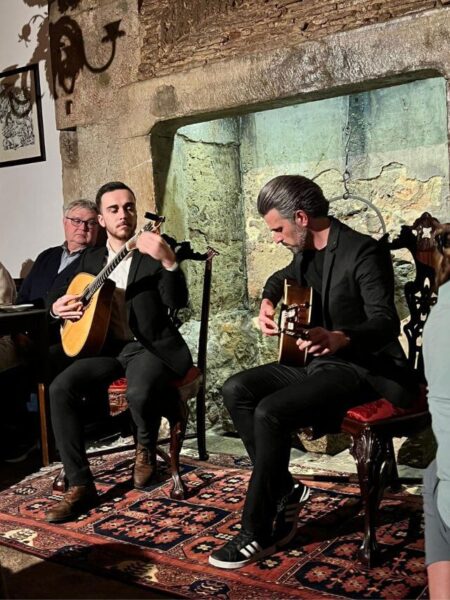 Immerse yourself in the haunting melodies of Fado, Lisbon's heart-rending gift to the world of music. This deeply moving genre, born in the winding streets of the Portuguese capital, unfolds through the poignant strumming of the 12-stringed Portuguese guitarra and the stirring narratives of its vocalists.
The music's meditative tempo and reflective mood are a testament to the city's soul.
Recognized by UNESCO as a masterpiece of the Oral and Intangible Heritage of Humanity in 2011, experiencing Fado is an essential Lisbon experience, particularly as the city's lights begin to twinkle.
For an authentic Fado evening, it pays to be discerning in selecting the right venue, as the historic Alfama district, though famed for its Fado culture, is also dotted with tourist traps offering dinner and music combos that may not live up to expectations.
To authentically engage with this cultural art form, consider the Lisbon Fado Music 3-Hour Cultural Walking Tour.
This experience blends a live Fado performance with a guided journey through the less-traveled alleys and squares of Lisbon, culminating in a traditional Portuguese meal in one of Alfama's most genuine Fado houses.
An evening of cultural enrichment and delectable cuisine awaits. BOOK IT HERE
29. Immerse Yourself in Creativity: The Immersivus Gallery Experience
The Immersivus Gallery Experience is a foray into a realm where art leaps beyond the canvas, creating a groundbreaking fusion of technology and classic masterpieces.
This immersive gallery is not just about viewing art; it's about stepping into it, enveloped by 360-degree projections that awaken the senses.
As the digital and physical worlds blend, visitors walk through vibrant landscapes of light and color, where each room transforms into a living painting, and the stories of great artists and their creations unfold around them in a spectacular dance of cutting-edge visuals and sound.
This experience redefines the traditional museum visit, offering a unique, multisensory journey that must be seen, heard, and felt.
30. Eat a Loco, a Star Michelin Restaurant in Lisbon
In the heart of Lisbon, Eat a Loco stands as a beacon of culinary excellence, having earned its Michelin star through a symphony of innovative dishes and impeccable service.
This esteemed restaurant invites diners on an unforgettable gastronomic journey, where each plate is a masterpiece of flavors, artfully crafted with local ingredients and a dash of Portuguese tradition.
The ambiance is as refined as the cuisine, promising an experience that caters to the senses and leaves a lasting impression of Lisbon's vibrant food scene.
The Best Tours in Lisbon
In Lisbon, you can hire many tours to know the different attractions of the city. Our recommendations are:
Lisbon, Europe's Western Capital
Lisbon is unique in many ways; it is the most important city in Portugal and its capital. It is located at the mouth and estuary of the Tagus River, the longest river in the Iberian Peninsula.
It was built on 7 hills; it has large slopes and many viewpoints to observe the city.
Also, you can find funiculars and elevators to go from the lowest to the highest areas quickly.
How to Get Around Lisbon
Lisbon is a beautiful city with a lot of history and charming places. However, it's not easy to visit by car, it's difficult to park, and it's best to go by public transport, walking, and/or tourist bus.
They still retain their famous trams that give a retro look to the city and the tuctucs that are very practical but expensive.
*Tip: Tickets for Hop-on Hop-off Bus, Boat & Tramcar Lisbon: 72-Hour All in one Tour.
To visit Lisbon, I recommend you buy the Lisbon Card. It allows you to enter +25 monuments for free and others at a discount and you can also use public transport unlimitedly.
You can buy it online or at any tourist office in Lisbon if you have enough time.
If you need a transfer from the airport to your hotel, you can book it in advance here.
Where to Sleep in Lisbon
In Lisbon, you have a lot of options to choose accommodation; you have everything from camping and hostels to beautiful boutique hotels. So it's up to your budget to choose what best suits your preferences.
We recommend the Portugal Boutique hotel, for its location, customer service, and for its comfort, and charm. It is a 4-star hotel in the heart of Lisbon, just 200 meters from Rossio Square, and has free parking, ideal for road trip lovers.
Pestana CR7 Lisbon
Fer returned to Lisbon and stayed at Pestana CR7 Lisbon; seeing the name, you can imagine, right? Yes, he stayed at Cristiano Ronaldo's hotel.
The Pestana CR7 Lisbon Hotel is located in the heart of the city. In the exclusive and historic neighborhood of Baixa Pombalina and less than a minute's walk from the famous Praça do Comércio.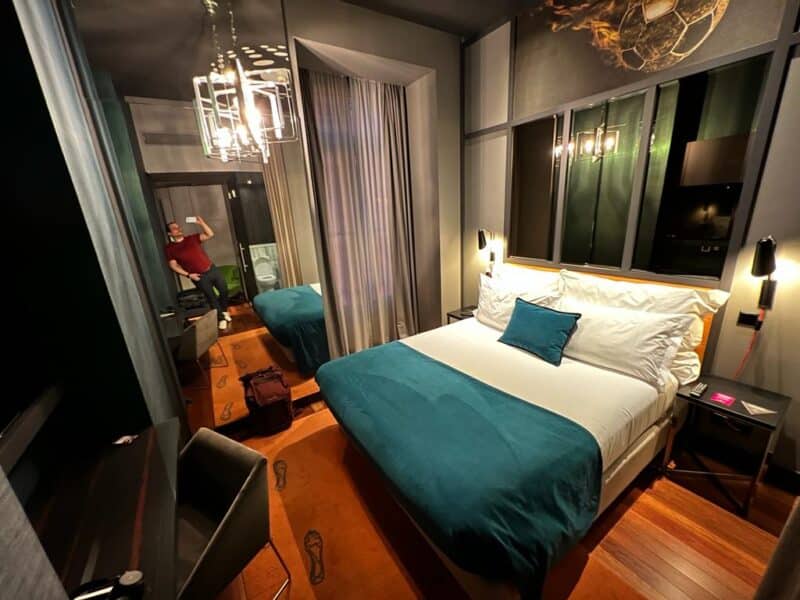 The main tram lines, the commercial district of Chiado, and the nightlife of Cais do Sodré are all within walking distance of the hotel.
Built in a completely renovated historic building, this hotel in the center of Lisbon offers absolute digital comfort, with sophisticated rooms and personalized services.
The rooms have high-speed Wi-Fi (1 GB/s) and a 48-inch HD television with Apple TV and Android Streaming.
There is also a wide range of apartments if you prefer a flat just for you and your companions. Open the Plum Guide site and look for one that you fall in love with. I tell you, accommodation is a crucial part of the trip!
If you liked this article, share it with your friends!
Did we leave anything? Tell us, and we'll include it.
Plan Your Trip to Portugal!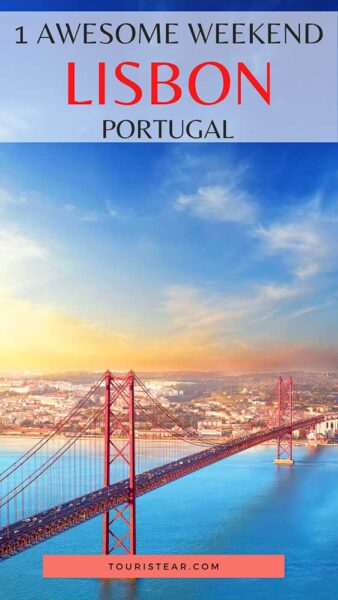 Last Updated on 7 November, 2023 by Veronica
Disclosure: Some of the links on this post are affiliate links, meaning at no additional cost to you, I may earn a small commission if you click through and make a purchase.