From Aveiro to Nazaré Route Across the Center of Portugal
So, we recently took a trip to the center of Portugal. It was unplanned, but on Thursday (and departing on Friday), we decided to head the route from Aveiro to Nazare, roughly 500 kilometers away, because we had been discussing it on different occasions.
Disclosure: Some of the links on this post are affiliate links, meaning at no additional cost to you, I may earn a small commission if you click through and make a purchase.
From Aveiro to Nazaré, A Weekend in Portugal
As we are not used to only visiting one city, we thought it would be nice to do a little road trip, as usual… So we decided that we would go to Aveiro and Nazaré. From there, we drove south along the coast towards Figueira da Foz and, finally Nazaré.
To come back, instead of taking the highway and going straight, we would first pass through Fátima. Then, crossing the Zézere River, we would reach Vila de Rei and, from there, head back home.
The total distance is about 1300 km. To do it on the weekend seems a lot, but if you stop and enjoy the trip, it seems shorter.
Many people who want to visit Aveiro first travel to Oporto and then make a day trip to Aveiro. But we are proposing you make a road trip from Aveiro to Nazare so that you can discover the fascinating center of Portugal.
You can rent a car here.
How Much Did We Spend On This Road Trip from Aveiro to Nazare?
Do you want to know how we managed to spend so little? So what we did was pack up the tent, and the sleeping bags, load the car with fuel, and bring a portable cooler along with us.
We raided the fridge, took the containers with leftovers from the week, went to a supermarket, and bought sliced bread, cheese, ham, and serrano ham.
In this trip, we spent 18 € plus another 12 € on food on the last day, adding up to 30 in food. We spent 12 € over the weekend on bags of ice for the cooler, 100 € in gasoline, 40 € (20 per night on average) in the two campsites where we slept, and 30 € in tolls. Total 212 €. 106 € per person.
From Madrid to Aveiro via Salamanca
To get to Aveiro from Madrid, we went through Salamanca and took the highway directly to Portugal.
Tip: Refuel just before entering Portugal; diesel was at 1.06 €/liter at the last gas station in Spain and in Portugal, we did not see it below 1.20 €/liter.
We made no stops and went straight to Aveiro. Our first stop in Aveiro? Beaches and dunes. At least to give us a little breeze from the sea. What we did not count on were the temperatures.
We came from Madrid with a temperature of 38 degrees Celsius, and when we arrived in Aveiro, the temperature was 20 degrees! When I got out of the car, I was almost cold and shivering.
It was cloudy and humid, drizzling occasionally, but it was very nice because we were a bit fed up with the heat wave of July. The beaches of Aveiro are spectacular, always preceded by a line of dunes.
*Note: the prices may change with time and season.
When you cross the dunes, you find yourself in front of pristine, semi-deserted, quiet, and beautiful beaches. If you turn around, you will not see anything – no city or buildings. That is because the dunes cover them up, making you feel like you're far from civilization.
Too bad it was cold that day. In any case, it was almost Friday night, and we needed somewhere to sleep because we had not booked any campsite, but it was not difficult to find one because they are well signposted in all cities.
On the beachfront south of Aveiro, several accommodations are in a privileged location and are not expensive.
In our case, we slept at Camping Costa Nova, integrated into the dunes. And it was also relatively cheap, with a car and tent for two, per person 8,5 €, the total for the two of us 17 €.
Around half past eight local time (which is an hour behind the Canary Islands), we arrived feeling quite tired. So, we quickly set up the tent, made a couple of sandwiches for dinner, and went to sleep.
If you prefer to sleep in a hotel, take a look at Booking and find the best prices for the date of your trip.
From Aveiro to Nazaré
Aveiro "Casinhas às riscas" by Costa Nova
Costa Nova is the small peninsula southwest of Aveiro and next to it is the campsite where we stayed.
As you make your way to the city of Aveiro from Costa Nova, you will not miss the famous "Casinhas às riscas" (striped houses) on your left-hand side. Initially, they were warehouses used by fishermen to store tools and nets.
Over time, fishermen and sailors used them as lodgings and finally, they have been converted into dwellings, becoming an attraction of the place.
Some of these houses have been passed down from generation to generation and are over 100 years old.
You will see the Aveiro Salt Pans on your left as you enter Aveiro. This industry has a long-standing tradition and even has an interpretation center for visitors to learn more about the salt pans.
How to plan a road trip to Portugal
Aveiro, "The Venice of Portugal"
On Saturday, we woke up early in the morning, went to have breakfast, and got to know Aveiro.
By around half past eight in the morning, we had arrived at the center of Aveiro and gathered all the necessary information about the must see spots in the city. Without any delay, we set off on our route through Aveiro.
Aveiro is an industrial city with a stable economy where you can see that people have a good standard of living. The city is very well-maintained and very clean. I liked these details.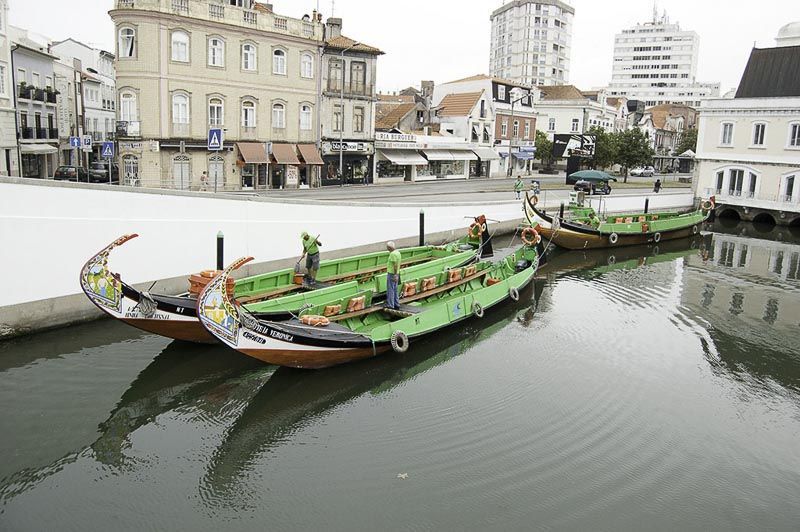 One of the tourist attractions that sells the city of Aveiro is its canals, being called the "Venice of Portugal." And the truth is that it does not. Aveiro has three canals that meet at their center forming three spokes.
But from there to being called "The Venice of Portugal" is a big leap.
You will see that there are "gondoliers" who carry small boats that have been given a shape similar to a gondola but are much larger and motorized.
You can take a trip around the city where they share interesting facts while not charging much, but honestly, even if you don't take the tour, you will not miss anything.
Aveiro The Fishermen's Quarter
In the coastal cities, the old fishermen's quarters have become a classic to visit, because of their style, their structure, their layout, and their character. Of course, the fishing district of Aveiro could not be less.
It extends from the center to the north of the main channel. It houses the museum of the city of Aveiro, the Museum of Arte Nova, Praça 14 Julho (July 14th Square), Praça Peixé (Fish Square), and several churches.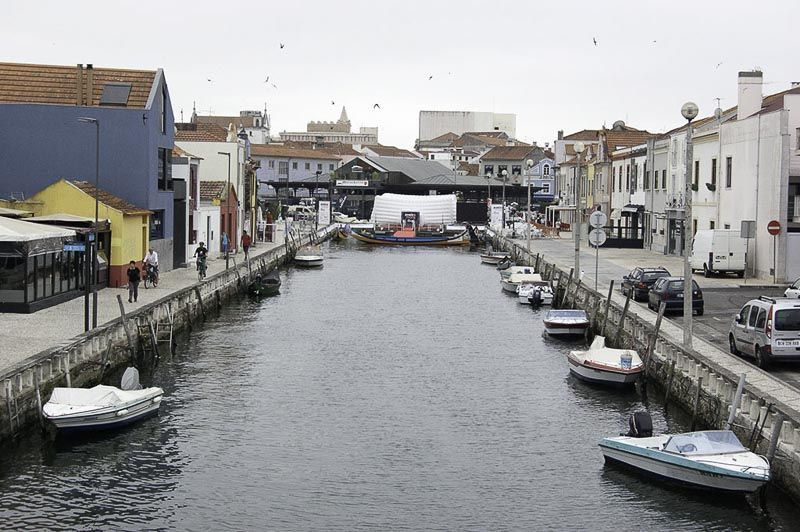 It is a nice neighborhood to stroll around calmly without haste or stress. I liked it very much, nice, charming and with few people, and its beaches as I mentioned before.
Be sure to try the famous sweet of Aveiro, the Ovos Moles, made with egg yolk and sugar, cloying as can be, but delicious.
Aveiro The Historic District
If instead of heading north from Aveiro's main canal, we head south and come across Aveiro's historic quarter.
The Republic Square, the Museum of Aveiro (which showcases an impressive collection of sacred art), the Church of Mercy, the Carmelite Monastery, the Aveiro Cathedral, and the Aveirense Theater are all located within it.
Also, to take a leisurely walk around it, although if you want to enjoy it a bit more, you have to go inside the main buildings.
We finished visiting the center around eleven o'clock and it was time to continue on our route to Figueira da Foz.
We were not in a hurry as there are 175 km between Aveiro and Nazaré. The idea was to enjoy the road, not to arrive quickly.
From Aveiro to Figueira da Foz Quiaios Dunes National Forest
We carried a printed map since we were not prepared to use data in Portugal, and we noticed that a small road runs between Aveiro and Figueira da Foz, right through the middle of the national forest of the dunes (Mata Nacional das Dunas de Quiaios), which extends between the beach of Mira and Figueira da Foz.
And we said to ourselves, well, we will take the short road, right? since we were.
Bad decision, and they warn you when you take it, and very clearly "Estrada in bad condition." You do not need to know much Portuguese to understand what it says, right?
Well, we did not pay any attention. The road looks excellent at the beginning, as you can see in the photo just above this text. Then as you go along, it worsens, as you can see below.
Do not take it unless you are mountain biking or 4WD. It was a mess, the holes in the pavement were huge, and sometimes the plants had already invaded more than half of the road, or half of the road was missing.
From this road, there are some dirt forest roads to some beaches. There are few since you are in the middle of a national forest and also a natural park.
But if you want to spend a day practically alone on some of these beaches, this is your way. While we were there, we went to this beach that you can see below. The only thing on the beach was two tourists like us with this tent.
Otherwise, it is better to take the N-109, the national road, and if you want to see a beach, the best access from the N-109 is Tocha beach which is just halfway.
Figueira da Foz
We spent two hours on the clock to make the 70 kilometers between Aveiro and Figueira da Foz, but we finally arrived in Figueira da Foz.
Figueira da Foz is known for having one of the longest beaches in Portugal. There is almost a kilometer from the beginning of the beach until you reach the sea. A bit further north, in Buarcos, you have just the opposite, a beach that is not even 20 meters long.
Figueira da Foz and Buarcos
Buarcos is a neighborhood of Figueira da Foz that lies to the north. It is the old fishermen's quarter and can be reached directly from the promenade.
The city has a rich tradition, with churches and remnants of fortresses, and the Buarcos Sea Museum, which is dedicated to the main theme of fishing.
The picotas (columns where the condemned were exposed before or after their execution, or directly their heads) are still preserved intact in this town.
When we went there, they had a medieval fair, so there were a lot of craft and food stalls. They also did pretty cool pirate reenactments.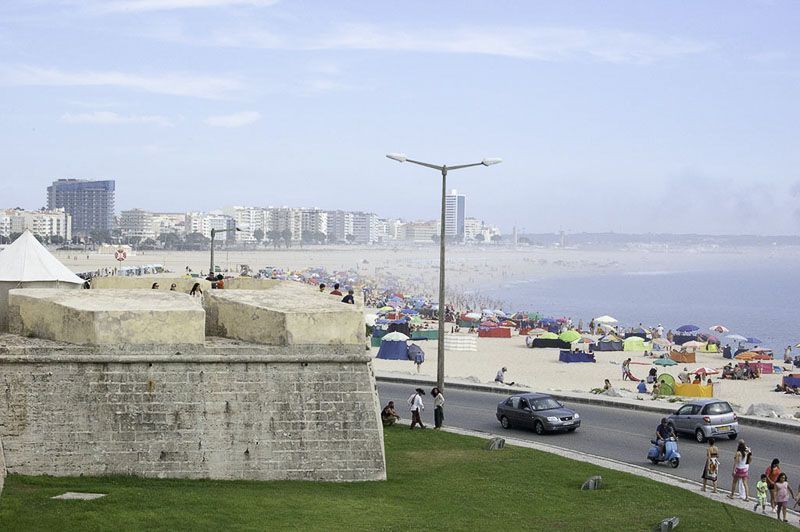 You can enjoy Figueira da Foz's beach by taking a strenuous walk to reach the water or by strolling around its old town. So make sure you wear a good pair of comfy shoes ideal for sandy roads.
The old town is located on the southeast corner of the coastline and includes the casino and the old market, which date back to 1892.
Between Buarcos and Figueira da Foz are the Emanha ice cream parlors, which are very well known. Of course, we went to see it. They have two, one on the promenade and the other in the historic center. We went to the one on the seafront.
The ice creams were delicious but very expensive for what the prices are in Portugal. They charged us 4 € for a cone of two scoops.
From Figueira da Foz to Nazaré
To go from Figueira da Foz to Nazaré, you can take the national road N-109 or the toll highway. We took the national road.
We wanted to arrive at the campsite in a timely manner to check in, set up the tent, and make it to the beach before 9 pm.
We had heard about the famous sunsets that can be seen from Nazaré beach, and particularly from Sao Pedro de Moel (which we found out later, so it's still on our to-do list).
The national road passes through picturesque villages, making the journey quite entertaining. We decided to go camping, "Vale Paraiso Natur Park," a success.
The campsite is excellent, it has all the services, and we went for 20€ the two of us. They treated us very well and were very kind.
Where To Sleep In Nazaré?
If you prefer to sleep in a hotel, I leave you with this link to Booking so you can look at it and book your accommodation for the dates of your trip.
Nazaré from Above and Nazaré from Below
Nazaré is a very particular small town. It is divided into two parts. The town of Nazaré is nestled between the mountains and the beach, with Nazaré de Arriba being accessible by a funicular from Nazaré de Abajo or by road if you are traveling by car.
As soon as we left the tent set up, we went to Nazaré de Abajo to watch the sunset. We arrived a little early and were able to be on the beach for a while of total relaxation.
Nazaré de Abajo is where the beach and restaurants for dinner or lunch are, so after enjoying the sunset, we decided to go for a proper dinner.
We did not include it in the budget because it was an unnecessary whim, but I really wanted to invite Vero to dinner; what can I say.
Where To Dine In Nazaré and Aveiro Trip?
I asked for a recommendation from the employee who served us at the campsite, and he recommended the restaurant O Veleiro. We went and I recommend it.
The menu was short, but what they prepared was very tasty. They specialize in fish and seafood but also have meat.
Dinner with two glasses of wine, coffee, and liquor cost us 40 €. It was very good. We had to get up early the next day so we did not stay up too late.
From Nazaré to Fátima and Vila de Rei
We started on Sunday, picked up the tent, and began the route. We had not visited Nazaré de Arriba, so we went first thing in the morning to see the views from above. As you can see, they are spectacular.

Fatima A Pilgrimage Center
We continue our march and take direction to Fatima. It is 56 kilometers, but the road is secondary so it will take you about an hour to get there.
We arrived on Sunday and in the morning, so there was mass. What we found was really impressive.
Leaving aside religious matters (everyone can believe in whatever they want), what we saw left us speechless.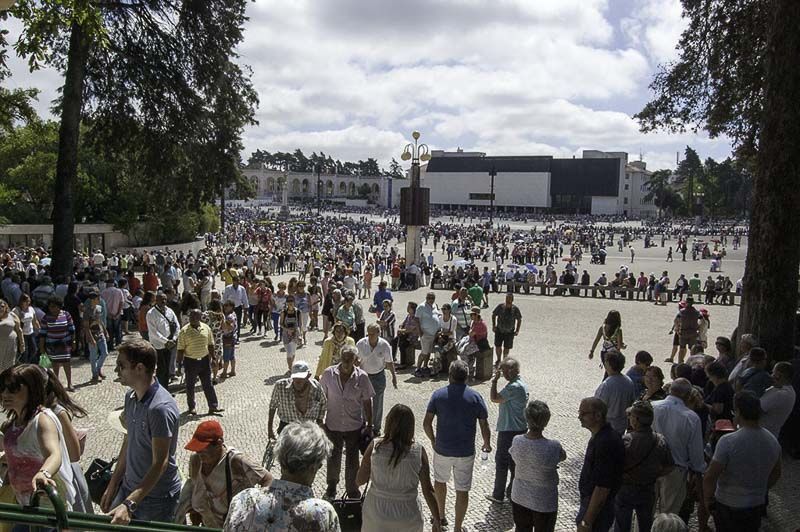 Thousands of people were there praying, buying candles to throw into giant burners next to the shrine of Our Lady of Fatima, or walking on their knees along the giant esplanade next to the shrine.
It is a full-fledged pilgrimage center that must be visited.
Ferreira do Zézere and Vila de Rei
We left Fátima behind and headed towards Ferreira do Zézere. All the way is by national road, but there is little traffic so you can go easily.
The best way is to return from Fátima to the IC9 and take the IC9 inland (towards Ourem or Tomar), and in Tomar, you crosse the A13 to take the Ferreira do Zézere exit.
In Ferreira do Zézere, we stopped at an Intermarché supermarket and bought a roast chicken to eat later.
However, when we left the village in the direction of Vila de Rei, I can't tell you exactly where it is, but we saw a detour that said viewpoint and got in to take a couple of pictures.
The road is terrible, dirt, but when we got to the top, we found a place with tables, wooden benches, and a spectacular view, so we decided to eat there. Judge for yourself.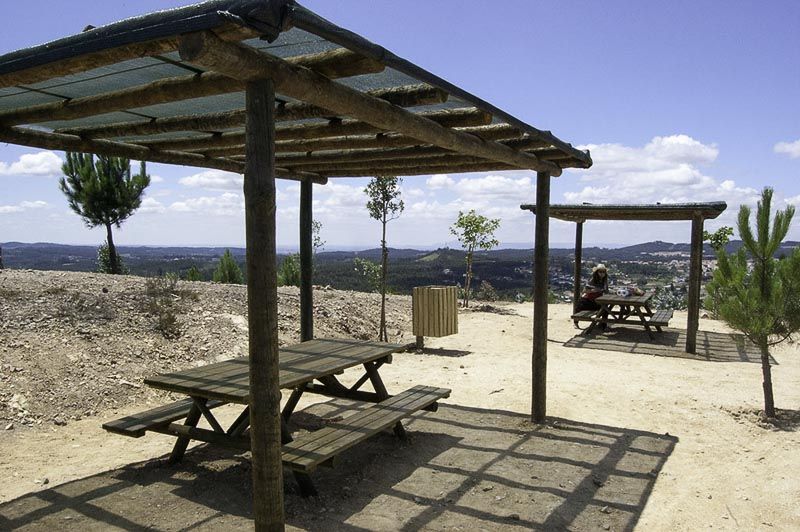 We continued on our way to Vila de Rei and crossed the Zézere River, it is stunning, and the color of the water is turquoise, which makes you look like a fool looking at it.
If you take the N2 south towards Sardoal or Abrantes in Vila de Rei, you will see a sign indicating Penedo Furado.
It is a secluded area of natural pools that is worth visiting for the afternoon. We did not have time to spend the afternoon because we had to go back, so we went and had a good time. We will have to come back.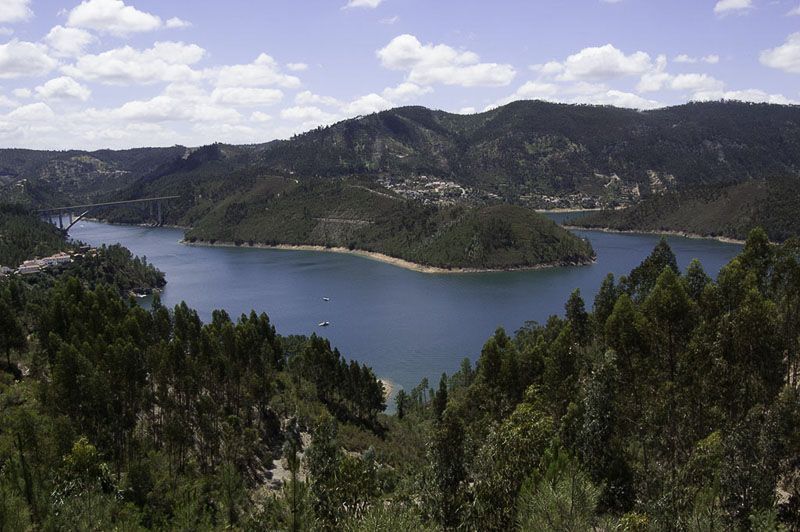 We had no time to visit more, so from Penedo Furado, we continued south to take the A23 highway that takes us back to the border with Salamanca and back home.
Travel Insurance for Aveiro to Nazaré Road Trip
Is this your first time going on a road trip to Portugal? We have tried several road trips in the past, so on our Aveiro to Nazaré, we already knew some of the basics. It also includes getting our own travel insurance.
Getting one is convenient with HeyMondo. You can customize your coverage using this link, pick the country, and even get 5% off. To be ready for spontaneous road trips like us, get one valid for a year.
It was a super entertaining, inexpensive, and sobering weekend. We did not know much about Portugal, and we wanted to know much more about Aveiro and Nazare too. Don't doubt that we will keep you informed.
If you think we have missed something worth seeing on this route from Aveiro to Nazaré, please let us know, and we will write it down for the next one!
Greetings travelers.
"Travel is an exercise with fatal consequences for prejudice, intolerance, and narrow-mindedness." – Mark Twain
Plan Your Trip to Portugal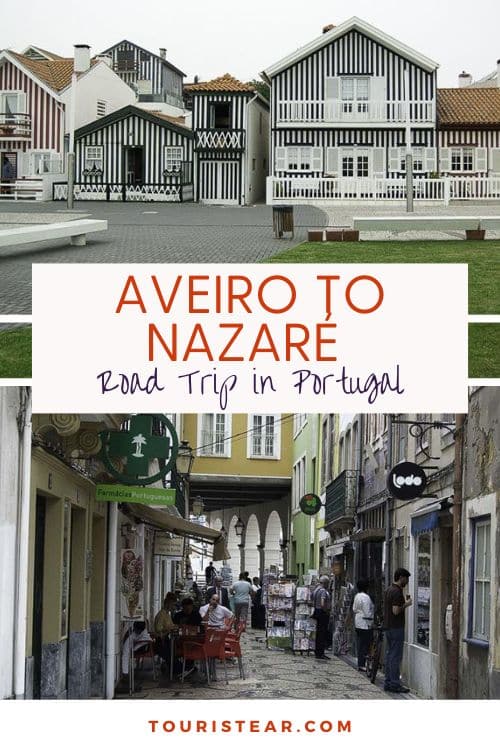 Last Updated on 6 September, 2023 by Veronica