How to Get from Rio to the Iguazu Falls: A Easy Guide for Travelers
Planning a trip to the breathtaking Iguazu Falls from Rio de Janeiro? You've made an excellent choice! As one of the world's most impressive natural wonders, Iguazu Falls is a must-see destination for any traveler visiting Brazil or Argentina.
To make the most of your journey, let's explore some of the possible transportation options to reach the majestic falls from Rio.
Flying, taking a bus, or driving are some of the most popular ways to reach Iguazu Falls from Rio de Janeiro. Whether you're short on time or seeking a more exciting adventure, there's a transportation option to suit your preferences.
Don't worry; we'll guide you through the process and help you choose your trip.
When planning your adventure from Rio to Iguazu Falls, consider factors such as budget, time constraints, and personal preferences to find the best transportation option for you.
Disclosure: Some of the links on this post are affiliate links, meaning at no additional cost to you, I may earn a small commission if you click through and make a purchase.
Travel Preparations
Before embarking on your journey from Rio de Janeiro to the Iguazu Falls, preparing adequately is essential. In this section, we'll cover important aspects like visa requirements, the best time to visit, and budget considerations.
Visa Requirements
When traveling between Brazil and Argentina, make sure to check if you need a visa for either country. Passport holders of most European and American countries do not require a visa for stays of up to 90 days in Brazil or Argentina.
However, verifying the visa requirements for your specific nationality is always recommended before planning your trip.
Best Time to Visit
The Iguazu Falls can be visited year-round, but the experience may vary depending on the season. The best time to visit the falls is during the months of May to September, when the weather is relatively dry, and crowds are thinner.
However, if you prefer a more majestic view of the falls, opt for the wet season (December to February) when water levels are highest. Keep in mind that the wet season also brings soaring temperatures, higher humidity, and larger crowds.
In our case, we visited Iguazu Falls in April, the weather was perfect and there was not crowded.
Budget Considerations
Your budget will play a significant role in determining your travel choices. Here are a few factors to consider:
Transportation: The most popular and quickest way to travel from Rio de Janeiro to Iguazu Falls is by flying. Flight prices may vary, and booking early for the best deals is advisable. Alternatively, you can opt for a more budget-friendly option like a bus or car, but these will take considerably longer.
Accommodation: Both Brazil and Argentina offer a wide range of accommodation options near the Iguazu Falls, including luxury hotels, hostels, and bed & breakfasts. Research and book in advance to get the best deals and ensure availability.
Activities and Entrance Fees: To fully enjoy your visit, set aside funds for activities such as guided tours and adventure experiences (e.g., boat rides, hiking). Also, remember to account for entrance fees to access the Iguazu Falls parks on both the Brazilian and Argentinian sides.
Travel Insurance
When traveling to Brazil and exploring the mesmerizing Iguazu Falls, it's essential to have travel insurance by your side. This ensures peace of mind and protects you from unexpected mishaps.
From flight cancellations and lost baggage to medical emergencies, travel insurance provides financial assistance and support in times of need.
With travel's unpredictable nature, comprehensive coverage safeguards your investment, health, and belongings. Don't let unforeseen circumstances ruin your adventure – travel with insurance and explore Brazil and the magnificent Iguazu Falls worry-free.
We always travel with Heymondo Insurance; take a look and get a quote; with this link, you have a 5% OFF.
By carefully planning your trip and considering these aspects, you'll be well-prepared for a memorable journey to one of South America's most stunning natural wonders, the Iguazu Falls.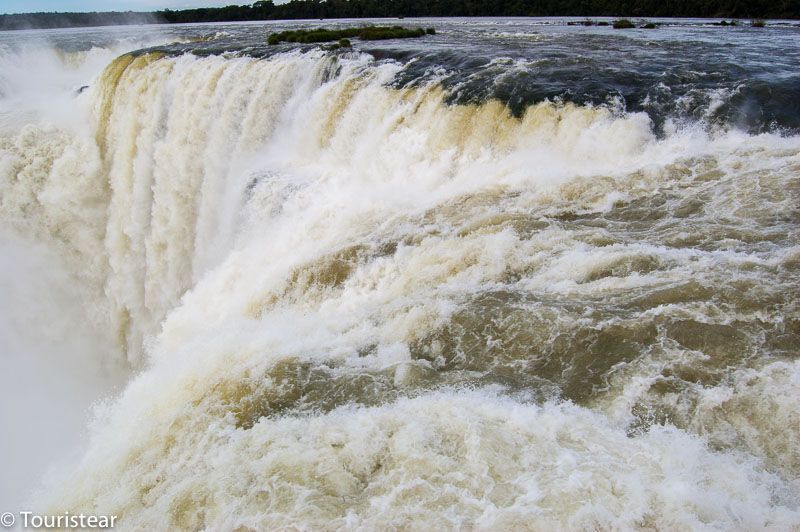 From Rio to Iguazu Falls
By Air
One of the quickest and most convenient ways to travel from Rio de Janeiro to Iguazu Falls is by air. There are direct flights from Rio de Janeiro Santos Dumont Airport (SDU) to Foz do Iguacu Airport (IGU), with a travel time of approximately 2 hours.
Several airlines operate on this route, offering you a variety of options to choose from. Ticket prices for these flights can range from $80 to $300 USD, depending on the airline and when you book your ticket.
By Bus
If you prefer a more budget-friendly option and don't mind a longer journey, consider taking an overnight bus from Rio de Janeiro to Iguazu Falls.
The bus journey covers a distance of approximately 1,500 kilometers (932 miles) and takes between 23 and 26 hours to complete. Ticket prices for the overnight bus typically start at around $70 USD.
You can find bus services to Iguazu Falls at Rio de Janeiro's main bus station, and several bus companies operate this route.
By Car
Driving from Rio de Janeiro to Iguazu Falls is an option worth considering for those who enjoy the freedom and flexibility of a road trip.
The drive covers a distance of around 1,500 kilometers (932 miles) and takes approximately 15 hours, depending on traffic and the route you choose.
Curitiba is a good stopping point along the way, about 9 hours into the drive. You can explore attractions in Curitiba, such as its Botanical Garden and the Oscar Niemeyer Museum, before continuing the remaining 6-hour drive to Foz do Iguaçu, the nearest town to Iguazu Falls.
When planning your trip to Iguazu Falls, be sure to consider factors such as travel time, costs, and your personal preferences.
Whether you fly, take the bus, or embark on a road trip, Iguazu Falls is an unforgettable experience.
Exploring Iguazu Falls
Iguazu Falls is a stunning natural wonder that straddles the border between Brazil and Argentina. This incredible destination boasts more than 275 individual waterfalls, breathtaking views, and a rich, diverse ecosystem.
To make the most of your visit to Iguazu Falls, it's crucial to explore both the Brazilian and Argentine sides, as each offers unique experiences and panoramas.
Brazilian Side
The Brazilian side of Iguazu Falls is located within the Iguazu National Park and gives you an amazing panoramic view of the waterfalls.
Here, you can walk along the well-maintained trails and enjoy some of the most iconic lookouts, such as the Devil's Throat, a massive U-shaped gorge that is the most powerful and awe-inspiring part of the falls.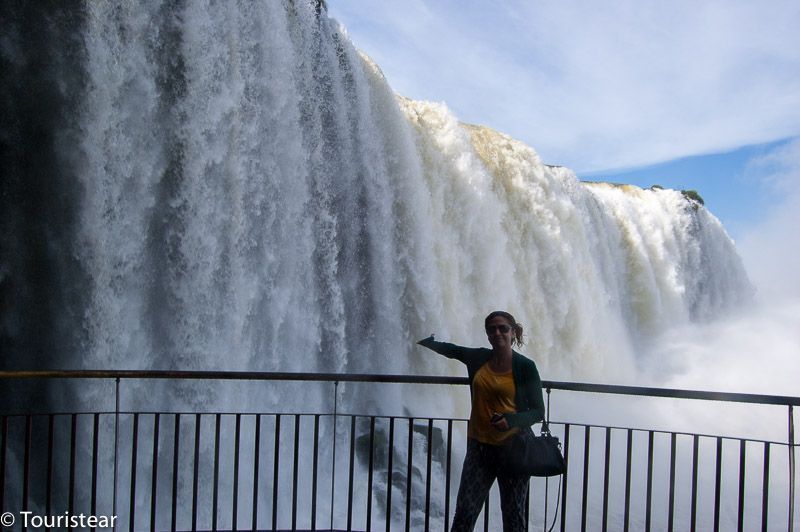 In addition to the trails, you can also take part in various activities, such as:
Helicopter rides: Get a bird's-eye view of the stunning waterfalls and observe the vastness of the Iguazu National Park.
Boat tours: Experience the power of the falls up close with a thrilling boat ride that takes you to the base of the cascading water.
Don't forget to bring your camera and capture the landscape's beauty and the diverse wildlife, such as colorful butterflies, tropical birds, and mischievous coatis that call the park home.
Argentine Side
The Argentine side of Iguazu Falls offers a more intimate experience as you can get much closer to the waterfalls, thanks to the extensive network of trails and catwalks.
Several walking circuits in this part of Iguazu National Park allow you to immerse yourself in the lush, subtropical forest and appreciate the magnificent waterfalls from different angles.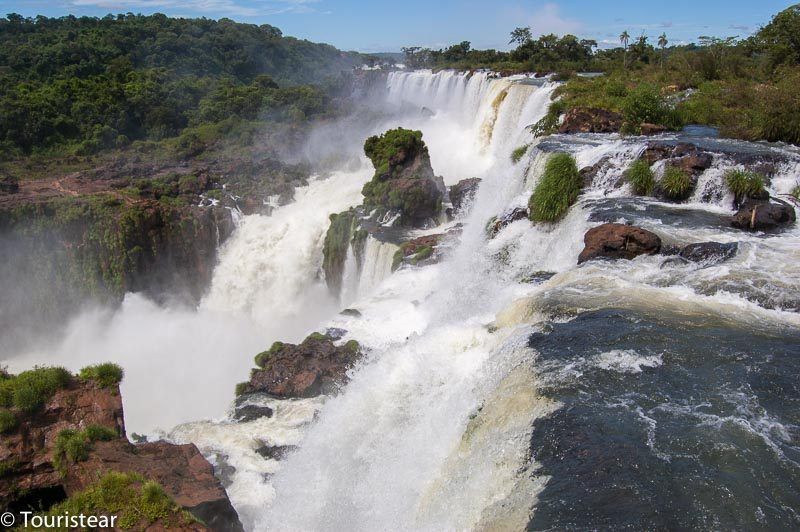 Some of the must-see spots on the Argentine side include:
Lower circuit: Wander along the 0.8-mile (1.3 km) trail that takes you to awe-inspiring lookout points, such as the Bossetti Fall and the Two Sisters Fall.
Upper circuit: Enjoy an easy 0.5-mile (0.8 km) walk through the rainforest canopy and admire panoramic views of the falls from elevated platforms.
Garganta del Diablo (Devil's Throat): Accessible via a small train, this spectacular lookout point offers an incredible vantage point to witness the most impressive part of Iguazu Falls.
No matter which side you choose to explore first, the friendly atmosphere and breathtaking scenery of Iguazu Falls will surely prove to be an unforgettable experience.
Just remember to pack your poncho in case of sudden rain showers and be prepared to be amazed by the wonders of nature.
Accommodation Options
Hotels and Hostels
When planning your trip from Rio de Janeiro to Iguazu Falls, you'll find a variety of accommodation options to suit your needs, whether you're looking for budget-friendly hostels or more luxurious hotels.
Both Puerto Iguazu in Argentina and Foz do Iguaçu in Brazil offer a range of choices for a comfortable stay during your visit.
Staying in Puerto Iguazu
Puerto Iguazu, Argentina, offers a wide array of hotels and hostels to accommodate your budget and preferences. Some popular options include:
La Aldea de la Selva Lodge: Located in the midst of Puerto Iguazu's rainforest, this eco-friendly lodge provides a tranquil experience for your stay.
Budget-friendly hostels: You can find numerous budget-friendly hostels throughout the city, offering affordable options for travelers who prefer to save their money on activities and experiences.
Staying in Foz do Iguaçu
Alternatively, you may choose to stay in Foz do Iguaçu, Brazil, which also boasts a multitude of hotels and hostels:
Luxury hotels: Foz do Iguaçu has several upscale hotels, many of which offer stunning views of the falls and nearby natural attractions.
Budget hostels: As with Puerto Iguazu, numerous cost-effective hostels are available for travelers with a tighter budget.
Remember to book your accommodations in advance, as both Puerto Iguazu and Foz do Iguaçu are popular spots for tourists visiting the spectacular Iguazu Falls. Enjoy your trip, and we hope you have an incredible time exploring the breathtaking falls and surrounding areas!
Travel Tips and Itinerary Suggestions
Boat Tours and Activities
While at Iguazu Falls, you should definitely take a boat tour to get up close and personal with the magnificent waterfalls. Boat tours are available on both the Brazilian and Argentinean sides, and typically last around 1-2 hours.
Prices can vary, so be sure to book in advance or shop around on-site for the best deals. If you're on a budget, opt for a group tour rather than a private one to save money.
Don't forget to bring a waterproof bag or cover for your belongings, as you can expect to get wet during the ride!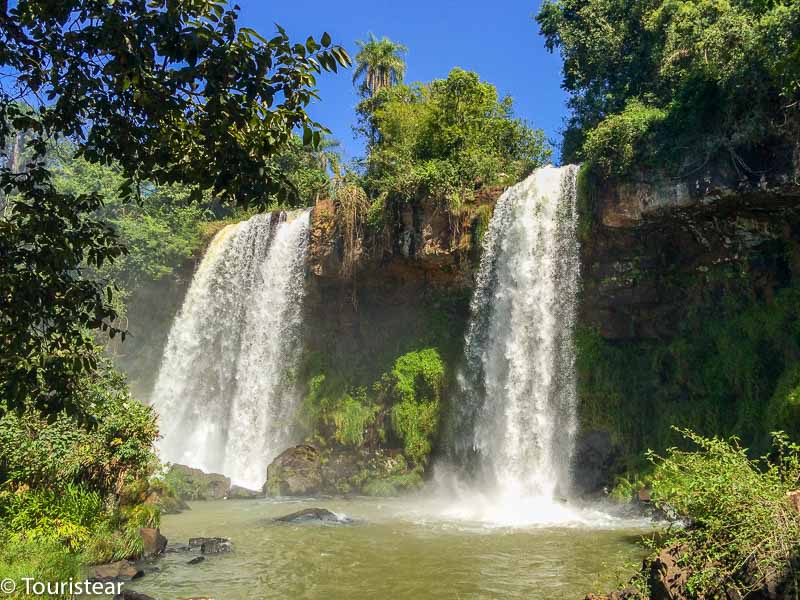 Crossing the Border
Iguazu Falls is shared between Brazil and Argentina, so you'll have the opportunity to explore both sides during your visit. To cross the border, you have a few options:
Public transport: buses run regularly between Foz do Iguaçu (Brazil) and Puerto Iguazú (Argentina). The journey takes about an hour and costs around $1-2 USD.
Shuttle: some hotels and tour agencies offer shuttle services for a more comfortable and convenient ride.
Taxi: you can hire a taxi, but remember that you'll need one with the right documentation to cross the border. This option may be more expensive, but it's a convenient and faster way. It's how we opted on our trip; read this post about 4 days around Iguazu Falls to learn more.
When crossing the border, be sure to have your passport and any necessary visas ready. Expect possible delays, especially during peak travel times like February.
Getting Around
Once you've arrived in Iguazu Falls, there are a few ways to get around and explore the area:
Public transport: local buses are a budget-friendly option, connecting you to the main attractions on both sides of the border.
Rental car: if you prefer the freedom of driving, you can park your car at the entrance of both parks.
Bike: renting a bike is another great way to explore the area and enjoy some exercise as you take in the stunning scenery.
On foot: the best way to get around Iguazu Falls National Park, Argentinian and Brazilian sides, is on foot. Once you are in the park, enjoy the beauty around you on foot or on a boat tour.
Lastly, if you plan to visit Buenos Aires during your trip, consider taking a plane between Argentina's capital and Iguazu Falls, it's much faster and usually cheaper than a bus.
Have a wonderful time exploring the awe-inspiring Iguazu Falls and experiencing the unique beauty of both Brazil and Argentina!
Other Nearby Attractions
While planning your journey from Rio de Janeiro to the breathtaking Iguazu Falls, make sure to explore other captivating attractions near Rio. Here are a few must-visit locations: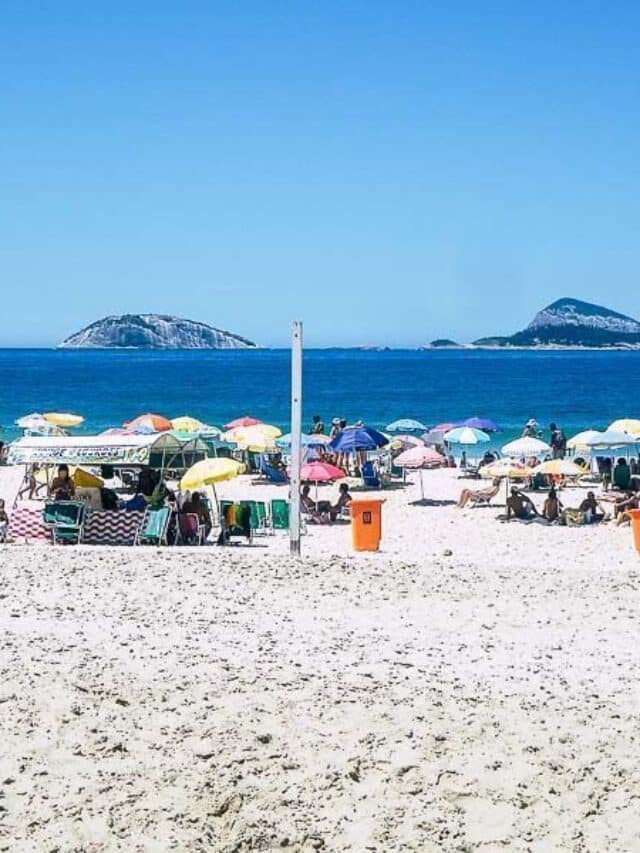 Ipanema and Copacabana Beaches
If you're visiting Rio, a trip to the famous Ipanema and Copacabana beaches is a given. Spend a day soaking up the sun, enjoying the various water sports, or taking a leisurely walk along the picturesque coastlines.
Feast on some delicious Brazilian cuisine at the local restaurants and immerse yourself in the vibrant samba culture.
Rainforest Activities
As a nature lover, exploring Brazil's lush rainforests is a must. Take advantage of guided tours in the Tijuca National Park, located right in the heart of Rio.
Trek through the verdant jungle, discover hidden waterfalls, and marvel at the incredibly diverse flora and fauna. This unique eco-experience is a perfect opportunity to appreciate Brazil's rich biodiversity.
South American Cities
While planning your trip to Iguazu Falls, situated at the borders of Brazil, Argentina, and Paraguay, consider visiting some of the nearby South American cities.
Buenos Aires, the capital of Argentina, offers a rich cultural experience, from the lively tango dance to mouthwatering Argentine cuisine.
São Paulo, another Brazilian metropolis, boasts exquisite art galleries, cutting-edge architecture, and thrilling nightlife.
Take your time to explore these remarkable destinations when you journey from Rio de Janeiro to Iguazu Falls, ensuring a truly unforgettable South American adventure.
Plan Your Trip To Brazil
Last Updated on 6 September, 2023 by Veronica