Recommendations to Travel to Rio de Janeiro
Rio de Janeiro has become one of my favorite cities to visit from around the world. In this post, I will tell you the Must Visit Places in Rio and give you useful recommendations for your trip.
How many days do you need to visit the city, have internet access, visa questions, documentation, and security tips?
Rio de Janeiro Travel Guide in Amazon
Best Travel Tips for Your Journey in Rio de Janeiro
Best time for your trip to Rio
Well…it depends; lovely answer, right? It depends on how much you like the heat and how crowded you like it to beat a certain time and place.
The best time to travel to Rio de Janeiro is in (their) winter, between May and October.
Why? Because the temperatures are more pleasant and there is less rainfall. There are also fewer people in these months, and the beaches are not crowded. Nevertheless, it's still hot, although it cools down at night for a little bit, enough for a sweatshirt.
If you want to go during the carnival season or summer (December to February), forget everything I told you, lol. During this time, it is boiling, very humid, and it is bursting with people.
For me, personally, this is the worst time to travel to Rio, except to experience the tastes and colors of the city. 😉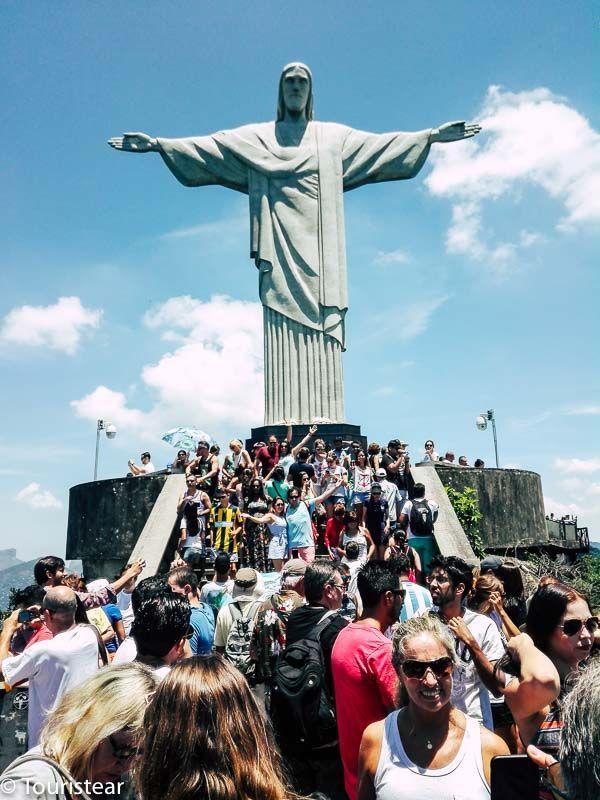 Summary of the seasons in Rio de Janeiro
High season: from December to March. During these months, there are more people, it's hotter, and everything is more expensive.
If you can only travel to Rio de Janeiro in the high season, make your reservations in advance.
Mid-low season from May to October. Temperatures hover around 18-20 degrees Celsius (64-68 degrees Fahrenheit) during the day and 10-12 (50-54 degrees Fahrenheit) at night.
How Many Days Do You Need to Visit Rio
To get to know Rio, you'll need a few days. But the minimum, if you will be on the road through Brazil, is 4 or 5 days.
Remember that Rio de Janeiro is a huge city with a lot to see.
It is best to see it calmly, enjoying the beaches, the attractions, and the atmosphere. It seems as if life passes by slower here.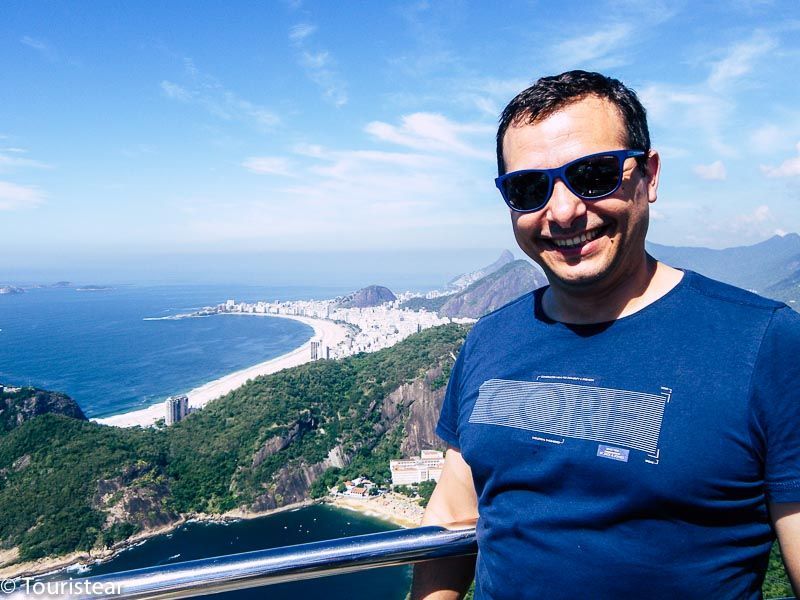 How to Get there?
You'll most likely arrive in Rio de Janeiro by plane. It has two airports.
Galeao International Airport: This is where most international flights and major European airlines arrive.
It is located 20 kilometers from the center of Rio de Janeiro. To get to the center, you have different Uber, transfers, taxis, etc. We were advised to use Uber for all transfers due to safety reasons.
Santos Dumont Airport This is a smaller airport. From here, domestic flights depart and arrive. It is located at the northern end of Park do Flamengo.
You can also reach Rio by land or sea. By land, buses arrive at Rodoviária Novo Rio station. The station is large and has all kinds of services.
From here to your accommodation, it is recommended to take a taxi or Uber. It is not recommended to go with your luggage on public buses.
By sea come some cruises, I am not very keen on this mode of travel. But if you leave, Argentina or Uruguay is an option to get to Brazil.
Documentation to Travel to Brazil
Depending on your nationality, you can travel to Rio with an ID, passport, or visa.
Travel with DNI
With a valid ID, you can enter for 90 days as tourists from the Mercosur countries:
Argentina
Bolivia
Chile
Colombia
Ecuador
Paraguay
Peru
Uruguay
Venezuela (60-day permit)
Travel with Passport: allowed countries from the European Union and other parts of the world
A: Albania, Germany, Andorra, Antigua and Barbuda, Armenia and Austria
B: Bahamas, Barbados, Belgium, Belize, Belarus and Bulgaria
C: Czech Republic, Cyprus, Costa Rica and Croatia
D: Denmark and Dominica
E: El Salvador and Estonia
F: Finland and France
G: Georgia, Grenada, Greece, Guatemala and Guyana
H: Honduras, Hong Kong and Hungary
I: Ireland, Iceland, Seychelles, Israel and Italy
J: Jamaica
K: Kazakhstan
L: Latvia, Liechtenstein, Lithuania and Luxembourg
M: Macao, Macedonia, Malaysia, Malta, Morocco, Mexico, Monaco, Mongolia and Montenegro
N: Namibia, Netherlands, Norway and New Zealand
P: Philippines, Panama, Poland and Portugal
R: Romania and Russia
S: Saint Kitts and Nevis, San Marino, St. Vincent and the Grenadines, Serbia, Singapore, South Africa, Sweden, Switzerland and Suriname, Slovakia, Slovenia, Spain, Seychelles, South Korea,
T: Thailand, Trinidad and Tobago, Tunisia and Turkey
U: Ukraine, United Kingdom, United States
V: Vatican City,
Travel with a Visa
The other countries, including Cuba, Haiti, Nicaragua, and Panama, do need a visa to go on vacation to Brazil.
The visa is requested at the embassy in your country of residence.
"Documentation" source: traveljet
Do you Need Vaccines?
No vaccine is required to visit Brazil. But the yellow fever vaccine is recommended if you are going to visit the Amazon and other places.
Don't Forget Your Travel Insurance (5%OFF here)
How to Have Internet in Rio
Now when we travel, we like to be connected to the Internet. So we can share our experiences with family, and friends and on social media.
Roaming in Brazil is not exactly cheap. So it is advisable to hire a local SIM that allows you to have the internet in Brazil on your mobile.
This way, you can always be connected and upload your photos on Instagram.
How to Get Around Rio de Janeiro?
Rio de Janeiro is a city that is very well connected. It has a well-organized public transport network where you can travel to get to know the city.
Although it is advisable to move on foot, you can use the subway, Uber, taxis, rent a car, etc.
The metro is very useful, especially for reaching the monuments that are located in the historic center. Moreover, it's a fast and safe option.
The car, I think, is the worst option because the traffic is like hell. Also, if you don't know where you are going, the GPS can lead you into and through unsafe areas.
The bike is another good option, especially for exploring the coast. Rio de Janeiro has many kilometers of bike paths. It is a safe, healthy, and ecological way to visit the city.
Security tips in Rio de Janeiro
Imitate carioca clothing type. Leave the heels at home, the expensive watch, the gold necklaces, and the earrings.
Carry the money just for the day. If you're carrying a lot of money, hide it in your bra or underpants. Leave 20 or 50 reais in your pocket in case someone tries to steal you, you give them that money.
Avoid neighborhoods when they are empty. For example, the historic center on weekends is a ghost town.
If you travel by public transport, it is better not to take out your mobile.
Pay attention to the beach, and don't neglect your stuff. It is better to bring only the necessary items, nothing more.
If you visit the favelas, do it with a local.
If they steal you, don't resist, it's best to give it all up. That said, make the corresponding complaint. And take out travel insurance before you leave home.
It's best to use common sense!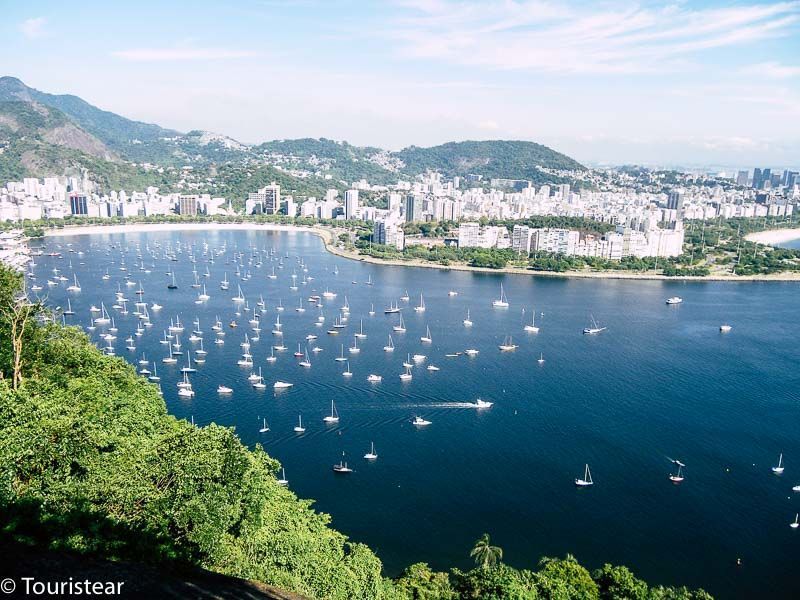 Do you know Rio de Janeiro? Let us know your recommendations for getting to know the Wonderful City.
Plan a Tour Trip to Rio de Janeiro
Save the image on Pinterest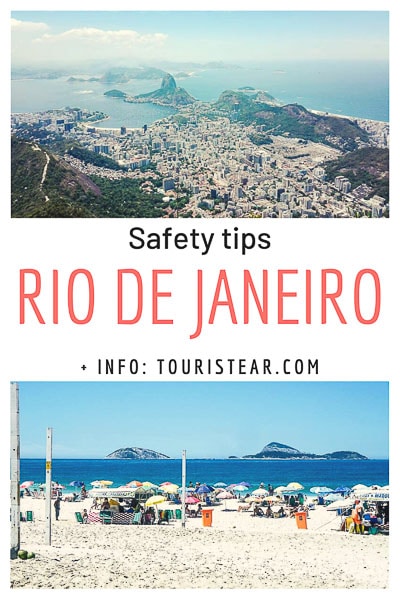 Last Updated on 9 October, 2023 by Veronica
Disclosure: Some of the links on this post are affiliate links, meaning at no additional cost to you, I may earn a small commission if you click through and make a purchase.
Author: Veronica
Vero, a seasoned traveler, has explored 25 countries and lived in five, gaining a rich perspective and fostering an infectious passion for travel. With a heart full of wanderlust, Vero uncovers the world's hidden gems and shares insights, tips, and planning advice to inspire and assist fellow adventurers. Join Vero and let the shared passion for travel create unforgettable memories.