Best Things to Do and Must-Visit Places in Rio
Rio is one of the most popular travel destinations in the world, and for a good reason.
This vibrant city has its own unique culture that will make you feel like you're on vacation from your vacation. Rio has something for everyone, from its natural beauty to its lively street art. You'll never regret visiting this beautiful city!
I have 17 things in my head that I want to tell you about, and they are all crowded into my head like people at a store on Black Friday, so I'm going to start at the beginning and try to order my ideas.
Rio de Janeiro: The Wonderful City
The nickname of Rio is not wrong; it's really a wonderful city.
I think I can tell you that it is possibly the most beautiful city I have ever been to. It is a city that has left me shocked, reflecting, and, above all, wanting to return.
When I was preparing for my trip to Brazil, people told me many things: Be careful, don't wear a watch, don't even think of talking on your cell phone, don't trust anyone, etc.
I was told that Sao Paulo was somewhat safer but that I had to be very careful in Rio de Janeiro.
Because of all of these things, when I arrived in Rio, I thought I was going to a city in a state of war or something like that.
I left my phone in Madrid, and I took a cheap phone just in case, I did not wear a watch, and I did not take anything of value, and what hurt me the most was that I left my Camera SLR in Madrid and I took a cheap one so as not to attract attention despite my love for taking pictures…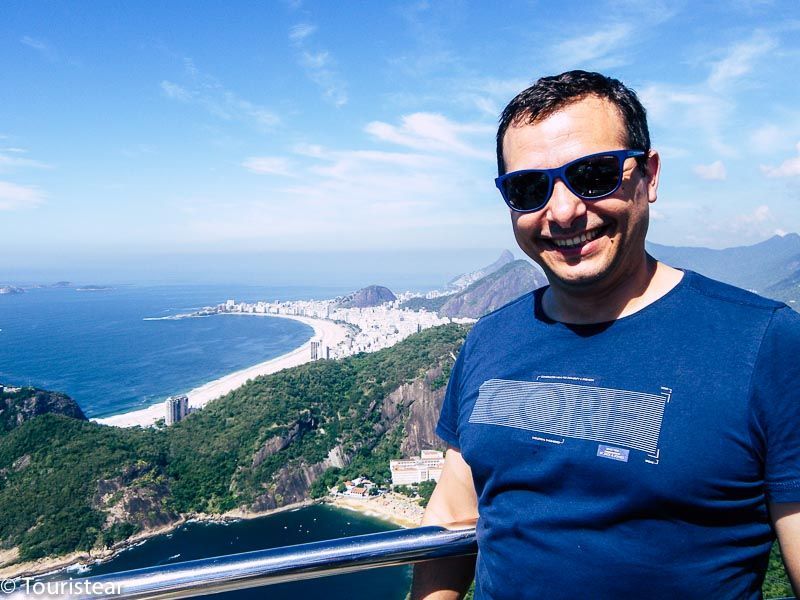 Rio de Janeiro is a huge city. It is the second-largest in Brazil and has more than six million inhabitants.
And I have to tell you, it's not as insecure or complicated as people had told me. It's a vast city for a developing country, that's for sure.
And yes, it's a city with favelas, actually with many favelas, but it's like any city you are visiting as a tourist, you just have to be careful where you go.
What to See in Rio de Janeiro?
Sugarloaf Mountain
Rio de Janeiro is full of icons that we all recognize. One of them is Sugarloaf Mountain. The Sugarloaf Mountain, or Pão die Açúcar, as they call it, is a "Morro," a hillock or small mountain at the entrance of Guanabara Bay.
The Cariocas differentiate between using the word "morro" and the word "mountain"; it is a difference of connotation. Morro is derogatory, while the mountain is not.
For example, if it is a mountain occupied by a favela, it is a morro, but if it is a beautiful mountain with nice houses of rich people, then it is a mountain. At least, that was the explanation they gave me.
Sugarloaf has a cable car that allows you to get to the top and enjoy the views of the city, which are spectacular, by the way.
In addition, the planes pass very close since the airport for short-haul flights is right in front of Sugarloaf. Of course, you can also see the Corcovado and the Christ from the Sugarloaf.
The cable car has a first stop at the hill of Urca, where you can rest, have a drink, enjoy the views, and/or buy a souvenir. There is also a restaurant if you are hungry or just want to have a drink.
The second section is the one that leads to the top of the Sugarloaf. Again, there are not so many options to do things here, but you can definitely enjoy the view.
You can see the bay of Guanabara, the Botafogo, the ocean obviously, Copacabana, the Corcovado, Tijuca, and some favelas growing messily on some hill.
The Christ of Corcovado
Here's what I will tell you about the Christ of the Corcovado. It is probably the best-known and most reproduced icon in Rio de Janeiro.
It's one of the seven wonders of the modern world. It can be climbed in several ways, by car, van, or train (funicular).
It is not recommended to go by car since there are only 230 parking spaces and, in addition, there is a walk, which is why the two best options are by van or by train.
The van is faster and possibly more practical but also more expensive. On the other hand, the train is more bucolic and slower, something I prefer because I can enjoy the road and the view better.
When you arrive, you have to climb about 250 steps until you reach Christ, although there are elevators if you do not want to climb the stairs. The queue to catch the elevator is quite long, however.
Once you are up the Christ, it is what you expected. The view is jaw-dropping, and it complements very well the views you previously had from Sugarloaf Mountain.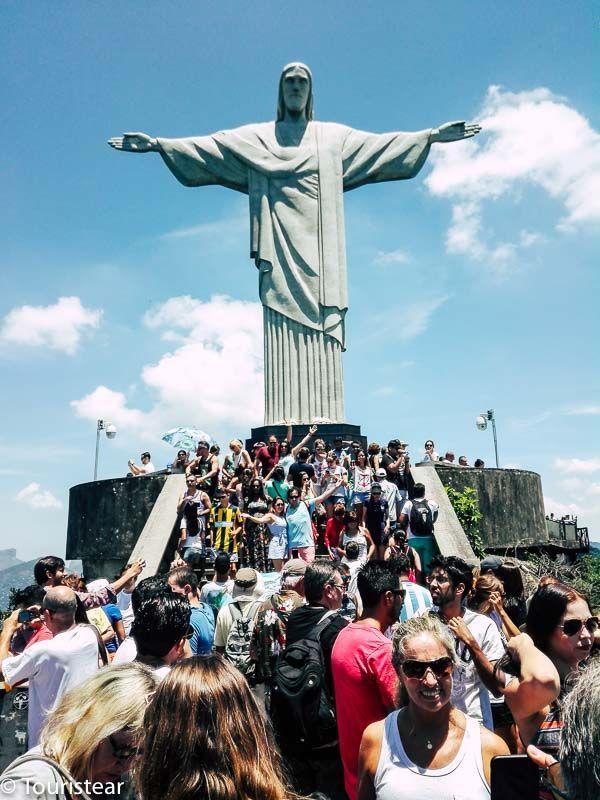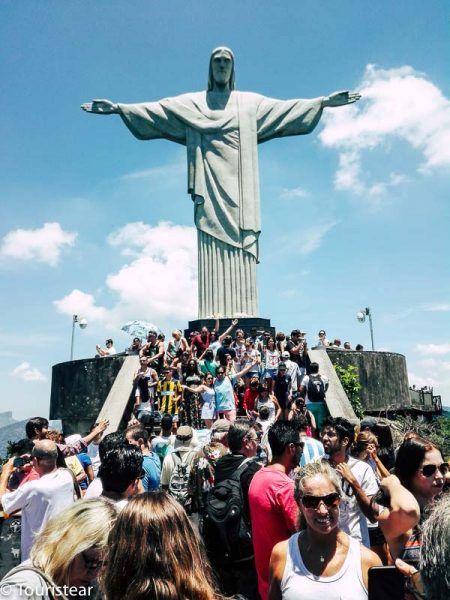 However, I have to put a "but," and it's the number of people up there. There was no control of the influx of people, and it was very overwhelming. You could hardly walk.
People throw themselves to the ground to take a picture of Christ from a lower position; I don't think it's terrible, but that makes walking difficult, and people get roughed up.
When you want to approach the viewpoint in front of the Christ, you have to go down some stairs where every person stands to take a picture with the Christ behind me, nor do I say that I think it is wrong (I did it myself).
But it indeed makes it impossible to walk well out there, and when you get to the viewpoint, you have to overcome the three rows of people in front of you to get there.
All this made the experience not very calm, and I wanted to leave there as soon as possible.
The beaches of Rio de Janeiro. Copacabana and Ipanema
At least when visiting Rio de Janeiro, you must visit Copacabana and Ipanema. The beaches are beautiful and worth getting to know.
Bathing or not is your decision. There were many controversies because Rio de Janeiro's beaches were very dirty during the Olympic Games.
However, I didn't see the dirty water, and I didn't see the dirty beaches. But just because I didn't see the dirty water doesn't mean it wasn't or that it wasn't unhealthy. So I took a bath, as it could not be otherwise.
One of the things that I liked most about the beaches was that many people were doing sports.
There is, in general, an important culture of cultivating the body, and if you are like me, I have not played a sport for years, which gave me a little bit of envy. But, if you go with your wife or girlfriend, I guarantee you, her eyes will brighten up.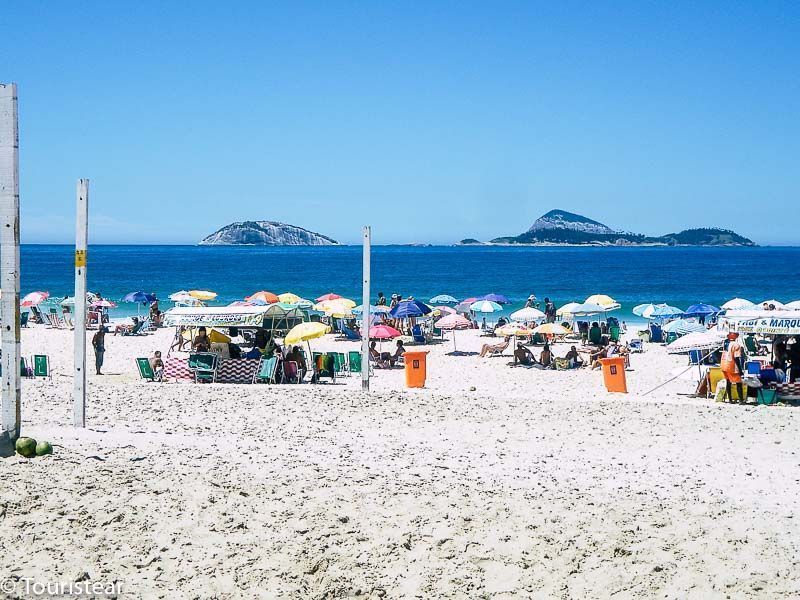 They also have beach bars but call them kioskos. They are excellent, have a good atmosphere, and some are well known like Barraca do Pepe, where they are said to prepare the best caipirinhas in Rio de Janeiro.
With that said, Pepe is past Ipanema on Barra do Tijuca beach.
La Pedra Do Arpoador
Between the beaches of Ipanema and Copacabana, you have the Pedra do Arpoador, which would not be a very interesting place if it weren't for the beautiful sunsets, where the sun sets in the sea or very close to the sea and the view is mesmerizing.
People gather in this place and watch the sunset. In the meantime, have a beer or a caipirinha and clap after laying. It's a very nice plan after going to the beach.
Prainha Beach
This beach is very close to another one called secret beach. However, they are far from the center, can take an hour to arrive, and are still in Rio de Janeiro.
It is a small, beautiful beach where you have the sea and, on your back, the mountain and vegetation on one side. It is very popular with surfers and well-known among Cariocas.
There are few tourists, and it is more than recommended. If you do not feel like bathing, you can have a beer in the beach bar, which is very nice.
In addition, near this beach, you have a restaurant specializing in fish and seafood. It is a beautiful view of a natural space protected by the army, who owns the land there.
It is called Point de Grumari, and it is also a restaurant very frequented by Cariocas and very few tourists. See for yourself.
The view from this place is simply wonderful. I recommend you go because of the walk and the view. In addition, you can get there by car.
Tijuca Park and Vista Chinesa
Tijuca Park is one of the largest urban forests in the world and is simply spectacular. You can tour it by car and stop in some places to go for a walk.
One of the most beautiful points of this park is the Chinese view. Its name comes from the Chinese who came to Rio de Janeiro to grow rice and tea. They were located in Tijuca and built some buildings called Chinese houses.
From this view, a viewpoint was built with clear Chinese influence.
Botanical Garden
From the Chinese view, you can see the low road to the botanical garden, which is one of the most important in the world.
The botanical garden has some spectacular lilies and more than 9000 species. In addition to a Japanese garden, there are more than 130 hectares of garden.
Also, after visiting the garden, I recommend you go for a caipirinha at Borogodó Restaurant. They have a delightful terrace because very few people pass and there are very few cars.
Ah! and if you go to the bathroom, you'll find a bit of an interesting surprise. You can also go to Jojó, which is opposite Borogodó.
Urca
Urca is in Sugarloaf's foothills and is a very nice neighborhood, but what is so particular about Bar Urca is that people ask for their drink, and then they go to the small wall with amazing views of the bay.
As you can imagine, the number of people is tremendous.
Are you planning to rent a car?
If you are planning to rent a bike for your trip to Brazil, we recommend taking a bike tour or renting a bike here.
Where to Stay in Rio de Janeiro?
You have many places to sleep in this fantastic city. Check out Booking hotels and choose the one that best suits your type of trip and budget.
Rio de Janeiro is a wonderful city so surely there are many more essential sites, do you recommend any?
Save on Pinterest
Last Updated on 9 October, 2023 by Veronica
Disclosure: Some of the links on this post are affiliate links, meaning at no additional cost to you, I may earn a small commission if you click through and make a purchase.