Emily in Paris Real-Life Places
Do you want to travel to Paris from home? Then, just put Netflix shows Emily in Paris to travel to the city of light.
And if you plan to visit Paris, we tell you, in this post, the places where Emily in Paris was filmed, where Gabriel's famous restaurant is so that you can follow in her footsteps on your visit to the French capital.
Emily in Paris is a new show; you can watch it on Netflix in one day. There are 3 seasons, about 30 minutes for each episode. It's full of clichés; here in France, the review has been very harsh, but it's the number 2 series on Netflix France right now.
Speaking of cliches, at the end of this post, I tell you, from my experience, as a foreigner living in France, what my opinion is and whether or not they are such cliches.
The show is fun, makes you have a good time, and teaches you about Paris from the point of view of Emily, a girl from Chicago, who, for work, has to travel to this awesome city.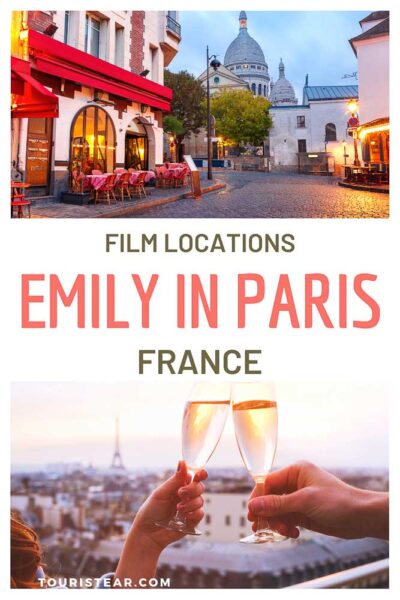 Where Was Emily Filmed in Paris? Real-life places
Do you want to know the locations where Emily was filmed in Paris? Have a coffee in one of those picturesque places? Or do you want to party in the same places as Emily? Keep reading!
What Neighborhood Does Emily Live in Paris?
Emily Cooper's apartment is located in the 5th arrondissement.
When Emily arrives in Paris, she is taken directly to her apartment. This is located in the 5th district of Paris. Paris has 20 districts or arrondissements surrounding the River Seine in the form of a spiral, so it is a mess of the Parisian neighborhoods.
The real estate agent calls the apartment "Chambre de bonne," which are the rooms used by the service staff to sleep. But if you really see the chambres de bonne that are currently rented, you'll see that Emily's apartment is a luxury! Lol.
These apartments usually come with just enough and probably have the bathroom shared with the rest of the floor, a very glamorous Paris, eh?
We continue with the Emily district in Paris, which is in the 5th arrondissement, in Place de l'Estrapade. Very close to the Pantheon and the Sorbonne.
Just below her home, in the show, is Gabriel's restaurant and Moderne bakery, where she buys her first pain au chocolate.
La Boulangerie Moderne
La Boulangerie Moderne is located on 16 Rue de Fossés Saint-Jacques and is the same in real life.
Gabriel's Restaurant
The restaurant "Les Deux Compéres" does not exist by that name. In real life, it is called the Terra Nera restaurant. It is located very close to the Pantheon, in the 5th arrondissement of Paris.
The exact address is 8 Rue des Fossés Saint-Jacques (a few steps from Moderne Bakery)
Gabriel's Restaurant in the Emily in Paris series has gained a lot of popularity since October 2 when the series premiered on Netflix. If you plan to go, it will be best to book in advance.
Terra Nera Restaurant (Les Deux Compéres) is an Italian restaurant, not French as in the show. But the facade and interior are practically like in the TV show. The only thing you're not going to find is Gabriel (Lucas Bravo) preparing the food 😉
If you have become a fan of the show, you can try Emily's Menu, which among its dishes includes Boeuf Emily's Filet. Will it be like the one that Gabriel prepares?
The Luxembourg Gardens
Emily Cooper goes out to play sports in the Luxembourg Gardens. This is where the picture of a sculpture goes up.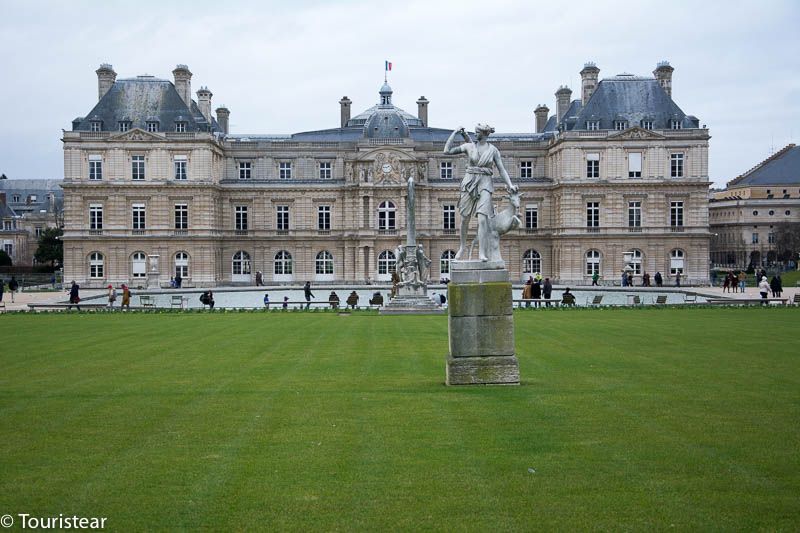 The Neighborhood Where Emily Works, in Emily in Paris
Emily works for the French agency Savoir. This is located in the 1st arrondissement of Paris, very close to the Louvre Museum.
It is one of the capital's chicest places, close to the Passage de la Vérité and the Palais Royal.
In the gardens of the Palais Royal is where Emily meets Mindy. An essential place to visit in Paris.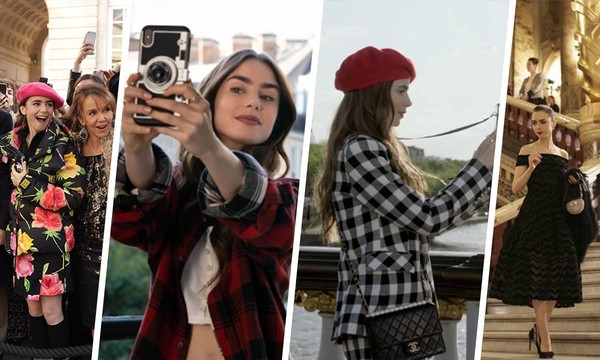 The Places Emily's Partying in Paris
Emily's partying quite a few times in Paris. I'll tell you about the places where it was filmed.
The Street with the Sacre Coeur in the Background
When Emily goes to a party with Mindy, before closing the Instagram account, we see the Sacre Coeur in the background is rue d l'Abreuvoir number 18. It's the Montmartre district in the 18th arrondissement.
This is where they put the bed to take photos for Instagram.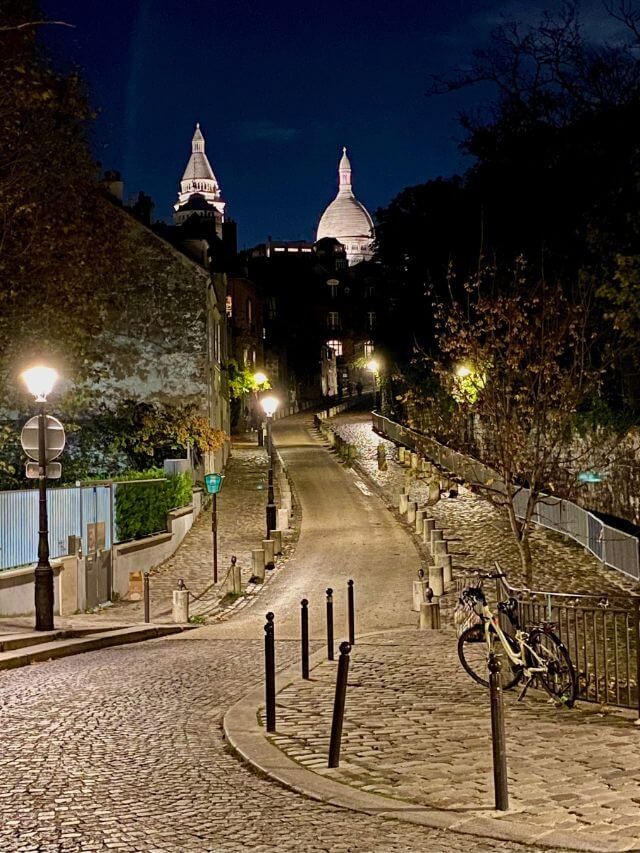 The Museo de l'Homme in Trocadero
The museum of l'Homme is where the party is made for the Maison Lavaux. Here we see the Eiffel Tower in the background.
Musée des Arts Forains
The Arts Forains Museum is where Emily loses sight of the American actress. It is located in the 12th arrondissement in the Bercy district. The address is 53 Avenue des Terroirs de France. It's a super Instagramable site.
Atelier des Lumiéres
When Emily goes out with Gabriel and Camille, they visit the Atelier des Lumiéres. It is located in the 11th arrondissement at 38 rue Saint Maur.
Opéra Garnier
This is where she goes with her first "boyfriend" and realizes he's an unbearable snob. But the main goal is to be able to talk to a famous designer.
The Perfume Publicity
On Alexandre III Bridge is where the advertisement for perfume, sexy or sexist, is filmed.
Emily in Paris Cafes and Restaurants
La Flore at L'Ille
At the gates of Notre Dame on St. Louis Island, you find this quaint Parisian restaurant. It's in episode 2 of the series, and that's when Emily Cooper goes to eat alone.
It's at 42 quai d'Orléans.
Cafe de Flore
This is the café where Emily Cooper meets the teacher (the first one). It is located in the 6th arrondissement, at 172 Boulevard Saint-Germain.
This was the favorite coffee of Jean-Paul Sartre and Simone Beauvoir. It opened in the mid-1880s and was very frequented by artists such as writers, painters, and sculptors.
Lulu la Nantaise
In the Lulu la Nantaise creperie, they have a double date, and it is noticeable that their "boyfriend" is an unbearable snob, the only one who does not see it is Emily!
If you fancy a crepe at this super picturesque place, the address is 67 rue de Lancry.
Le Grand Véfour
This Michelin-starred restaurant is located in the 1st arrondissement, at 17 rue de Beaujolais. It's the place where Emily promises to take her boss and company for a business dinner. But, in the end, they ended up in Gabriel's restaurant.
This restaurant is located in the Palais Royal, with stunning 18th-century décor. Its owner, Guy Martin, is a chef who is among the top 20 in the world and his restaurant too.
You must book in advance and prepare your wallet if you want to go.
Café de la Nouvelle Mairie
Café de la Nouvelle Mairie is where Emily and Mindy have breakfast and discuss Mindy's life in China.
It is located near the Pantheon, at no.19 on the same street as Gabriel's restaurant and bakery. (19 Rue des Fossés Saint-Jacques)
La Maison Rose
La Maison Rose is where Emily and Mindy have a drink before their "night to remember." It is located in the Montmartre district on the corner of the streets of l'Abreuvoir and Saules.
Here you have more ideas and probably more affordable restaurants in Paris.
Where Is the Chateau de Camille Located?
Chateau de Camille is located in the Loire Valley, not in the Champagne region. The vineyards of Camille's family were engraved at the Chateau de Sonnay in Cravant-les-Céteaux (Loire Valley).
It's the only place outside Paris to appear on the TV show.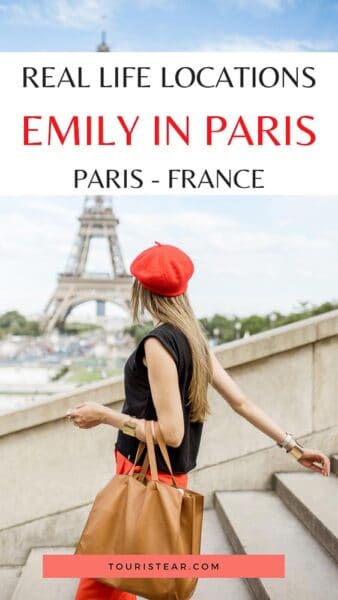 The Clichés in Emily in Paris Show
During the 10 episodes of the Series Emily in Paris, you will find clichés about France. Emily arrives in Paris and finds a postcard city: clean; you don't see the traffic chaos, no people sleeping on the street, and she doesn't move by public transport, among others.
The French Are All Mean People
Do not generalize; means people are everywhere, not just in France. I live in France, and there are bad and good people everywhere.
The French themselves say that the ones who give them a bad reputation are the Parisians… you tell me your experience when you visit France!!!
Frenchs Are Lazy, and They're Late for the Office
Here I don't have much experience, I work from home and Fer goes to the office once a week. But when I go to a store or do paperwork they usually open on time, and they also close on time.
That said, they officially work 35 hours a week; can that be why they seem to work less? They work for a living, not the other way.
And another thing, if you come in May, you will find that there are many holidays!
Of course, in normal life, they are late. Once we had dinner at home, and one of the couples arrived an hour late, they live 50 meters from my house!
They are Heavy Smokers
I think it is the country that smokes the most in Europe. However, smoking is prohibited inside bars and restaurants, offices, etc.
Everybody's Wearing Berets, um, Nope!
Those who wear hats wear the ones that are fashionable, and usually wear them when it's cold!
Do They Speak English?
Well, not much in my experience, but I think these changes by zones and it will vary depending on the work they do.
However, if they speak your language or English and you don't speak French, they try to speak your language.
It happened to me at first when I arrived in France, that my French was quite bad (not like Emily's btw) and the people who knew Spanish or English were trying to talk to me in this language, for me it was not good, because I wanted to practice French, but there you realize, they are not as bad as in the show 😉
But, if you want to speak with a French person, please, first, say "Bonjour" and then try to say something in French and then English. Don't assume they speak English!
They Eat Croissants, Pain au Chocolat, and Baguettes
YES! And whoever says it's a cliche, come to my neighborhood! At 400 meters (0,25 miles) around, I have 4 bakeries, and there are always people.
In my previous neighborhood, 200 meters away, there were 3 bakeries (one of their bio) and a pastry shop, and they always had a queue!
Personal Hygiene Issues
There is quite a myth here, but they do one thing they call the toilette. It consists of a quick cleaning with a special glove. The other day I saw it in the supermarket and I was freaking out, but it's kind of supernormal.
The Weather in Paris
If you go in summer, it is hellish; the rest of the year has a fairly variable climate where it rains, it is cold, it is nice, which would become a lottery.
Did you like the show? What other clichés have you seen in Emily in Paris?
Plan Your Trip to Paris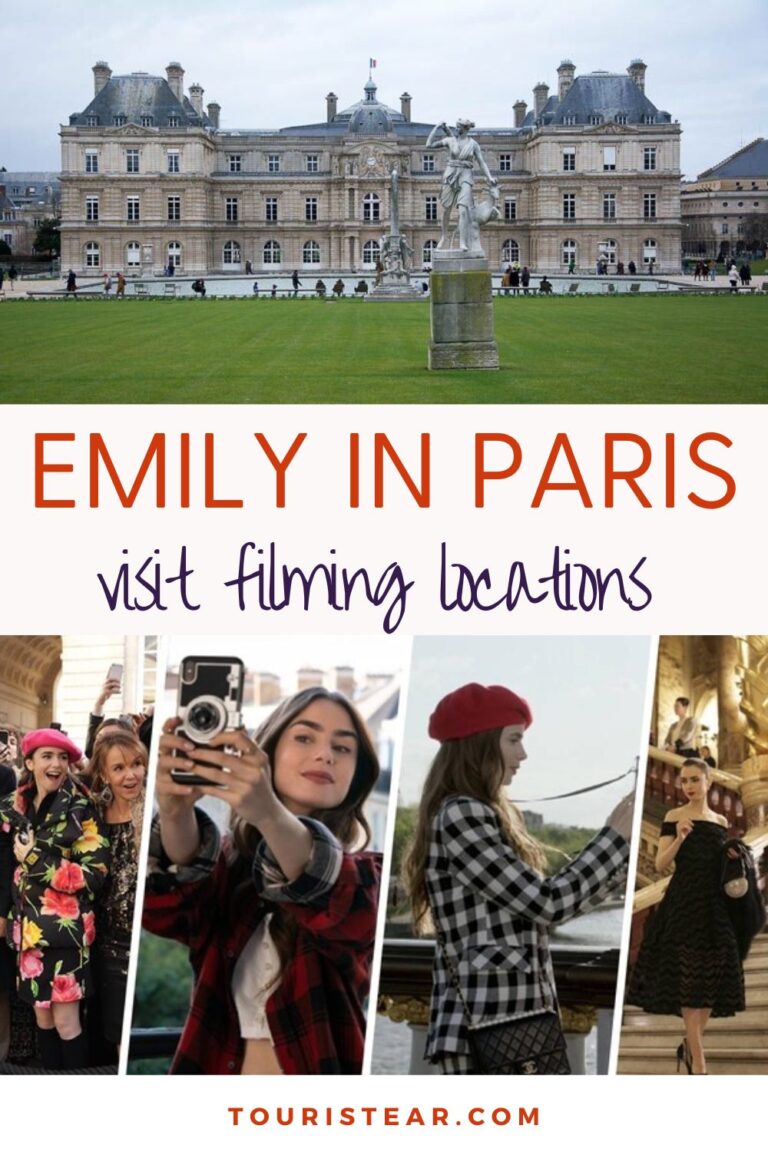 Last Updated on 13 September, 2023 by Abby
Disclosure: Some of the links on this post are affiliate links, meaning at no additional cost to you, I may earn a small commission if you click through and make a purchase.
Author: Veronica
Vero, a seasoned traveler, has explored 25 countries and lived in five, gaining a rich perspective and fostering an infectious passion for travel. With a heart full of wanderlust, Vero uncovers the world's hidden gems and shares insights, tips, and planning advice to inspire and assist fellow adventurers. Join Vero and let the shared passion for travel create unforgettable memories.