10 Tours You Have to Do in Rome
I have been asked many times what my must-visit places in Rome are. This is really a difficult question to answer because I love Rome. And it isn't easy to choose just 10 places.
My advice is to walk through the center of Rome and its streets, let yourself be carried away and discover different corners.
Going down a narrow street, not knowing where you're going, and suddenly you'll find the Trevi Fountain or the Pantheon; these are some of the things that can happen to you on your first visit to Rome.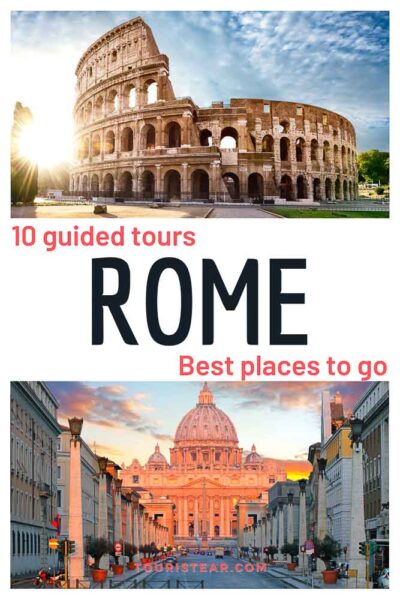 10 Tours You Have to Do in Rome
The Pantheon of Agrippa
The Pantheon of Agrippa is a monument of Ancient Rome and is the best preserved of its time.
It is impressive to enter this building and see the dome that is a perfect half-sphere and that was erected more than 1900 years ago on the orders of Hadrian.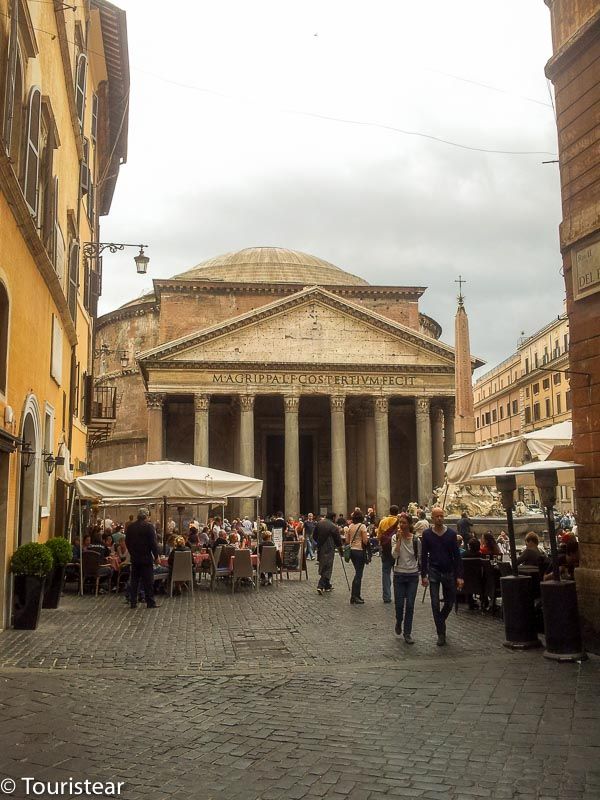 The Pantheon, which dedicated worship to all the gods of Rome, survived because, in 608, it was transformed into a church but had followed the same fate as many pagan temples.
The Pantheon of Agrippa is spectacular inside and outside, the classic facade with its columns, the bronze door that invites you to enter. The square with its fountain.
It is one of my favorite visits to Rome!
The Trevi Fountain
The Trevi Fountain is one of Rome's most beautiful and famous fountains. Fontana has its origins in 19 BC, although its current appearance originates from 1762.
When you go to the Trevi Fountain, you must toss a coin with your right hand and pass it over your left shoulder.
According to this myth, if you do this, it means you will return to Rome! I've just tossed the coin once, and I've already returned twice 🙂
I have been lucky enough to be able to see it by day and lit up at night, although I have not yet seen it after the cleaning it has undergone for quite some time now.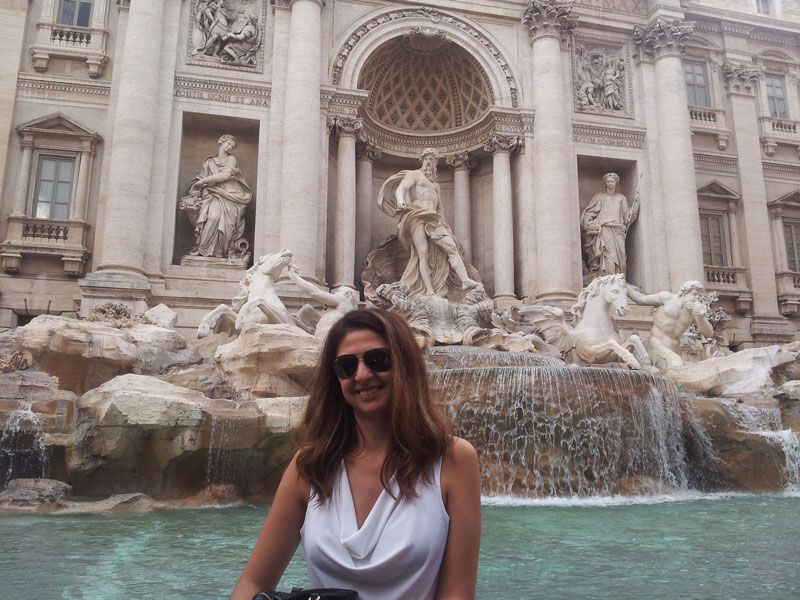 The Roman Colosseum
Traveling to Rome itself is a walk through history, but you move directly 2000 years back in time as you enter the Colosseum.
The Colosseum was declared a World Heritage Site by UNESCO. It was built in the year 70, almost 2000 years ago, on the remains of the previous amphitheater that was destroyed in the Great Fire of Rome in '64.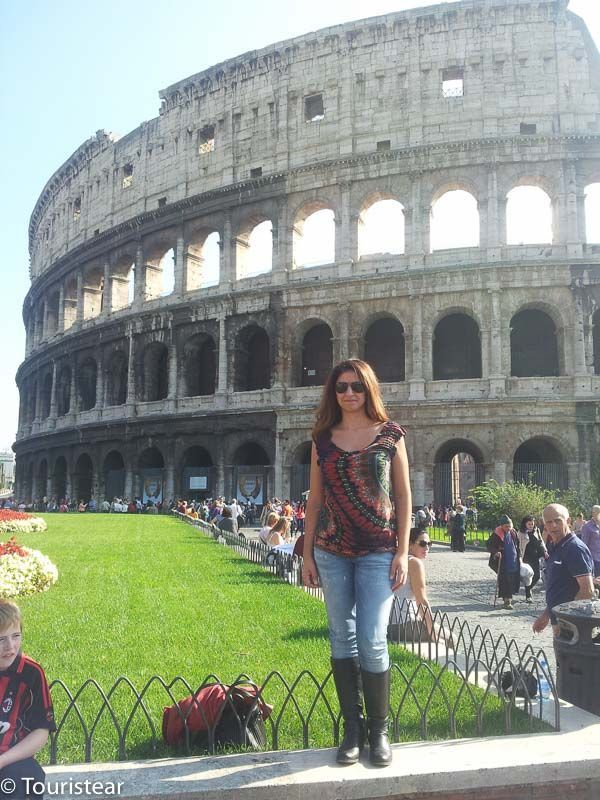 In the Roman Colosseum, you could see different shows like the gladiator fight. And it was up and running until the 6th century.
Over time the Colosseum passed through different owners, had different uses, and suffered plunders. But since the last century, work have been done to maintain it.
It is the most visited monument in Italy. Therefore, when you go to Rome, this is a must!
Piazza Venezia at Night
Venice Square, for me, is one of the prettiest. Although apparently, its construction has been a bit controversial, since to build it required the entire body of the Venice Palace to be moved, destroying a Renaissance square.
There's a lot of traffic around here, but it's worth a visit, especially at night when it's lit, and there are fewer people.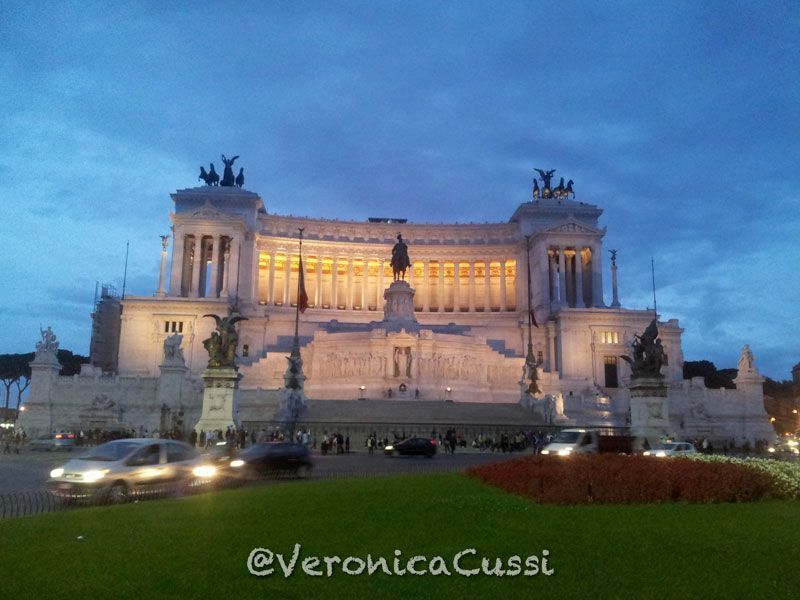 Piazza Navona
Piazza Navona is a jewel of the Roman Baroque. It is located in the heart of Medieval Rome. It is one of the typical squares you reach walking through some narrow alley, and suddenly, there you have it, with its famous rivers and Obelisco.
It depends on when you go; you can find yourself with flea markets, street artists, many visitors, and places to choose to have a drink and rest. However, as it is a very touristy square, look out for the prices!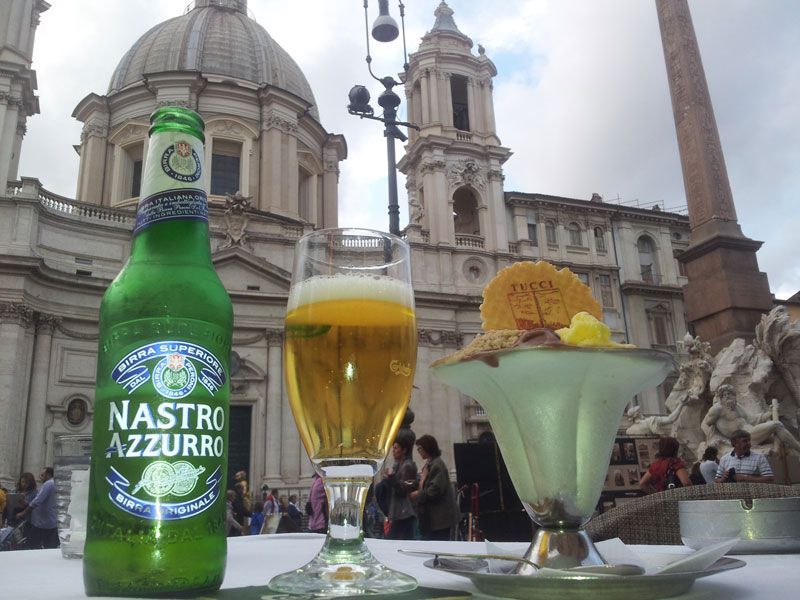 El Castel Sant'Angelo
Sant'Angelo Castle was built around 123 AD as a tomb of Emperor Hadrian and his family.
It has had many uses over the course of these almost 2000 years, from a burial monument to a fortified outpost, from prison to present-day's beautiful museum where the past and present of Rome appear together.
If you go to Vatican City and want to walk back to the center of Rome, take advantage and go along the Via Della Concilliazione.
It will be about 300 meters, no more, and you arrive at the Castle, take a leisurely walk around the surroundings, and if you feel like it, you can enter!
Piazza Spagna
Piazza Spagna (Spain square) is super famous for its staircase and elegance. The Bernini fountain is at the foot of the staircase, and above is the Church of the Trinity of the Mountains.
Although, to be honest, I remember more the Bar of Martini which had great views and cocktails.
Also, you can find haute couture firms around the square if you have a good budget.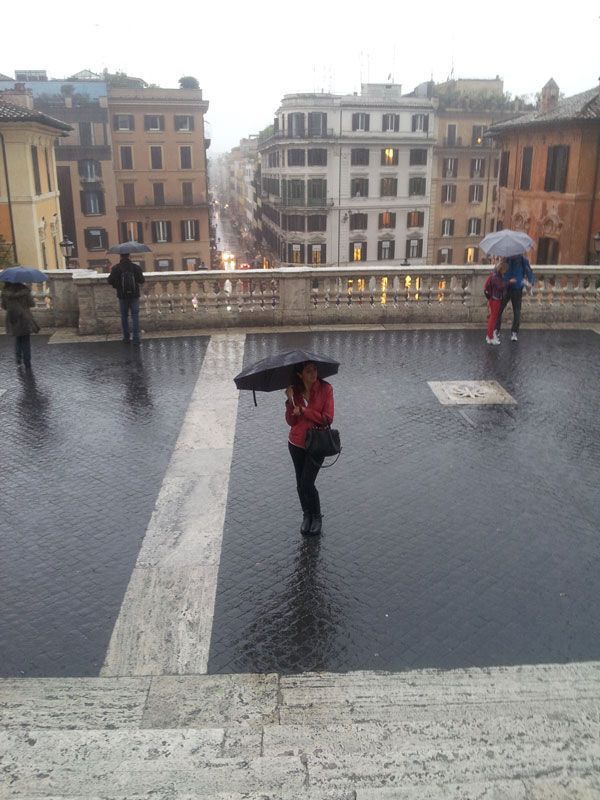 Trastevere
Trastevere is one of my favorite neighborhoods in Rome. I love its atmosphere, especially at night. It is one of the oldest neighborhoods in Rome, where you can eat a good pizza or enjoy Roman food.
It is ideal to go out at night and have a drink in one of its pubs. Although the evening ends early here, if you want to continue a little more, you can go to the Testaccio 😉
Day and night, this neighborhood changes a lot. Take a walk, and you will see it! For me, it is a must-visit!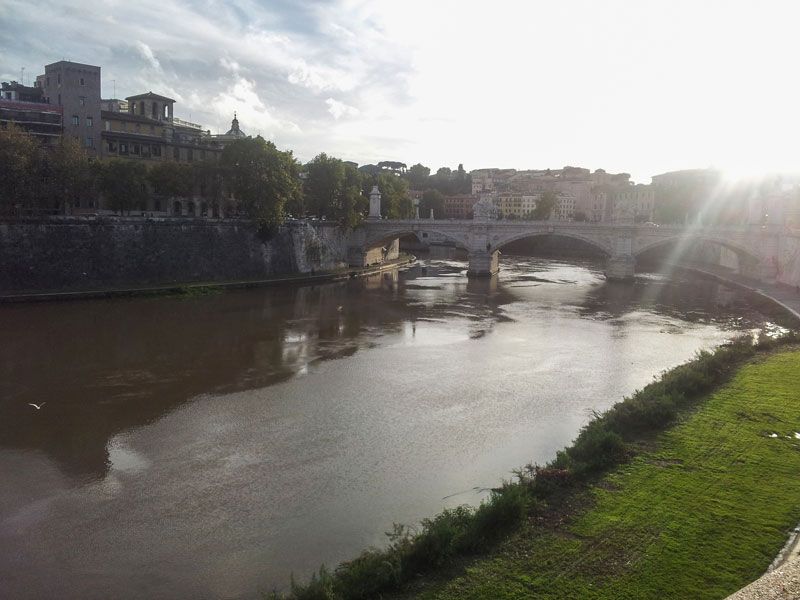 Piazza del Popolo
The People's Square is to the north of the city and is known since ancient times as the Gate of Rome.
Although, in the late nineteenth century, with the construction of Termini station, the development of the railway ceased to play its role.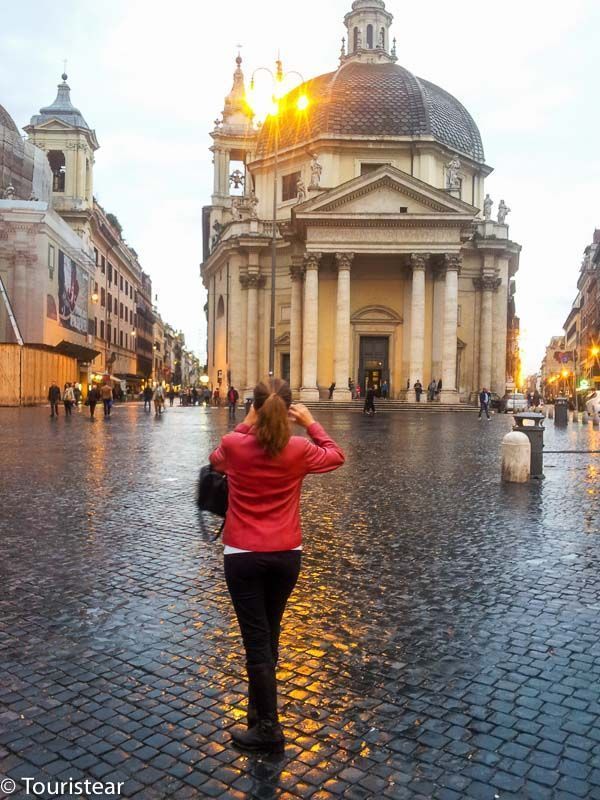 It is quite a large square and with plenty of space. In the center is the Egyptian obelisk 24 meters high.
In the church of Santa María del Popolo, you can see two works of Caravaggio, and many Renaissance works from different artists.
And you can also see the two temples that look the same, although if you pay a little attention (and are not in restoration works), you can appreciate them.
St. Peter's Square, Vatican City
Visiting Vatican City is one of the must-see essentials of a visit to Rome. Even if it is crowded, entering the Sistine Chapel is something you have to do, even if it's only once in a lifetime.
The two times I've been to the Vatican, I did the visit with a guide (I went with different people!) and the truth is that it's excellent because you find out things that you might otherwise have overlooked without realizing it.
Besides, the good thing is that you avoid the lines.
Vatican City is a state; the smallest in Europe does not reach even half a square kilometer of surface area!
St. Peter's Square can be one of the best-known squares in the world without exaggerating, as well as wonderful.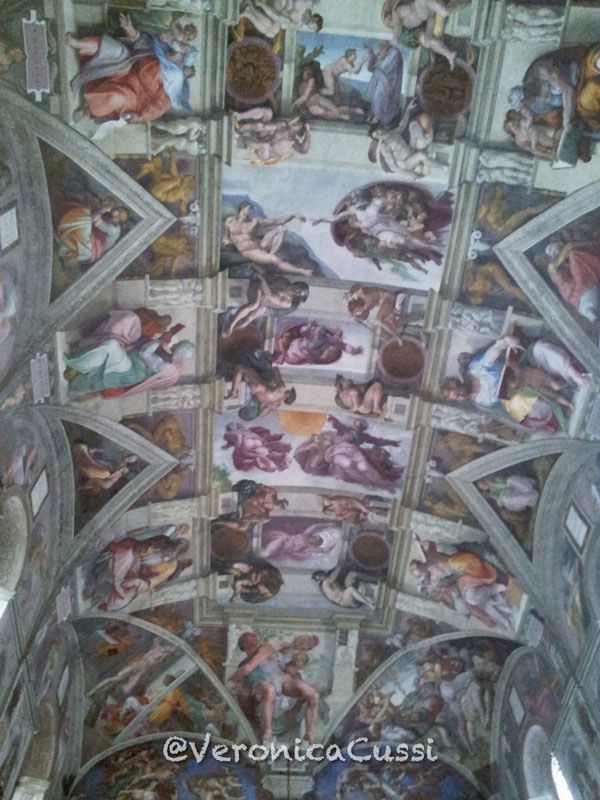 Essentials on your visit to Rome
You have to make ice cream in the Giolitti ice cream parlor. It must be the best known because they have traditionally made ice cream since 1890.
Although I would tell you that ice creams are delicious anywhere in Rome, it is not a Roman specialty, who would say it!
Eat good spaghetti a la carbonara with authentic carbonara sauce (which does not carry cream), and this dish is typical of Roman cuisine.
You must also try the traditional Roman pizza; try it thin and crispy. Please tell us the one you liked the most!
I also took a boat ride along the Tiber River with dinner and a show. Highly recommended!
Plan Your Trip to Italy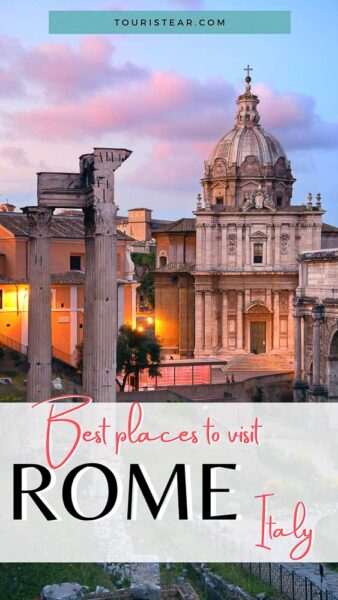 Have you been to Rome? What are your must-visit places? Tell us in the comments!!!
Book Your Trip
Book Your Flight
Find a cheap flight by using Skyscanner.
Book Your Accommodation
You can book your hostel, hotel, or apartments on Booking.com.
Don'torget Travel Insurance.
Travel insurance will protect you against illness, injury, theft, and cancellations. It's your protection in case anything goes wrong. You never go on a trip without it.
Best companies for Tours
Check out Civitatis.com and find the best tours in English (French, Spanish and Italian)
Are you looking for the best companies to save money with?
Check out my resource page for the best companies to use when you travel! I list all the ones I use to save money when I travel – and I think I will help you too! (Is in Spanish yet)
Last Updated on 25 October, 2022 by Veronica