Best Things to Do in Hakone, Japan: Your Visit Guide
Just a short trip away from Tokyo, Hakone is a charming and scenic destination nestled in the heart of Japan. Boasting breathtaking landscapes, historic landmarks, and rejuvenating hot springs, this town provides a perfect getaway from bustling city life.
Whether you're a nature lover, an art enthusiast, or seeking a tranquil retreat, Hakone promises to offer an unforgettable experience that caters to all interests.
As you embark on your journey to this picturesque haven, you'll have the opportunity to immerse yourself in the natural beauty of Hakone. From the magnificent Lake Ashinoko to the enchanting Chisuji Falls, there's no shortage of majestic sights to explore.
Be sure to take a ride on the Hakone Tozan Railway, which offers panoramic views of the surrounding landscape, or visit one of the many stunning art museums and cultural sites like the Hakone Open Air Museum.
Your stay in Hakone would not be complete without experiencing its world-renowned hot springs or onsens. Unwind in the soothing waters at Hakone Yumoto Onsen or one of the numerous other onsens throughout the town.
As you relax and revitalize your senses, you'll discover the true essence of Japan's traditional hospitality and culture.
Disclosure: Some of the links on this post are affiliate links, meaning at no additional cost to you, I may earn a small commission if you click through and make a purchase.
How Many Days to Stay in Hakone
If you are wondering how many days you spend in Hakone, you have a few options.
You can go to Hakone on a day trip from Tokyo. Depart as soon as possible and enjoy a full day in the beauty of Hakone.
Like us, stay a night in Hakone and enjoy a day and a half there. We stay in a Ryokan with a private onsen to experience the full Hakone Experience.
Well, how many days do you have to visit Japan? Stay 1 night; if you like it, stay more!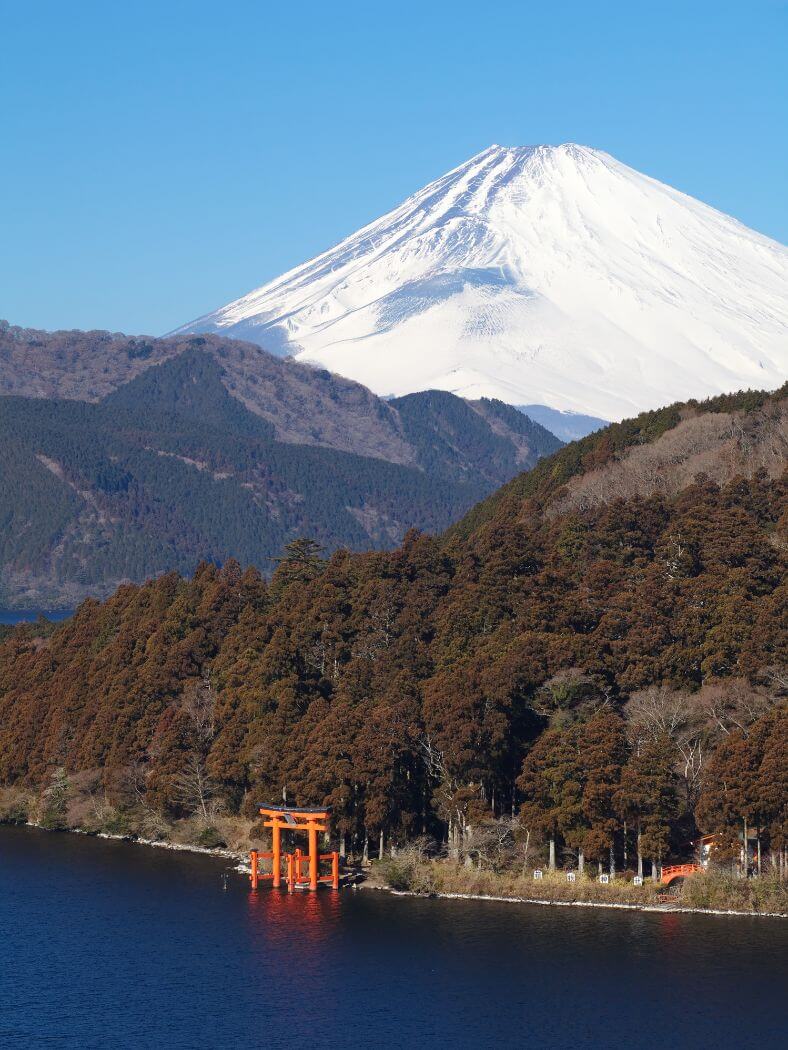 Best Things To Do in Hakone
Discover the best of Hakone, Japan, with an array of captivating experiences. Immerse yourself in stunning natural beauty with scenic views of Mt. Fuji, soak in relaxing hot springs, and explore traditional Japanese architecture.
Indulge in delectable cuisine, visit historical landmarks, and embark on a memorable journey through Hakone's rich cultural heritage. Hakone offers an unforgettable blend of tranquility and adventure.
Stay in a Ryokan
Staying in a ryokan in Hakone is like stepping into a traditional Japanese dream. Picture this: sliding doors, tatami mats, and the gentle sound of nature. It's a unique, immersive experience that will transport you to a bygone era.
One of the highlights of staying in a ryokan is the possibility of having your very own private onsen.
Imagine slipping into a steaming hot bath, surrounded by serene natural beauty, with only the sound of rustling leaves and chirping birds. It's the epitome of relaxation and tranquility. Soak away your worries and let the mineral-rich waters soothe your body and soul.
The Ryokan experience goes beyond just the accommodation. Prepare to be pampered with exceptional hospitality and impeccable service. From the moment you step foot inside, you'll be greeted with warm smiles and a genuine desire to make your stay unforgettable.
The ryokan staff will guide you through the customs and etiquette of this ancient tradition, ensuring that you feel comfortable and at ease.
After a day of exploring the wonders of Hakone, returning to your ryokan feels like coming home. Relax in your yukata (a lightweight kimono), sip on a cup of green tea, and reflect on the beauty of your surroundings.
The peaceful ambiance and attention to detail create a truly immersive and unforgettable experience.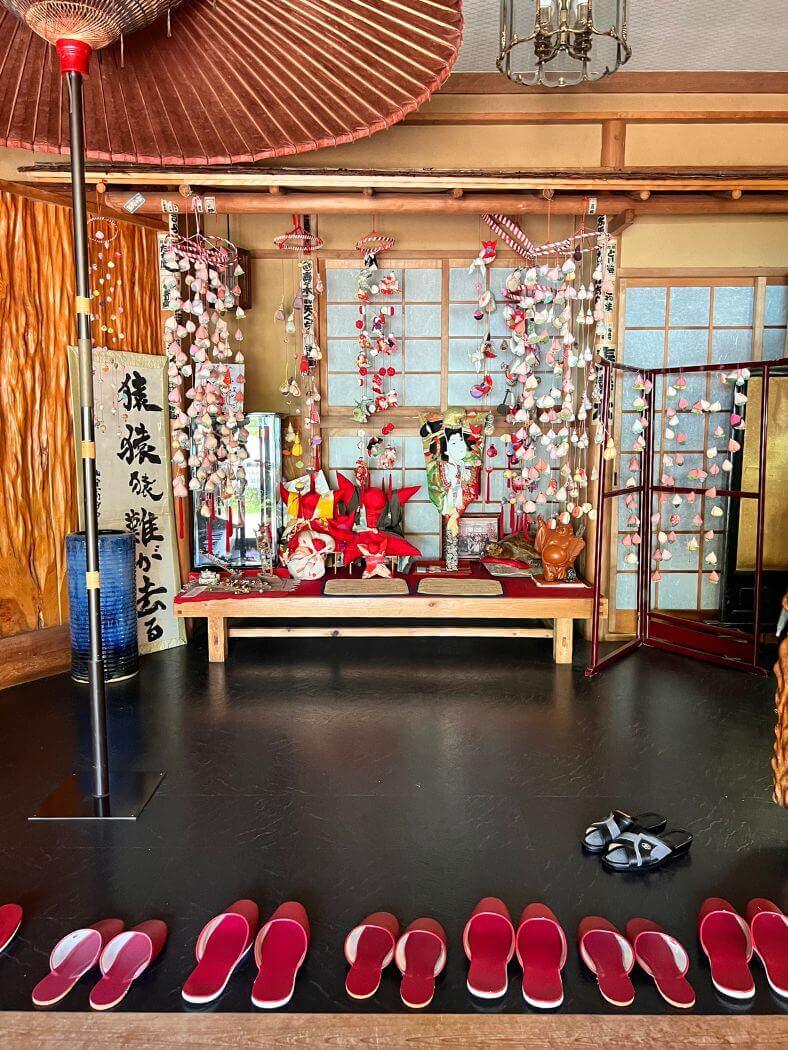 So, if you're looking for a one-of-a-kind adventure that combines tranquility, cultural immersion, and the pure bliss of hot springs, a stay in a Ryokan in Hakone is an absolute must. Embrace the charm of traditional Japan and create memories that will last a lifetime.
We stayed at Tsukinoya Ryokan, super close to Open-air Museum, about a 7-minute walk. And a few meters or bus stop to go the other sightseeing.
The room was huge, with a futon, table tea, fridge, safe, and a balcony with a table and chairs with views of nature. The hosts were great, they gave us the room before 3 pm, and on the day of departure, he gave us a lift to the Train station because the traffic was awful and we couldn't make it on public transport.
Also, they have 2 private onsens to enjoy all day long!
The downside of this place is no food, and you have to take a 30-minute bus to get to Lake Ashi. But I think it's a great choice despite that.
Onsen Experience
Hakone Yumoto is the gateway to the Hakone region and is the perfect base for your onsen experience. As one of the most popular areas in Hakone, it boasts several ryokans, each offering their own unique hot spring baths.
Hakone Suimeisou, for example, is a gorgeous ryokan located just 3 minutes away from Hakone Yumoto Station. Apart from the luxury of indulging yourself in its private onsen, visitors can also explore nearby attractions like Odawara Castle and the Hakone Open-Air Museum.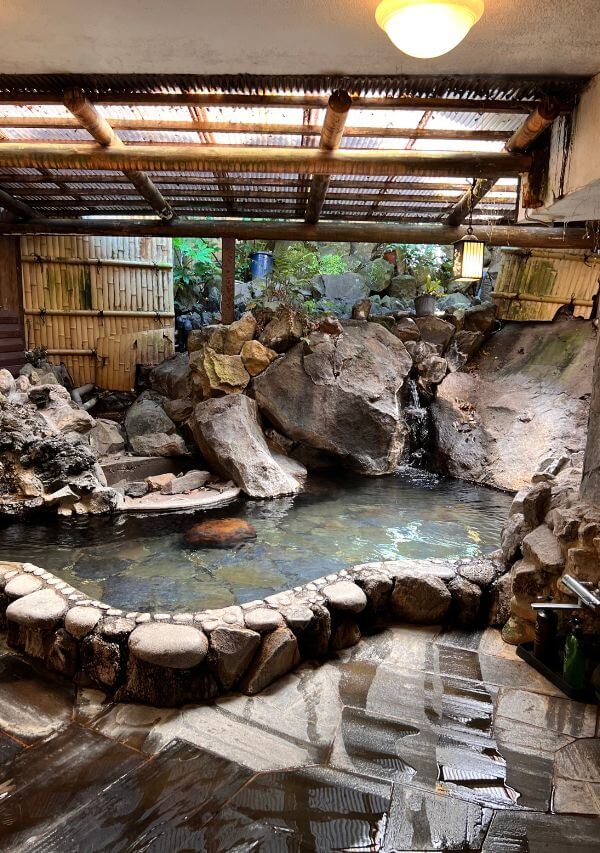 As I told you a few paragraphs above, we stayed at Tsukinoya Ryokan, a lovely place with 2 private onsen to enjoy with your partner or alone. If you see the shoes at the door entrance, it means it is busy (also, you can close it with a key).
The water is pretty hot, around 40ºC or 104ºF. It's relaxing and awesome.
Private and Public Onsens
When selecting an onsen, you might wonder if it's better to opt for a private or public bath. Here we will discuss the pros and cons of each.
Private Onsens For those seeking tranquility and intimacy, private onsens are perfect. Experience your very own hot spring bath in the comfort of your Ryokan room. This option is ideal for couples, families, or people who prefer extra privacy when bathing.
One of Hakone's most charming ryokans with private onsens is Gora Kansuiro, nestled in a picturesque valley close to Lake Ashinoko and Mt. Fuji. The Ryokan features traditional Japanese architecture, wooden interiors, and serene courtyards.
Public Onsens Public Onsens offer a more communal experience where you can interact with fellow visitors. They are typically larger and may have a variety of pools for you to choose from. If you are on a budget, public onsens are generally more affordable compared to a ryokan stay with a private onsen.
One of the best public onsens in Hakone is Hoshino Resorts KAI Hakone at Hakone Yumoto Onsen. This establishment provides an authentic onsen experience where you can soak your worries away and mingle with like-minded soakers.
I prefer the private onsen experience! Regardless of your choice, onsens are a fantastic way to relax, rejuvenate your skin, and immerse yourself in Japanese culture. So when in Hakone, be sure to make time for a memorable hot spring experience at one of its many ryokans or onsens.
How to Enjoy an Onsen
Go to the onsen with your towels or the onsen towels and slippers instead of your shoes.
Don't use a bathrobe.
Take off your clothes in the changing area
Wash yourself and rinse off the soap before getting inside the bath.
Enjoy and relax in the bath.
Don't put the towel in the onsen
Don't wash your hair
Tie up long hair.
Don't eat or drink in the bath
Don't bring mobile phones or cameras into public baths.
Don't wear a swimming suit.
Exploring Nature
Hakone, located in Kanagawa Prefecture, is a popular destination known for its natural beauty, including lakes, waterfalls, mountains, and hot springs.
This region, nestled within Fuji-Hakone-Izu National Park, offers countless opportunities to connect with nature while enjoying stunning landscapes.
Lake Ashi and Mt. Fuji
Lake Ashi, also known as Lake Ashinoko, is a picturesque lake formed in the caldera of Mt. Hakone. Surrounded by lush forests and majestic mountains, the lake offers breathtaking views of Mt. Fuji, especially on clear days.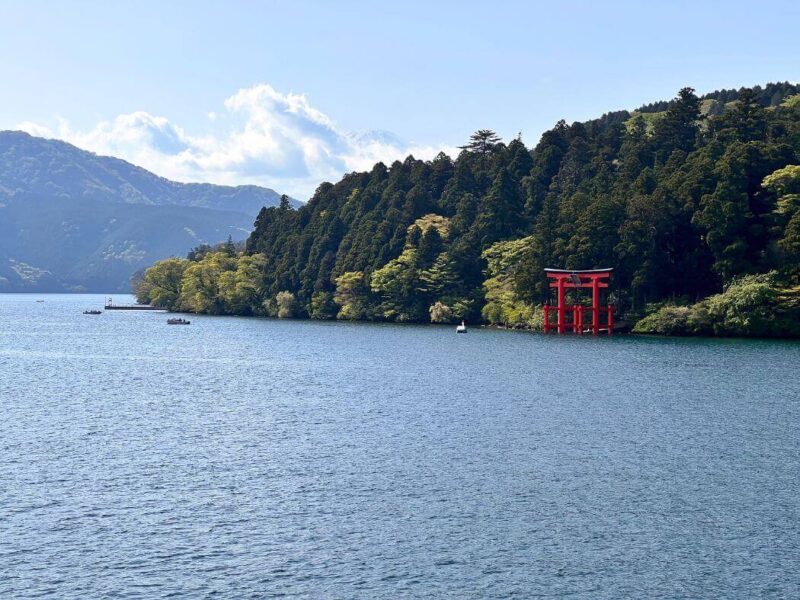 Enjoy a serene boat ride across the lake, or explore the surrounding hiking trails that weave through rich flora and fauna. Autumn is a particularly magical time to visit, with vibrant foliage painting the landscapes in warm hues.
If you have the Hakone Free Pass, you can ride the Pirate boat for free, well, it's included in your pass. It's a pretty cool ride and it's the perfect transport for the cable car.
Catch a Cruise on Lake Ashi
Another must-do activity in Hakone is taking a Hakone Sightseeing Cruise on the beautiful Lake Ashi. As you gently cruise across the peaceful lake, you'll have the opportunity to admire the picturesque surroundings, including the iconic Mount Komagatake.
A cruise on Lake Ashi is a great addition to your itinerary, allowing you to experience the tranquility of Hakone from a unique vantage point.
Hakone Ropeway Scenic Ride
Taking a ride on the Hakone Ropeway is an unforgettable experience. As you glide through the air, you'll enjoy stunning panoramic views of the surrounding mountains, valleys, and lakes.
Make sure to have your camera ready as you take in the breathtaking scenery.
The Ropeway journey begins at Gora Station and offers a thrilling bird's-eye view of Hakone's landscape.
Owakudani Valley and Black Egg
Another must-visit spot in Hakone is Owakudani Valley, an active volcanic area that showcases the region's geothermal energy. The steaming sulfur vents and bubbling hot springs create an otherworldly atmosphere.
Don't miss the opportunity to try Owakudani's famous black eggs. These eggs, boiled in the sulfurous waters, are said to extend your life by seven years for each one you eat.
We tried the black eggs, and they're good!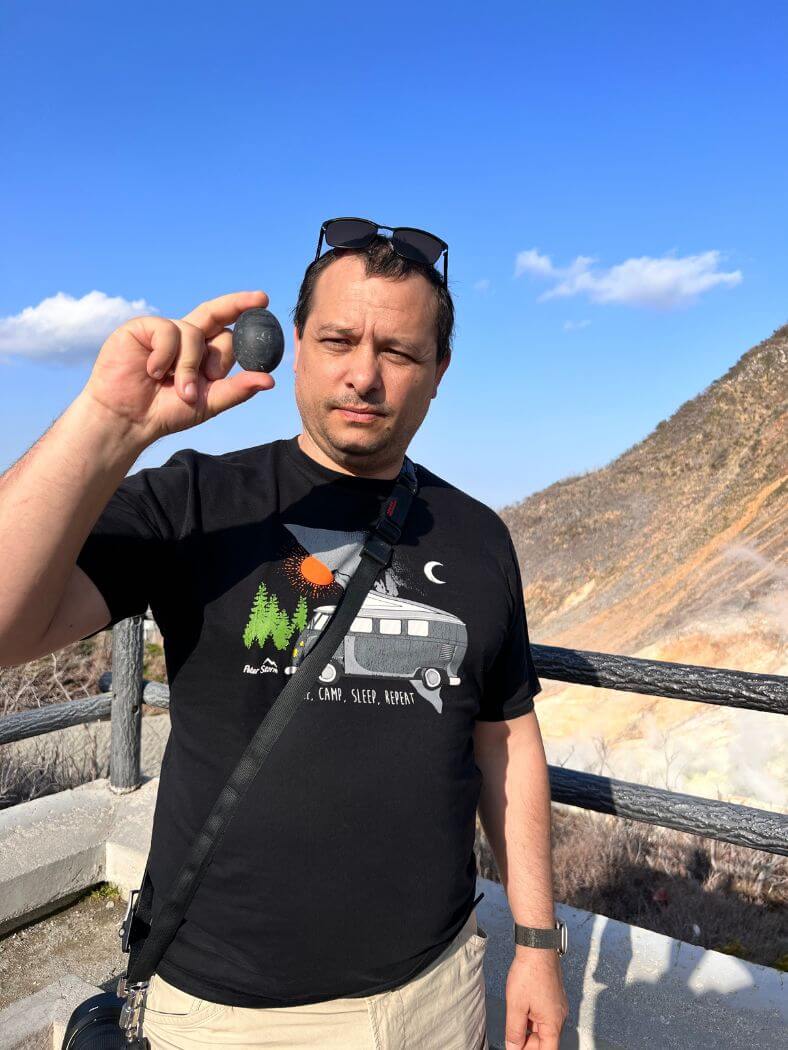 As you meander through the valley, you might catch a glimpse of the striking Chisuji Falls, a waterfall that appears to flow like delicate threads down the mountainside.
From here, you'll see Mt.-Fuji on clear days.
While exploring the area, remember to respect its fragile ecosystem and take the time to fully immerse yourself in the natural beauty Hakone has to offer.
Hakone Shrine
At the Hakone Shrine, you'll find a spiritual atmosphere set in beautiful natural surroundings. The shrine is dedicated to the deities that protect Hakone's waters and sits on the shores of Lake Ashinoko.
As you approach, you will be greeted by a large torii gate that leads you into the sanctuary. Here, take a moment to admire the centuries-old shrine buildings and traditional architecture, as well as to participate in local rituals and offer prayers for good fortune.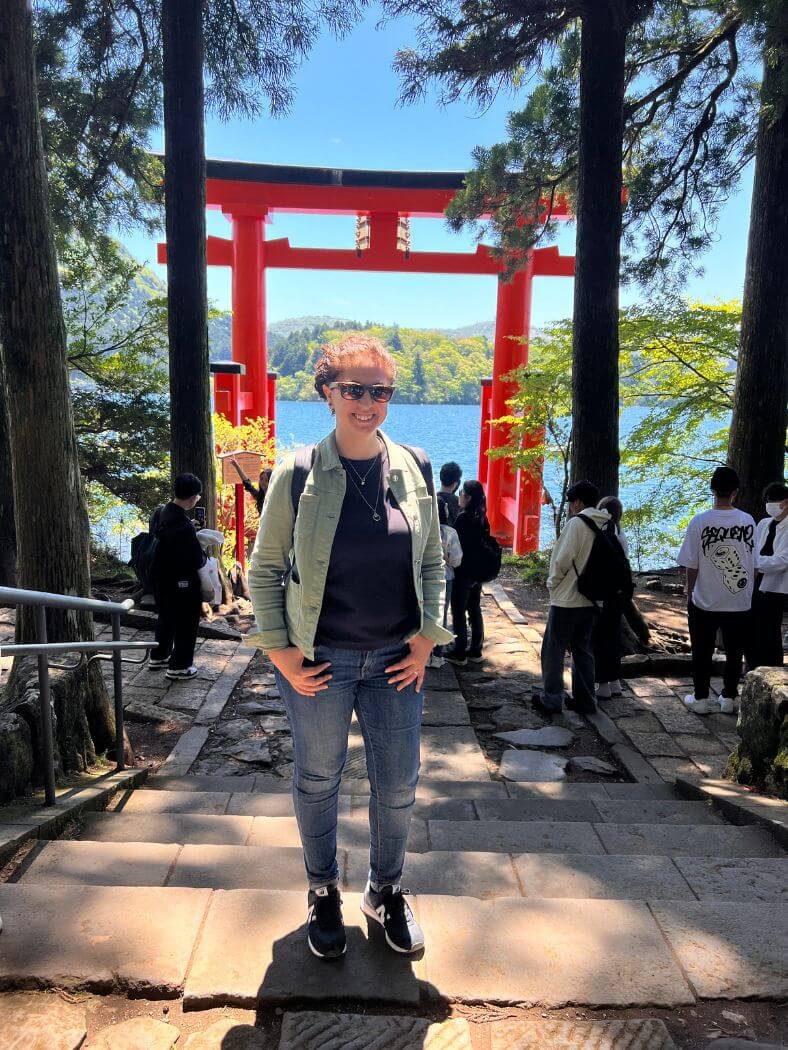 We visited during Golden Week, so it was packed! If you wanted a picture with the Torii, you had to queue. But the surroundings are absolutely beautiful.
Hakone Checkpoint
Your historical journey continues at the Hakone Checkpoint on the old Tokaido Road. The Tokaido Road was a major route connecting Edo (now Tokyo) with Kyoto during the Edo Period.
The Hakone Checkpoint served as a critical point of control, where samurai guards would inspect travelers and their goods, ensuring the security and orderliness of the ancient highway.
Today, you can explore restored buildings and exhibits displaying the daily lives of these samurai officials.
Edo Period
Hakone and its surrounding areas were deeply influenced by the Edo Period. Japan experienced a long era of peace, prosperity, and cultural development during this time.
The Tokaido Road was a bustling trade and exchange artery connecting Japan with China and Korea. This link resulted in a rich variety of art and crafts brought to Hakone, including ceramics and pottery.
Get a glimpse of this vibrant period as you visit local museums, artisans' workshops, and traditional pottery studios. As you explore these cultural landmarks, you'll certainly feel the essence of Japan's past.
Hiking Trails of Hakone
Hakone boasts an extensive network of hiking trails for all levels. One popular route starts in the Owakudani Valley and traverses through dense forests, offering spectacular views of the surrounding mountains and Lake Ashinoko.
Although the distance and difficulty of trails may vary, you can expect most hikes to last several hours, providing ample opportunity to immerse yourself in the stunning landscapes.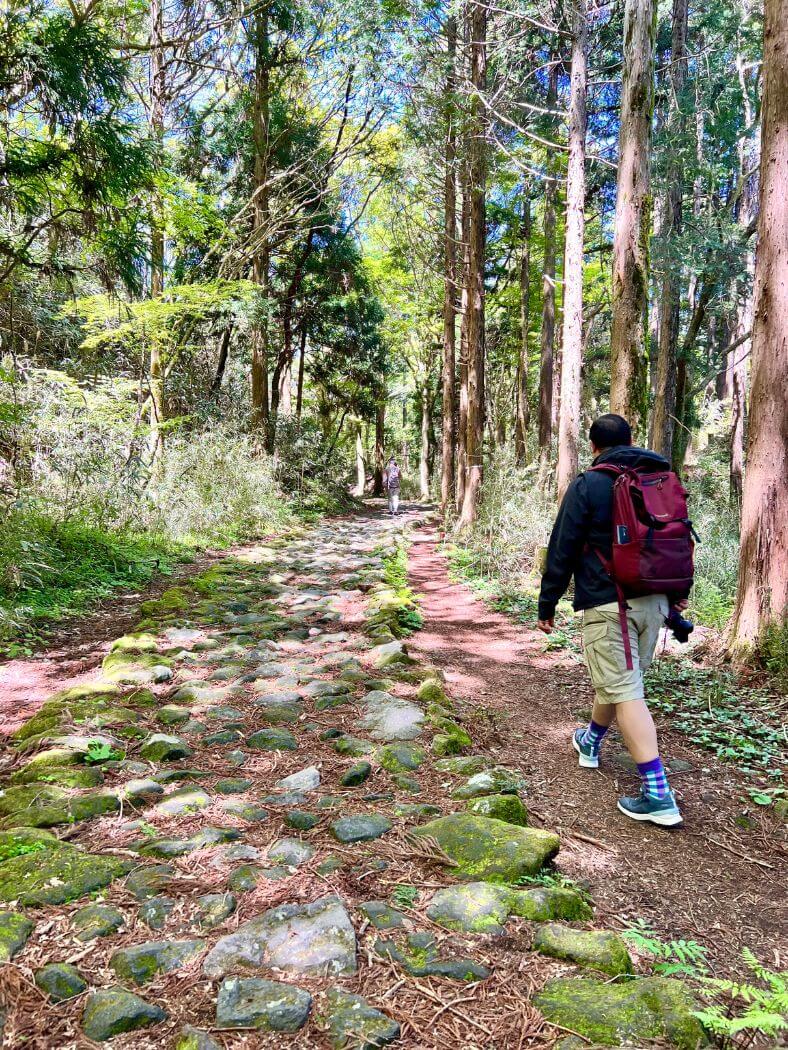 The trail we did was from the bus stop, 20 minutes walking to Amasake Chaya, a tea house located in the middle between Hatajuku and Hakonejuku, on the Hakone Old Kaido (used to be a section of the Tokaido road in the Edo era).
We drink amasake and ate some mochis, and then we walked the Tokaido road to the lake and then to the Shrine.
Amasake Chaya in one of the four chayas located before the checkpoint at that time. Amasake Chaya was established in the early Edo era (16th century).
When the building was renovated in 2009, they kept the old atmosphere of the thatched roof and dirt floor and added an irori (traditional Japaned sunken hearth) and a zashiki (tatami flooring room).
They reused kamoi (lintel) with innumerable senjufuda (stickers bearing the name of worshipers) and daikoku-bashira (central pillar) for the zashiki in the back of the store, where you can take off your shoes and stretch your legs.
The thatched-roof buildings are built without using even a single nail.
Tip: Always carry enough water, wear appropriate footwear, and follow trail signs for your safety.
Hakone Open Air Museum
Hakone Open Air Museum is a must-visit destination for art enthusiasts. This unique outdoor museum showcases a variety of stunning sculptures and exhibits. You'll find works from renowned artists, such as Picasso, in its carefully curated exhibitions.
The museum also offers beautiful views of the picturesque Hakone mountain range. While exploring, you can take a break and soak in the museum's hot spring footbath.
This refreshing experience allows you to relax and enjoy the breathtaking landscape while admiring the artistic masterpieces around you.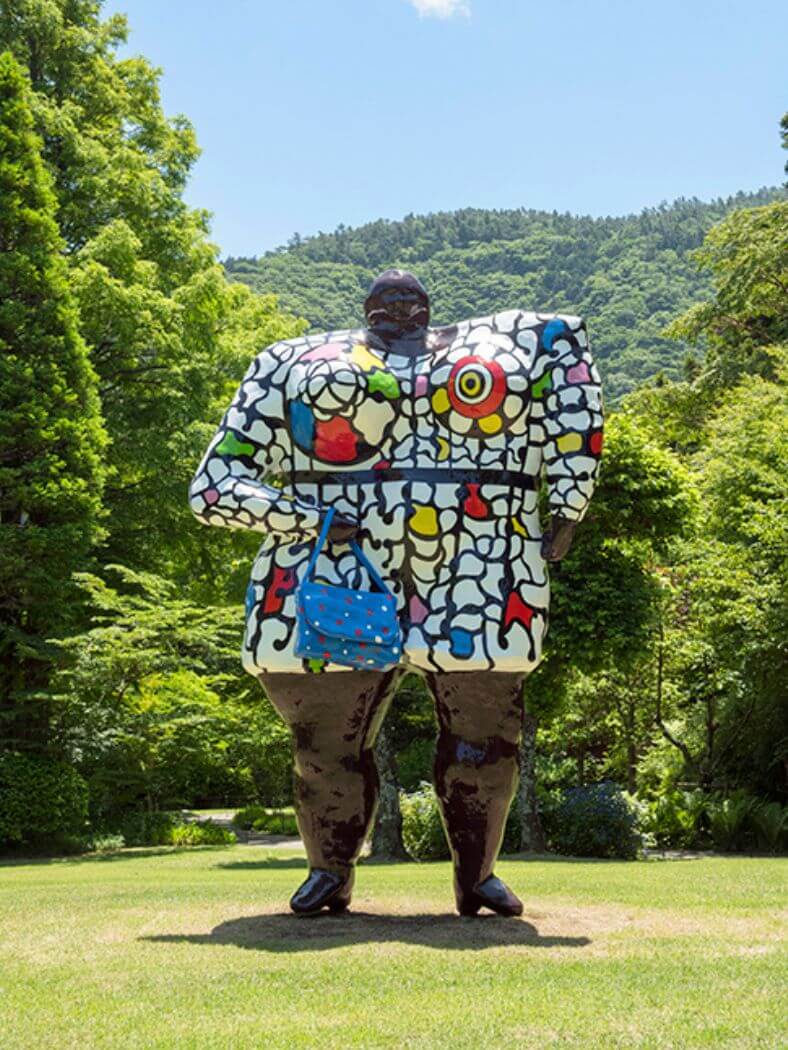 Venetian Glass Museum
Step into a world of delicate elegance and dreamlike beauty at the Hakone Venetian Glass Museum. Discover a mesmerizing collection of 19th-century Venetian glass masterpieces and modern creations.
As you walk through the exquisite exhibition area, each piece will dazzle you with its intricate craftsmanship and design.
Pola Museum of Art
The Pola Museum of Art is another gem for art lovers in Hakone. It is surrounded by lush forests and houses an impressive collection of Western and Japanese art from the 19th and 20th centuries.
The museum showcases works by famous artists such as Monet, Manet, and Chagall. You can also enjoy the Hakone Ropeway nearby, offering breathtaking views of the surrounding area as you explore and appreciate the art.
Narukawa Art Museum
Narukawa Art Museum specializes in modern Japanese and Asian art, featuring a diverse selection of Nihonga-style paintings. The museum provides an immersive experience, allowing you to fully appreciate the beauty of the artworks and their historical context.
Don't miss the museum's impressive collection of Lalique glass pieces, known for their intricate designs and vibrant colors.
In addition to the captivating art, Narukawa Art Museum offers a stunning panorama of Lake Ashi and Mount Fuji from its observation lounge. During your visit, take a moment to relax and enjoy this iconic view with a complimentary cup of green tea.
This immersive and inspiring experience is sure to create lasting memories of your time in Hakone.
Exploring Hakone Gora Park
For a more leisurely outdoor activity, head to Hakone Gora Park. This serene park offers a delightful blend of Japanese and Western-style gardens, with plenty of charming spots to enjoy.
Stroll through the park at your own pace, or bring a picnic to relish amidst the lush greenery.
Hakone Gora Park is the perfect location to take a break, unwind, and soak in the natural beauty of Hakone.
Botanical Gardens and Greenhouses
Hakone Botanical Garden of Wetlands is a must-visit for nature lovers. This pristine oasis covers a vast area of 6.18 hectares and is home to diverse plant life, including over 200 varieties of marsh and alpine plants.
Stroll along the well-maintained boardwalks and immerse yourself in the lush greenery while breathing in the fresh mountain air.
Opening hours: 9:00 am – 5:00 pm (Close from 1st December to 19th March).
Entry fee: Adults: ¥700, Children: ¥400
For a more immersive and relaxing experience, consider visiting Yunessun, a unique onsen-themed water park and greenhouse complex. Here, you can soak in various pools set amidst verdant, tropical foliage.
Yunessun is unlike any traditional Japanese onsen experience, offering a family-friendly environment with unique baths such as coffee, wine, and sake baths.
Opening hours: 9:00 am – 9:00 pm
Full-Day Onsen Park Ticket: Adults: ¥2,900, Children: ¥1,600
Culinary Delights and Nightlife
Discover Japanese and Asian Cuisine
Hakone is a perfect destination to indulge in authentic Japanese cuisine and amazing dining experiences. From local staples like sushi and sashimi to artistic Kaiseki dishes, you're in for a treat. Here are some recommendations to satisfy your tastebuds:
Fish dishes are a must-try while in Hakone. Head over to Nonki Tei for a mix of traditional Japanese cuisine and mouth-watering seafood. You won't be disappointed.
For those craving beef, look no further than some local steakhouses where you can experience succulent cuts of premium Wagyu beef.
Are you a fan of sweets? Don't forget to try the area's array of delicious desserts and memorable matcha-based treats. It's the perfect way to round off a sumptuous meal.
If you're looking to explore more Asian cuisine, Hakone has plenty of options to choose from. From Thai to Chinese and Korean, the variety is sure to keep you satisfied.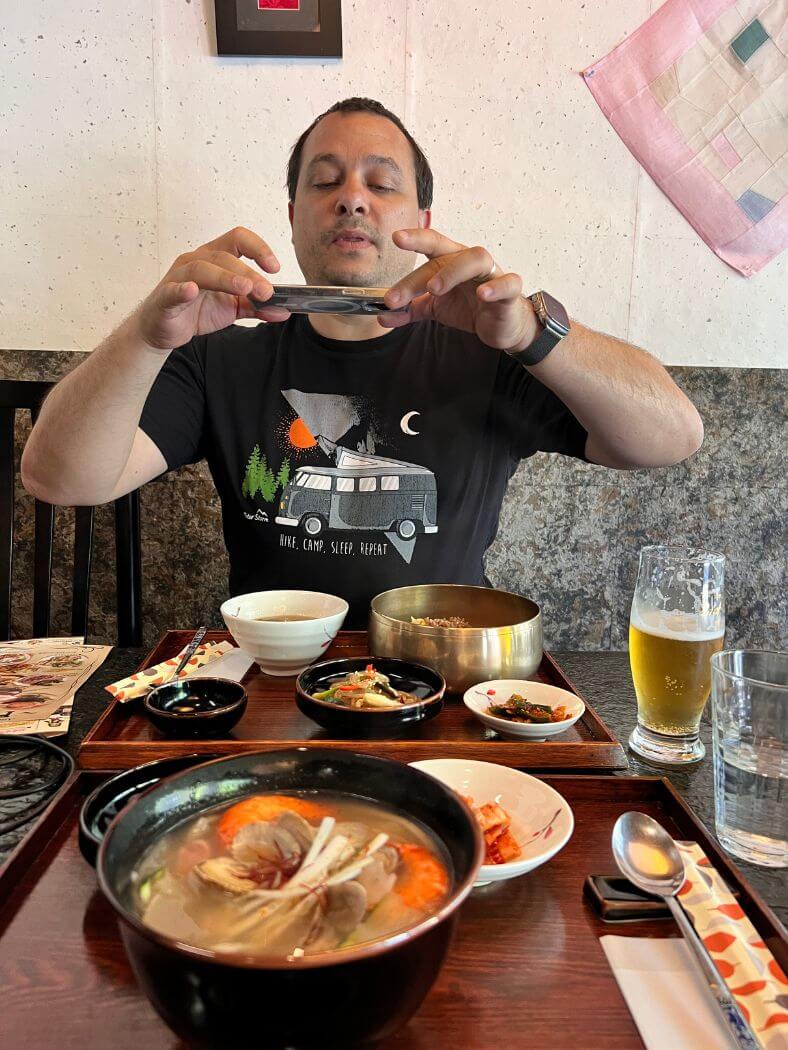 Plan Your Trip
Transportation and Access Options
Consider using public transportation to make the most of your trip to Hakone, Japan. With a Hakone Free Pass, you'll have unlimited rides on the Hakone Tozan Railway and access to local buses, cable cars, and boat rides around Lake Ashi.
This pass offers great value, especially if you're eager to explore many points of interest.
If you prefer a more structured approach, joining an English-speaking bus tour is a convenient option. These trips are designed to cater to tourists and cover popular Hakone attractions.
Regarding accessibility, Hakone is well-connected by train, with the closest train station being Hakone-Yumoto. Alternatively, you can travel from Kyoto or Tokyo by train.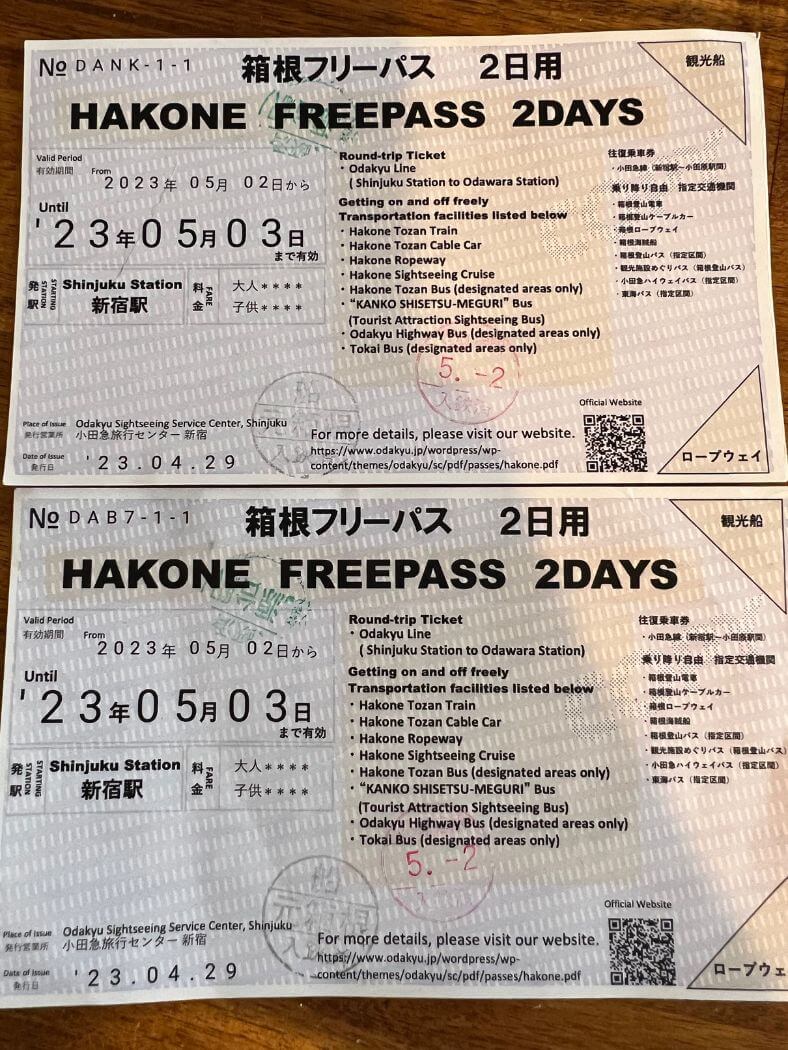 Where to Stay
Hakone offers a variety of accommodations to suit different preferences and budgets:
Ryokan: Traditional Japanese inns often feature tatami flooring, futon beds, and delicious Kaiseki meals. Many Ryokan in Hakone also have hot spring baths (onsen) on-site.
Hotels: Choose from luxury hotels to affordable guesthouses, with several options available near the Hakone-Yumoto station or popular tourist areas.
Minshuku and Guesthouses: These are local, family-run accommodations that provide lovely, cost-effective places to stay and experience Japanese hospitality.
Best Times to Visit Hakone
Hakone is a year-round destination, thanks to its warm, temperate climate. However, here are a few seasonal tips to keep in mind:
Spring (March-May): Cherry blossoms (March- early April) are in full bloom, making this an ideal time to enjoy the beautiful landscapes.
Summer (June-August): Locals flock to Hakone in the summer to escape the city heat. Expect occasional rain showers and lush green surroundings.
Autumn (September-November): Fall foliage in Hakone is stunning, with vibrant colors painting a captivating backdrop for hikes and other activities.
Winter (December-February): While it can be chilly, visiting during the winter months offers a tranquil experience with fewer tourists and an opportunity to enjoy steaming onsens.
No matter when you decide to visit, Hakone has plenty to offer. Remember to plan your transportation options, select the best accommodations for your needs, and enjoy your adventure in this fantastic region of Japan!
Plan Your Trip To Japan
Last Updated on 6 September, 2023 by Veronica