Best Things To Do in Osaka in 1-Day Itinerary
Are you planning to visit Osaka for just one day and wondering what to see and do? Don't worry, in this post, I tell you what to see in Osaka in one day, our itinerary, plus things we had written down but that we didn't do because of the rain.
To make the most of your limited time in Osaka, we recommend focusing on some of the must-see attractions, such as Osaka Castle, Kita District, and Minami District.
These areas perfectly combine history, culture, food, and shopping. You will want to start your day early and consider using public transportation to maximize your time exploring the city.
Although one day in Osaka may seem short, I assure you that you will be able to make the most of it and enjoy the best places and experiences the city has to offer.
Best Things To Do in Osaka, Main Attractions
Osaka, Japan, offers a wide range of attractions and activities, so if you only have one day, I recommend writing down your favorites and starting your visit early in the morning.
In our case, we arrived in Osaka in the evening, just for dinner, and the next day, we made the most of it, even though it did not stop raining all day.
We started our visit at the Osaka Castle. It has very nice surroundings, but we did not enjoy them because of the rain and the inside of the castle tells you the history of Osaka, it is perfect for a rainy day.
We then toured the Kuromon market and, at lunch, ate ramen and visited the Dotonbori area and the Shinsaibashi shopping area with its covered arcades. Also, as it was Sunday, there was a gathering of people in cosplays in Dotonbori; it was very curious.
Osaka Castle and Park
Start your day at the historic Osaka Castle, an iconic city symbol. Explore the castle grounds before entering and starting the tour.
Osaka Castle has 8 floors; on the first floor you have access and the souvenir store, and from the second to the seventh, are a museum, where they tell you about different periods of the castle, and the city and on the top floor, the 8th floor, you will find the observatory, where you can enjoy a 360-degree view of the city.
Then, take a stroll through Osaka Castle Park, where you can relax and enjoy the beauty of nature, weather permitting.
Tickets can be purchased online or at the ticket machines at the entrance. If you buy them online, you will avoid the queue.
Touring the Kuromon Market
Kuromon Market in Osaka is one of the most popular places for food and fresh produce lovers. You will find various stalls and stores offering fresh seafood, fruits, vegetables, meats, and traditional sweets here.
By visiting Kuromon Market, you can enjoy a unique culinary experience. You can try typical Osaka dishes such as takoyaki (octopus balls), okonomiyaki (Japanese pancakes), sushi, and seafood.
The market is also famous for its traditional Japanese sweets and desserts. You can try delicacies such as dorayaki (pancake stuffed with red bean paste), mochi (glutinous rice cake) and taiyaki (stuffed fish-shaped cake).
In addition to food, the Kuromon market also offers a variety of traditional Japanese products, kitchen utensils, and souvenirs to take away as souvenirs.
Kuromon Market in Osaka is a fascinating place to explore and enjoy local food. It is an excellent choice for food lovers who wish to try authentic dishes from Japan's culinary culture.
It is also perfect for a rainy day, as the market is covered.
Here, we bought some souvenirs, one more umbrella, and some snacks, such as fried sweet potatoes, skewers, and sweets.
Then we ate ramen in a little place called Ippachi; if you like ramen, I recommend it. It is also inexpensive.
Dotonbori Area
Head to the Dotonbori area to authentically experience Osaka's culinary scene. As you walk through the streets, experience the lively atmosphere and enjoy delicious local delicacies such as okonomiyaki and takoyaki.
Don't forget to take a picture with the famous Glico Man sign as a souvenir of your trip! Walk along the streets parallel to the river and take pictures of restaurant and business signs.
Here are some things you can find in the Dotonbori area: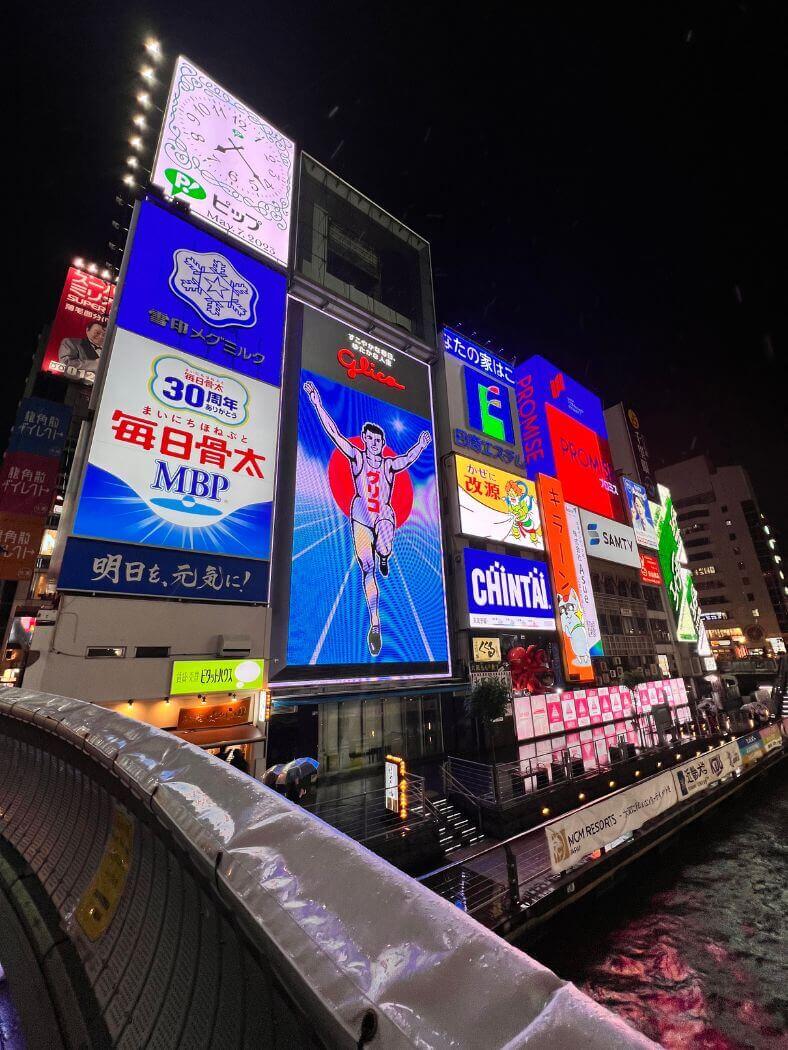 Glico Running Man: The iconic Glico sign with a running man is one of the most recognizable symbols of Osaka. It is a popular place to take pictures and capture the spirit of the city.
Dotonbori Street: Dotonbori's main street is lined with restaurants and stores, offering a wide variety of culinary options. You can enjoy delicious local food from sushi and takoyaki restaurants to street food stalls.
Theaters and shows: Dotonbori is famous for its theaters and live performances. You can enjoy kabuki performances, bunraku puppet theater, or even watch a comedy show at the Yoshimoto Theater.
Dotonbori Canal: The canal that runs through the area is lined with neon lights and colorful signs. You can take a boat ride on the canal and admire the lively night scene from the water.
Shopping: Dotonbori is a shopper's paradise. Here, you will find a wide range of stores, from department stores to fashion brand stores and specialty boutiques.
Ebisu Bridge: Ebisu Bridge is another landmark in Dotonbori, known for its large illuminated sign with the image of a beer bottle. It is a popular place to take pictures and enjoy the views of the canal and surrounding skyscrapers.
Shinsaibashi Shopping District
For a shopping session, the Shinsaibashi Shopping District is the ideal place. Explore a variety of stores offering everything from high-end fashion to local souvenirs.
Rest your legs in one of the many coffee shops where you can sample Japanese treats and relax with a cup of tea.
Stroll through the covered galleries, enter the shopping malls, try something in the street stalls, and enjoy the walk.
*Note: our day in Osaka ends here, we waited until it got dark to take pictures of the illuminated signs and had dinner at a yakitori place called Kuchihachou, which sign is written in Japanese. The food was tasty, but you could smoke inside, and unless you are a smoker, it is a bit uncomfortable. Ex-smoker over here! We had a quick lunch and went to the hotel.
Umeda Sky Building
Another of the places we had targeted to visit was the Umeda Sky Building to enjoy an incomparable view of the Osaka skyline. But since it was raining, we left it for a future trip.
If you get a nice sunny day, ride the glass elevator to the top and take the breathtaking cityscape from the open-air observation deck. This is a perfect place to take pictures of the city from above.
Universal Studios Japan
We wrote down visiting Universal Studios Japan in Osaka as a plan B or in case we stayed longer in Osaka, but it is not something that catches my attention to be on my Osaka Bucket List.
But I know that many people like this or travel with children, so you know that you can visit it.
Plan a day at Universal Studios Japan, where you can enjoy different rides, shows, and immersive attractions.
Discover the Wizarding World of Harry Potter, or get your adrenaline pumping on one of the park's roller coasters. With something for everyone, this world-renowned theme park guarantees a day full of fun and entertainment.
One-Day Itinerary in Osaka
Here is our alternative itinerary in case you get a nice sunny day in Osaka. Choose the one you like the most or mix the two.
In the Morning
Start your day in Osaka by visiting the iconic Osaka Castle. To get there easily, take the Osaka Loop line from JR Osaka Station to Osakajokoen Station.
Head to the castle's observation deck and admire the views of the city. This historic site is also perfect for a morning stroll, as you can enjoy the beautiful park surrounding the castle.
After exploring the castle, head to the center of Osaka and take advantage of your Osaka Amazing Pass which gives you access to several attractions and unlimited public transportation.
Visit the Umeda Sky Building for a panoramic view of the city, or explore the Hep Five shopping center, where you'll find a huge red Ferris wheel.
Afternoon Activities
In the afternoon, head to the Kita District, where you can continue using your Osaka Amazing Pass for sightseeing. Visit the Osaka Science Museum if you are interested in interactive exhibits or the National Museum of Art if you prefer to admire contemporary works.
Next, head towards the Minami District and stroll along the bustling Dotonbori Street. Here you can try Osaka's famous street food such as takoyaki (octopus dumplings) or okonomiyaki (Japanese savory pancake).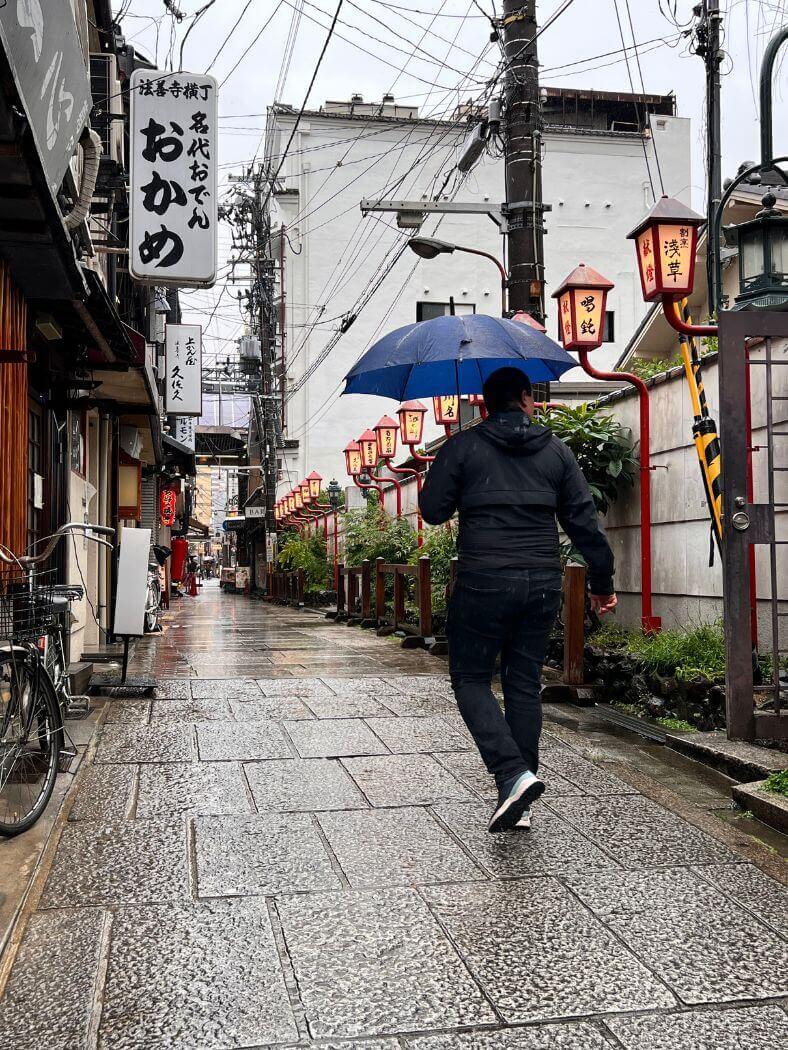 Evening Activities
As evening approaches, visit the vibrant Shinsekai neighborhood, where you can enjoy the lively atmosphere and savor more delicious local cuisine.
Don't miss the iconic Tsutenkaku Tower, which offers stunning views of the city at night.
Finally, conclude your day in Osaka by exploring the nightlife in the Minami District. Whether you feel like singing karaoke or enjoying a relaxing drink with a view, this area has something to offer for everyone.
Remember to take advantage of your Osaka Amazing Pass while touring the city.
Transportation in Osaka
Osaka Loop Line
The Osaka Loop line is a convenient way to travel around the city, especially when visiting major attractions such as Osaka Castle. Operated by JR, the Loop line can be accessed using your JR Pass.
Don't worry about getting lost, as the stations are well-signposted in both English and Japanese.
Advantages: Covers popular attractions; compatible with JR Pass
Disadvantages: May not reach all areas of Osaka.
Midosuji Subway Line
If you are looking for a fast and efficient way to get around Osaka, the Midosuji subway line is an excellent choice. This line helps you navigate the city center, connecting important areas such as the Kita and Minami districts.
Remember that subway tickets must be purchased separately, as the JR Pass is not valid here. If you have a Suica or Pasmo card, now is the time to use it.
Advantages: Fast and efficient for exploring the city center.
Disadvantages: Requires the purchase of separate tickets
Shinkansen
The Shinkansen, also known as the bullet train, is an excellent way to get to Osaka from other parts of Japan. With speeds of up to 320 km/h (199 mph), the Shinkansen offers comfort and efficiency for your travel needs.
Please note that this means of transportation is not used for travel within the city of Osaka but rather for long-distance travel.
Advantages: Fast and comfortable long-distance travel
Disadvantages: Not suitable for exploring within Osaka city.
Japanese Cuisine and Local Food
Osaka is known as the cuisine of Japan, and there are many delicious dishes to try during your visit to this incredible city. In this section, we will focus on the following popular local dishes: takoyaki, okonomiyaki, yakitori, kushikatsu, and ramen.
Takoyaki
Takoyaki is a famous street dish that you will find all over Osaka. These round, salty dumplings are made with a wheat flour-based dough and filled with chopped octopus, tempura trimmings, pickled ginger, and green onion.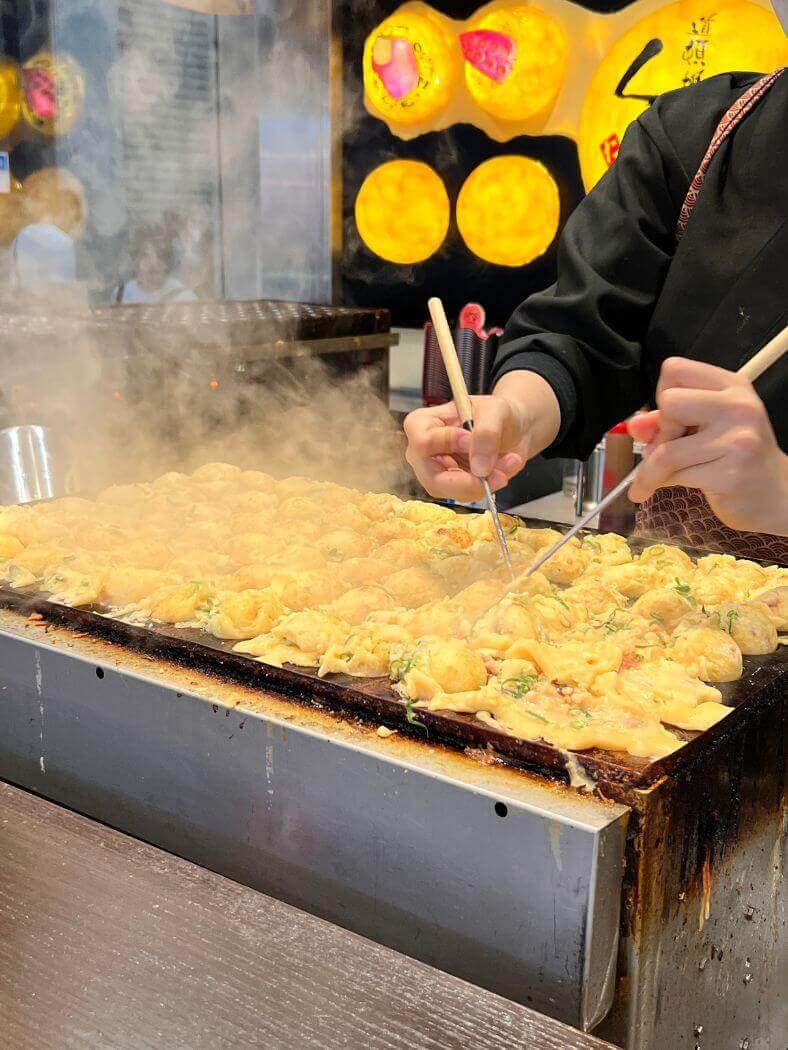 Cooked in a unique ball-shaped mold, takoyaki are usually topped with a slightly sweet sauce, mayonnaise, dried tuna flakes and dried seaweed.
When you bite into a hot and crispy takoyaki, you'll find a tender and flavorful filling that truly embodies the taste of Osaka. When you order it, you will see that it seems to move; it is weird and intriguing.
I loved it!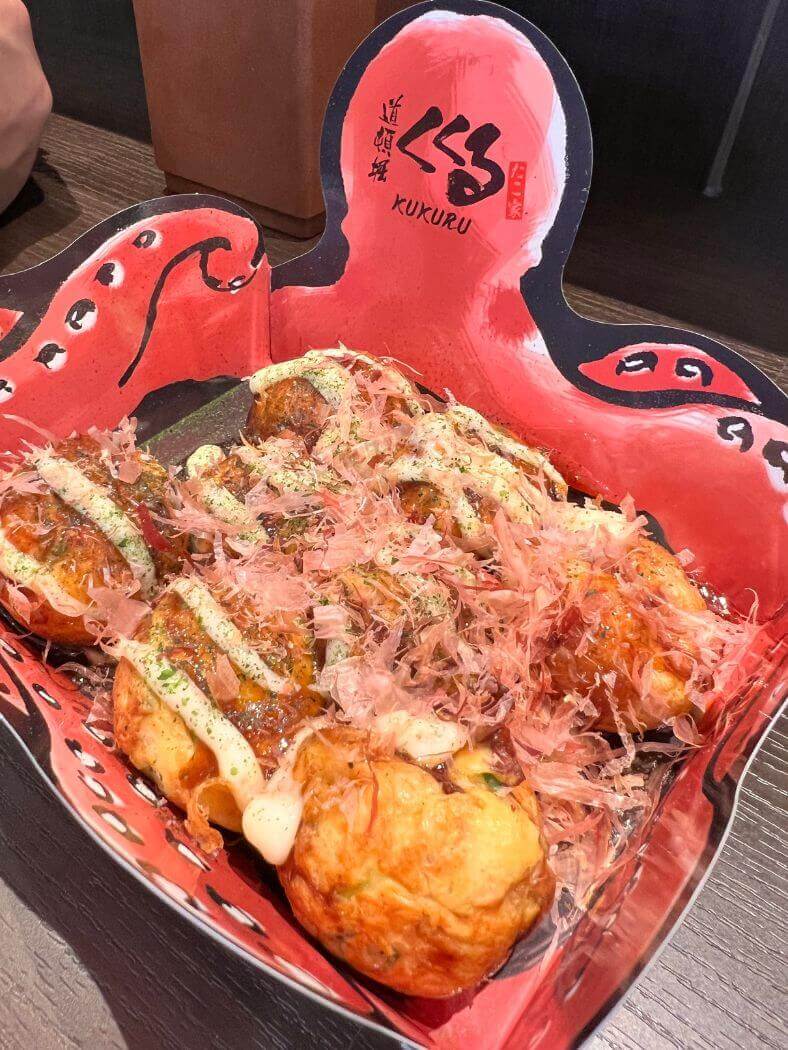 Okonomiyaki
Another dish you must try during your visit is okonomiyaki, a savory pancake made with a variety of ingredients, including cabbage, pork, or seafood.
The Osaka version of this dish is known as Kansai-style okonomiyaki, which mixes all the ingredients together in the batter before cooking.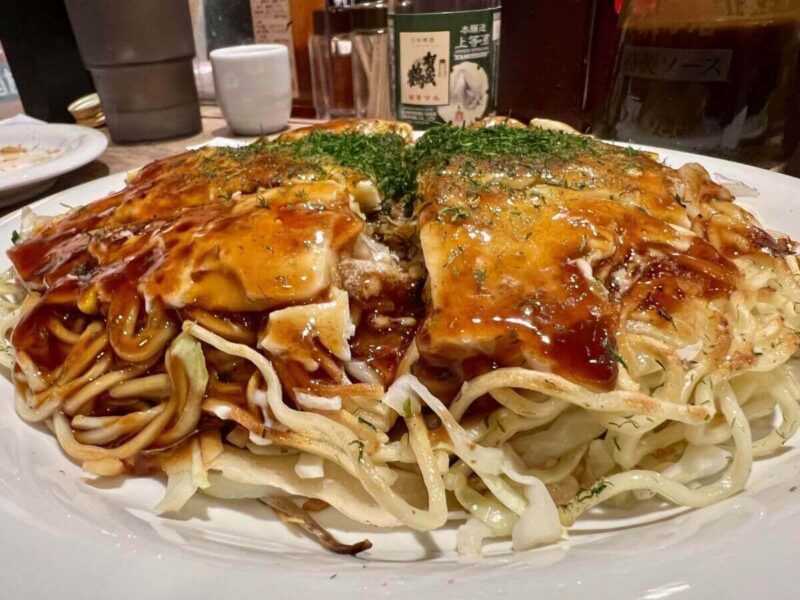 This pancake perfectly represents the local food culture and is topped with okonomiyaki sauce, mayonnaise, dried tuna flakes, and dried seaweed. Don't be afraid to try different variations and find your favorite combination!
In my opinion, it's a bit weird; I don't think I'll order it again. Let me know your thought in the comment section!
Yakitori
Yakitori, or grilled chicken skewers, is another popular dish in Osaka. These skewers are made from tender, juicy chicken pieces that are grilled and served with soy sauce or salt.
You can find yakitori in specialized restaurants or even in street stalls, and its smoky and savory flavor is perfect to accompany a cold beer.
This is the menu of the (smoking) restaurant we went to. Although it is completely in Japanese, you can choose by the pictures and if not with the image, translators work quite well. They do some weird translations, but they usually get the names of the meat or fish right.
We've eaten them all over Japan, I love it, it's perfect for a quick midday meal.
Kushikatsu
Kushikatsu are skewers of meat, seafood, or vegetables that are dipped in a light batter and fried to a crispy, golden brown exterior. The variety of ingredients available is wide, and you can try everything from beef and pork to shrimp and mushrooms.
Kushikatsu is served with a special sauce and eaten by dipping the skewers in it before each bite.
Be sure to follow local etiquette and do not double dip the skewers in the shared sauce to keep it hygienic.
Ramen
Ramen, one of Japan's most famous dishes, also has a prominent presence in Osaka.
This popular noodle dish is served in a savory broth and comes with a variety of ingredients such as pork, egg, scallions, and bean sprouts.
There are different styles of ramen to choose from, from rich and creamy tonkotsu ramen to salty shoyu ramen. Don't hesitate to try several ramen places to discover your favorite in Osaka.
Travel tip: Explore the local alleyways and markets to discover hidden gastronomic treasures and savor authentic Osaka cuisine.
Where to Stay in Osaka
We stayed in the financial area, in the hotel Mitsui Garden Hotel Osaka, perhaps not the most central location, but we stayed in this lovely hotel, 4 stars, with onsen, for less than 80€ per night.
I think the price was that good since it was a weekend in the financial district. The room was very spacious and modern, with a closet to store your things, a sofa and coffee table, and a desk.
In addition, there were pajamas and two pairs of slippers for each person, one to go down to the onsen.
The onsen was separate, with women on one side and men on the other. When you make your reservation, you are given access cards of different colors, so that you can go to the onsen that corresponds to you.
As you can see, the onsen is spa-like, and the water is very hot, perfect to go in the evening after a day of hiking.
It's a great hotel; I recommend it. Also, the people at the reception are amiable and professional.
Very close to the hotel, there are 3 subway lines that take you to the main attractions of the city and also to the Shinkansen train station.
Day trips from Osaka
In our case, we visited Hiroshima and Miyajima on a day trip from Osaka, but you have more options; I tell you about them below.
Kyoto
When you only have one day in Osaka, you may want to consider taking a day trip to nearby cities such as Kyoto.
Famous for its historical and cultural attractions, Kyoto is a short train ride from Osaka, only 15 minutes if you travel by Shinkansen or about an hour by train.
Start your day by visiting Fushimi Inari Taisha or the magnificent Kinkaku-ji (Golden Pavilion), and then head to Kiyomizu-dera Temple for a breathtaking view of the city.
If you are interested in traditional handicrafts, don't miss the opportunity to explore the Nishiki Market and sample some local delicacies.
Take a stroll along the Philosopher's Path while enjoying the serene atmosphere and beautiful scenery.
If you have several days of travel, I recommend you dedicate at least 3 full days to Kyoto; there is so much to see here!
Nara
Another excellent choice for a day trip is Nara, home to a wealth of historical monuments and beautiful parks.
As one of the first capitals of Japan, Nara has a rich cultural heritage shown through its ancient temples and shrines.
The famous Todai-ji temple houses the world's largest bronze statue of Buddha, and nearby Nara Park is known for its friendly deer population.
Don't forget to visit the charming old town district of Naramachi, where you can find traditional houses, stores and museums.
Nara is easily accessible from Osaka by train, making it a convenient destination for a day trip.
Kobe
If you're looking for a change of pace from the city, a day trip to Kobe might be the perfect choice.
Just 15 minutes by train from Osaka, Kobe offers a combination of modern architecture and beautiful natural scenery. The city is famous for its succulent Kobe beef, which can be found in numerous steakhouses around the city.
Stroll through the bustling streets of the Chinatown district and enjoy the breathtaking views from the top of Mount Rokko.
After a day of exploration, relax and rejuvenate at nearby Arima Onsen, a famous hot spring with a rich history of over a thousand years.
Make the most of your day in Osaka by experiencing these amazing day tours that allow you to explore more of Japan's rich culture and history in a short amount of time.
Hiroshima
On a day in Hiroshima, you can visit several important places to immerse yourself in the history and culture of the city. Here are some of the main attractions: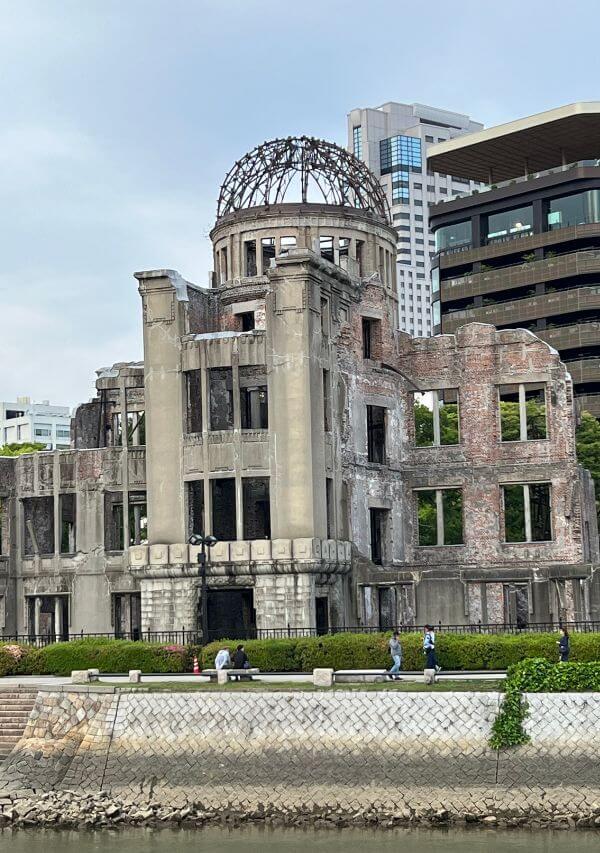 Hiroshima Peace Memorial Park: It is the most symbolic place in the city, where the Peace Memorial and the iconic Atomic Bomb Dome are located. Here you can learn about the tragic events of World War II and reflect on the importance of peace.
Hiroshima Peace Memorial Museum: Located inside the Memorial Park, this museum is a must-see. It exhibits artifacts, photographs, and testimonies documenting the devastating effects of the atomic bomb and promotes a message of peace and nuclear non-proliferation.
Miyajima Island: Just a short ferry ride from downtown Hiroshima, Miyajima Island is famous for its iconic floating Torii of Itsukushima Shrine, a UNESCO World Heritage Site. Explore the beautiful landscape, visit historic temples, and enjoy nature. (In the following section, I will tell you how to get there from Hiroshima).
Hiroshima Castle: Known as Carp Castle, it is a reconstruction of the original castle that was destroyed during the atomic bombing. Climb the central tower to enjoy panoramic views of the city and learn about the history of the castle.
Hondori Street: It is a pedestrian street full of stores, restaurants and cafes. Here you can enjoy shopping, taste delicious local food and immerse yourself in the daily life of Hiroshima.
These are just some of the highlights you can visit in Hiroshima in one day. The city offers a moving and enriching experience, providing a unique perspective on Japan's history and resilience.
Miyajima
Miyajima is one of the most beautiful places in Japan:
Itsukushima Shrine: It is the main attraction of the island, known for its famous floating Torii. The sanctuary is considered a UNESCO World Heritage Site and offers a unique cultural experience.
Mount Misen: You can hike to the top of this sacred mountain to enjoy beautiful panoramic views of the island and the sea. You can also take the cable car to get there faster.
Stroll through the historic center: Explore the streets of Miyajima village, where you will find souvenir stores, restaurants and local food stalls. It is a charming place to enjoy the traditional atmosphere.
Five-story pagoda: This impressive Buddhist structure is one of the island's highlights. Climb the stairs to admire its architectural beauty and enjoy the view from the top.
Beaches and trails: Miyajima has beautiful beaches where you can relax and enjoy the natural environment. In addition, there are hiking trails that allow you to explore the lush vegetation of the island.
As for spending the night in Miyajima, it depends on your preferences and available time. If you want to enjoy the island's tranquility after most tourists have left, it can be a delightful experience.
In addition, you will be able to see the famous floating Torii illuminated at night.
However, be aware that accommodation options on the island are limited and may be more expensive compared to Hiroshima or Osaka. If your time is limited, it is possible to enjoy the highlights of Miyajima in one day and return to Hiroshima or Osaka in the evening.
How to Get to Miyajima from Hiroshima
To get to Miyajima from Hiroshima using the Japan Rail Pass, follow these steps:
Go to Hiroshima Station, which is the starting point to get to Miyajima.
Take the JR Sanyo line to Miyajimaguchi station. This trip is included in the Japan Rail Pass and takes approximately 25 minutes.
Once at Miyajimaguchi Station, walk to the ferry dock, which is a few minutes walk from the station. There are signs indicating the direction to the pier.
Board the ferry to the island of Miyajima. Ferries operate regularly and the trip takes about 10 minutes.
Upon arrival on Miyajima Island, you can explore the various attractions, such as Itsukushima Shrine and the floating Torii.
Remember that using the Japan Rail Pass does not require additional train tickets for this particular journey. However, you should check train and ferry schedules to plan your visit to Miyajima according to your preferences.
In our case, we visited Miyajima in the morning to enjoy the high tide, had lunch at one of the restaurants on the island and visited Hiroshima in the afternoon, had dinner in Hiroshima, and arrived in Osaka to sleep.
Plan your trip to Japan
Disclosure: Some of the links on this post are affiliate links, meaning at no additional cost to you, I may earn a small commission if you click through and make a purchase.
Author: Veronica
Vero, a seasoned traveler, has explored 25 countries and lived in five, gaining a rich perspective and fostering an infectious passion for travel. With a heart full of wanderlust, Vero uncovers the world's hidden gems and shares insights, tips, and planning advice to inspire and assist fellow adventurers. Join Vero and let the shared passion for travel create unforgettable memories.