Best Things to Do in Dover: A Quick Guide for Unforgettable Fun
Dover, in England, is a city full of history and natural beauty. It's the gateway for those of us who arrive in England by ferry.
Dover was the first city we visited during our road trip around England and Scotland by car.
So, let me tell you what to see in the city and its surroundings, and the route we took after this city. Some of the must-sees are the White Cliffs and Dover Castle. But there's more to discover in the city.
Disclosure: Some of the links on this post are affiliate links, meaning at no additional cost to you, I may earn a small commission if you click through and make a purchase.
Top Attractions in Dover
Dover Castle
When you visit Dover, one of the must-see places is Dover Castle. This medieval fortress has a rich history dating back to the 11th century.
As you wander through the castle grounds, admire the impressive architecture and uncover the fascinating stories of England's past.
Don't forget to explore the secret war tunnels and interactive exhibitions that bring the castle's history to life.
During our visit, there was a reenactment of French vs. English battles. It was fascinating and made our time at the castle longer than we had planned, but it was totally worth it.
Also, keep in mind that the castle is like a small city, so you'll need a good amount of time to fully explore it. At least a full morning, especially if there are performances happening.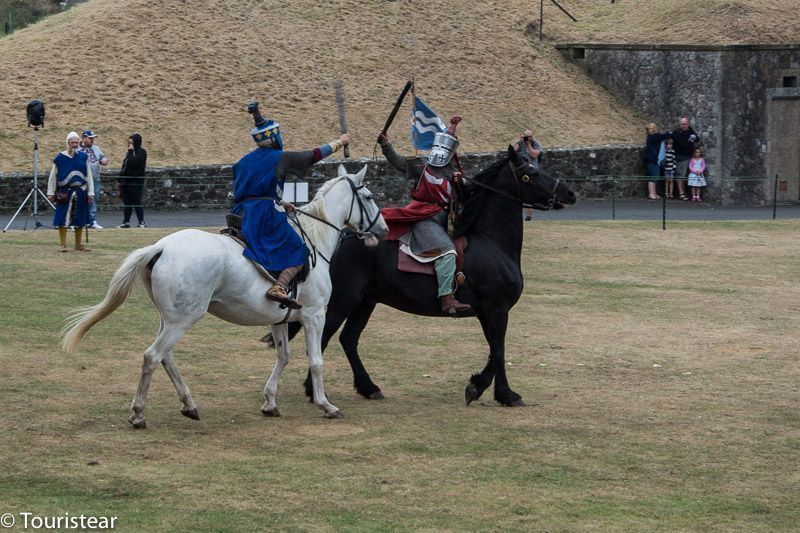 White Cliffs of Dover
The iconic White Cliffs of Dover are a must-visit natural wonder. Take a leisurely stroll along the cliff-top paths, where you can soak in the breathtaking views of the English Channel and, on a clear day, catch a glimpse of the French coast.
The area is also home to various bird species and plants, so keep an eye out for the local wildlife as you explore the area.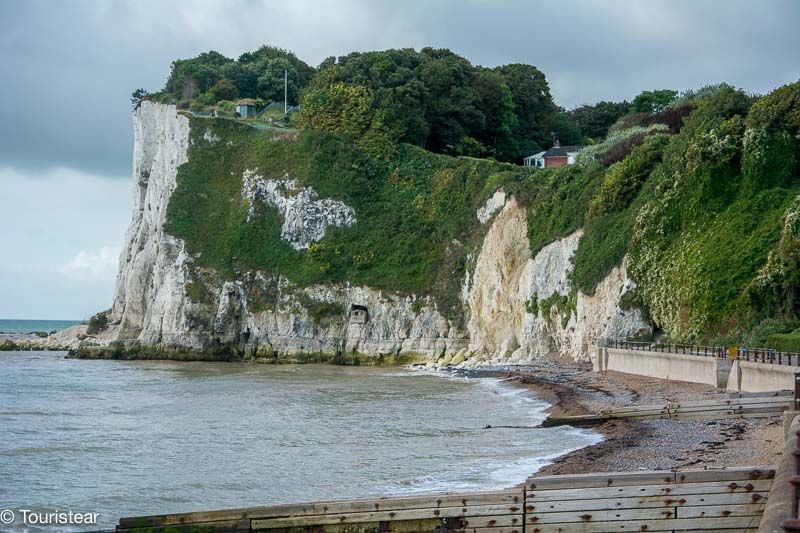 After taking the tour on top of the cliffs, head down to the beach and if you're brave enough, take a dip in the cold water! We weren't that courageous, but there were people swimming when we visited in mid-August.
Samphire Hoe
For a more off-the-beaten-path experience, head to Samphire Hoe, a unique nature reserve nestled at the foot of the White Cliffs. The area was created during the construction of the Channel Tunnel and offers a blend of natural beauty and industrial heritage.
Here, you'll find hiking trails, picnic areas, and abundant wildlife. Take in the breathtaking chalk cliffs or stroll along the pebble beach while admiring the stunning landscape.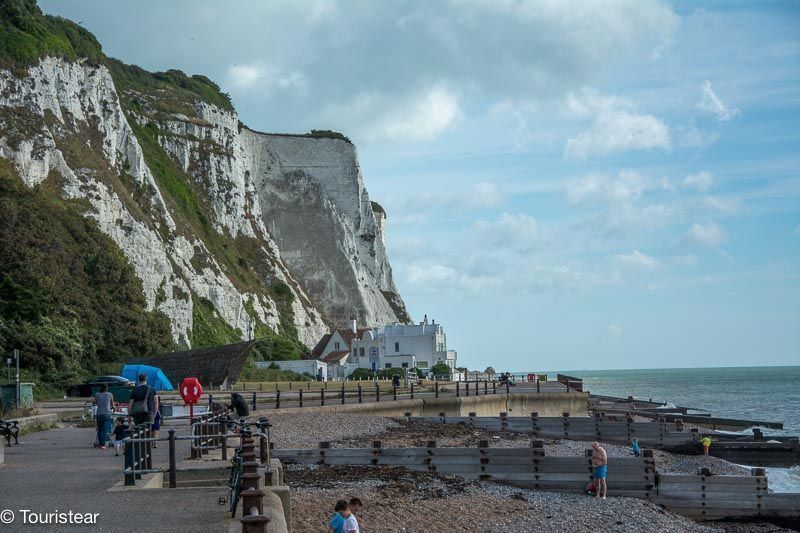 South Foreland Lighthouse
Complete your Dover adventure with a visit to the South Foreland Lighthouse, a Victorian-era marvel operated by the National Trust. Perched on the edge of the White Cliffs, this historic lighthouse served as a vital navigation aid for mariners traversing the English Channel.
Join a guided tour to learn about the lighthouse's history and technological innovations, and take in the breathtaking views from the top.
While exploring these attractions, you're sure to have an unforgettable experience uncovering the natural beauty and rich history of Dover.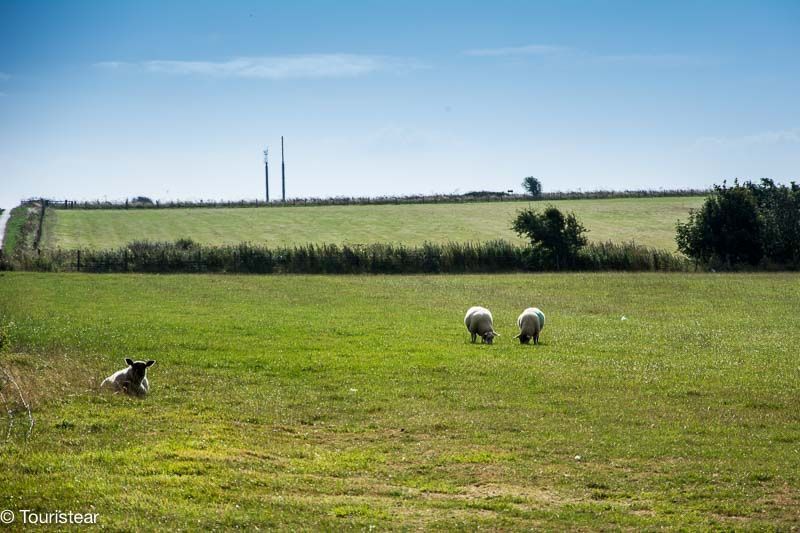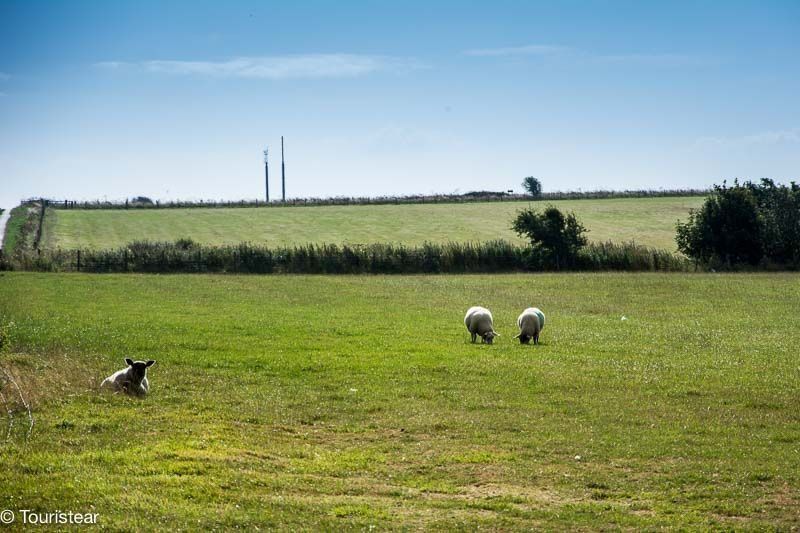 Roman Painted House
Step back in time and visit the Roman Painted House, a well-preserved ancient Roman townhouse. Uncover the intricate frescoes and beautiful murals that adorn its walls, giving you a glimpse into the lives of the Romans who once inhabited this area.
Dover Museum
Dedicate some time to exploring the Dover Museum, which houses a variety of exhibits and artifacts covering the historical events of the area.
You'll gain valuable insights into the history of Dover and its surroundings while appreciating the meticulously preserved relics.
Dover Transport Museum
Dover Transport Museum is the perfect place for vintage car and transportation history enthusiasts. This museum houses an impressive collection of classic cars, buses, motorcycles, and even a model railway.
Take a nostalgic journey through time as you marvel at the restored vehicles and the stories they tell. It's a treat for anyone who appreciates the beauty and evolution of transportation.
Secret War Tunnels of Dover
During World War II, a series of underground tunnels were constructed in Dover to serve as a command center and shelter. Today, you can take a tour of these tunnels and uncover the fascinating history they hold.
St. Edmund's Chapel
Located on the cliffs of Dover, this small chapel is a historical treasure. Built in the 13th century, it offers a peaceful and serene experience with views of the sea. It's a lovely place to pause, reflect, and admire the medieval architecture.
St. Martin's Church
This Norman church is one of the oldest buildings in Dover. Its architecture and stained glass windows are impressive, and the surrounding cemetery offers a peaceful atmosphere for a stroll.
Dover Western Heights
Explore the historical fortifications of Dover Western Heights, including forts and tunnels carved into the cliffs. From here, you can also enjoy panoramic views of the city and the harbor.
Dover Museum and Bronze Age Boat Gallery
This museum, located in the heart of Dover, houses an impressive collection of archaeological artifacts and exhibits on local history.
One of the main attractions is the Bronze Age Boat Gallery, where a 3,000-year-old boat discovered in nearby marshes is on display.
Get Outdoors and Explore
Dover offers plenty of opportunities to explore the great outdoors in its numerous parks, beaches, and state nature areas. You can engage in activities like hiking, cycling, horseback riding, golfing, fishing, and canoeing.
If you prefer guided tours, look for nature and wildlife tours to discover the beauty of the surroundings of Dover. These tours will take you on an adventure through the stunning landscapes and allow you to observe the local wildlife up close.
It's a fantastic way to immerse yourself in the natural wonders of the area and learn from knowledgeable guides. So grab your binoculars and get ready to explore the hidden gems of Dover's natural world!
Getting to Dover by Ferry
As I mentioned earlier in the post, Dover is often the gateway to England for those of us arriving by ferry with our vehicles. Here are some recommendations for your trip:
Plan your route: Before you set off, make sure you have a clear and planned route. Use navigation apps like Google Maps or GPS to find the best route from your current location to the ferry port in Dover.
Check ferry schedules: Ferries have specific schedules, so it's important to check the departure and arrival times in advance. You can do this by visiting the websites of ferry companies operating in Dover, such as P&O Ferries or DFDS Seaways.
Book your ferry ticket in advance: It's advisable to book the ferry in advance to secure your spot onboard and get a better price. You can do this online through the ferry companies' websites. Also, keep in mind that you may need to provide vehicle details when making the reservation.
Arrive early at the port: It's advisable to arrive at the port with plenty of time before the ferry departure, especially during peak periods. This will give you time to check in, go through security checks, and board without rushing.
Prepare the necessary documents: Make sure you have all the necessary documents for the trip, such as your driver's license, vehicle registration, and passport if required for the Channel crossing.
Be aware of customs requirements: Depending on your country of origin and destination, you may need to comply with certain customs requirements. Familiarize yourself with import and export regulations, as well as customs restrictions, to avoid any issues during the journey.
Driven a European car in the UK
To drive a European car in the UK, including Dover, you don't need to pay a specific toll. However, there are some important considerations you should keep in mind:
Traffic jams and tolls in London: If you plan to visit London from Dover, be aware that there is a daily congestion charge in the city center. This charge must be paid if you drive within the congestion zone during specified hours.
Additionally, there are tolls on certain bridges and tunnels in London, such as the Dartford Crossing Tunnel, which also need to be paid. Make sure you are aware of and comply with these requirements if you pass through London.
EU Circulation Permit: Since January 1, 2021, after Brexit, European vehicles entering the UK must carry an EU Circulation Permit (Green Card).
This document demonstrates that you have valid vehicle insurance and is necessary in case of an accident or control. Make sure to obtain a Green Card from your insurance company before traveling to the UK.
Traffic rules and signage: When driving in the UK, remember that you drive on the left side of the road. Familiarize yourself with UK traffic rules and signage before driving in Dover. Also, keep in mind that speeds are indicated in miles per hour (mph) instead of kilometers per hour (km/h).
Emission restrictions: Some cities in the UK, including London, have Low Emission Zones where restrictions are applied to the most polluting vehicles.
If your car does not meet the required emission standards, you may have to pay an additional fee or face access restrictions in these areas.
Remember that regulations and requirements can change over time, so it's important to stay updated with the latest information and consult official sources, such as the UK government or insurance companies, for the most accurate and up-to-date information before your trip.
Plan Your Trip to England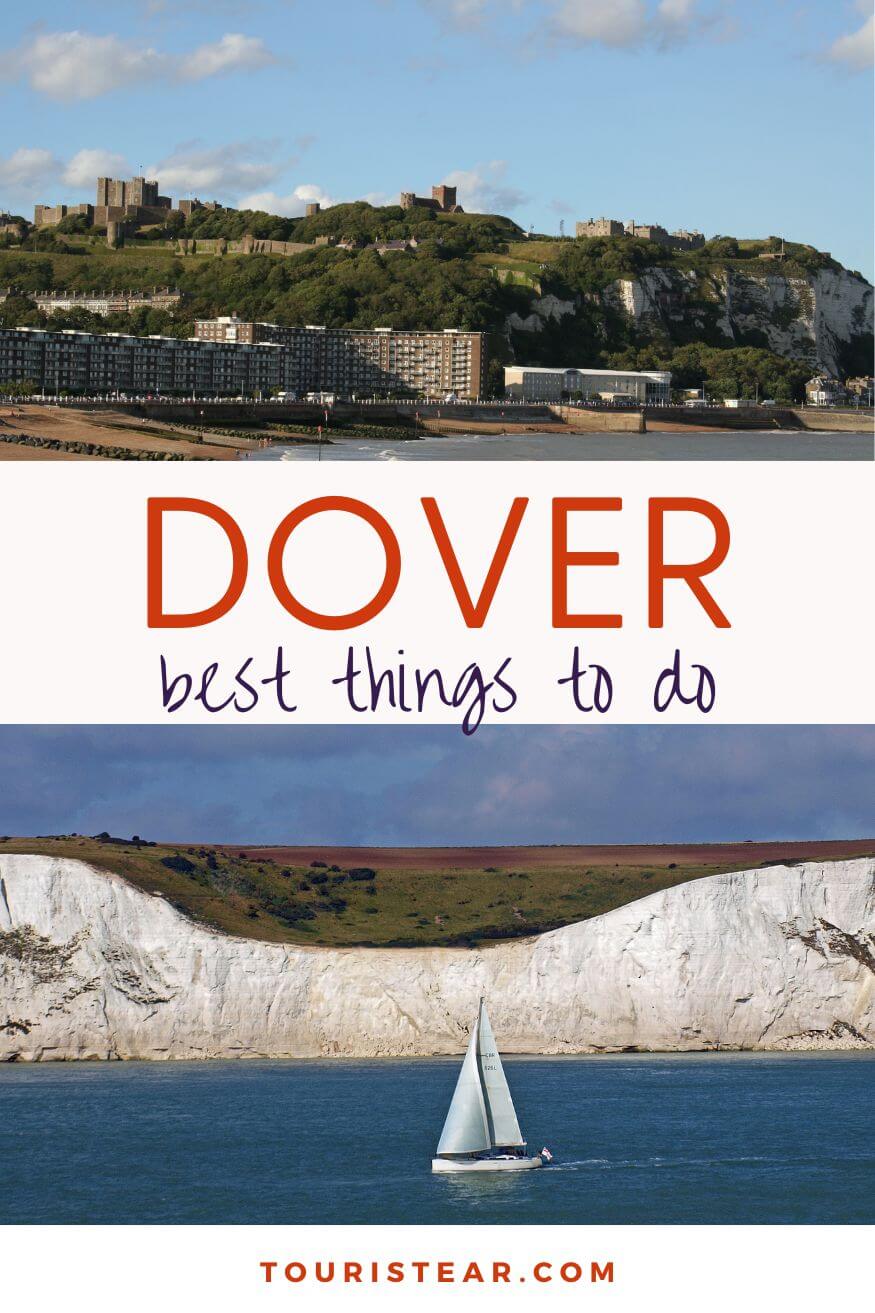 Last Updated on 6 September, 2023 by Veronica