York To Newcastle: What To See In A Road Trip
We started in the morning for our trip from York to Newcastle, and visited its famous cathedral. Then we continued our journey towards North York Moors National Park, which is absolutely spectacular. We enjoyed the English countryside with its beautiful lavender fields.
To end the day, we spent the afternoon in Whitby, a charming and highly touristic village. Then, we set off for Newcastle, where we have accommodation reserved and a nice place to have dinner at the Quayside called Gusto.
Also Read: What to See in Whitby
Disclosure: Some of the links on this post are affiliate links, meaning at no additional cost to you, I may earn a small commission if you click through and make a purchase.
Itinerary From York To Newcastle, England
York Minster or York Cathedral
We start the morning by visiting York Minster, as we did not have enough time the previous day, and it is a cathedral that deserves a leisurely visit.
To visit the cathedral, different types of tickets are available at different prices. We bought the entry ticket that doesn't include access to the tower, and it cost £10 per person.
The Cathedral of York is Gothic and built on an ancient Romanesque temple of the eleventh century.
It is the largest Gothic cathedral in Northern Europe, and more than half of England's medieval stained glass windows can be found within its 128 windows.
What makes this cathedral the guardian of a significant portion of this period's most important and irreplaceable art.
As you can see in the photos, York Minster is huge with tall columns and typical Gothic arches.
The glass windows leave you speechless. My favorite is the one just below these words. It is called the Five Sisters Window and is dedicated to the women who lost their lives during World War I.
This window dated from the mid-1200s and was removed during the Great War to protect it from the zeppelins.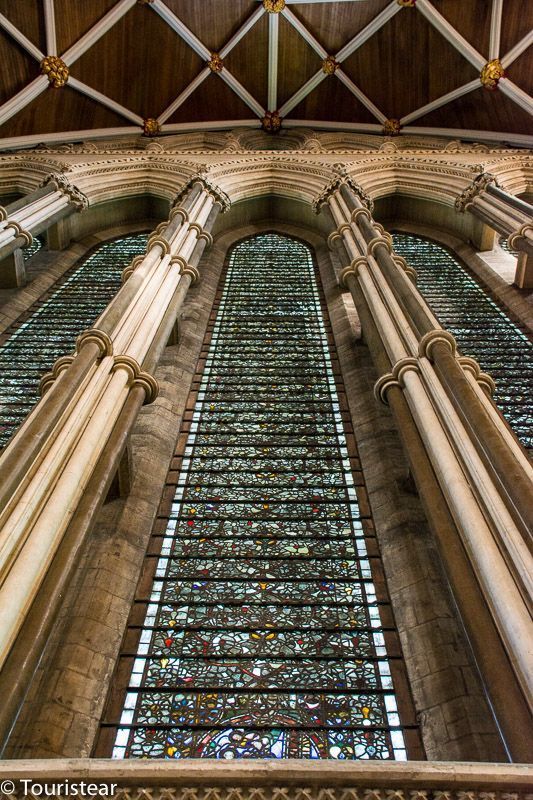 The cathedral was constructed over a period of 250 years and is 800 years old. However, the history of York actually dates back over 2,000 years. York had at least two more cathedrals, but it is unknown where they were located.
It is known that where the cathedral now stands were some Roman barracks whose ruins were found in the cathedral's basement in the 70s.
As a curiosity, they say that if you turned York Minster into an aquarium, 5 blue whales would come in! Or that one of its towers could perfectly fit the Tower of Pisa!
North York Moors National Park
The best way to get to Whitby is through the North York Moors National Park. It is a journey of less than 50 miles, where you can make several stops to enjoy the views or go on a hiking route if you have time.
Before reaching the national park with your rental car, you can make a short detour to visit Castle Howard. It is an 18th-century mansion. Open from 10 a.m. to 5 p.m.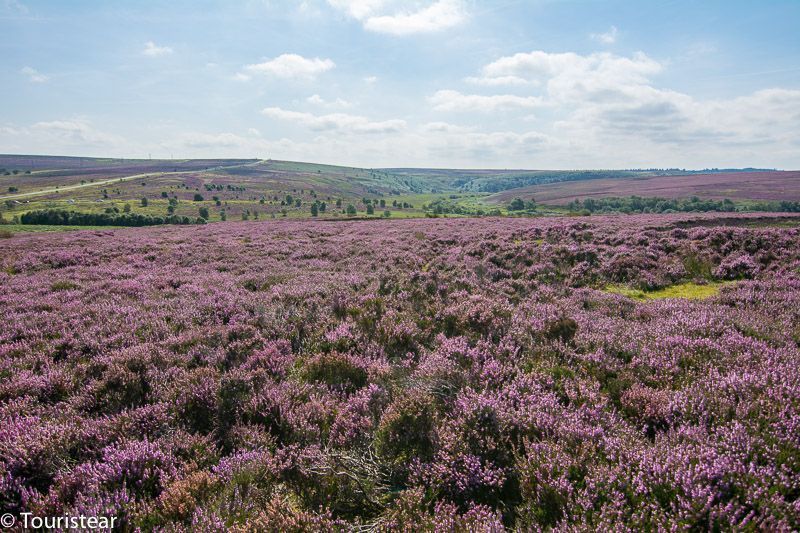 Once you enter the national park, the landscape changes. You begin to see the purple of the lavender fields almost as far as the eye can see.
You will see people birdwatching or simply admiring the views, having picnics, or volunteers contributing to the park's maintenance.
If you want to save your travel budget and visit more places in York, get a York City Pass and plan your preferred destinations.
It is a beautiful route that is recommended to be taken at a leisurely pace and enjoyed thoroughly. if you prefer to take public transportation on your journey, you can take the Yorkshire Steam Railway.
Visit To The Town Of Whitby
Before reaching Newcastle from York, we arrived in Whitby around lunchtime, about 2:00 p.m. If you are coming from the Moors National Park, take this tour.
We came to this town because some friends who live in York recommended it to us. They told us that here you can find the best fish and chips in England; honestly, it was delicious!
Whitby is not only known for its fish and chips, but this is where Dracula arrived in Bram Stoker's novels. He hid in the Abbey cemetery and began to terrorize the population.
Also, this town is related to the adventurer Captain Cook. It is said that this town is where he was trained as a sailor.
A museum dedicated to this character is located in a building near the harbor, just below the abbey. Here, we can explore the life and travels of this adventurous captain.
Whitby Abbey
Whitby Abbey was founded in the 7th century. And it was destroyed a century later by the Danes. It was rebuilt, and we see today the remains of the abbey constructed between the 13th and 14th centuries in the Gothic style.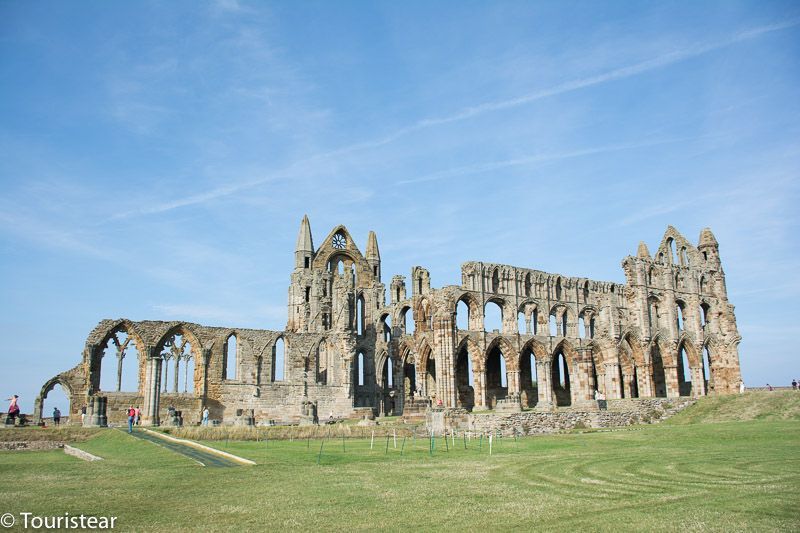 To reach the abbey, one must climb 199 steps. So, if you have eaten a lot, it is a good excuse to burn off some calories!
From the top, where the abbey is located, there are spectacular city views.
We visited using the Heritage Pass, so we did not have to pay for admission.
Where To Eat In Whitby
We ate at Magpie Café. It is a very nice place. There was a line to get in when we arrived, but after 10 minutes, we were seated at a table. We were treated very well, although I think we were the only foreigners!
We ordered two fish and chips. You can choose the type of fish, and the price varies depending on your selection. And the truth is that they were very tasty!
Night Visit From York To Newcastle
After visiting the abbey and walking around Whitby, we set off for Newcastle. From Whitby, it is about 75 miles. We made this route without intermediate stops because it was already getting late.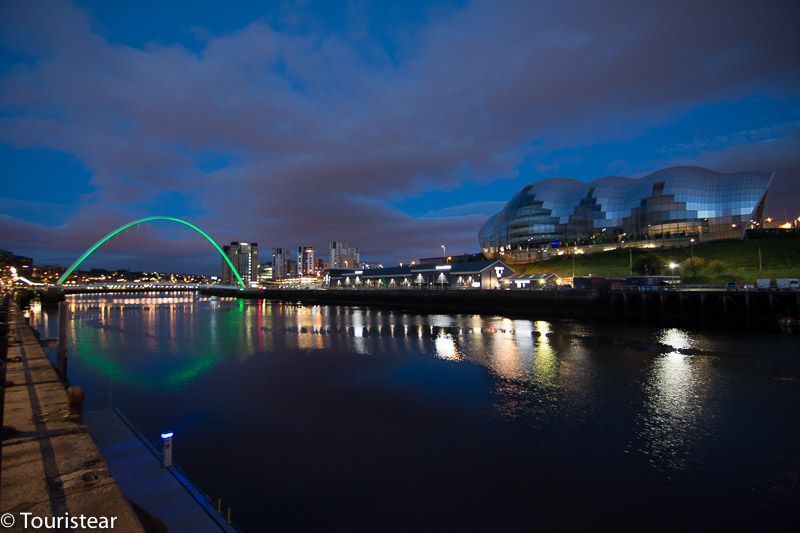 The first thing we did upon arriving in Newcastle was to check-in at our hotel. We stayed at Hotel Express for 35€.
It was a bit far from the city center, but the room was spacious, although it had a shared bathroom. It is good considering the price we paid.
We had a reservation at Gusto restaurant at 9 p.m. It is an Italian restaurant on the Quayside beside the River Tyne. We had a wonderful dinner and went for a walk around Newcastle, especially to see its bridges at night.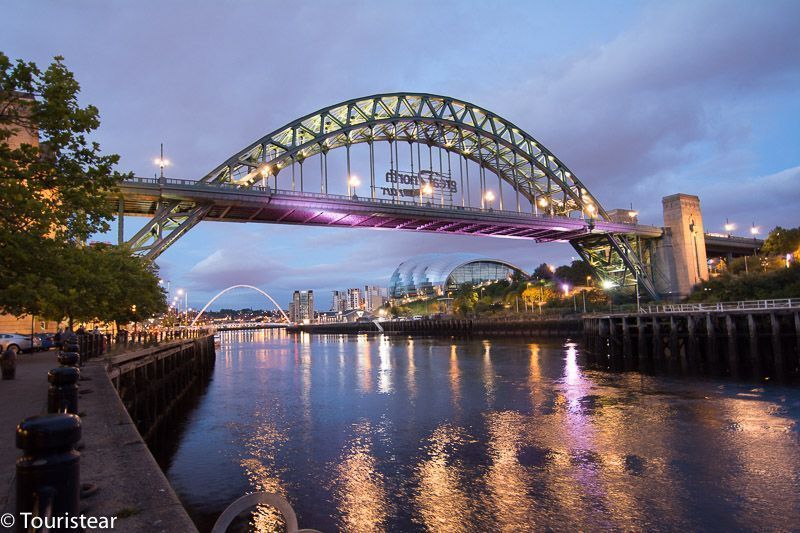 The oldest one is called the High-Level Bridge, which was built in 1848. It carries both road and railway tracks.
Tyne Bridge is the symbol of the city and was built in 1928. But my favorite is the Gateshead Millennium Bridge.
It is a pedestrian bridge that is illuminated at night, and furthermore, the walking platform can be raised to allow boats to pass through.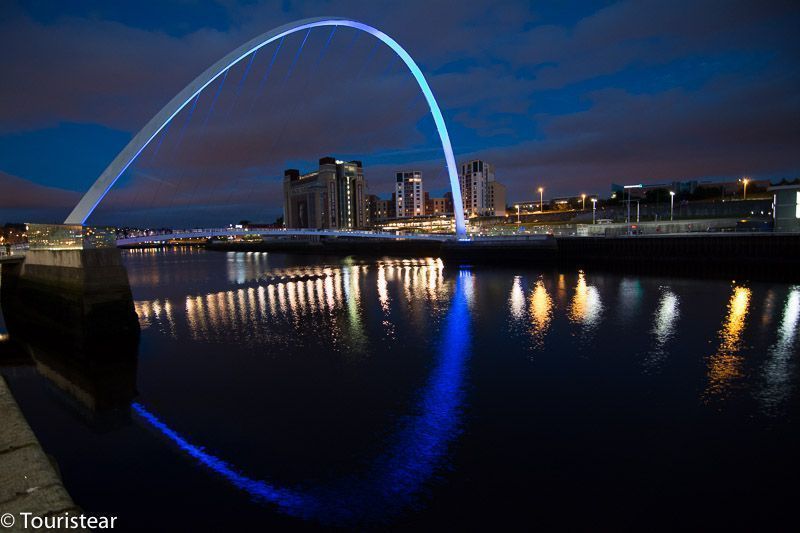 Tips on Your Trip from York to Newcastle
Here are a few things to check when you are embarking on a one-day road trip from York to Newcastle.
Plan your route and include enough time for stops and sightseeing.
Consider getting an internet travel SIM card to stay connected and navigate easily during your journey.
Pack comfortable travel shoes for both outdoor activities and exploring urban areas.
Research and book accommodations in advance, especially during peak travel seasons.
Visit local visitor centers or use travel apps to get information about attractions and hidden gems along the route.
Try the famous fish and chips in Whitby, a must-try culinary experience.
Prioritize safety by ensuring comprehensive travel insurance to cover any unexpected incidents or emergencies.
Take breaks and enjoy the scenic views along the journey, capturing memorable moments of your road trip.
After our walk through the city's bridges, we sleep. The next day we dedicated the morning to exploring Newcastle; I will tell you more about this northern city in a future post.
Plan Your Trip To England
Hadrian's Wall
1 Day in Whitby. Visit Dracula's Abbey, Explore The Village, And Try The Fish And Chips.
Last Updated on 6 September, 2023 by Veronica