Best Things to do in Cuenca in 1 day
Cuenca is the best destination for a one-day trip from Madrid. It's beautiful, safe, and has a fantastic variety of things to do.
The city center is full of churches, squares, and beautiful scenery. However, my favorite part was exploring the small streets with their cute cafes and shops with no chain stores.
And, of course, you can't miss the "Casas Colgadas" hanging houses of Cuenca. It's pretty remarkable how they built it up.
I highly recommend coming here if you're looking for a quick getaway from Madrid.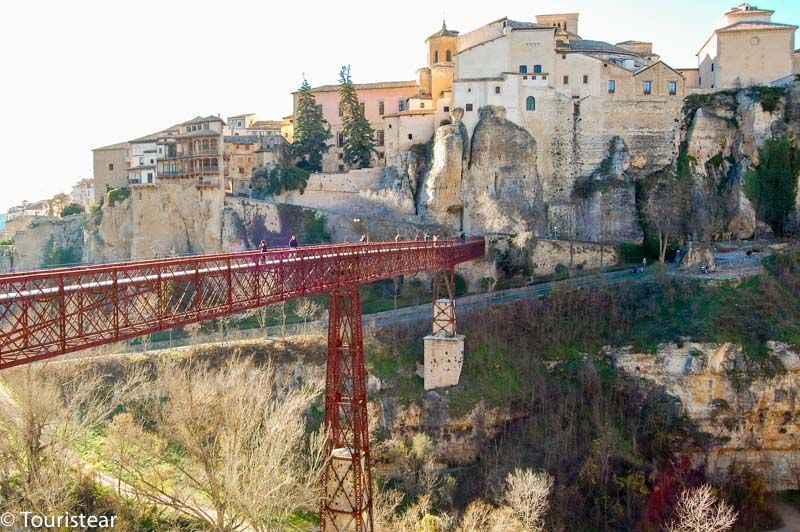 Cuenca 1-Day-Itinerary
As you know, Cuenca has been declared a World Heritage City by UNESCO. It is an amazing city, since you can find cultural heritage and nature just a few steps away. The old town seems to have stayed in time.
The first thing we did when we arrived was to go to what we already knew, San Francisco Street.
We stopped to eat something in the Barrica de San Miguel, it is well priced and they are very friendly. However, when we left, we forgot the sun glasses on the table and they kept them. And that there were many people!
Then we headed to the Hanging Houses "Casas colgadas", but we made a first stop at the Parador de Cuenca, there is a small parking where you can leave the car.
The truth is that there are spectacular views from there, if you are good budget, it is a good place to stay for the night.
Bridge of San Pablo and the Hanging Houses
After park the car, we go to the Bridge of San Pablo. It has spectacular views of the Hanging Houses and the Hoz del Huecar.
And it seems that there is also the custom of leaving padlocks, on the part of couples in love, a custom that I have read there, they attribute it to the writer Federico Moccia.
After taking a few pictures and taking a walk, we went back to look for the car to, honestly, park it well.
Driving through the old town of Cuenca is quite complicated. You pass a street and you have to go around again, the streets are narrow, it is better to go by motorcycle.
We get to the Camino de los Jerónimos, we must follow the signs of "Barrio del Castillo", there we leave the car, well parked. Comment that in this area there are also a few restaurants that looks good, although they seem very touristy, so, as we had already eaten we had a coffee.
Viewpoints of Cuenca in 1 day
In this area there are a lot of viewpoints, with spectacular views of the city of Cuenca and the Hoz del Huecar. (if you go a weekend or if you like nature, there are a few ways to go hiking or go with the bike).
On the Camino de Los Jerónimos, we go down to the Plaza Mayor. First you see the Ruins of the Castle of Cuenca.
Then we went down the narrow street and visited the Cathedral of Santa María and San Julián of Cuenca.
After visiting the cathedral, go to the historical center, walking through alleys you'll find great places, such as the Barrio de San Martin, convents, which fulfill the same function as in its beginnings, etc.
For those who have planned to go more days, if you like cycling routes, you can take a look at the website of the City of Cuenca, has a couple of bike routes that look good. The truth is: we were left wanting more, but we had to go home.
I hope you have the opportunity to visit the City of Cuenca soon!
Complete your trip:
Book Your Trip
Book Your Flight
Find a cheap flight by using Skyscanner.
Book Your Accommodation
You can book your hostel, hotel, or apartments on Booking.com.
Don't Forget Travel Insurance.
Travel insurance will protect you against illness, injury, theft, and cancellations. It's your protection in case anything goes wrong. You never go on a trip without it.
Best companies for activities
Check out Civitatis.com and find the best tours in English (French, Spanish and Italian)
Are you looking for the best companies to save money with?
Check out my resource page for the best companies to use when you travel! I list all the ones I use to save money when I travel – and I think will help you too! (Is in Spanish yet)
Last Updated on 6 July, 2021 by Veronica