Grams28 154 City Pack Review – High-end Sling Bag for Flights, travelling & EDC
I've been looking for the perfect bag for my travels for quite some time now. A perfect quality bag, that I can carry when I travel by plane or when I'm touring a city, or road tripping, and at the same time I can use it in my day-to-day life.
Well, it seems to me that this day has come and I have found the bag that fits my needs. It's not absolutely perfect, we will see it later, but it is the one that comes closest to what I have been looking for for years.
The Grams28 154 City Pack is an upscale sling bag, large enough to fit your passport, compact camera, cell phone, extra battery, AirPods, sunglasses, keys, and wallet.
But at the same time, it's small enough that it doesn't get in the way on a plane or in my day-to-day life.
Disclosure: Some of the links on this post are affiliate links, meaning at no additional cost to you, I may earn a small commission if you click through and make a purchase.
What is the Grams 28 154 City Pack?
The Grams28 154 City Pack is a leather sling bag with a top-quality finish that can be used both in your daily life or in your urban travels and as a bag for your trips by plane or train.
Grams28 is a leather goods manufacturer committed to the new needs of society, to the manufacture of very high-quality products, to the environment, and to transparency.
You can see this commitment to transparency by visiting the Grams28 website. On each product page, you will see that they even share the cost of product components, materials, parts, labor, and shipping.
Specifications and features: What to look out for
The main features of the Grams28 154 City Pack are:
Material: Bovine leather, full grain with natural grain of sustainable manufacture.
Skin origin: Mastrotto. Italy
Dimensions: 27 W x 21 H x 7 D cm
Maximum capacity: 5L
1 front pocket with zipper
1 rear zippered slot
1 central compartment with sealed zip
1 Adjustable Vinyl strap with leather shoulder pad for protection.
Unboxing and First Impressions
The shipment was made by FedEx, nothing to say about it. Good service and they delivered on the day they said they were going to deliver.
You receive a package with sober packaging, in which the predominant color is black. The box is of moderately strong cardboard, but is more than enough.
Inside, a black cloth bag with the letters GRAMS (28) in white. Everything is received fairly clean and in good condition. Inside the black cloth bag is the 154 City Pack bag.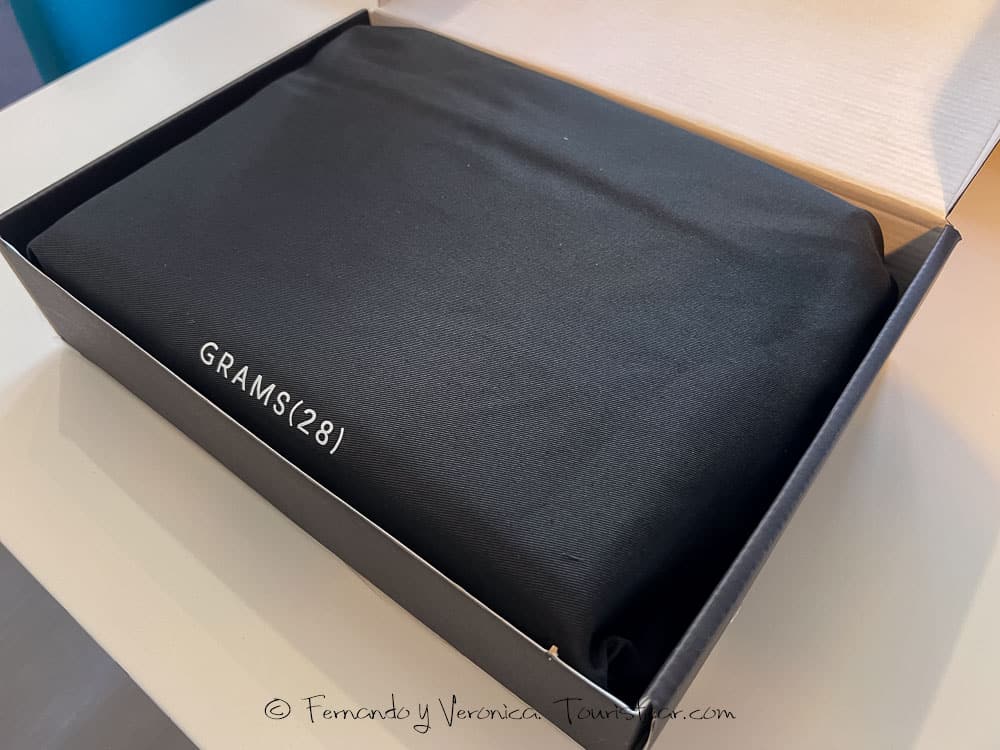 Inside the bag, there is the strap to hang it over the shoulder.
As you can see my cat (happy) is also curious to know what's in the package.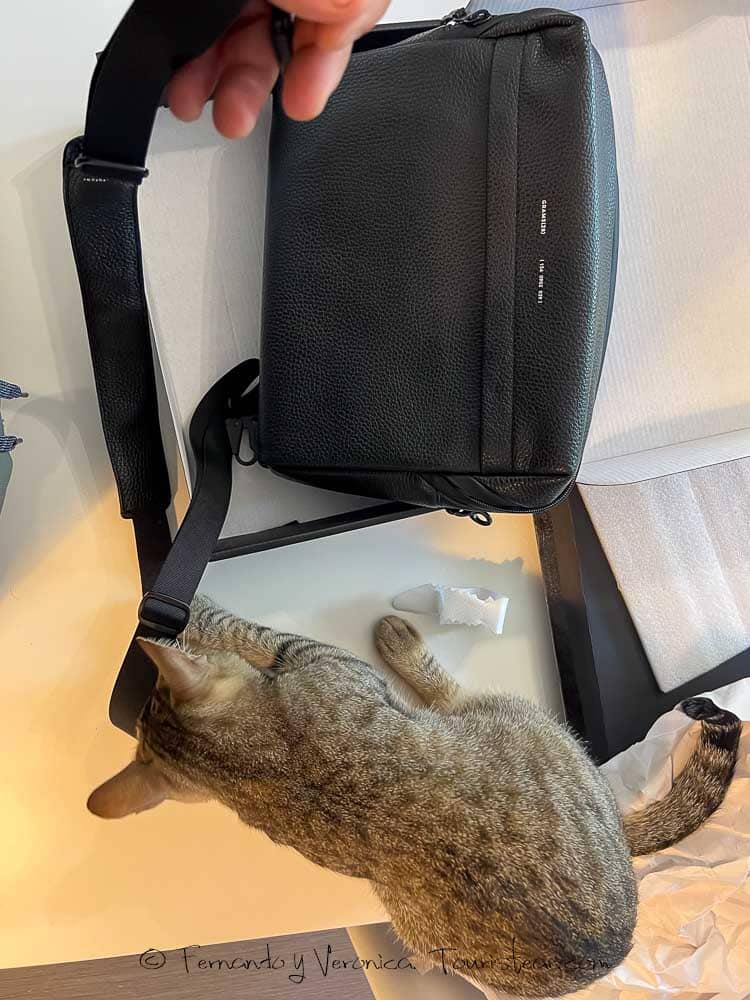 My first impression when I take out the bag is that the leather is of very good quality, it is noticeable to the touch and smell.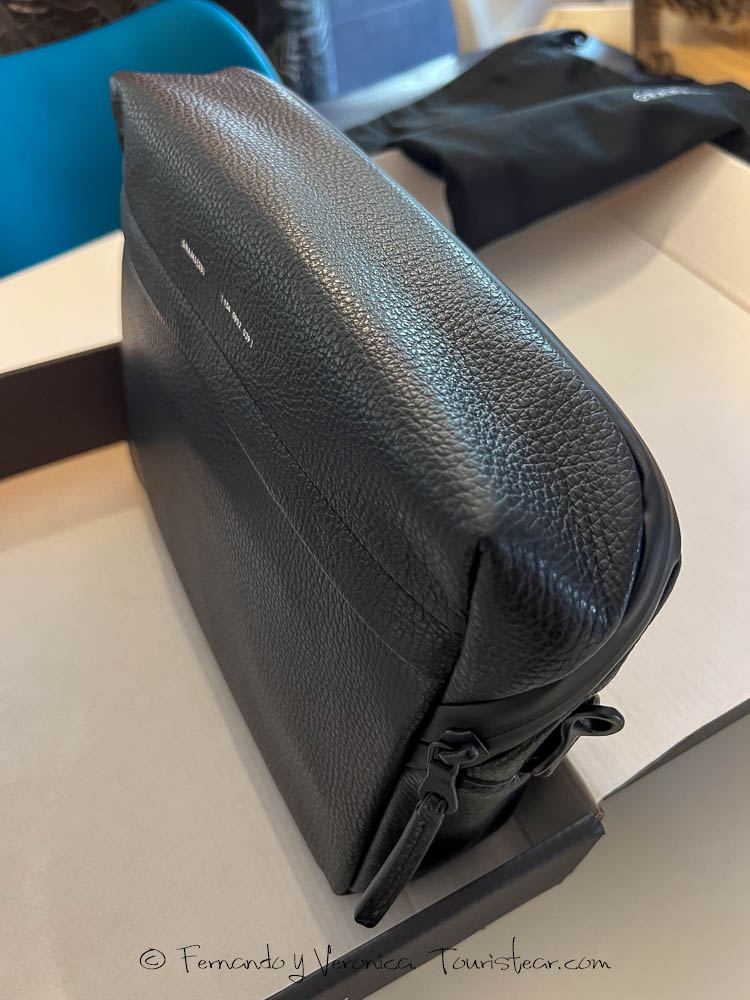 It shows a certain rigidity that makes it keep its shape, this is due to the quality of the leather which is robust. The reason is the fact that it's Full Grain Pebbled Leather, we will explain it further.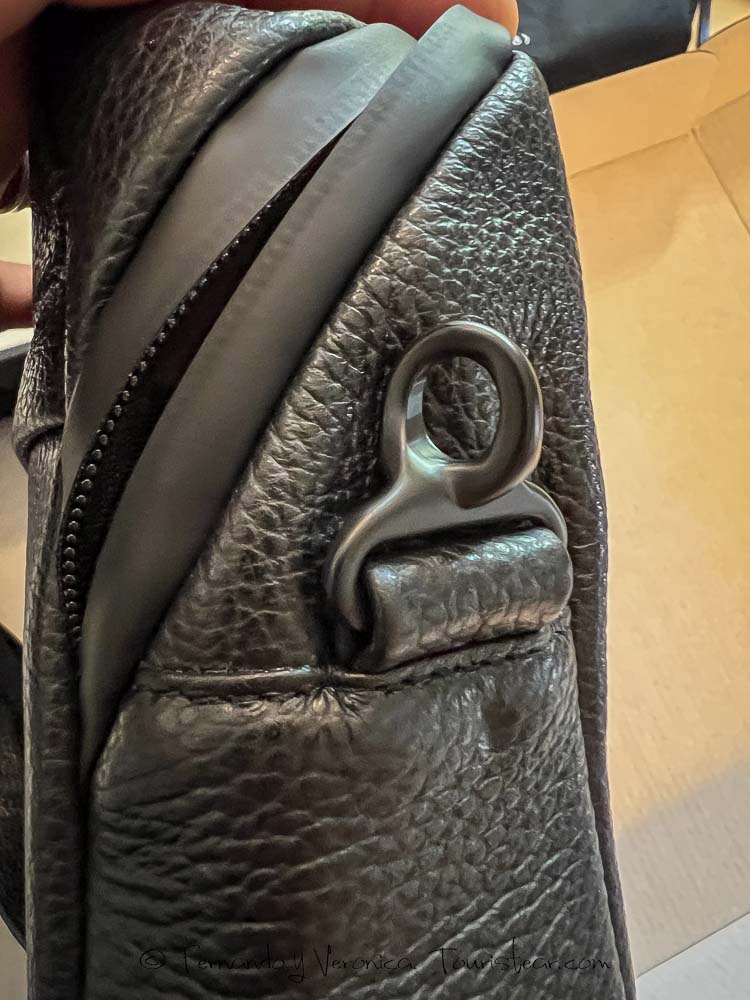 The swivels for the strap are made of steel in black and are perfectly held by a fold of leather, as well as the clips of the strap. They are flat and with the Grams28 logo, which makes them very light, resistant, and discrete.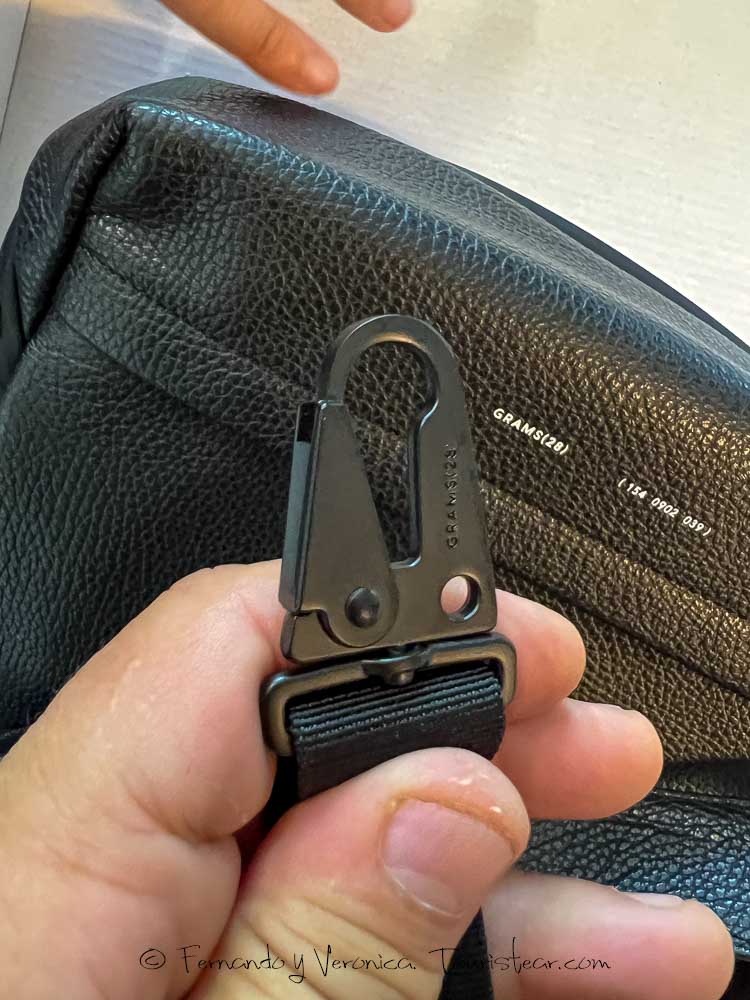 We opened the bag to explore inside. The zipper has a smooth running and is fully waterproofed.
In spite of its smooth travel, it is necessary to use a little force to open it. My impression is that it is more difficult for a pickpocket to open it without you noticing it.
However, I miss some security system to make life difficult for pickpockets, although this is secondary it would be a plus.
The inner compartment is made of camel-color cotton liner and has a multitude of compartments, lots of them! We will look at all of them below.
In addition, it has a front pocket with a zipper protected under a leather tab and a back zippered pocket without protection and without waterproofing.
Design and features
The Grams28 154 City Pack bag can boast of being a very high-quality bag, with a simple/classic yet sophisticated design very well adapted to modern times.
It's a bag that for me is the perfect size, not too big and not too small, with enough width to fit everything you need without looking like you're carrying a bundle.
The leather is made in Italy and it's "Full Grain Pebbled" type.
Full Grain Leather is the best, highest quality, and most robust type of leather available on the market.
It is characterized because the leather is completely natural. The surface of the leather has not been treated by any mechanical process (sanding, polishing, or scraping) to homogenize and make the surface more flexible.
This leather is made with the two first layers of the skin of the Animal, The Grain, and the Junction. The next layer is called the Corium, and the Corium is not present in the Full Grain Leather.
The Grain is the outermost layer of the skin, where the hairline is originally located.
The Full Grain has unique patterns and markings that make each piece unique and natural.
Each Grams28 item is coded according to certain criteria, you can see the code on the outside of the bag in white. The code for 154 City Pack is 154 0902 039.
Inside the bag, on a leather label, you will find the explanation of the code:
154 = Product Code
09 = Mastrotto's Tannery
02 = Full Grain or full grain leather
039 = Italian tanned leather
In addition, the leather is tanned in environmentally friendly, zero carbon footprint tanneries.
I love the feel of the leather and how it shines slightly but at the same time is resistant to rubbing and wear.
All zippers have a leather pull tab to help you open and close them. You can see that the zippers are of very good quality and durable.
The zipper of the central compartment is hermetically sealed to protect the most valuable items inside from water.
The front pocket zipper is protected by a leather hood to prevent water or dust from entering the pocket. This does not make it difficult to open or close at any time.
The zipper on the back pocket is simple, of very good quality.
I miss some security system according to the style and class of this bag to prevent pickpockets from opening it at any given time.
It's a minor detail, but I think it's an improvement proposition for an upcoming design.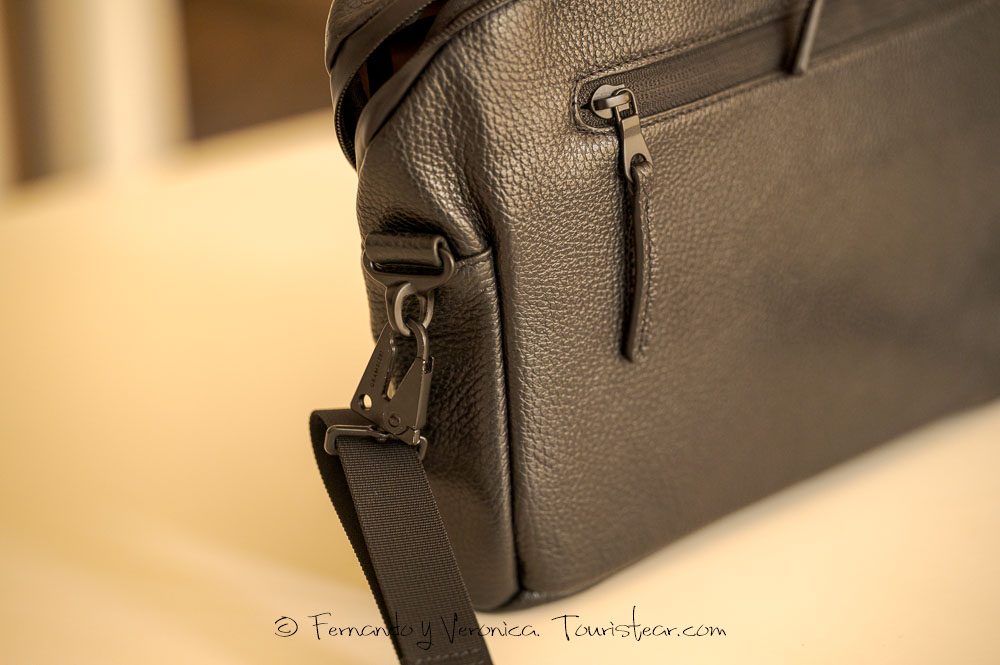 The strap swivels are of steel and quite robust and the clips of the strap are of steel, and customized. Frankly, as far as the quality of the hardware is concerned, it is excellent.
The strap measures 55 inches which is approximately 140 centimeters and is adjustable.
I made 6′ and I shortened the strap by about 10 cm on each side. For me, it is the perfect length to wear it at waist level.
The strap is made of black vinyl and is very robust and quite rigid. It also has a shoulder pad so that the strap does not hurt you.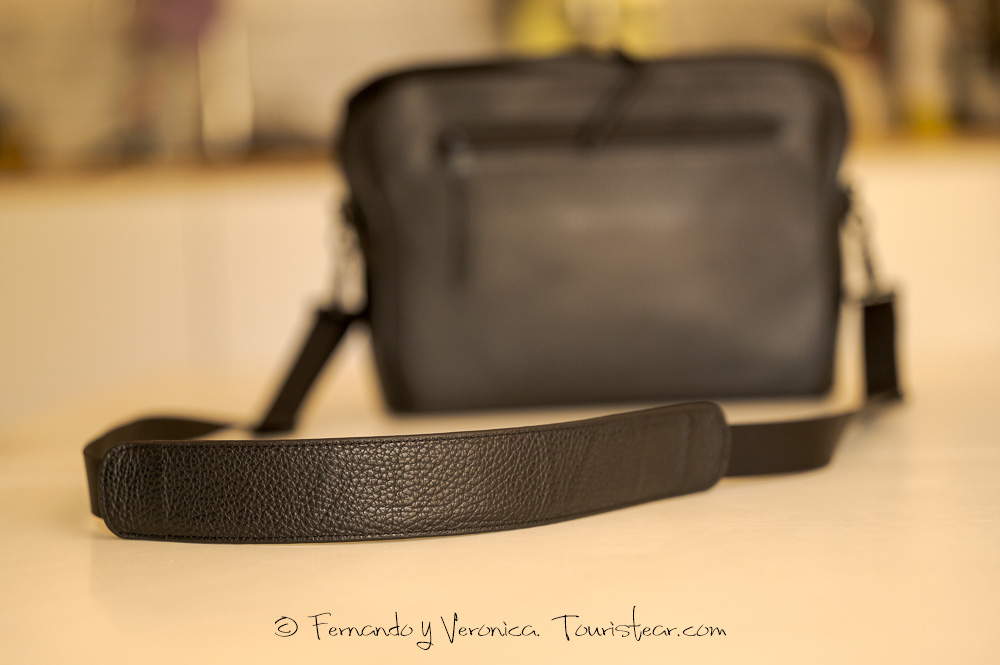 The shoulder pad is made of the same quality leather as the rest of the bag and is very useful so that the strap does not hurt the skin.
However, it moves very easily either forward or backward (in my case almost always forward) and I have to reposition it often.
This is the only point that I think really needs to be improved in the upcoming design.
Testing in real life
The front pocket is quite wide, almost 20 centimeters is fine for storing a wallet or cell phone, although I prefer to put them in the central compartment.
As it is the most easily accessible pocket, it can also be used to carry car keys, Kleenex, a handkerchief, or a filter for your camera.
In this pocket, you can't put anything that takes up too much space.
The back pocket on the other hand, as it is the one that is attached to your hip, is ideal to keep money or your passport. In my case, I carried my passport in this pocket during the whole trip.
The central compartment, which is the largest, is where you will store all the important things that take up the most space.
As you can see, the zipper travels from the back, then forward and back again.
This is very convenient for two reasons:
It is much more difficult for a pickpocket to open your bag to rummage through and/or steal its contents.
The shape of the zipper allows you to open the bag completely as if you were removing a cover and accessing the inside without any problem, being able to see everything you have inside comfortably. I love this.
The central compartment is divided into three zones:
Main Compartment
Compartment for glasses
Compartment for iPad, notebook, or similar
In the main compartment you can put larger items.
It has three pockets to hold a cell phone, a backup battery, and pens, for example. These pockets have a leather-reinforced edge, which is good because they are used a lot.
In the left main pocket, there is also a small black pocket for an AirTag. I don't have AirTag but I use it as a backup SD card for my camera.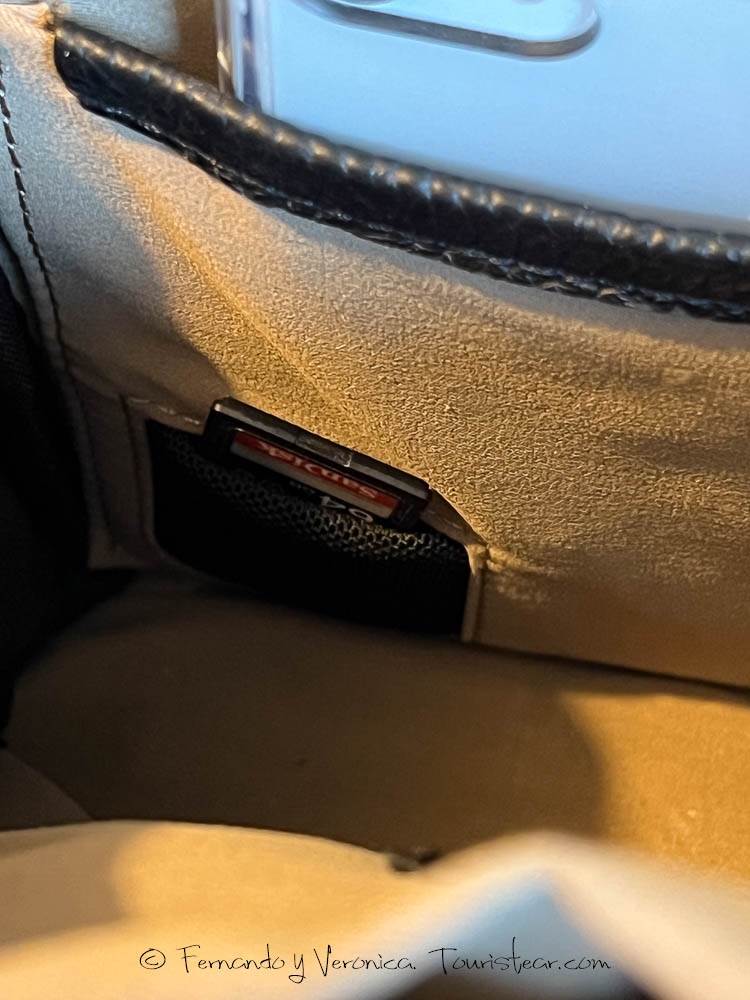 The compartment for glasses closes magnetically and you can use it to store other things as well. If I don't carry my glasses in this compartment I carry my keys and Airpods.
It also has a zippered pocket and inside there are three small compartments in which you can store airpods, usb pin, or similar.
Finally, the iPad compartment. An 11-inch iPad pro an iPad Air fits perfectly inside. In my case is an 11-inch Ipad 6th Generation from 2018. If you like to write you can fit as well a notebook.
In the photo you see I have the following inside the bag:
Front pocket: car keys and some kleenex
Central compartment:

Cell Phone
Charging cable
Battery Backup
Wallet
Sunglasses
IPad
Airpods
Pens
Airtag pocket: SD Card

Back Pocket: Passport
As you can see it fits perfectly and does not look ugly to the eye.
Performance / Profitability
The interior design of this bag is ideal for normal daily use, travel use, especially if you travel by plane or train, or professional use, especially if you combine it with the Grams28 118 Leather Folio I review about in this other article.
It allows you to carry virtually everything you need when you're out and about running errands or visiting. Cell phone, airpods, keys, wallet, a backup battery, a cable, usb pin, SD card, an Airpad or Kindle, a compact camera, etc.
It's clearly not a bag for carrying anything particularly large like a bottle of water or my camera with its telephoto lens, but that's not its purpose, nor what it was designed for.
It is very comfortable to wear and the strap works perfectly.
The only improvement point for me is that, in my case, and I don't know about everyone else, the shoulder protection moves from time to time and has to be repositioned.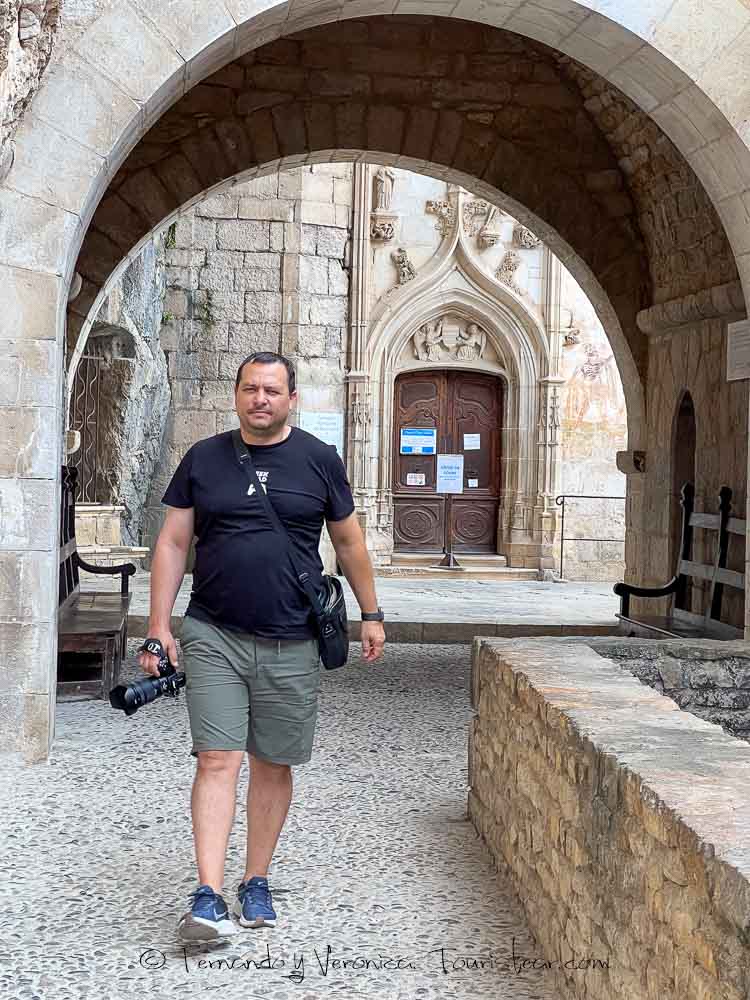 What I like
The quality of craftsmanship and materials is excellent and at an acceptable price.
The interior design adapts very well to different configurations
The leather is very nice and stylish
The warranty is lifetime. This is very important. However, normal wear and tear and damages that may have resulted in improper usage, cuts during usage, and damage by alcohol are not covered under warranty as these cannot be repaired.
Easy to wear.
What I would change
I would add an anchor point to the zippers to increase safety a bit.
Improve the grip of the protective shoulder pad on the strap so that it does not move during use.
Final Considerations
It is no news that bags and/or sling bags for men are a trend today and an accessory that is increasingly used. I personally don't leave home without my bag.
In my opinion, the Grams28 154 City Pack is a fantastic balance between quality, style, utility, and functionality.
As I said at the beginning of the post, I have been using this type of bag for more than 20 years and I have never found a bag that completely satisfied me until now.
Last Updated on 11 September, 2023 by Veronica