7 tips for finding cheap flights and not die trying
Are you looking for flights for your next trip and don't want to spend a fortune? You've come to the right place. Keep reading, because here you will find many tips to find cheap flights.
Be flexible in choosing a destination
One of the most important factors when choosing a flight and making it cheap is the destination you travel to. Sounds obvious, doesn't it? But the more flexibility you have as a traveler, the easier it will be for you to find a cheap flight.
Our method is very simple: we search Skyscanner. And the best way to do that, when you don't decide on a destination or when your travel destination is set by the budget, it enters Skyscanner, put your preferred departure airport (or the whole country you live in if you can move easily) and at the destination you choose "To Any Place". Have you tried it or are you more of choosing a specific destination?

Be flexible with travel dates
The more flexible you are with the dates the easier it will be to find a flight at the best price. In this case, what we do, when we have flexibility with the dates to travel, is to enter Skyscanner and instead of setting a fixed date, we put a full month or the cheapest month.
If you have the flexibility to travel in a specific month, for example you're looking when to take summer holidays. You choose the full month and you can see the destinations that are at a good price for the date of your trip.
If you are looking for offers to go for long weekends throughout the year or have a lot of flexibility with your travel dates, choose "more economical month".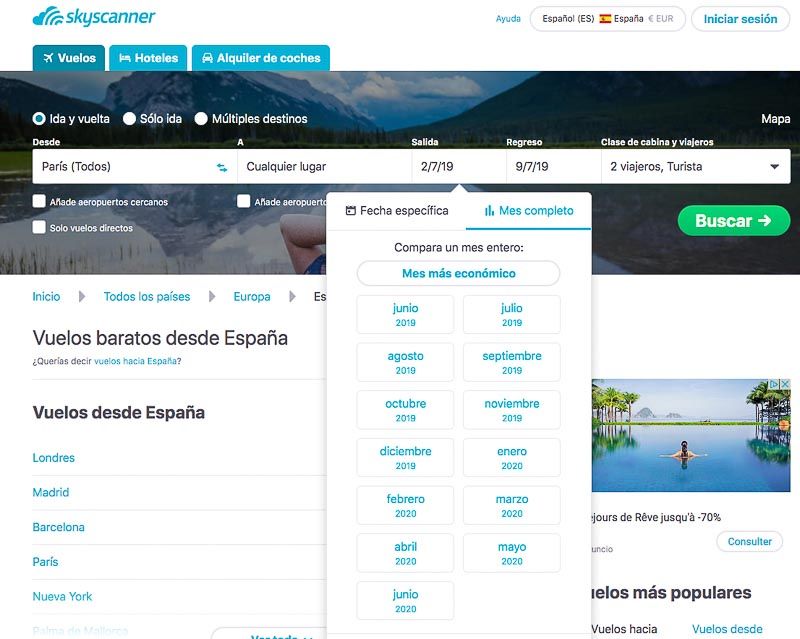 Use price drop alerts
If the prices you've seen don't convince you at all and you think they can go down, use Skyscanner's alert system or your favorite flight finder. These alerts do what they do is send you an email when prices drop for the flight(s) you're interested in.
Take advantage of last minute offers
Last minute deals are great for weekend getaways. Sometimes we come across real bargains when there's low occupancy and they want to fill a plane. In these cases search if there is flight plus hotel, or at least check if it compensates the price of hotels for the date of your cheap flight. If not you can save on one side but you will spend on the other…
Book in advance to find cheap flights
If you like to plan everything in time, it is best to book in advance. Not only because you can organize your trip more easily, but because usually when you buy flights well in advance the prices are usually lower.
Keep in mind the organization in advance of your trips, especially in high season or national long weekends.
Search for your flights from different devices
When searching for cheap flights it is advisable to use various devices to search, always delete browser cookies so that they do not increase prices and if you travel accompanied, search from his/her devices as well.
Fidelity cards
If you are a frequent flyer it is best to have the points cards of airlines such as Iberia card or Air Europa card, among others. You can also hire their credit cards, which also add points that you can redeem for your trips.
Beware of extra fees and expenses
Take a good look at what each offer includes, pay attention to what is often marked by default and in fact is an option. For example, it has happened to us with Rumbo to see that cancellation insurance is marked by default, if you do not realize it, you are charged without you noticing.
Another thing, check if the price includes the fees, if not at the end of the booking process you can get a surprise. It is best to search with peace of mind and during the purchase process pay attention to everything that the screen shows, even if you have been buying flights online since many years ago.
Hire travel cancellation insurance
If you're going to buy your flight and start arranging your trip well in advance, my recommendation is hire travel cancellation insurance for anything that might happen. I wouldn't hire the one that sells the airline, because usually gives you back a portion and the reasons accepted for cancellation are limited.
Instead, our third-party cancellation insurance includes up to 39 causes of travel cancellations. It includes the flight and the excursions, hotels, vacations not enjoyed in case you have to return earlier, and a lot of other things that I include in this post About travel cancellation insurances.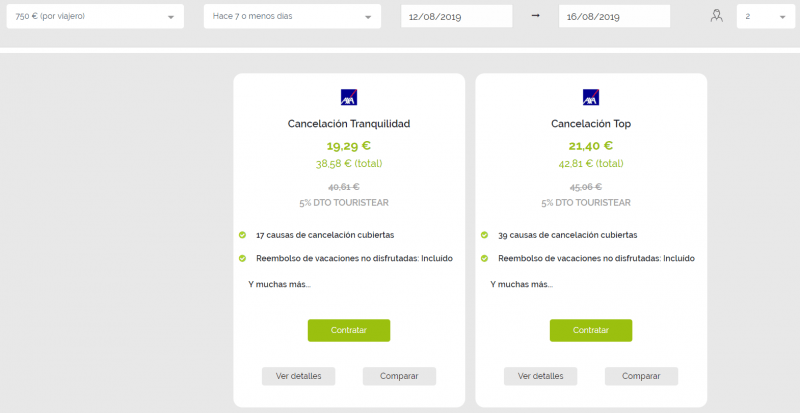 ---